Vouchers available for foreign presentations
25 July 2018

Are you planning to present your work outside the Netherlands or has a foreign organization invited you to speak at a conference or symposium? If so, then you can apply to the Fund for a Voucher for Presentations Abroad. Via this fast-track procedure you can receive a contribution towards travel, accommodation, transportation and presentation costs. Sissel Marie Tonn-Petersen and Team Thursday have previously received this voucher. They explain what foreign presentations mean for them and how to gain the most from your visit.
where are we going?
Vouchers are issued to creatives and designers who have received an invitation from a foreign party. A substantial contribution by this inviting party, in terms of financing or facilitation, is important in this regard. We asked Sissel Marie and Simone (of Team Thursday) about their considerations when accepting an invitation from abroad. Sissel Marie: 'For me the most important aspect is that the exhibition is interesting and relevant for my work and, if it involves a group exhibition, that I think the work of the other artists is relevant and interesting in combination with mine. In addition I make sure the space has a convincing and contemporary profile. Of course it is also important that they offer reasonable financial and organizational conditions for showing the work.' Simone: 'It also depends on whether we have time and whether the presentation contributes to our practice and the things we want to achieve within it.'
'It also depends on whether we have time and whether the presentation contributes to our practice and the things we want to achieve within it.'
value for your practice
Simone: 'Our presentation during the Young Guns programme at the TYPO Berlin conference this spring helped us to establish connections with other designers and the organizers, as well as visibility for our studio among TYPO's visitors.'
Sissel: 'In April I presented The Intimate Earthquake Archive at Ballroom Marfa in Texas. My interactive installation transforms data from earthquakes caused by gas extraction in Groningen into vibratory compositions on the body. It was a huge pleasure to be invited for the Hyperobjects show by curators Laura Copelin and Timothy Morton. I was interested in taking part in the exhibition because I was curious how Timothy saw my work in comparison with his idea of the "hyperobject". Moreover, I found it intriguing that I could transfer a project so specific to the Netherlands to Texas and could observe the kinds of tensions and overlaps that might occur.'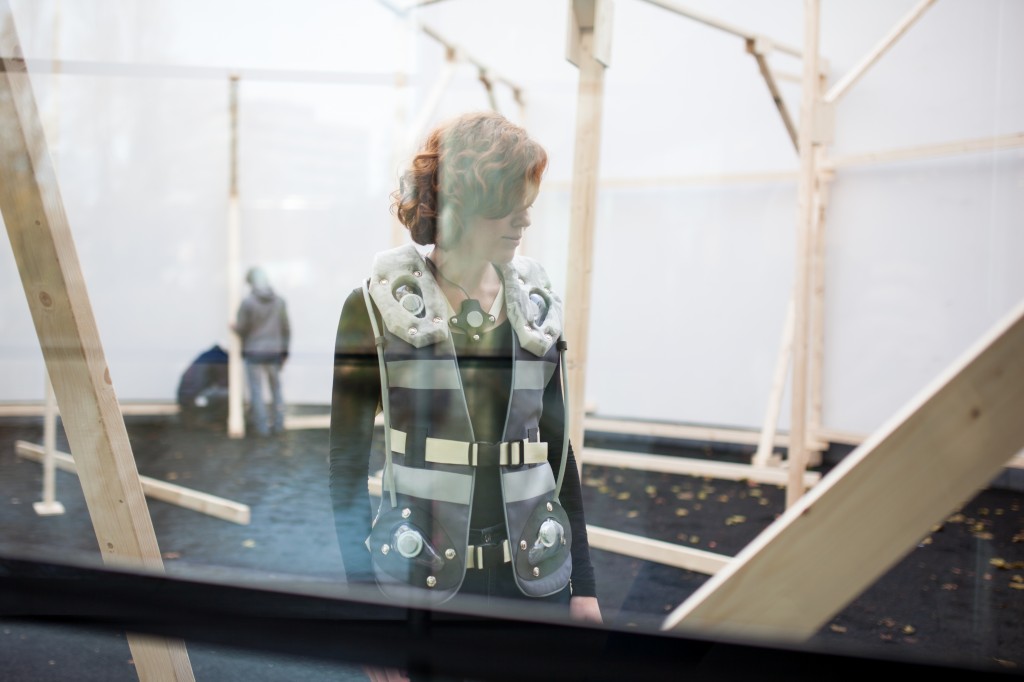 Sissel Marie Tonn-Petersen, The Intimate Earthquake Archive at Ballroom Marfa
make the most of it
Simone: 'It really depends on what you want to get from a place, but use your time efficiently and contact the people, organizations and suchlike that you would like to speak to in advance. In 2015, when we went to Seoul with a voucher for a presentation at the Typojanchi Biennale, we approached plenty of designers and venues in advances and therefore went on various studio visits. It was great to see more of their work, and this was partly why we were subsequently asked to give workshops at two universities in Seoul.'
Sissel: 'It's not something I'm very good at, but researching who might come to your opening or could be interesting to network with on the spot can be really useful. For example, I later realized that there were several key people from the world of environmental activism who are protesting against oil and gas drilling in the region. I wish I had taken the time to reach out to people before they came along, because once I was there I was too busy setting up and I had less time to network with people.'


'It is wise to maintain contact with the people you've met soon after your departure.'
stay in touch
Sissel: 'It is wise to maintain contact with the people you've met soon after your departure. And also ensure that you attend any social gatherings that are organized around the event and talk with the other artists, designers and curators who are there.' Simone: 'We ultimately hope that our presentation at TYPO Berlin was sufficiently convincing and that it will potentially lead to a follow-up. We are trying as far as possible to stay in contact with the network we built up through Instagram, mail and our newsletter.' Sissel: 'I keep people updated about new developments using carefully chosen newsletters, taking care that people don't feel you're spamming them, or via Instagram, which to me seem to be the best options.'
submitting applications in 2018
Just like Sissel Marie and Simone, you can submit an application via the Fund's online application environment. For 2018 the application procedure has been slightly modified to make it quicker and thus better attuned to the procedure's aims and objectives. A personal, well-founded invitation together with an explanation of your own vision and approach remains an important component of the application and evaluation.
voucher procedure
The Voucher Procedure is supplementary to the Fund's existing grant programmes. You can apply from four months up to one month prior to the starting date of the presentation. Applications are processed within five weeks.
Read more about the
Voucher procedure
.
vouchers issued
You can find an overview of all the vouchers that have already been issued in 2018
here
.
Photo above: Presentation by Team Thursday at the TYPO Berlin international design conference, 2018