Meet-up Egypt, Turkey, Russia and Morocco - an overview
11 December 2018In the context of the Open Call: Turkey, Russia, Egypt, Morocco #2 that is currently underway, Creative Industries Fund NL organized a meet-up at Het Nieuwe Instituut in Rotterdam. During the meet-up, speakers from Turkey, Russia, Egypt and Morocco shared their expertise about the political, cultural and social context in their countries and used a great diversity of projects to convey their experiences in the creative field.
This article provides an overview of the
gathering
and a link to the
Frequently Asked Questions
about this Open Call, which closes on 21 January 2019.
How can designers work with other disciplines to create cities and societies that are more inclusive, despite the difficult political climates in these countries? How do you invest in the next generation of creatives? How do you appropriate the public space and how do you shape identity? Four speakers talked about their projects in the context of these questions.
EgyptHaytham Nawar
, founder and artistic director of Cairotronica and the New Media Arts Festival as well as a lecturer at the American University, kicked off the session by sketching out the various editions of Cairotronica. This festival for digital culture was established in collaboration with 50 countries. In the most recent edition the emphasis was on approaching new relations between human and technology via artistic applications. For Egypt this is a new step and at the same time a means to prompt young people to look differently at the world around them via the familiar technology that they use every day. Haytham explained how they pointedly search for locations in the city for their festival, in the public space and elsewhere, in order to involve groups of people who normally would not visit a museum or gallery.
Bahia Shebab
, who is also linked to the American University, then told us about how she employs graphic design and street art to discuss socio-critical topics in the streets of Cairo. Bahia presented a huge diversity of projects that her 'graphic design' students have developed in their graduation year: from a socio-critical comic and a sexual education kit to a navigation app in which formal and informal city structures are made visible. For Bahia, her students and the 'seeds' that she is planting are the most important aspects of her work. This is not accompanied by a great deal of fuss or noise, but it does have an impact. Or in Bahia's words: 'You can hear a tree fall, but you can't hear a forest grow.'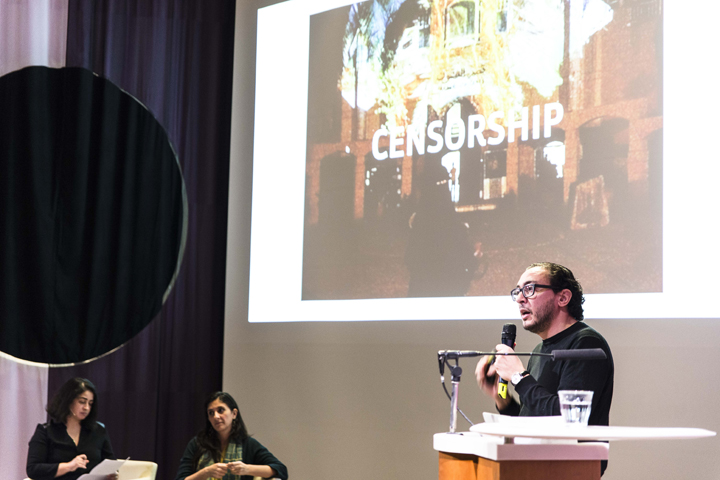 Haytham Nawar, founder and and artistic leader of the Cairotronica and New Media Arts Festival and teacher at the American University. Photo: Mohamed Najah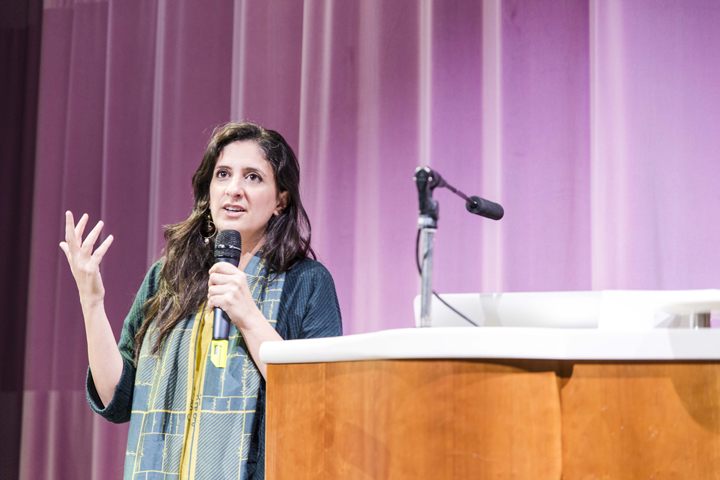 Bahia Shebab, American University. Photo: Mohamed Najah
Turkey
Nagehan Kurali Alan is a co-founder of Design In Situ, a design studio in Istanbul with a passion for the creation of digital experiences with a narrative. Nagehan sketched out an image of Istanbul as an urban playground; a city with challenges and opportunities. Within that context the studio's mission is to employ the public space for more interaction between people and to capitalize on social behaviour. When creating their statements, interactive technology is the servant of the message, as in the case of the politician who stated that women should not laugh out loud in public space. She placed this quote in 'monumental script' on a wall, and thanks to the use of interactive technology every passer-by gets to hear a giggle. With them being female designers, much of the studio's work is related to the position of women, because the city's development does not self-evidently provide space for women. Social media and new media are subsequently used to disperse the narrative beyond the public space.
Nagehan Kurali Alan and Selin Mörth of Design In Situ. Photo: Mohamed Najah
Russia
After Turkey we turned our attention to the cold north, to the independent collective Fridaymilk in Murmansk, which Zhanna Guzenko and Oleg Khadartsev told us about in greater detail. As a collective they explore the northern identity, and far away from Moscow they discover that they have more in common with their neighbours across the border (Finland, Norway, part of Sweden and the Arctic Circle) than the inhabitants of their own country. They investigate what it means to live in Murmansk in a post-Soviet Russia. This is about loving a place despite the discomfort, the struggle with nature and infrastructure, and that struggle is one of the factors that is shaping a new northern identity. Oleg uses the fridge as a metaphor, as you don't just want to take something from it where you need it, but to add something as well. Zhanna and Oleg have achieved this with, among other things, their festival, which besides providing physical warmth also and primarily promotes the idea of the decentralization of cultural centres: a shift of the focus on major cities to rural regions. Regional identity and the perception of the region's specific culture is being constructed and built on in conjunction with producers of digital culture, architects, designers and journalists.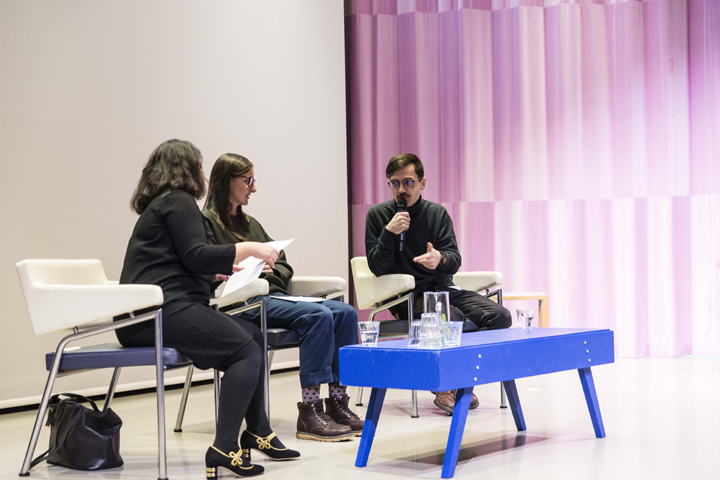 Moderator Hassnae Bouazza, Zhanna Guzenko and Oleg Khadartsev of the collective Fridaymilk. Photo: Mohamed Najah
Morocco
Lastly, Kenza Benchouchaïb, director of the Kulte centre for contemporary art and editions in Rabat, provided us with insight into her experiences. The guiding principle for the Kulte gallery is experimentation with various disciplines, analyses and reflections on social questions in Morocco and Africa in a broader context. The connecting thread is the questioning of the public space and the role that is played by diverse groups. As an example, Kenza mentioned 'The Africans' project, which tackles the discussion about race and black identity, a topic which in Kenza's opinion deserves greater attention in Morocco. For the 'Ghorfa' project, artist Younes Rahmoun devised a travelling ghorfa – a room which can accommodate various functions – that started out from his village in the mountains and after a journey through various parts of the world returned to its roots in the Rif mountain range. His message is about the ability to adapt oneself to different circumstances and reconnect with the here and now based on a new situation. This resilience is a quality that is needed to cooperate and to make an impact in the Moroccan context.

open call
After this tour of all the projects and the wealth of presentations by the international guests, the discussion proceeded to the parallels in the projects and the challenges that are encountered when employing design for inclusive societies. These discussions encompassed elements such as gaining trust, the troublesome issue of mobility (visas) and the contextual sensitivity that is needed to establish meaningful collaborations and projects.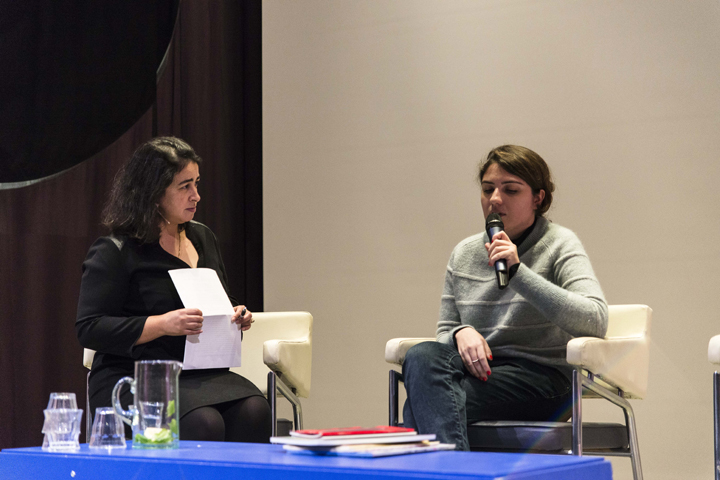 Moderator Hassnae Bouazza in conversation with Kenza Benchouchaïb, director of Kulte Center for contemporary art and editions. Photo: Mohamed Najah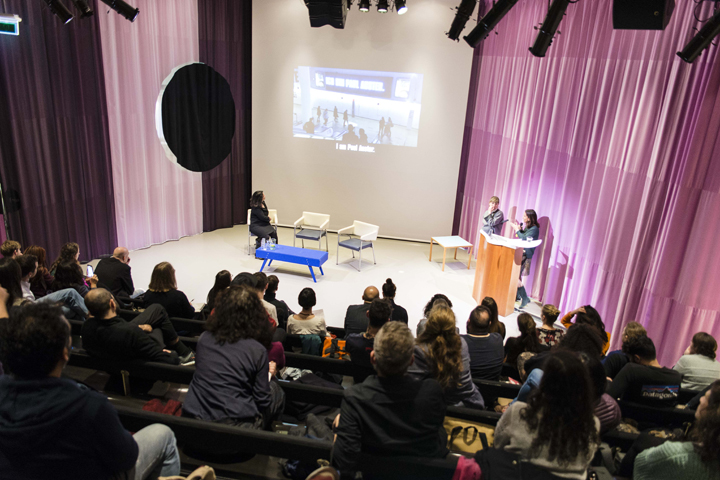 Photo: Mohamed Najah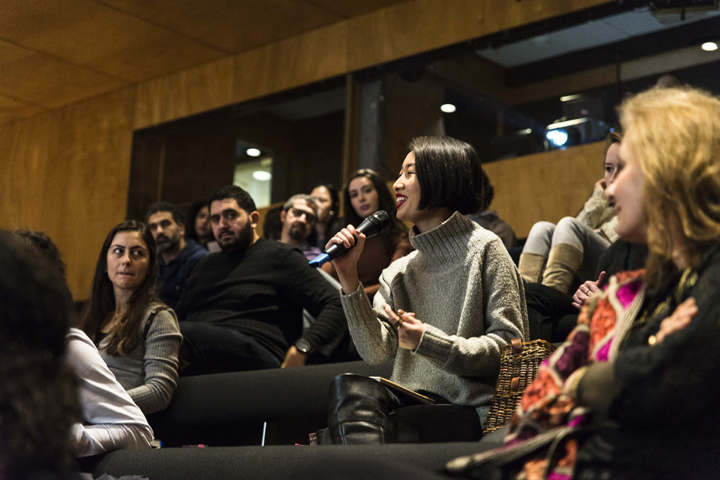 Photo: Mohamed Najah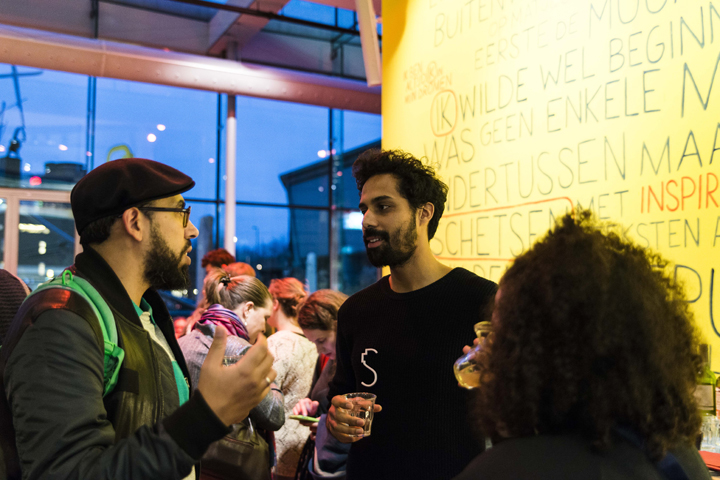 After the presentations there was the possibility to make aquintance with each other and to ask the Fund's staff any questions about the open call. Foto: Mohamed Najah
Text: Rachida Abdellaoui
Photos: Mohamed Najah