Looking back at Thursday Night Live! They invented a new machine...
3 May 2018Last week, Het Nieuwe Instituut and the Creative Industries Fund NL organized Thursday Night Live!. An evening about the technologies and imaginaries of automation, with the five selected projects of the Open Call for the extended program of the Dutch pavilion at the Venice Architecture Biennale 2018. The event is one in a series of three where Het Nieuwe Instituut and the Creative Industries Fund NL work together on the Architecture Biennale and WORK BODY LEISURE, the theme of the Dutch pavilion.
A seaman from a disappearing island, an animator in a space devoid of daylight, a monster eating a machine. These were just some of the figures that came along on an evening that focused on the impact of automation and robotization on work, and the spaces in which it takes place. Because, as the projects demonstrate, work will not disappear but will most likely change dramatically under the influence of these developments. After short presentations of the selected projects, the teams entered into a discussion with Marina Otero Verzier, curator of the Dutch pavilion, under the direction of Willem Schinkel, professor of social theory and external advisor of the Open Call.
The five projects were united by a search for the systems, such as logistical systems, which increasingly structure our world, and which are generally not accessible.
The Institute of Patent Infringement
, founded by Matthew Stewart and Jane Chew, makes the automated future that Amazon is committed to visible, and has written an open call to hack the Amazon patents where this future is portrayed.
Shore Leaves
, a video installation by Giuditta Vendrame and Paolo Patelli, focuses on the invisible work of the seamen who man the ships in the ports of Rotterdam and Venice, and the spaces they visit during their shore leave. The efficient logistics systems they are a part of, and the engine rooms where their work takes place, are a preview of what awaits us all, we hear in one of the fragments in their installation.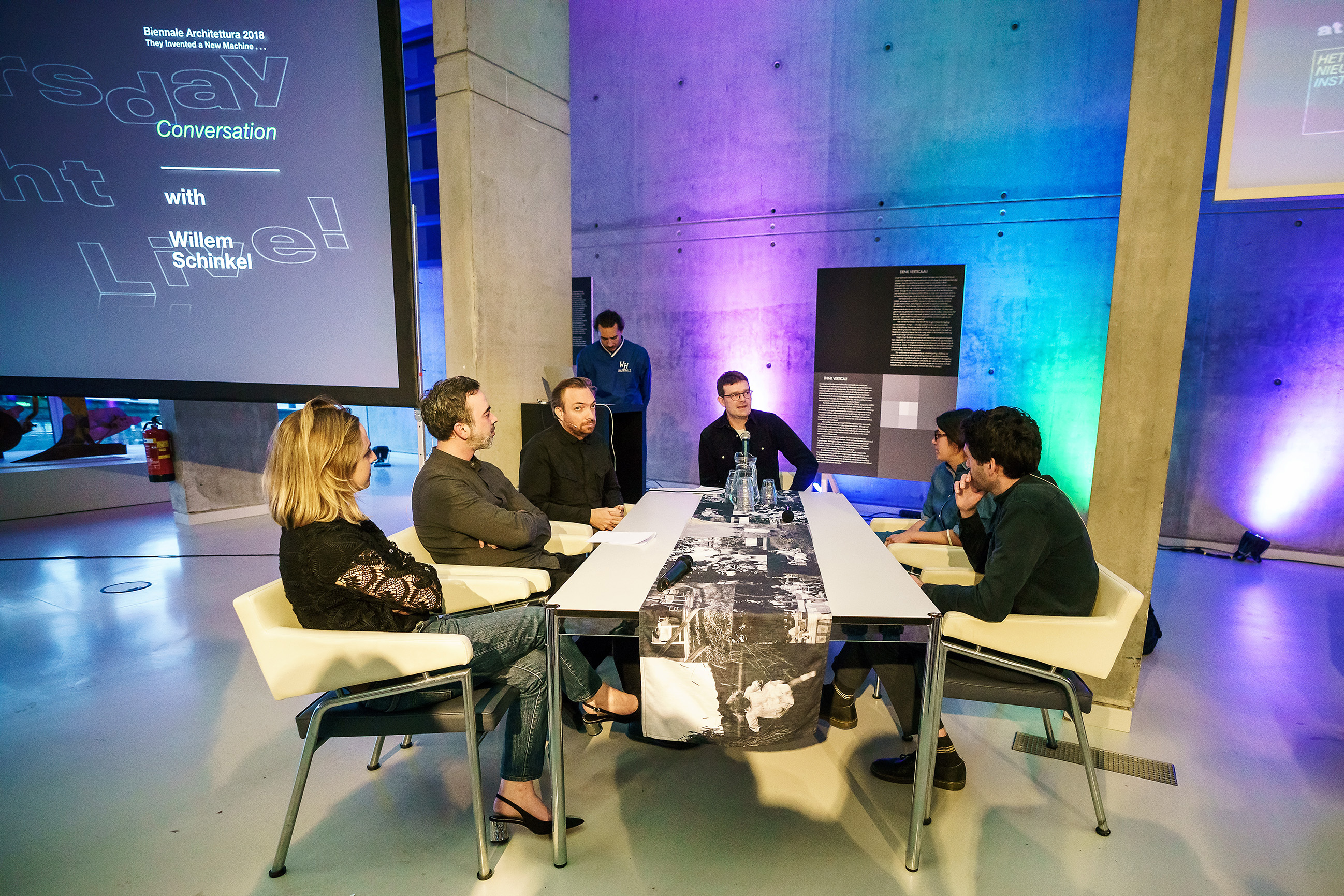 Thursday Night Live! They invented a new machine... Photo: Matthijs Immink
But, Willem Schinkel wonders, is it even possible to make the invisible logistics systems visible, or have they become too all-encompassing? And if so, is it also possible to appropriate these infrastructures? The Port and the Fall of Icarus by Northscapes explores in a speculative way a series of possible future scenarios for the Port of Rotterdam, and hopes to disrupt the system by creating a moment of alienation. Renderlands, a documentary and installation by Liam Young, goes in search of the render farms and animation studios in India that are largely responsible for the visualizations of Western companies, and asked the workers about their own dreamed-of realities, in order to translate them into a physical installation for the Biennale.

The evening was set to music by a contribution from the fifth team, consisting of Noam Toran with Remco de Jong and Florentijn Boddendijk, who have made a contemporary interpretation of early 20th-century working songs with Songs for Hardworking People, which will provide the soundtrack for the Dutch pavilion.

Willem Schinkel ranks among the sceptics: although the projects demonstrate that automation does not lead to the feared disappearance of work, a multiplication of work is in fact generated that leads to inequality and exploitation. But the projects also show that there really are leads for productive appropriation. Because, as Liam Young states, the systems that are responsible for our production are the same systems that connect people all over the world in the most exceptional ways, and in doing so, make new forms of communality possible.

selection Open Call Venice Architecture Biennale #2 and #3
Next to the selection of the extended program of the Dutch pavilion five more projects were selected in the context of the Open Call Architecture Biennale Venice 2018 #2_development budget and the Open Call Architecture Biennale Venice 2018 #3_presentation budget, who provide a physical, spatial contribution to the exploration of the FREESPACE theme during the Venice Architecture Biennale 2018. With the title FREESPACE, general curators of the 16th Venice Architecture Biennale, Yvonne Farrell and Shelley McNamara, address the relation between architecture and society.

next Thursday Night Live!
The 16th edition of the Venice Architecture Biennale will take place from 26 May to 25 November 2018. The Creative Industries Fund and Het Nieuwe Instituut will continue their series of joint events with a reflection on the various explorations of the FREESPACE theme during the Thursday Night Live! on Thursday 5 July 2018.

Text: Sereh Mandias
Photo above: Matthijs Immink