Longread Talent #2: Me and the world: Post-crisis design generation seeks (and finds) its place in vulnerable future
15 September 2008. 12 December 2015. 17 March 2018. These may seem like random dates, but these moments have left their mark on the contemporary design field. On 15 September 2008, the Lehman Brothers investment bank in New York went bankrupt. The ensuing severe financial crisis exposed the disarray of the global economic system. On 12 December 2015, 55 countries (now 197) concluded a far-reaching Climate Agreement recognising climate change as an indisputable fact. The industrial depletion of existing raw materials and energy supplies is now 'officially' unsustainable. And on 17 March 2018, 'The New York Times' reported on large-scale political manipulation by the data company Cambridge Analytica. Fake news and privacy violations shattered the twentieth century's democratic ideal.
These events – and more, for that matter – highlight the world's continuing crisis conditions. The more than 250 designers the Talent Development Scheme of the Creative Industries Fund NL has supported since 2014 were trained during, and thus shaped by, these crises. They belong to the last design generation with a clear memory of 9/11 – a generation motivated by a sense of urgency. They understand that if we don't turn the tide, then who will? They are also devoid of arrogance and well aware of the limitations of their expertise and the disciplines in which they work. Whether product design, fashion, digital design or architecture, they do not harbour the illusion that they have that one all-encompassing solution.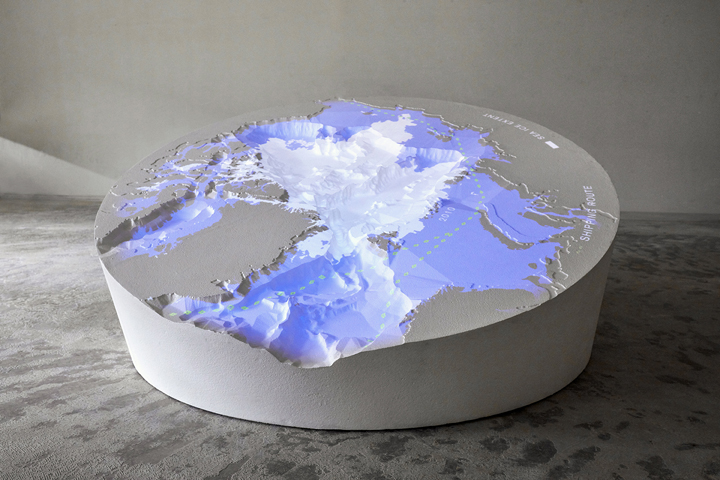 Irene Stracuzzi, The Legal Status of Ice
mapping the money flows
However, communication is a potent weapon, as graphic designer Femke Herregraven (2015 cohort) understands. She delved into and visualised the financial constructions behind the neoliberal world economy. Herregraven focused on offshore structures and the disconnect between capital and physical locations. Through a serious game, she playfully introduced you to international tax structures in faraway places. Her 'Taxodus' draws from an extensive database that processes various international tax treaties and data from companies and countries. Becoming rich has never been so fun and easy. She also investigated the colonial history of Mauritius and this Indian Ocean island's new role as a tax haven. Herregraven's meticulous research and surprising designs reveal hidden value systems and clarify their material and geographical consequences. To reform unbridled capitalism, one must first know its pitfalls.

Knowledge is also power. Thus these designers are trying to determine their place in an increasingly vulnerable world. Vulnerable in a very literal sense because climate change is perceived as the most dangerous threat. As graphic designer Irene Stracuzzi (2019 cohort) demonstrates, geopolitical forces also determine the playing field here. Her installation 'The Legal Status of Ice' details how the five Arctic countries – Russia, Canada, Denmark, Norway and the US – are laying claim to the North Pole. After all, immense oil and gas fields may lie beneath the melting icecaps. But shouldn't the disappearing ice, which has shrunk by half since the late 1970s, be the issue? Stracuzzi has mapped this contemporary imperialism in a giant 3D model of the North Pole, onto which she maps the overlapping claims and other data. The legal status of ice concerns not only the North Pole but also the uranium mines in Angola and the new space race in search of lunar minerals. It is about a system of exploitation and colonialism. The influential curator Paola Antonelli selected Stracuzzi's work for the 'Broken Nature' exhibition at the 2019 Triennale di Milano. No one can now claim we didn't know.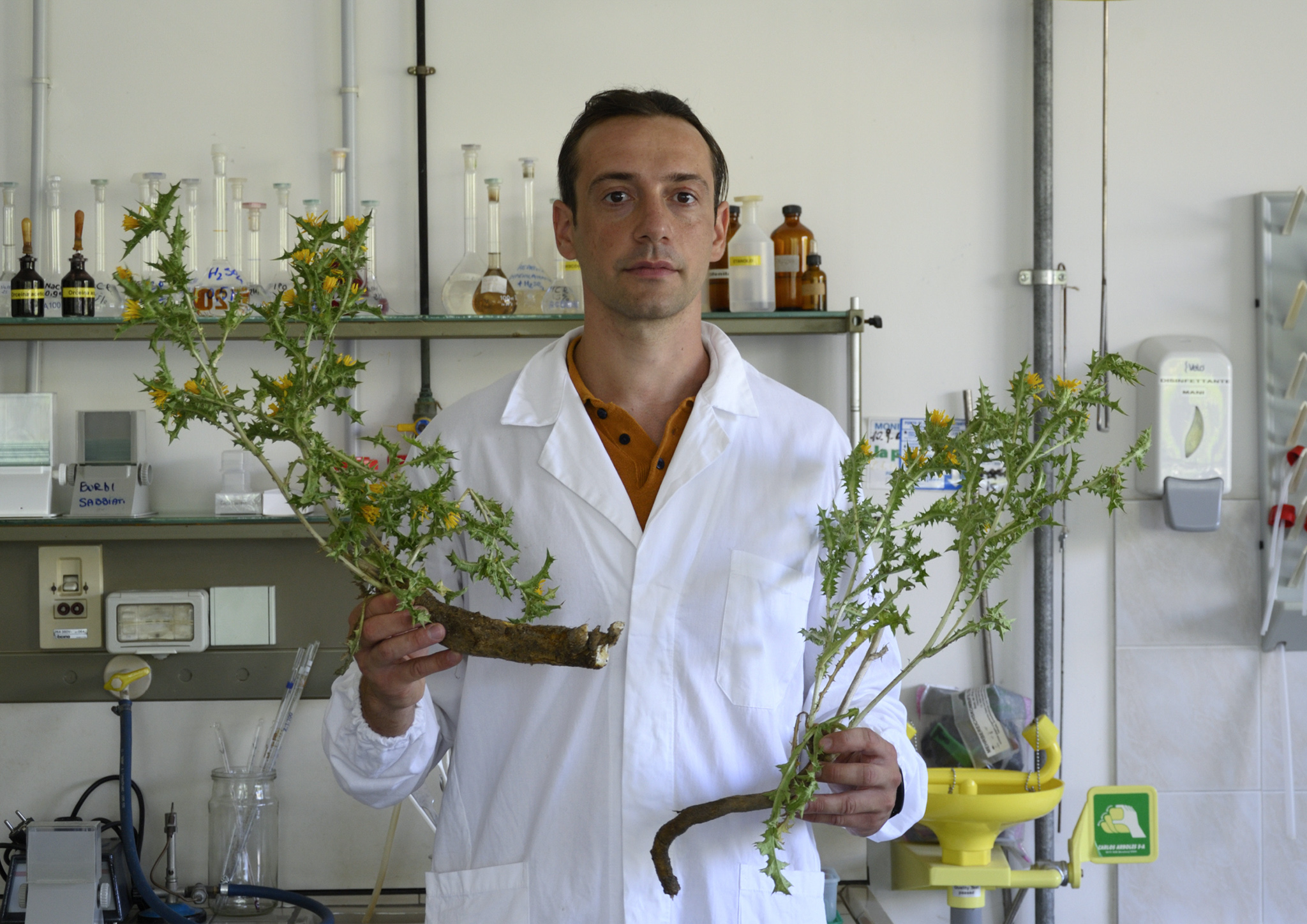 Marco Federico Cagnoni
living lamps
The realisation that the complexity of the climate crisis is too great to confront alone is profound. Designers eagerly collaborate with other disciplines. For example, Marco Federico Cagnoni (2020 cohort) is researching latex-producing edible plants with Utrecht University. Corn and potatoes, among other plant varieties, are still grown as raw materials for bioplastics, but the production process discards the nutrients. Cagnoni is studying food crops whose residual material is also processed into fully-fledged bioplastics.

Designers seek a symbiosis with nature from an awareness that we can no longer exploit Earth with impunity. The roadmap is diverse, and nature is protected, imitated, repaired or improved. Let us not forget, we are in the Anthropocene: the era in which human activity influences all life on Earth. But if humankind can destroy nature, then humanity can also recreate it. Biodesigner Teresa van Dongen (2016 cohort) collaborated with microbiologists from TU Delft and Ghent University to develop the 'Ambio' lamp based on luminescent bacteria. The lamp features a long, liquid-filled tube in which marine bacteria live. When the tube moves, it activates the bacteria to give off light. The better the bacteria are cared for, the more and longer they give light. As well as being a sustainable alternative, her Ambio lamp also functions as a powerful means of communication. So working together with nature is possible; we have simply forgotten how to do it.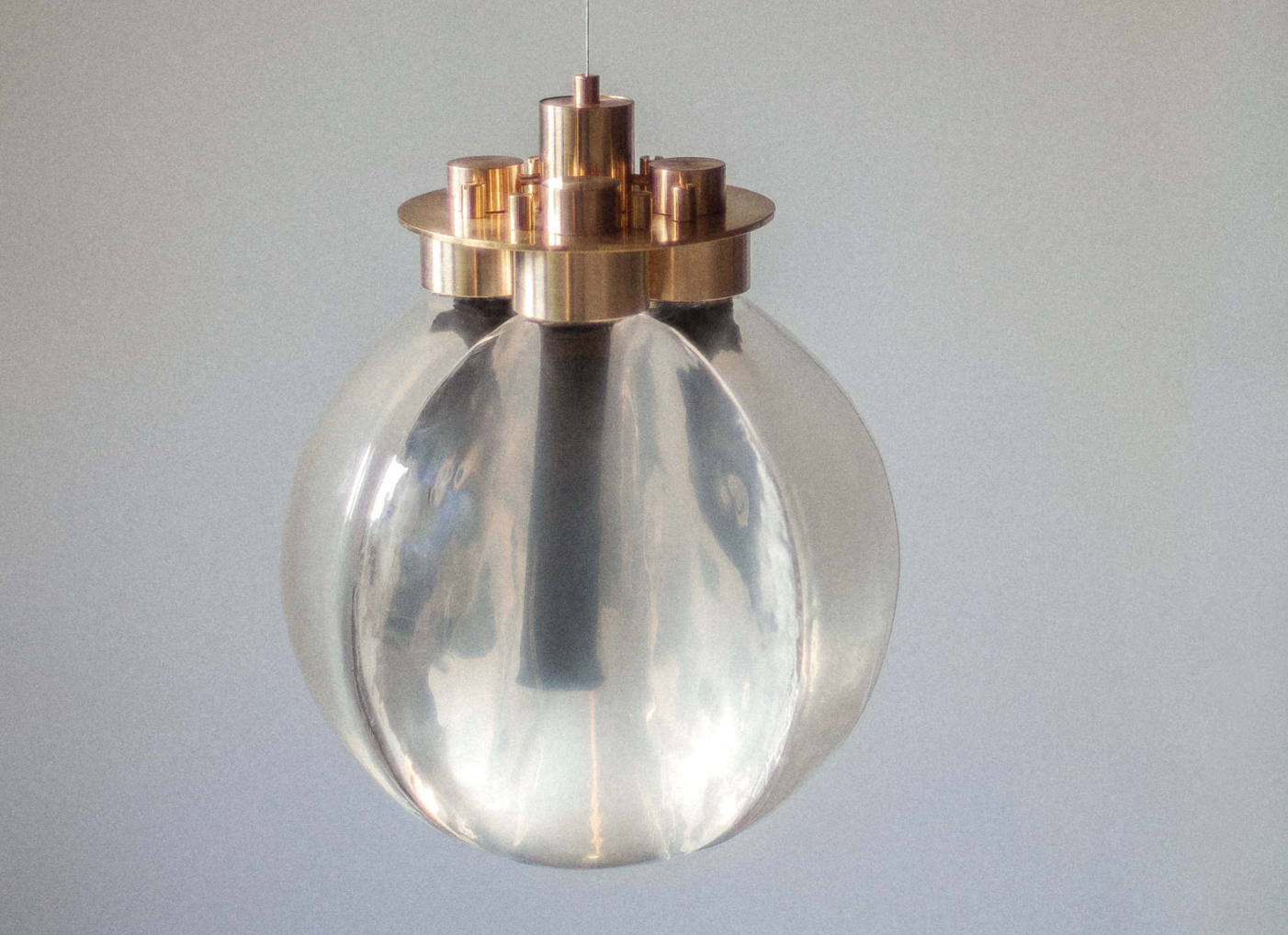 Teresa van Dongen, Ambio
This situation explains why designers are looking for ways to restore our relationship with nature. Architect Anna Fink (2020 cohort) proposed a country house consisting of rooms scattered in woods, meadows and a village. Residents must maintain their 'Landscape as House' by felling, planting, mowing, building and repairing. The essence of this fragmented 'house' is a daily rhythm of movement from room to room and an awareness of the environment, time and space. Routines and rituals are rooted in the weather's changes. Seasons become a domestic experience. Fink drew on the age-old, semi-nomadic lifestyle of her ancestors in the valley of the Bregenzerwald in the northern Alps. Here, the hyperlocal offers a solution for global issues.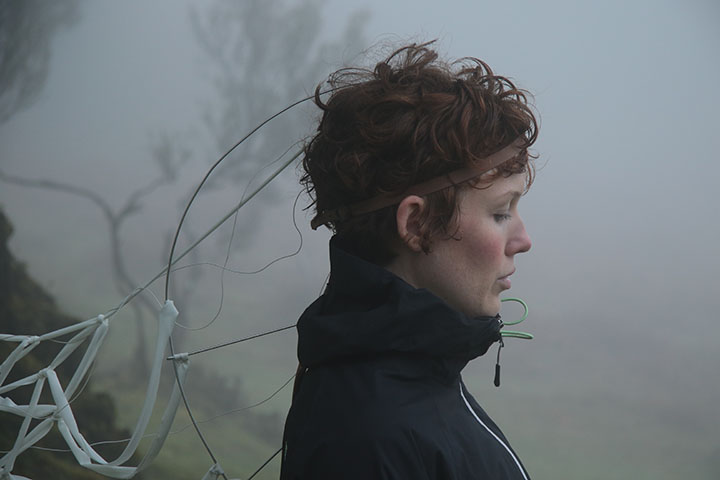 Sissel Marie Tonn i.c.w. Jonathan Reus, Sensory Cartographies
raw satellite dat
However, some designers rely on technology to experience nature. Indeed, why should we long for something that no longer exists? The Anthropocene has already begun. Sissel Marie Tonn (2020 cohort) uses scientific data such as seismographic measurements. She combines this complex and abstract data with empathic conversations with Groningen residents about their earthquake experiences, which are common to this region because of gas field drilling. This layered information about both the human and geographical aspects of seismic activity was – literally – woven into a wearable vest in collaboration with two fashion designers. Together with sound artist Jonathan Reus (2018 cohort), she also realised an interactive composition of sonic vibrations to translate the intense experience of an earthquake to a broad audience. Tonn's installations connect natural processes with technology to make humankind's impact on Earth visible and tangible. It is worth remembering that the earthquakes in Groningen were set in motion by humans.

New technologies, such as life science and biohacking, are reshaping our understanding of the natural world. It is no coincidence that these designers are about as old as Dolly the sheep, which in 1996 was the world's first successfully cloned mammal. In his 'Tiger Penis Project', Taiwanese-Dutch designer Kuang-Yi Ku (2020 cohort) extended this genetic replication to healthcare. Many traditional Asian medicines regard the tiger penis as a medicine beneficial for male fertility. As a result, the tiger, already facing extinction, is under even more threat. Ku – who previously studied dentistry – proposed using stem cells to cultivate a tiger penis in the laboratory. This immediately raised all kinds of new dilemmas. Is the tiger penis that is laboratory-grown rather than from a wild tiger still suitable as a traditional Chinese medicine? In short, what are the limits of nature by design?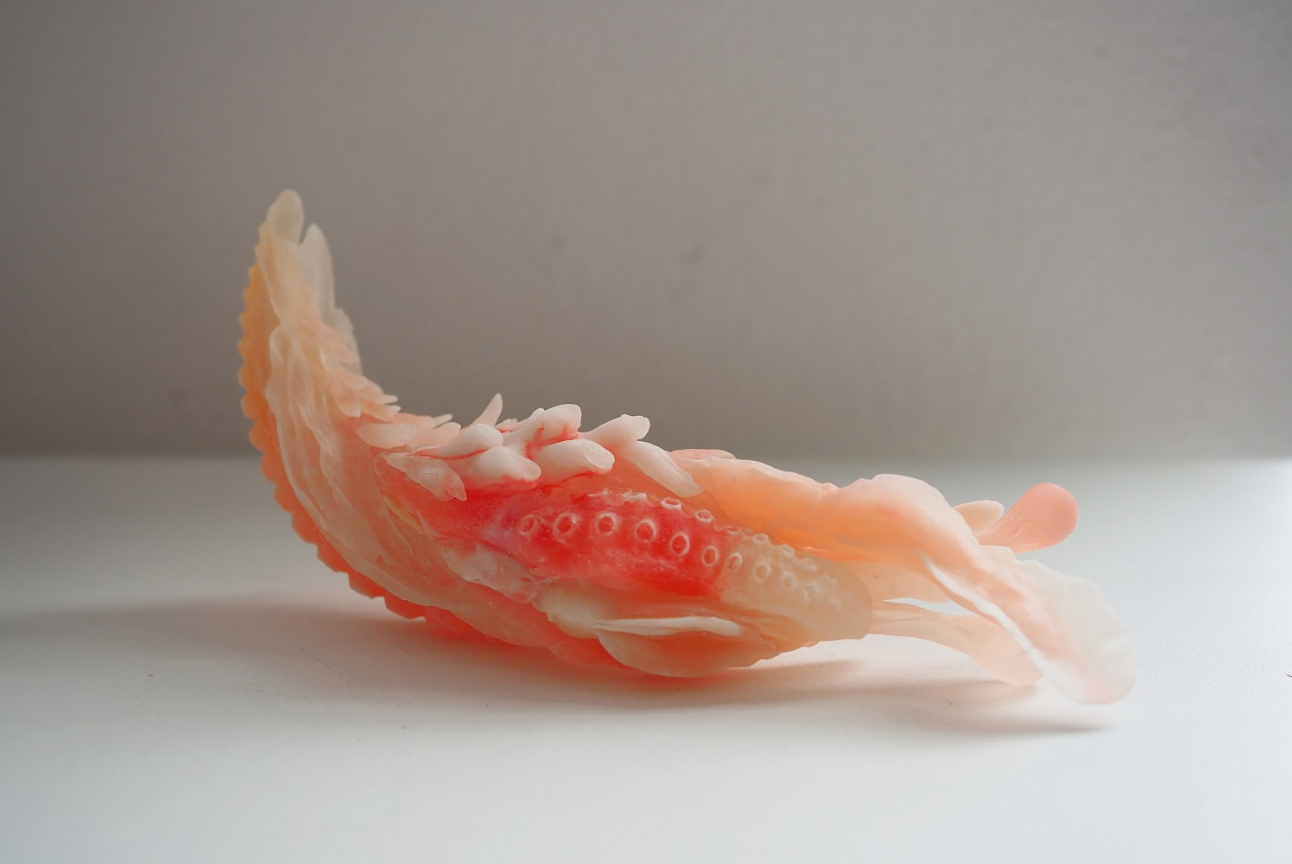 Kuang-Yi Ku, Tiger Penis Project
This fusion of biology and technology will eventually lead to a new kind of being: the posthuman. Jewellery designer Frank Verkade (2017 cohort) developed a scenario for this engineered body with his 'Paradise' project. However, instead of technology, Verkade gives plants and animals a prominent role in adapting the human body to modern times. The origin of jewellery is, in fact, to be found in prehistoric peoples who used animal forms and natural materials to harness the mythical forces of nature. By harking back to the ancient, Verkade connects the modern human to its environment.

hacking technology
If technology becomes such a determining factor for humankind's future, then surely we cannot entrust the future of our technology to a small group of wealthy, middle-aged white men from Silicon Valley and the European Parliament? According to speculative designer Frank Kolkman (2018 cohort), the discussion about technology's quotidian role must therefore be part of our daily life. 'OpenSurgery' is a study into a do-it-yourself surgical robot. These are already being built using 3D printers and laser cutters by people in the US who cannot afford a doctor. The self-proclaimed design hacker exposes technology's social, ethical and political implications. But what do we think of this, and is this something we even want? After all, turning back technology is almost impossible.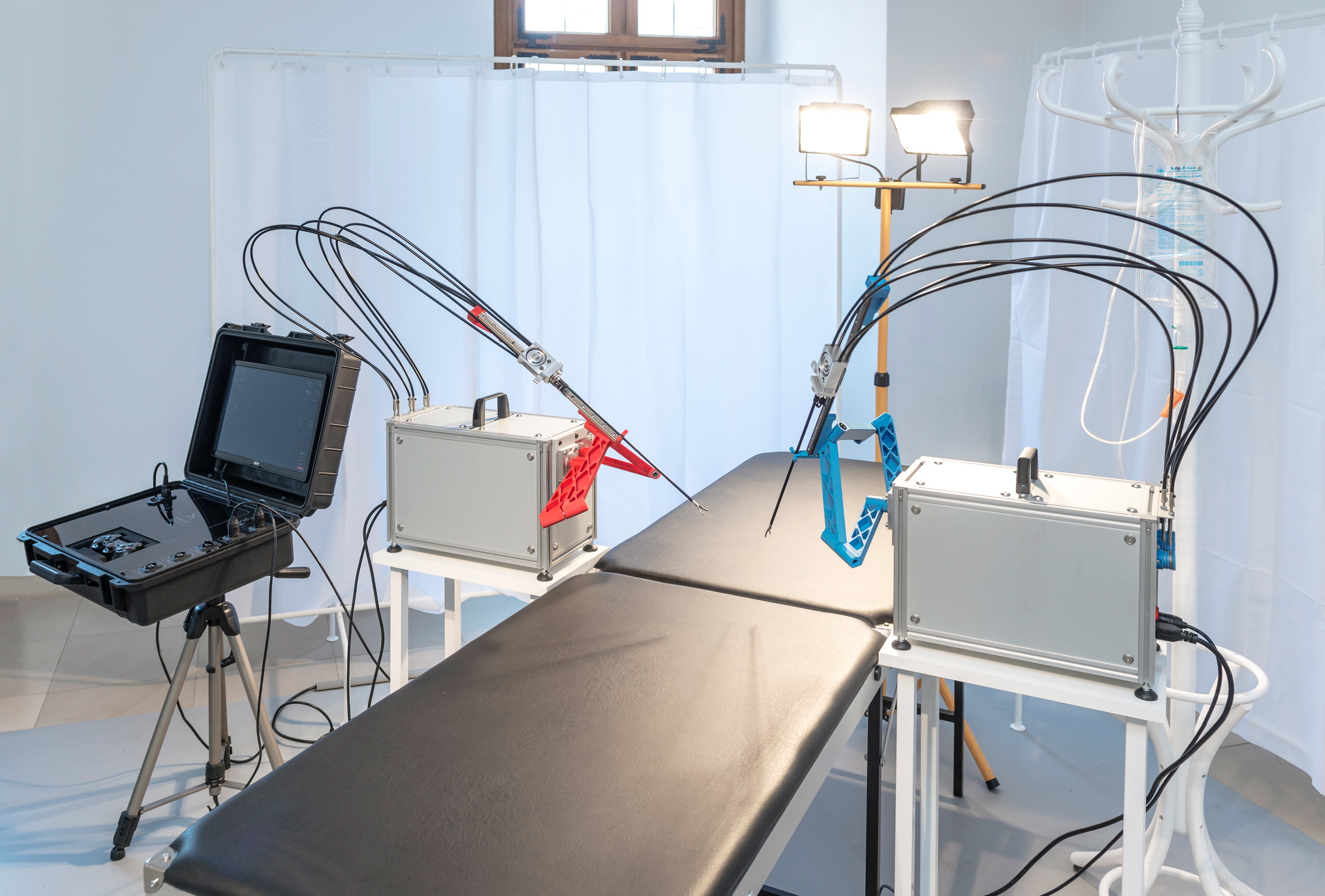 Frank Kolkman, Opensurgery
Such ambivalent attitudes towards technology are a common thread in the new design mentality. With the tablet at hand and a laptop at school, this design generation grew up as digital natives. Technology plays a prominent role in their lives. However, they also know the risks: robotics, big data and artificial intelligence raise novel ethical dilemmas about privacy and employment. According to data designer Julia Janssen (2018 cohort), multiple times a day, we carelessly dismiss warnings that state 'I agree with the terms' or 'click here to continue'. But what do we actually permit? Who collects what data, and above all, why? And what is the value of such information flows? Janssen's project, '0.0146 Seconds' (the time it takes to click on the 'accept all' button), informs us of the invisible economy behind the internet. She published all 835 privacy rules of the website for British tabloid the 'Daily Mail' in a hefty tome. At events like the Dutch Design Week, the public reads this book aloud as a public indictment.

prosecution and defense
The new digital reality in which nothing is as it appears and fake news lurks everywhere pushes designers into the role of seeking the truth. To prevent complex global issues, such as globalisation or climate change, from becoming bogged down in an abstract discussion, the design duo Cream on Chrome (Martina Huynh and Jonas Althaus, 2020 cohort) used a fictitious lawsuit, without a trace of irony, to indict everyday objects. A sneaker is arrested and prosecuted for climate change, and a face mask is put on trial for not being present in time to prevent contamination. Cream on Chrome uses this debate between prosecutor and defence to question the mutual recriminations and the search for a scapegoat. In reality, are we not the ones who are actually on trial?
Cream on Chrome, Proxies on Trial
designing for urgency
Designers thus assume the role of the canary in the coal mine, warning us about the consequences of 15 September 2008, 12 December 2015 and 17 March 2018. The Talent Development Scheme enables them to do this without the hindrance of a lack of time and money – and perhaps even more importantly, without the pressure of quantifiable returns. Only free experimentation allows for unexpected insights. Who would have thought that Kuang-Yi Ku's Tiger Penis Project could have prevented a global pandemic if also applied to bats and pangolins? Or that the Daily Mail is no longer recognised by Wikipedia as a reliable news source, as Julia Jansen already indicated?

Instead of conforming to the powers that be, designers take on the opportunity to transform the world; instead of imminent irreversibility, potential improvement is nurtured. The world is explained and improved with speculative and practical, but always inventive, designs. This makes the Talent Development Grant Programme a valuable resource for individual designers and society as a whole.

Text: Jeroen Junte

During Dutch Design Week, the 2021 intake for the Talent Development Scheme will be presented in the Klokgebouw under the name Stimuleringsfonds Creatieve Industrie presents talent.

Image above: Sophia Bulgakova, 'Inevitably Blue' (left) and Inez Naomi Correa Alves, 'Versatile Forever', Photo: Imke Panhuizen (right) both 2021 cohort