Interview Suzanne Oude Hengel | Innovation in textiles
13 March 2019

Suzanne Oude Hengel studied Product Design at ArtEZ Arnhem. Through her Instagram account, she keeps over 5,000 followers informed about her shoe designs, which are disappointingly not for sale. By now, she is developing in several areas, working internationally with major brands such as Timberland and Rothy's, and is increasingly shaping her own practice.
Material research plays the leading role in Suzanne Oude Hengel's work. As a shoe and textile designer, she focuses on combining techniques (including knitting techniques), industrial production and digital design methods. 'The fact that I concentrate on shoes actually happened intuitively', explains Suzanne. 'I develop materials, which I was already doing during my studies. When the focus shifted more and more to textiles, I wanted to use them in a functional way. I focus on innovation and would like to change the applications in textiles. Shoes are very interesting due to the scale and because the design involves many restrictions. Not only does a shoe have to fit your foot well, it also has to offer support at the right points and be of high quality'.
knowledge
Suzanne does not see herself purely as a designer, but considers herself equally to be a technician. To develop her technical knowledge, she works a number of hours a week at the TextielLab in Tilburg. 'The TextielLab is a very valuable place for me, but also for many other designers. I started working there after an internship. I operate and repair the knitting machines, learn how to programme and am an ambassador for knitting for the visitors. In addition, there is room for personal experimentation and knowledge development.'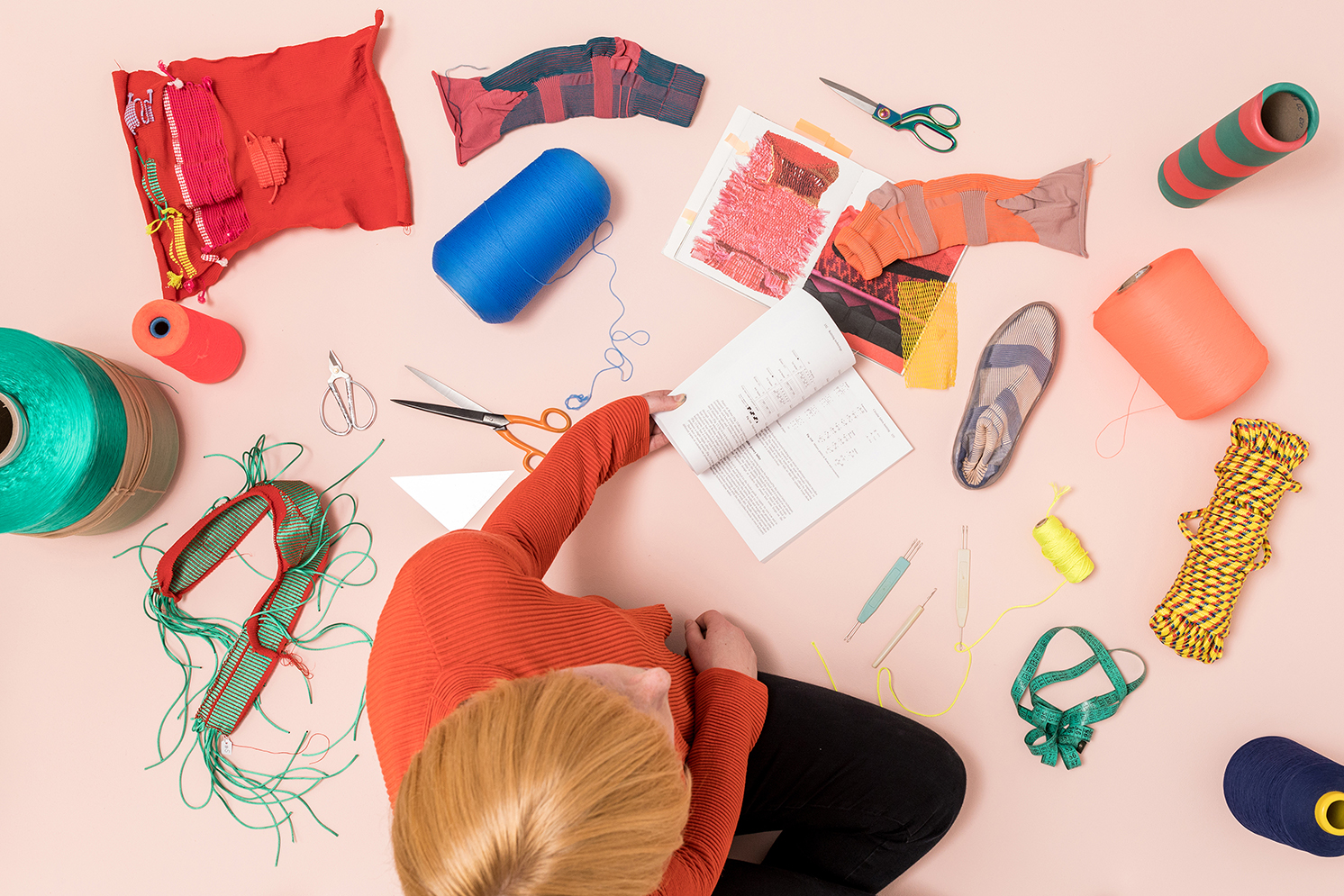 Photo: Masha Bakker
focused
In addition to my own research and the work at TextielLab, I often work on behalf of major brands. They ask me to develop new products or to set up research for them. I don't approach anyone, but through Instagram people have been able to find me in the last three years since I graduated.' During those three years, Suzanne has increasingly determined her own course and that sometimes takes courage. For instance, she has rejected a number of great offers from major brands. 'Of course, a job provides security and you feel honoured to be asked. But I find building my own business more attractive. I work on so many enjoyable projects and it's achieving success,' explains Suzanne.

advice
In order to invest as much time as possible in her research and to accelerate the development of her own practice, Suzanne applied for a talent development grant from the Creative Industries Fund NL. And to get some support in the collaboration projects with large companies, she became a member of the BNO. 'When you start working together with large, internationally operating companies, you suddenly have to deal with non-disclosure agreements and the tax systems of other countries. The working grant from the Fund enables me to invest in my own development and gives a boost to building up my company. The grant gives me space to work on my visibility and network. In terms of professional content, in the past year I have delved into the software of flat knitting machines and have carried out a great deal of material research. When I applied for the grant, I did ask others for feedback on the development plan that had to be written for it. You shouldn't be too cautious about doing that and it can be extremely useful. I thought it was important to stay close to myself and to write down what I really wanted. I know from others that they sometimes experience a threshold when applying for a grant like this. But there's no need for that whatsoever. A new opportunity always comes along.'

The next step in building her own practice is in sight. Suzanne is discussing merging her studio with someone else's and setting up her work in a larger way as a result. She wants to present herself even more as a hybrid designer and to develop herself in technical respect. The aim remains to highlight all the facets of textiles, both functional and technical.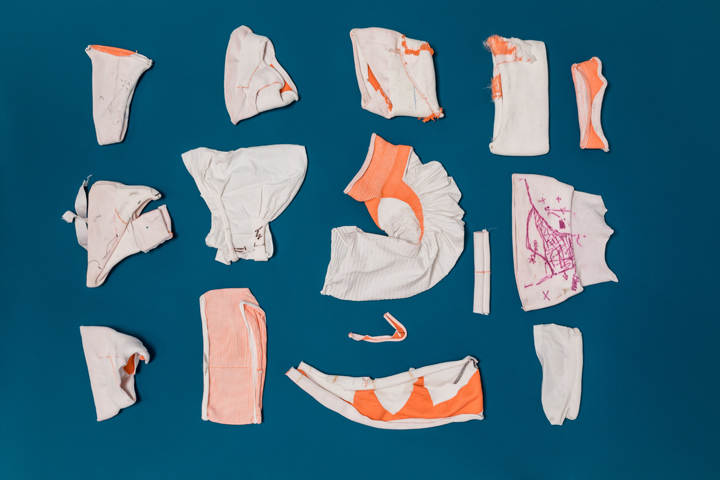 Photo: Masha Bakker
You can find out more about the Creative Industries Fund NL's Talent Development working grant here. Are you curious about everyone who received support in recent years via the Grant Programme for Talent Development? Platform Talent provides an overview of all the supported designers and makers.

This interview is the last in a series of three. Previously we interviewed Marjan van Aubel and Koos Breen (Dutch only).