Interview Marjan van Aubel | Future work
6 February 2019

Marjan van Aubel trained as a product designer at the Amsterdam Rietveld Academy and the Royal College of Art in London. For a number of years now, she has been profiling herself as a solar designer and is focusing on the smarter application of solar cells, in the hope of accelerating the sustainability of our society and creating awareness about our energy consumption. This did not go unnoticed, because in recent years she received a WIRED's Innovation Award, was voted Radical Innovator and Swarovski named her Designer of the Future.
Material experimentation, knowledge development and the achievement of social change are central to the work of Marjan van Aubel. To this end, she collaborates extensively with scientists, technicians and institutions, such as ECN.TNO (Energy Research Centre of the Netherlands) currently. She was able to bring the focus to her work thanks to a talent development grant from the Creative Industries Fund NL. "With a practice that you have to keep running every day, there is little room left for reflection and experimentation.The working grant gave me time to determine my direction and allowed me to invest a great deal specifically in materials research", explains Marjan.
experiment
In her first designs as a solar designer, Marjan van Aubel investigated ways to incorporate solar cells into existing objects that are common in our daily lives in an aesthetically pleasing and natural way. One of the results was the Current Table, the first piece of furniture that is able to generate energy indoors thanks to a glass top which incorporates solar cells. This table is no longer just a table, but also a small power plant. She also developed a window that, in a similar way to the table, generates its own electricity from daylight and colour. Thanks to these types of designs, solar cells can be integrated into our daily lives in more and more ways, on a small but also much larger scale, for instance in greenhouse horticulture.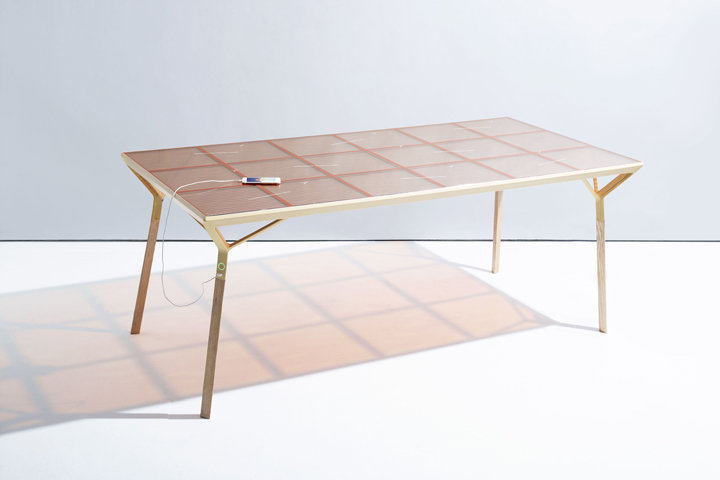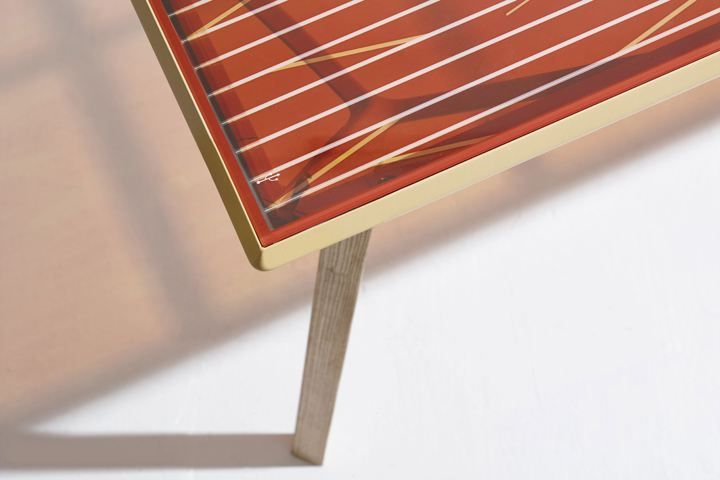 'Current Table' Photos: Mitch Payne
"During the first phase, I experimented with as many applications of the solar cells as possible. My starting point is always: what resources are available and how can you use them? In addition, I try to think about how we will deal with energy in the future," says Marjan. "With Swarovski I have developed an installation that increases the efficiency of solar cells thanks to the use of crystals. And now I am working with ECN.TNO to develop the aesthetic quality of solar cells. The first solar cell was built in 1883. Over the years they have become much more efficient and cheaper while their appearance has hardly changed at all. But if you want to accelerate the energy transition and make solar panels a success, they have to be much more desirable and better integrated into our environment."

collaboration
She has someone who supports her in her business and works a lot with interns, but otherwise most of the collaborations she enters into are outside the design world. Marjan does not have any difficulty achieving these partnerships. "You can't do these kinds of research projects on your own, especially if you want them to have an impact. At ECN.TNO I work together with a team of product developers that includes physicists. I get plenty of explanation about the technical aspects and learn how the industry works. At the same time I bring my own knowledge and, in particular, an alternative approach. In industry, they work towards a final goal via a preconceived step-by-step plan. But that leaves little room for taking new paths when appropriate. My approach is rather unfamiliar to them, but they do see that it achieves results."

In addition to the questions she herself lays at the door of other parties, Marjan van Aubel is increasingly being approached by companies. They are keen to work with her and if it fits in with her projects, she does. "To begin with, I sometimes received sceptical reactions to my work from the scientific community; it takes a while before people start taking you seriously. So it's a real pleasure when a glass manufacturer approaches you and asks you to jointly develop glass based on solar cells."


'The grant gave me space for experimentation and research, I was able to expand my network and I could engage a coach. '
professionalization
Collaborating with other parties also means concluding contracts, and that is not always easy. With large parties such as ECN.TNO, these are extensive documents that don't simply get signed. You have to deal with legal departments and make sure that you are well covered yourself. So Marjan became a member of the BNO. "It's a good feeling when a lawyer reads a contract with you, especially when there's a lot at stake. The legal advice you receive also helps you to assess the consequences better. It is also good that the BNO has many model contracts such as General Terms and Conditions. I use these regularly."
At the moment Marjan van Aubel is also supported by the Fund. For her collaboration with ECN.TNO, she submitted an application for the Open Call Fresh Perspectives, which is aimed at supporting collaborations with knowledge centres. "The Fund really has been very important for my development, and still is. When I applied for the talent development grant, I had to decide what I wanted to do with my work. The grant gave me space for experimentation and research, I was able to expand my network enormously because I could attend lectures and seminars and I could engage a coach who helped me determine my focus. I can only advise others to consider carefully what they want to achieve with their work when applying for a grant. And realize that self-reflection takes time; you have to take that time as well.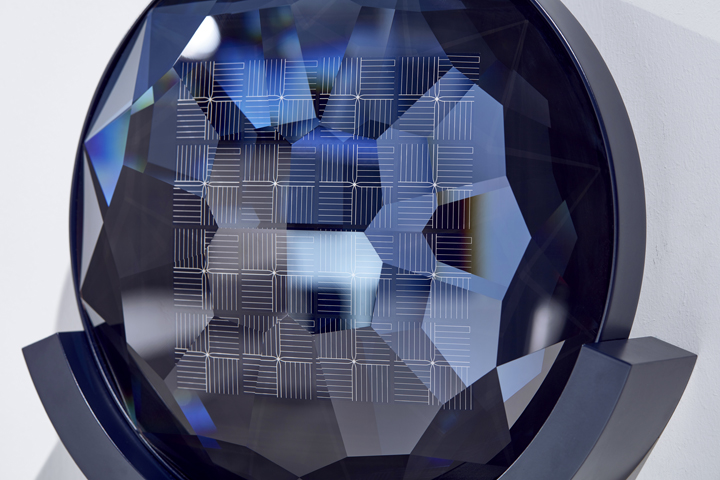 'Cyanometer' in collaboration with Swarovski
If you would like to know more about the Creative Industries Fund NL's Talent Development working grant, click here. The deadline for applying for talent development grants for 2020 is 6 March 2019. Are you curious to know who received support in recent years through the Talent Development grant programme? Platform Talent provides an overview of all the supported designers and makers.

This interview is part of a series of three. In the upcoming weeks there will follow more interviews via our newsletter.