In retrospect: In No Particular Order 2017
30 October 2017

During Dutch Design Week 2017 (21 until 29 October), Stimuleringsfonds Creatieve Industrie presented for the fourth time an exhibition about Talent Development. In the Van Abbemuseum's Studio the fund received over 5,000 designprofessionals and other interested parties, reflecting on the design practices of designers, architects and artists who received the Talent Development grant last year.
Under the title 'In No Particular Order', nine installations made a collective portrait that offers reflection in practical, poetic and critical ways on the multiform contemporary working practices of a young generation of designers. For this edition the fund invited one of the participants of the Talent Development Programme as curator: Jules van den Langenberg. In studio exchanges and various meetings, he and the 32 designers and makers who received a Talent Development grant reflect on the themes: Attitude, Inspiration, Habitat, Representation, Money, Fortune, Language, Discourse and Market.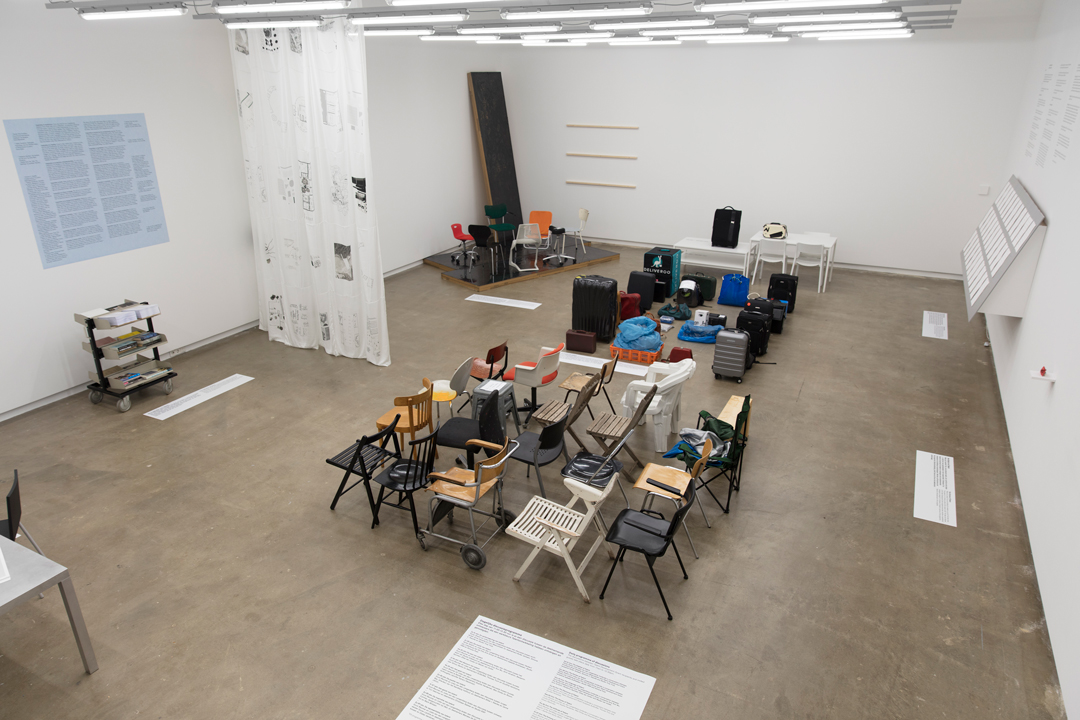 Photo: Lonneke van der Palen
All of the 32 participating designers provided input with conceptual as well as physical contributions such as sketches, prototypes and sources of inspiration. Van den Langenberg then invited nine progressive thinkers and makers from the creative industry to produce an installation based on these collections.

Jules van den Langenberg: 'Instead of showing completed projects or finished products by designers, in the cellar of the Van Abbe Museum we are showing another side of design practice. The exhibition explores the milieu of professional, personal and socio-cultural factors that young creative professionals experience today.'

participant designers and makers
Alissa + Nienke (Alissa van Asseldonk en Nienke Bongers), Amy Suo Wu, Isabelle Andriessen, Paula Arntzen, Atelier Frank Verkade, Marjan van Aubel, Christiaan Bakker, Mariska de Groot, Max Dovey, Ting Gong, Sophie Hardeman, Chrissie Houtkooper, Ruiter Janssen, Elisa van Joolen, Jules van den Langenberg, Yaolan Luo, Mark Minkjan, Simone C. Niquille, Kirstie van Noort, Simone Post, Roomforthoughts (Jennifer Kanary Nikolov(a)), Benjamin Sporken, Amir Avraham, Studio Iwan Pol, Studio RAP (Wessel van Beerendonk, Léon Spikker en Lucas ter Hall), Studio Truly Truly (Joel Booy en Kate Booy), PWR Studio, SulSolSal (Johannes Bernard en Guido Giglio), Thomas Trum, Janna Ullrich, Dieter Vandoren en Giuditta Vendrame.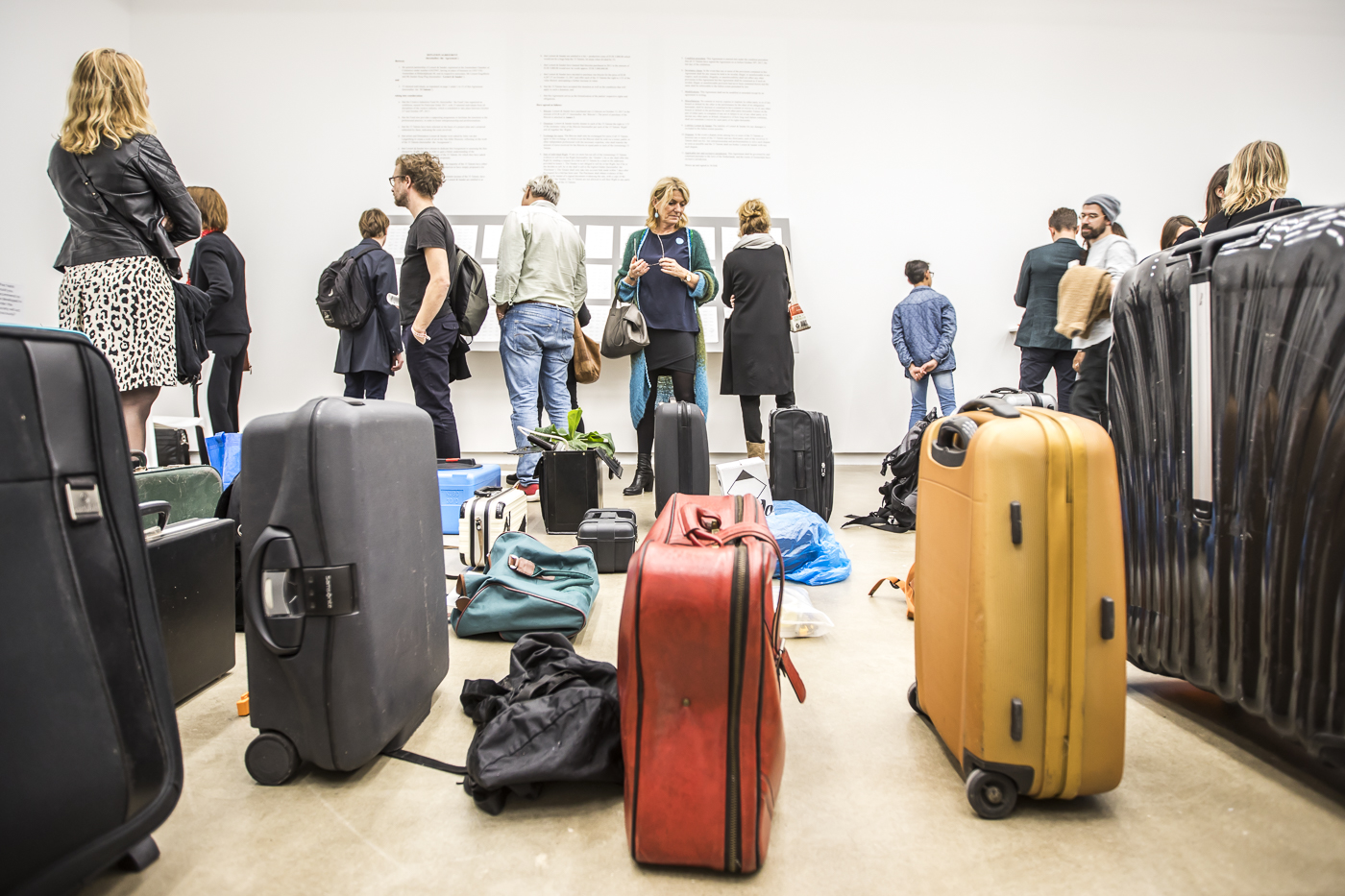 Photo: Hanneke Wetzer
The presentation shows by an anthropological approach beautifully what creative talents have in common and in which their individual choices differ from each other." - Joanna van der Zanden, independent curator and cultural advisor


living archive
The result of the joint work process, In No Particular Order 2017, showed what artistic and professional growth means, as experienced by the 32 designers and makers who received the Talent Development grant last year. As a 'living archive', the exhibition grew during the week: Studio Li Edelkoort - specialized in trend forecasting - studied in the Van Abbemuseum the portfolio's of 32 designers, analyzed their visual language and developed a moodboard for the future. Designer Jurgen Bey, director of the Sandberg Institute, organized discussions during the Dutch Design Week with the participants about the role of the designer. And all participants signed a contract for the collective Bitcoin pension fund created by artists Lernert & Sander on the occasion of the event, with the purpose of making a discussion about real fees for designers.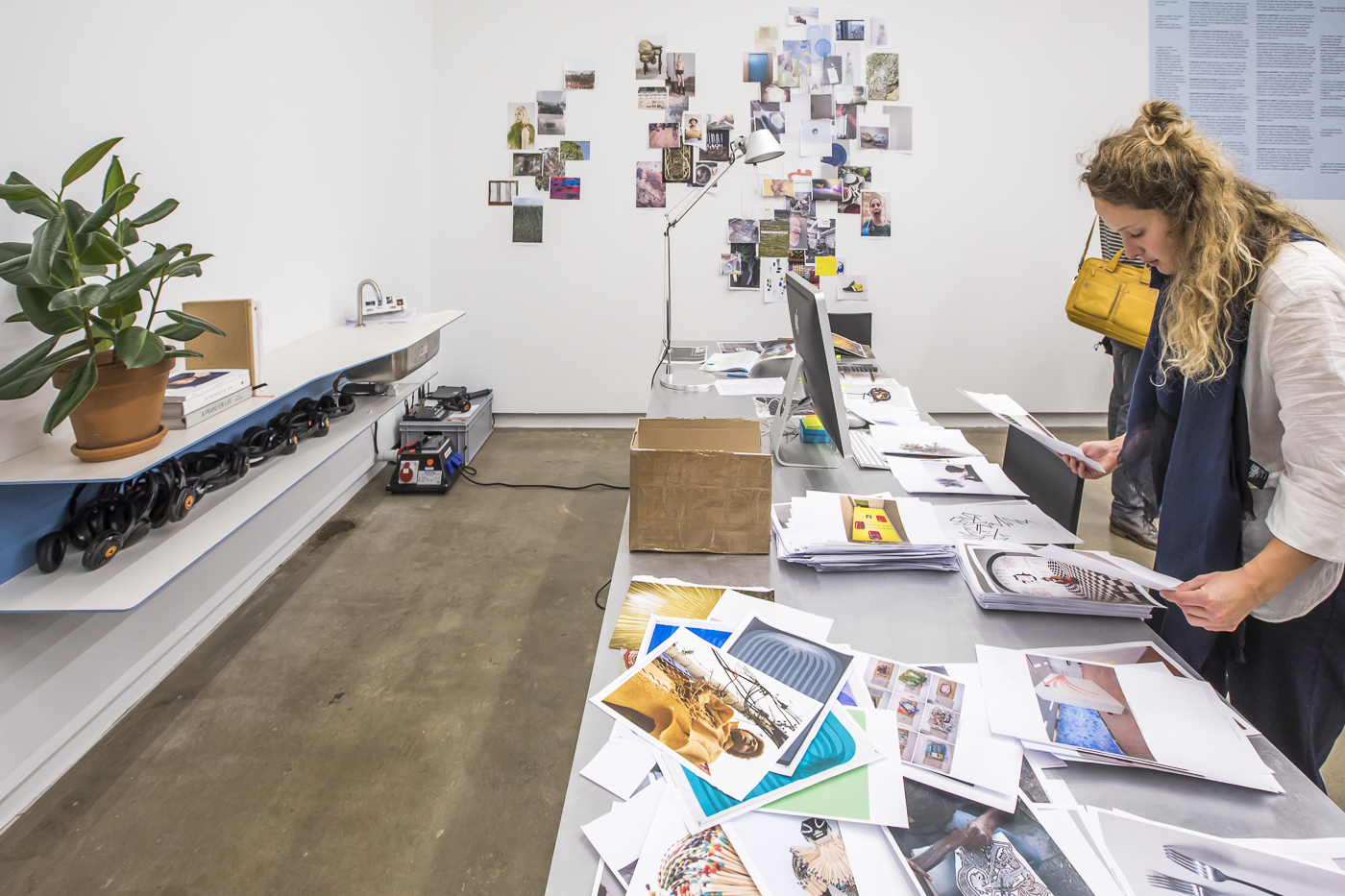 Photo: Hanneke Wetzer
'In No Particular Order turns upside-down the popular notion of talent as an innate, unevenly divided capacity. Instead, it foregrounds the way that talent is fostered and fomented through structural and social conditions, as well as revealing the financial mechanisms that determine the way in which what we call "talent" is supported on its path to fruition.' - Tamar Shafrir, design researcher at Het Nieuwe Instituut
in conversation with
The fund received more than 5,000 professionals from the design field in the Studio of the Van Abbemuseum, including designers, policy makers, (international) museum curators, design journalists, teachers and programmers. A total of 230 students from various academies in the Netherlands were given a tour. Each morning a discussion took place between participants, experts and other invited guests on the themes of the exhibition. (
Check out the programme here
)
in the media
Glamcult wrote an
article
about In No Particular Order and interviewed participants
Amy Suo Wu
and
Ting Gong
about their work practice. Frameweb spoke to Simone Post, Marjan van Aubel, Studio Truly Truly and Paula Arntzen from the Talent Development program, in the context of the exhibition.
Read the article here
. VPRO made
an item
at the DDW in which former member of the Advisory Committee Afaina de Jong meets with participants Janna Ullrich and Ruiter Janssen.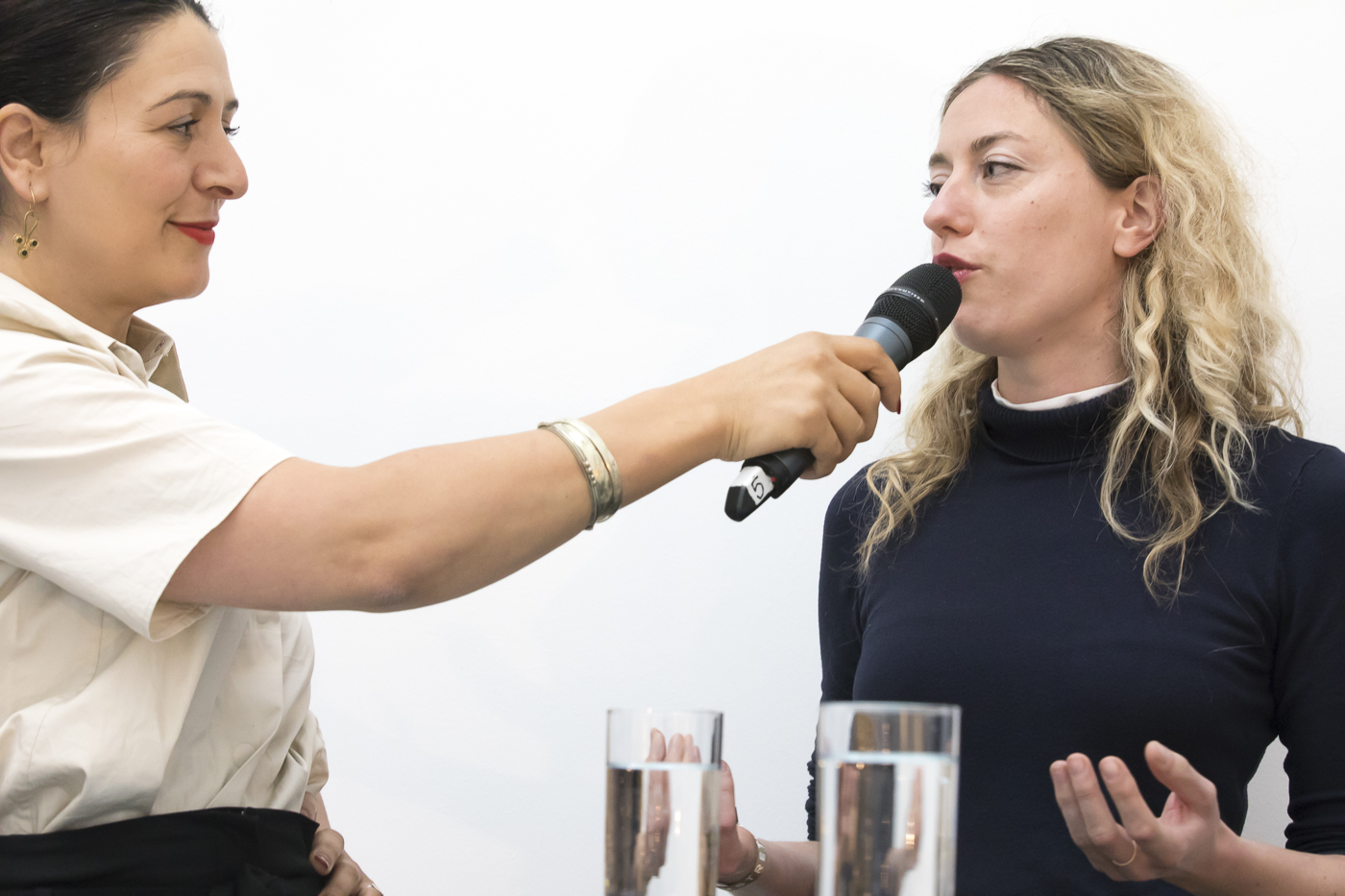 Photo: Hanneke Wetzer
Nine installations
In the following nine installations In No Particular Order presented a collective statement about contemporary design practice of a young generation of designers:
The Language of Talent
What is the socio-cultural context of the work produced by today's talent? The Talent Development Grant recipients have all uploaded their existing portfolios of work to a private online forum developed by Marsdiep. For the duration of the exhibition, the material will be studied and integrated into a visual moodboard by an onsite trend forecasting team from Studio Edelkoort, generating a future-driven vision of the designers' work.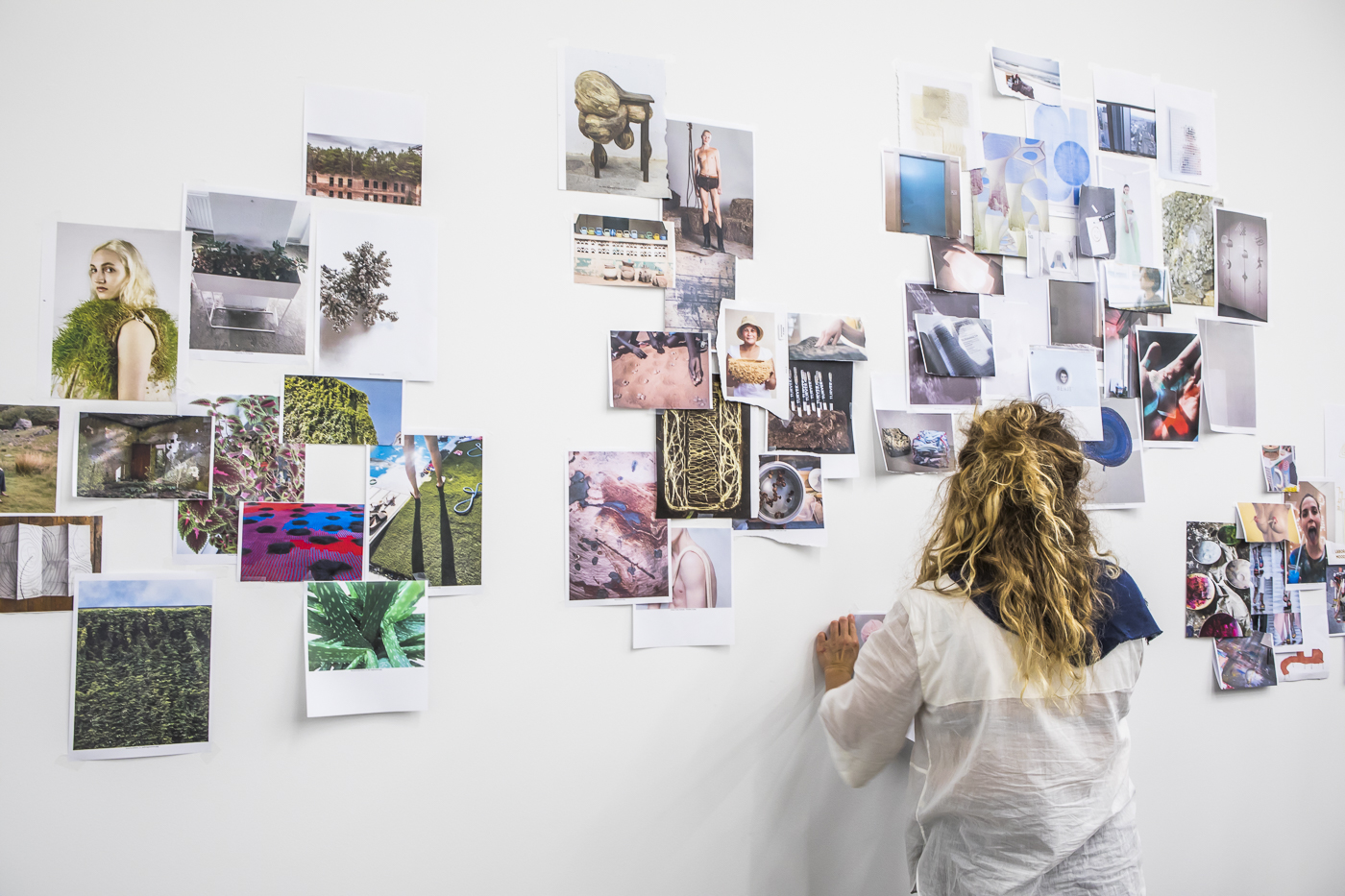 Photo: Hanneke Wetzer
The Inspiration of Talent
How does talent motivate itself? Based on books, quotes and extracts that influenced each of the Talent Development Grant recipients' practice, an analysis of the nature of inspiration has been penned by design curator Brendan Cormier. Titled 'A Text on Inspiration Inspired by 32 Texts', the essay deliberately misappropriates random fragments from each text. Do take a copy to fan your thoughts at home.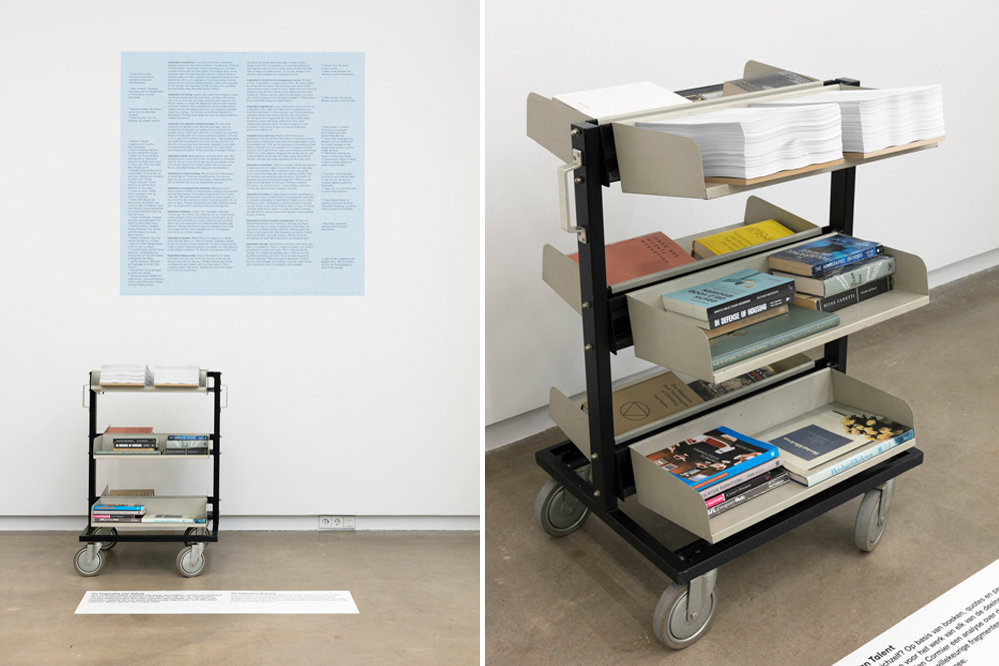 Photo: Lonneke van der Palen
The Representation of Talent
Can you tell if someone is talented by what they wear? Clothes communicate all manner of social and cultural codes. Each of the Talent Development Grant recipients contributed an item of clothing to be appropriated by fashion designer Duran Lantink. Using his anthropological approach to fashion, Lantink has produced three collective portraits of how today's talent represents itself.
Photo: Hanneke Wetzer
The Fortune of Talent
Where am I going? If you are looking for answers, you won't find them here. The answer is in a fortune cookie at the museum café. The ideas and desires of the Talent Development Grant recipients have been rewritten as aspirational messages by designer Yuri Veerman. Himself an alumnus of the programme, Veerman interviewed each of the recipients.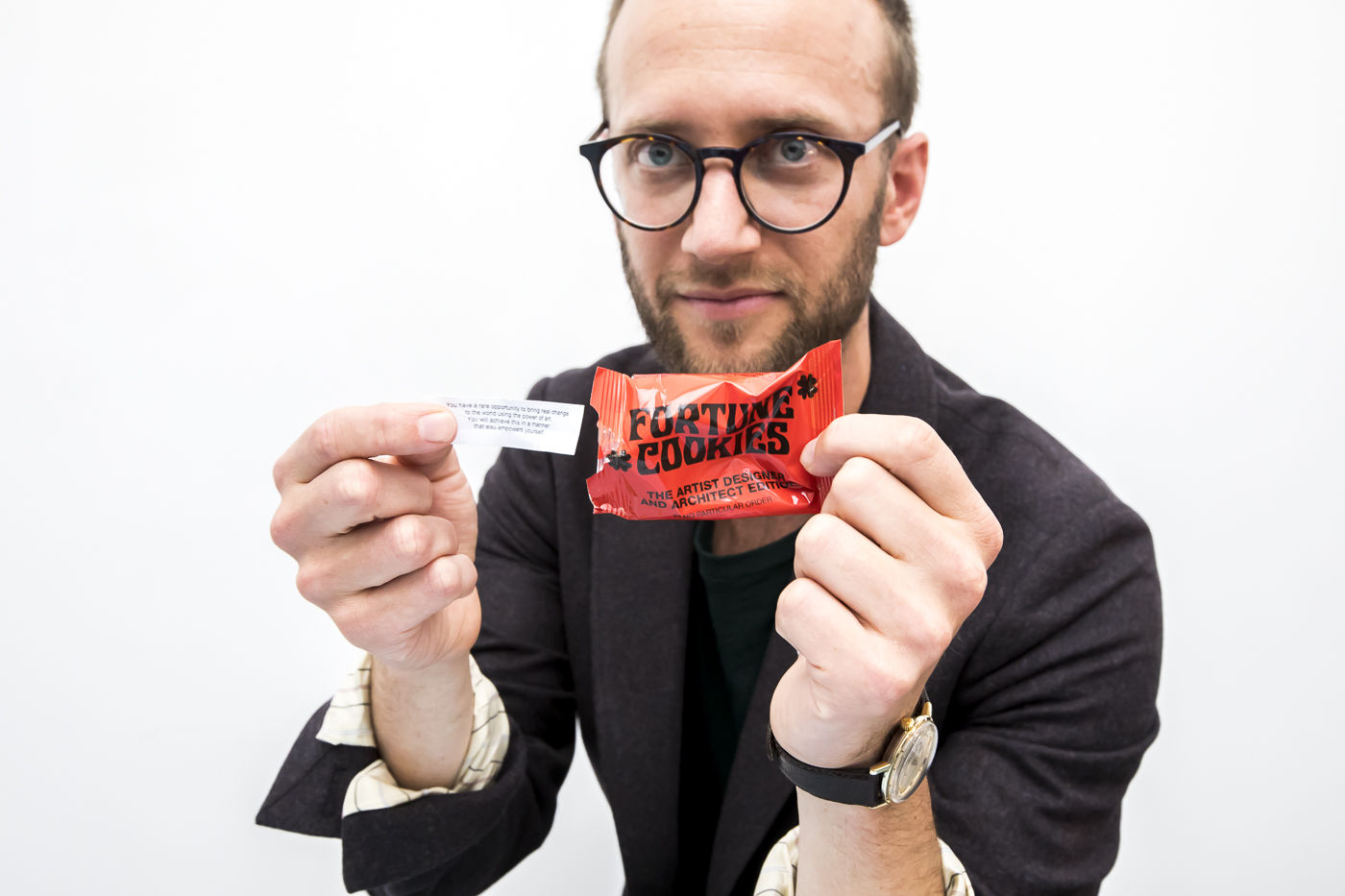 Photo: Hanneke Wetzer
The Money of Talent
Does talent translate into wealth and economic security? Creativity is predicted to take on renewed value in the era of machine learning, even if currently many of the Talent Development Grant recipients are still navigating precarious financial conditions. Opening a discussion on new futures and currencies, a collective Bitcoin retirement fund for the recipients has been drawn up by a lawyer on behalf of artists Lernert&Sander.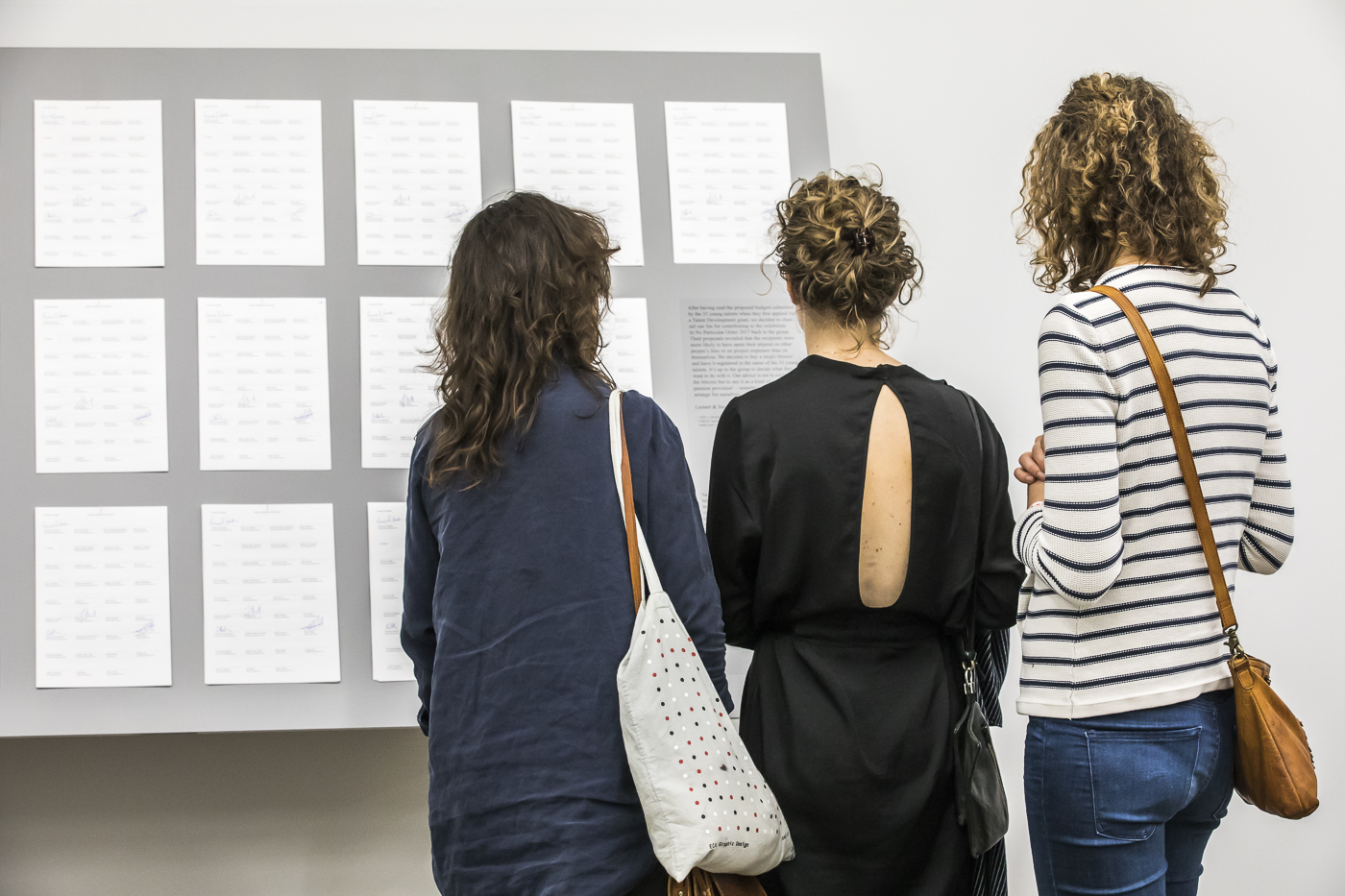 Photo: Hanneke Wetzer
The Attitude of Talent
Does talent have a specific role and responsibility to society? Proposing a scenario in which the Talent Development Grant recipients would have to start a new society, each was asked to pack a single suitcase of things to bring. Director of the Sandberg Instituut, designer Jurgen Bey will be onsite every day to open a few of the suitcases and build a visual dictionary.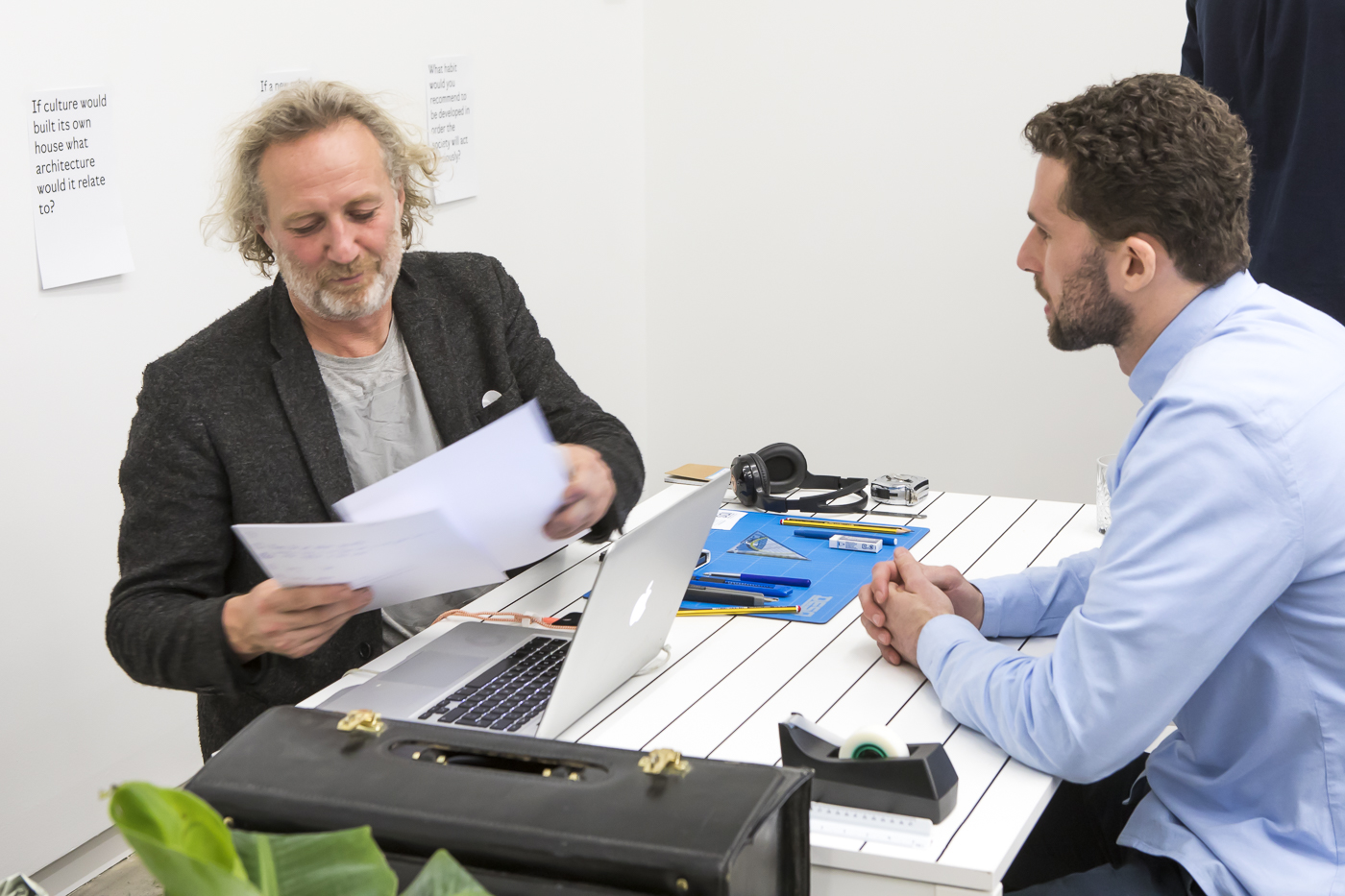 Photo: Hanneke Wetzer
The Habitat of Talent
Does talent expand and contract according to the space it works in? The Talent Development Grant recipients were asked to submit descriptions and floor plans of their ideal workspace. Previous recipient of the grant, architect Anne Dessing, in collaboration with Loui Meeuwissen, displays an analysis of these contributions on a curtain. Recalling a construction drawing, the curtain's folds connect drawings to form new hybrid spaces.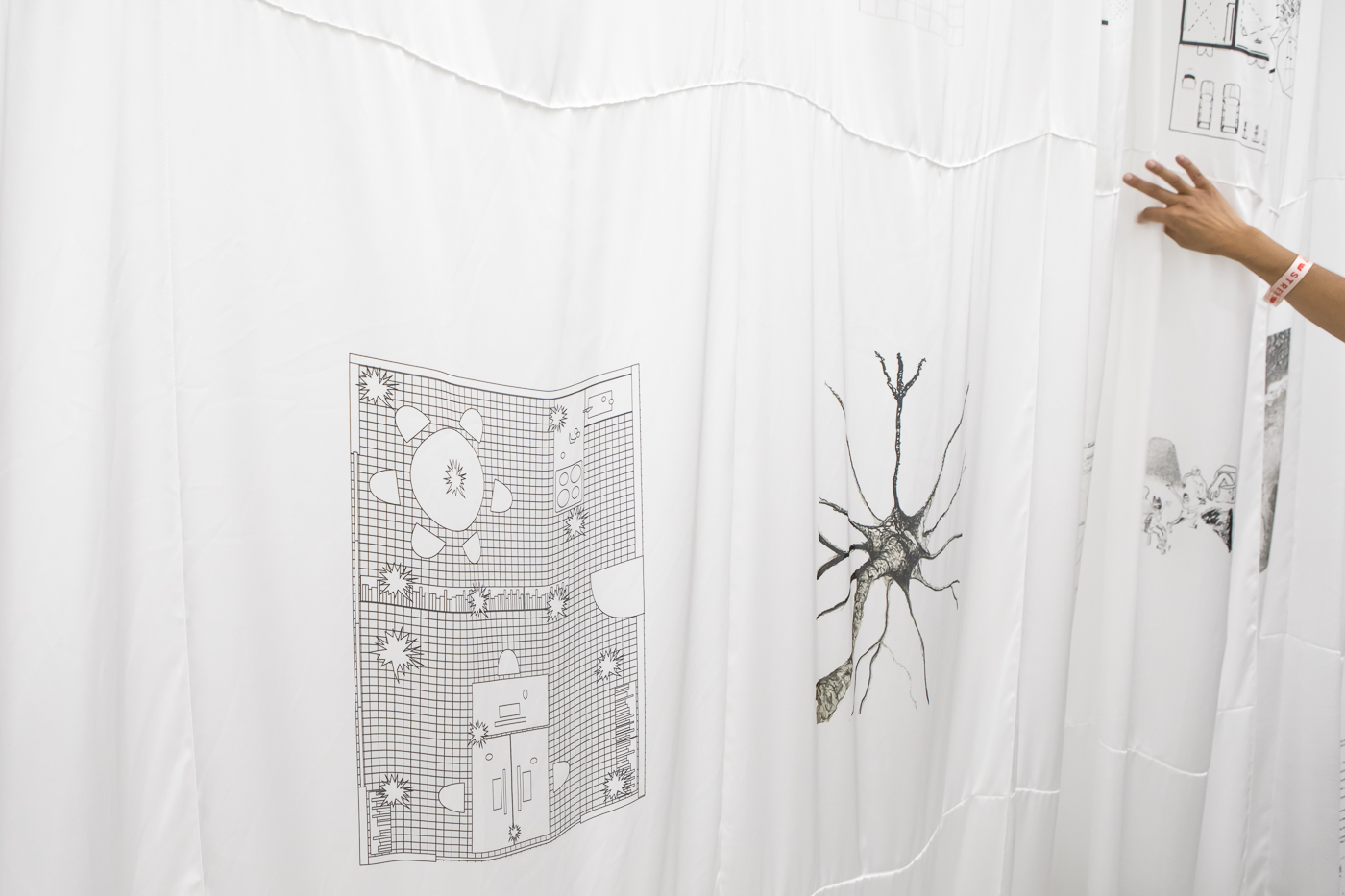 Photo: Hanneke Wetzer
The Market of Talent
Can we quantify talent? The likely commercial success of each of the Talent Development Grant recipients has been assessed on the objective criteria of practicality for client, accessibility, size of market, medium, and artist profile. Prototypes from each recipient are arranged based on the ranking assigned by Herbert van Litsenburg of The Fine Art Group, an art investment consultancy.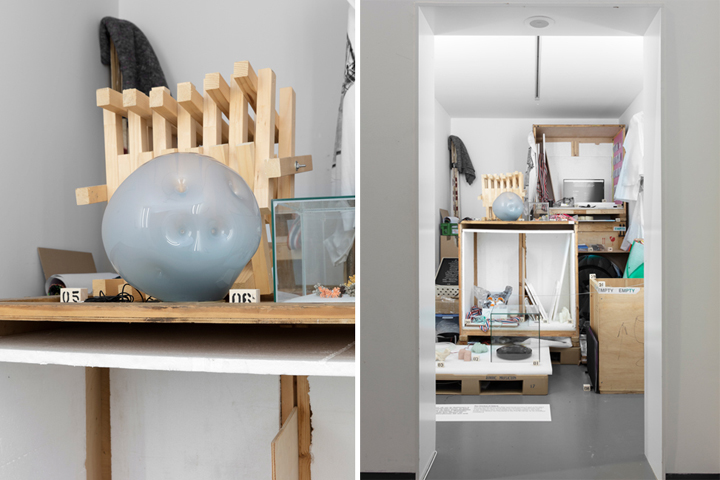 Photo: Lonneke van der Palen
The Discourse of Talent
How does talent reflect on its work and context? Design researcher and artistic director of Het Nieuwe Instituut, Tamar Shafrir and Guus Beumer, moderate daily discussions that take place on chairs from the Talent Development Grant recipients' studios. Artist Simon Becks has developed a scratch-sensitive floor to record the evolution of the site of discussion over the course of the exhibition. At the end of each daily conversation, participants will construct an installation of the chairs that will be recorded by photographer Lonneke van der Palen. Daily a discussion program took place from 11.00-12.30.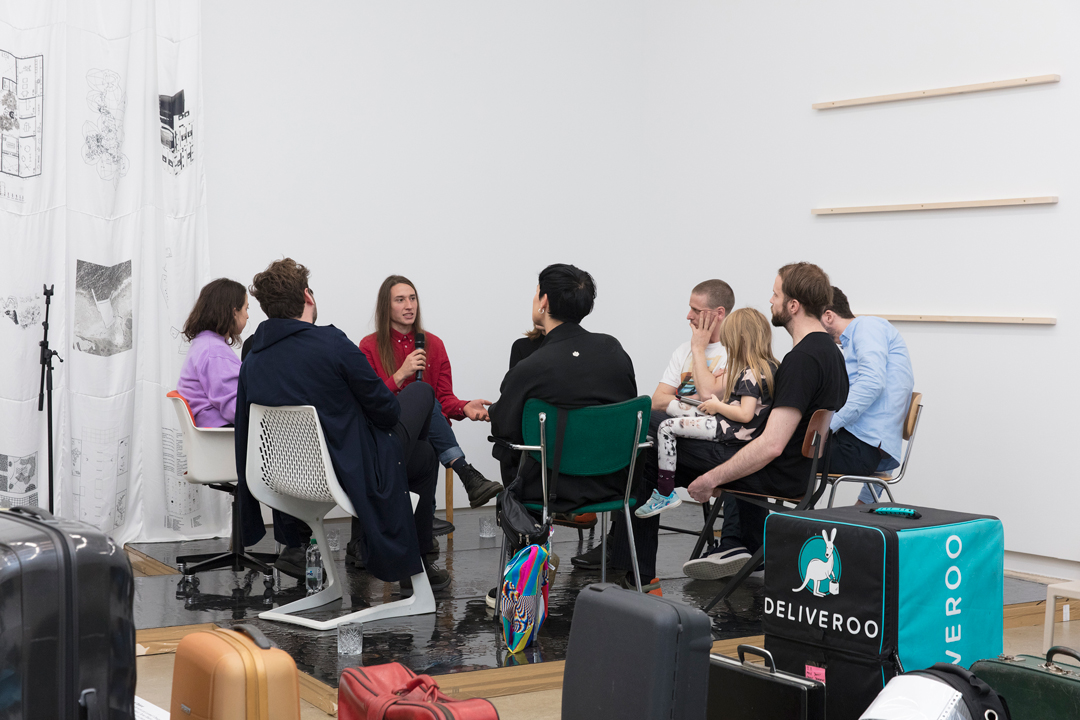 Photo: Lonneke van der Palen