Dutch games developers at Gamescom 2018
6 September 2018

In late August, approximately 370,000 visitors from 114 countries visited Gamescom in Cologne, the most important European fair for consumers and professionals in the games industry. This is the place to network and build structural relationships in national and international circles for games companies and individual developers. Creative Industries Fund NL backed the Dutch Games Association (DGA) in its organization of the Holland Pavilion for the fourth time.
The increase in the number of participating countries and professional visitors underscores Gamescom's international character and the importance of Europe's most trend-setting business platform in the realm of games. Alongside Austria and the United Kingdom, the Netherlands ranks among the three most rapidly expanding countries in the fair's business section.
networking: B2B
Five game developers presented their work in the Holland Pavilion within the fair's B2B section with the Fund's support. The combination of indie developers and presentations by a number of larger Dutch games studios bore fruit once again. The indie developers note that the pavilion served as an important meeting place for budding professionals and was a valuable complement to planned meetings with publishers, game developers, media and investors. For example, Luuk Waarbroek of games studio Napalm Tree spoke with potential leads, while indie developer Erik Habets of Fromto made highly promising steps towards finding a publisher. Meetings with international contacts are simpler to plan here, and deals are struck wherever possible. That makes this event the ideal networking opportunity within the European and global games industry.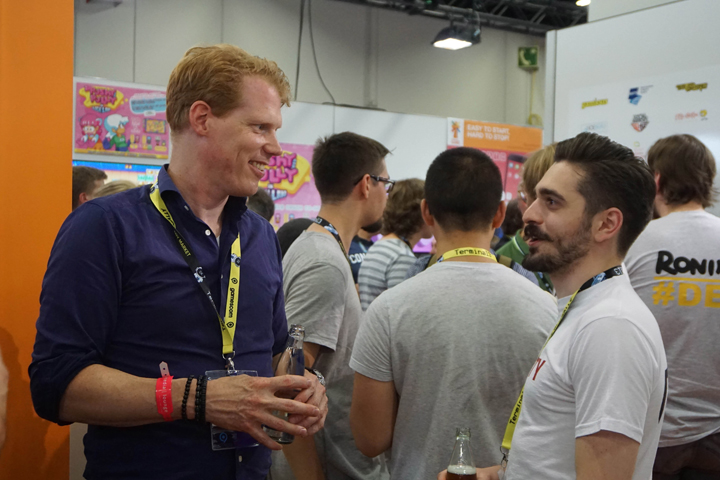 public: B2C
The Fund also supported two Dutch game developers – KeoKen and Ronimo Games – to present themselves at the Indie Arena within the B2C section. The massive turnout gave the studios the opportunity to promote their games to a wide-ranging public in a short time. Both stands were really busy and drew plenty of attention from visitors. Joost van Dongen of Ronimo Games: 'The personal contact with consumers at Gamescom gives a great deal of satisfaction and is really useful for finding new customers.'

Show Your Courage
Creating games is one thing, but bringing them to the market successfully is something else. At Gamescom there are all kinds of key industry figures in attendance who can help games companies in this regard, as young developers often lack experience in pitching and networking. This prompted the Dutch Games Association (DGA) and Dutch Game Garden to organize Show Your Courage. A selection of veterans from the games industry were interviewed about a diversity of topics within the sector, which gave others the opportunity to enter into discussion with peers and learn from their expertise. This whole programme has been recorded in high-quality video and is easy to find on the DGA website.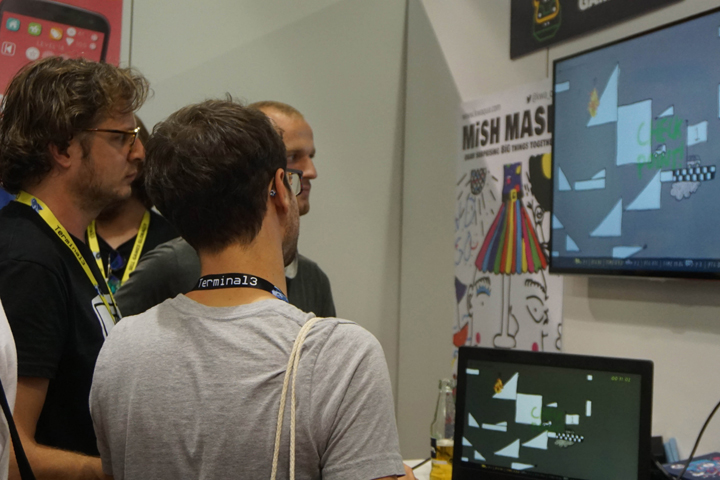 Visitors play the game Mish Mash developed by Doron Hirsch, where players of the game are drawing parts of the game step by step.
Photos: Dutch Games Association (DGA)