Dutch game developers selected for Gamescom 2018
25 July 2018

The 10th edition of Gamescom is being held in Cologne from 21 to 25 August 2018. With more than 350,000 visitors from 106 countries, Gamescom is the most important gathering for the games industry in Europe, for business as well as consumer markets. For Creative Industries Fund NL it is important that young, highly talented Dutch game developers are able to present their work on an internationally oriented platform like Gamescom. This year the Fund is supporting five game developers in the Holland Pavilion.
More than 30,000 business visitors, including media, publishers, investors, developers and influencers, visited the fair in 2017. For game companies it represents an ideal opportunity to network and establish long-standing relationships with Dutch and international contacts.
Holland Pavilion
For this edition, the Dutch Games Association (DGA) is organizing the Holland Pavilion within the B2B area of Gamescom for the eighth time. Creative Industries Fund NL is supporting the DGA's organizational management of the pavilion, where there is space to showcase established as well as start-up creatives. The Fund is keen to help young makers gain experience in presenting themselves in a professional way and give them the opportunity to showcase their games.
open call selection
Creative Industries Fund NL is supporting several game developers, selected by means of an open call that was widely publicized across the networks of the Dutch Games Association and the Dutch Game Garden.
The selected games are:
Mish Mash

Doron Hirsch
Fromto

Erik Habets
Puzzle and games

Daan Kreek
Space Vikings

Luuk Waarbroek
Bolt Storm

Luka Kvirikashvili
Show Your Courage
A new component in the Holland Pavilion is the 'Show Your Courage' programme, which focuses on networking and sharing expertise. Practice has taught us that young game developers are often lacking in experience in this regard, and the barrier to conversing with parties such as investors or publishers is high. That is why the Holland Pavilion has created a 'Show Your Courage' corner where young game developers have the opportunity to make contact with inspiring and prominent parties from the games industry. The DGA has invited several relevant parties to attend, with whom young developers and other professionals can discuss their tailored questions. These sessions will also be filmed and can be followed live via the website of
Gamescom
.
Indie Arena
The Fund is also supporting two Dutch developers whose work is being showcased in the Indie Arena. This is a zone in the B2C area where independent game developers from around the world can present their games to a wider public. Gamescom has chosen to highlight two games by Dutch developers: 'Swords & Soldiers 2' (Ronimo Games) and 'Deliver Us The Moon' (Keoken).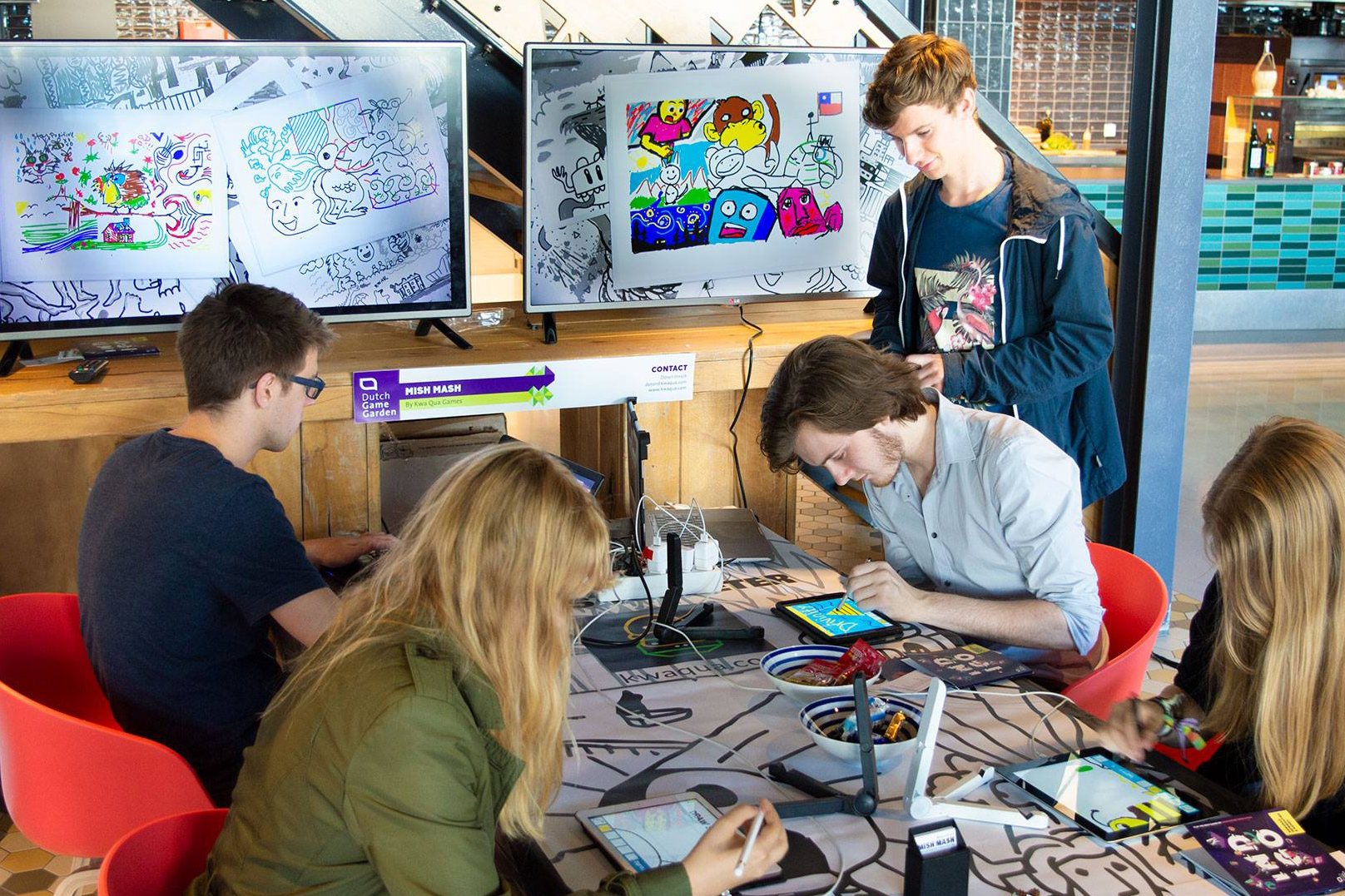 Mish Mash, Doron Hirsch
Photo above: Gamescom 2016, Tamara Robeer