Creative Industries Fund NL presents new talent in Talent Tours
29 September 2020

Every year, emerging design talents active in the fields of design, architecture and digital culture are given the opportunity to develop themselves optimally in artistic and professional terms, thanks to a grant from the Creative Industries Fund NL. The 2020 crop of talents has now been visualized in one-minute film portraits. These portraits can be seen from 18 September to 22 November in the 'Talent Tours' exhibition at MU, Strijp-S Eindhoven.
Talent Tours provides insight into the thinking and practice of 39 emerging design talents, each of whom is concerned with topical social themes. What are their motives, their doubts and ambitions, and what values do they put first in their work? Angelique Spaninks, chair of the Talent Development grant programme advisory committee: 'Talent does not live in a vacuum; it relates to the world, allows itself to be inspired and rebels, finds its own focus and knows how to translate and express it. This is the only way to make a professional contribution to the field, and for a young maker to create a meaningful position for themselves in the work field.'
Social designer and bio-artist
Kuang-Yi Ku
, for example, outlines oppressive future scenarios in which he confronts the public with the question of what is still acceptable when it comes to the influence of medical science on our lives.
Marwan Magroun
made a photo series and film in which he wants to refute the stigma that rests on fathers with a migrant background. And
Milou Voorwinden
is conducting research into 3D weaving: a technique that can bring about a considerable increase in sustainability in the fashion industry.
Talent Tours presents
Alvin Arthur
,
Anna Fink
,
Arvand Pourabbasi
,
Chiara Dorbolò
,
Cream on Chrome
,
Gilles de Brock
,
Giorgio Toppin
,
Jing He
,
Juliette Lizotte
,
Kasia Nowak
,
Kuang-Yi Ku
,
Lieselot Elzinga
,
Marco Federico Cagnoni
,
Mark Henning
,
Marwan Magroun
,
Maxime Benvenuto
,
Millonaliu
,
Milou Voorwinden
,
Minji Choi
,
Mirte van Laarhoven
,
Nadine Botha
,
Nastia Cistakova
,
Nikola Knezevic
,
Ottonie von Roeder
,
paradyme
,
Post Neon
,
Rosita Kær
,
Sae Honda
,
Saïd Kinos
,
Seokyung Kim
,
Sissel Marie Tonn
,
Suk Go
,
Telemagic
,
Tereza Ruller
,
Thor ter Kulve
,
Tijs Gilde
,
Tomo Kihara
,
Ward Goes
en
Yavez Anthonio
.
live streams
From 18 until 25 October, there will be daily live streams of new talent during Dutch Design Week. On Sunday, you can watch Mirte van Laarhoven live in the woods as she builds the finale of her travelling exhibition 'Dead wood alive'. Join Tomo Kihara on Monday in other people's YouTube bubbles with the YouTube filter simulator 'Their-Tube'. Or take part on Saturday in the workshop of architect and writer Chiara Dorbolò, who takes you along in her creative writing process. View the programme and the live streams
here
.
Mirte van Laarhoven – Sunday 18 October, 5PM
Witness the construction of the final part of her travelling exhibition 'Dead wood alive', and let yourself be guided through the dead family wood that Mirte van Laarhoven used last year as an experimental location and materials library.
Marco F. Cagnoni – Tuesday 20 October, 4PM
Social Designer Marco Federico Cagnoni takes you to the Botanical Garden in Utrecht where he shows his project Plastic Culture.
Jing He – Thursday 22 October, 4PM
Jing's live stream is named 'Jing's Memories'. She will invite 5 to 6 people to be her and tell some hybrid stories.
Mark Henning – Friday 23 October, 4PM
Take part in Mark Henning's performative exercise to explore the relationship between trust and distance in our new one-and-a-half-metre society.
Tomo Kihara – Friday 23 October, 5PM
Step into other people's YouTube bubbles on Monday with Tomo Kihara and the YouTube filter simulator 'Their-Tube'.
Tereza Ruller – Saturday 24 October, 4PM
Explore with Tereza Ruller the spatial and interactive possibilities of virtual environments as space for new thoughts, actions and aesthetics.
Chiara Dorbolò – Sunday 25 October, 4PM
Gain insight into the creative writing process that architect Chiara Dorbolò uses in her design practice.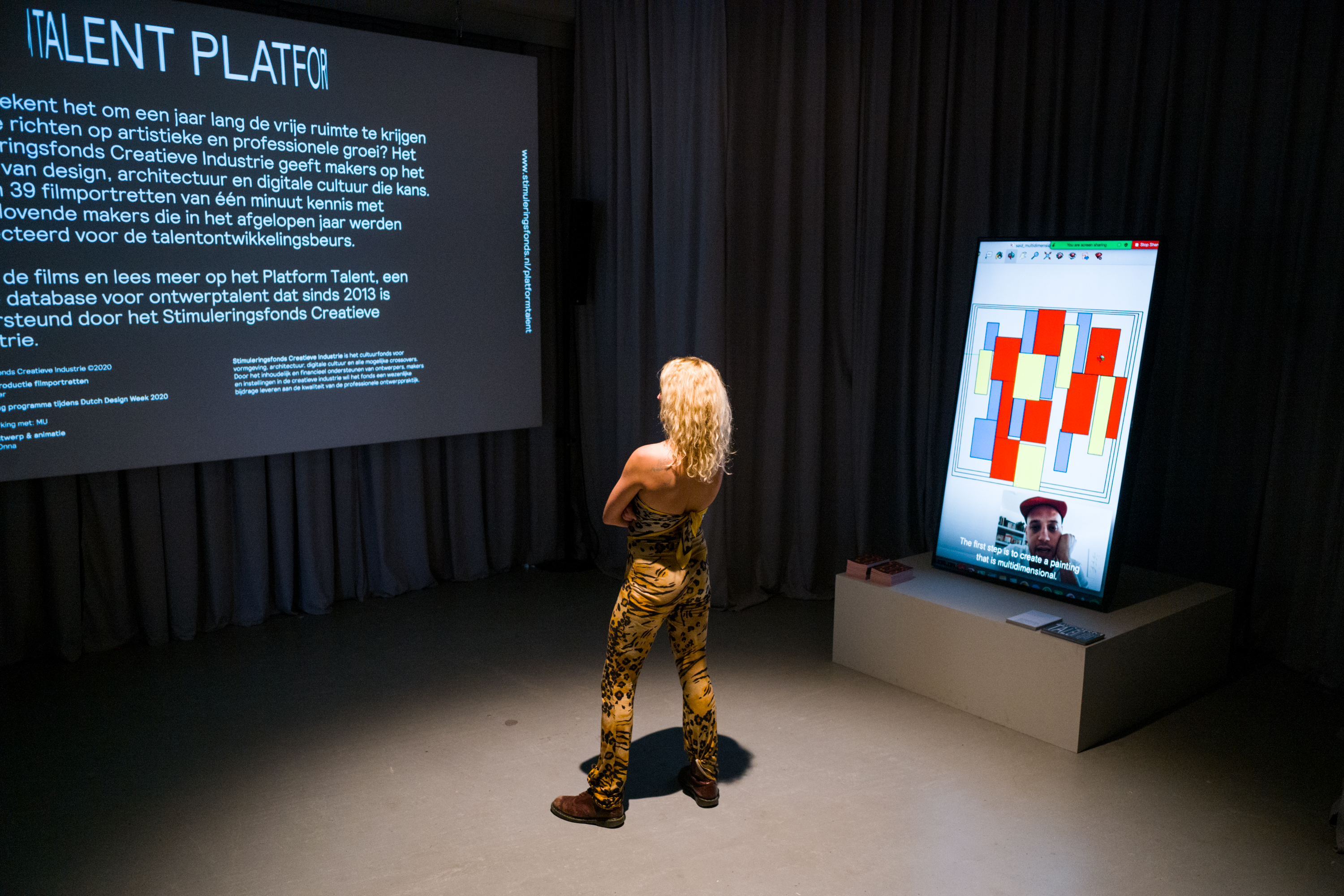 Exposition 'Talent Tours' in MU. Photo: Boudewijn Bollmann
practical information exhibition
Title: Talent Tours. Presentation of talent by the Creative Industries Fund NL
Date: 18 September to 22 November 2020
Times: Monday-Friday 10.00-18.00, Saturday 11.00-17.00, and Sunday 13.00-17.00.
Location: MU, Torenallee 40-06 (Strijp-S) 5617 BD Eindhoven

Platform Talent
Besides at MU, the 39 film portraits can also be seen on Talent Platform. This online platform provides an overview of all the talents who have been supported by the Talent Development Grant Programme since 2013. The platform can be followed at stimuleringsfonds.nl/platformtalent.