Architects vs. Rest of the World
22 September 2017

New Generations, a festival aimed at creating a European network for young architects and urban planners, is being held in Rome from 24 to 26 September. New in this year's edition is a series of interviews with 14 established Italian and Dutch architects, with the aim of fostering a sharing of expertise between two generations. We talked to founder and curator Gianpiero Venturini about the initiative.
Could you tell us more about this edition's theme?
'This is the 4th edition of the New Generations Festival, which is focusing on the relationship between architects and other disciplines. From this relationship comes the (provocative) title of the festival: 'Architects VS Rest of the World'. Each day of the festival will be organized around a different topic: Urban Vocabulary & Public Space, New Economy & Values, and Digital Infrastructure & New Media. Previous editions of the New Generations Festival have focused on these themes separately. This year we will look at them in relation to each other. All topics are strictly connected to each other and together provide an overview of the role of the architect in today's society: the reactivation of the public space, in collaboration with citizens, public and private parties, is strictly connected to the introduction of new economic models (and values). And the digital world and technological innovations represent an important tool that is adding a new layer of complexity to our cities, influencing the way we live, experience and participate in the daily renovation of the public space.'
'It's promising to see that this initiative – strengthening an international network of a new generation – has come from within, from the new generation itself, not from an institution.' -
Secretary of Internationalization, Zineb Seghrouchni
For the festival you interviewed 14 illustrious architects. How did you tackle this?
'I had the pleasure of meeting some of the interesting established firms worldwide, having the opportunity to talk with Kees Christiaanse (KCAP), Francine Houben (Mecanoo), Caroline Bos (UNStudio), Stefano Boeri (Boeri Architects), Mario Cucinella (Cucinella Architects) and others. This series of interviews aims to understand how the architect's profession is changing, gathering the points of view of a selection of Dutch and Italian practices that have great experience to share, through an internationally recognized career path.
'I structured each interview in three sections, presenting the same set of questions for each practice. I was interested in understanding some of the conditions underlying the success of these professional practices. Through a first biographical inquiry (PAST), then going through an analysis of the conditions that characterize the approach of the practice (PRESENT), and continuing through a speculation about the future of architecture over the next 15 to 20 years (FUTURE). Each interview was quite different from the previous one, but they are even more interesting when we look at them together.'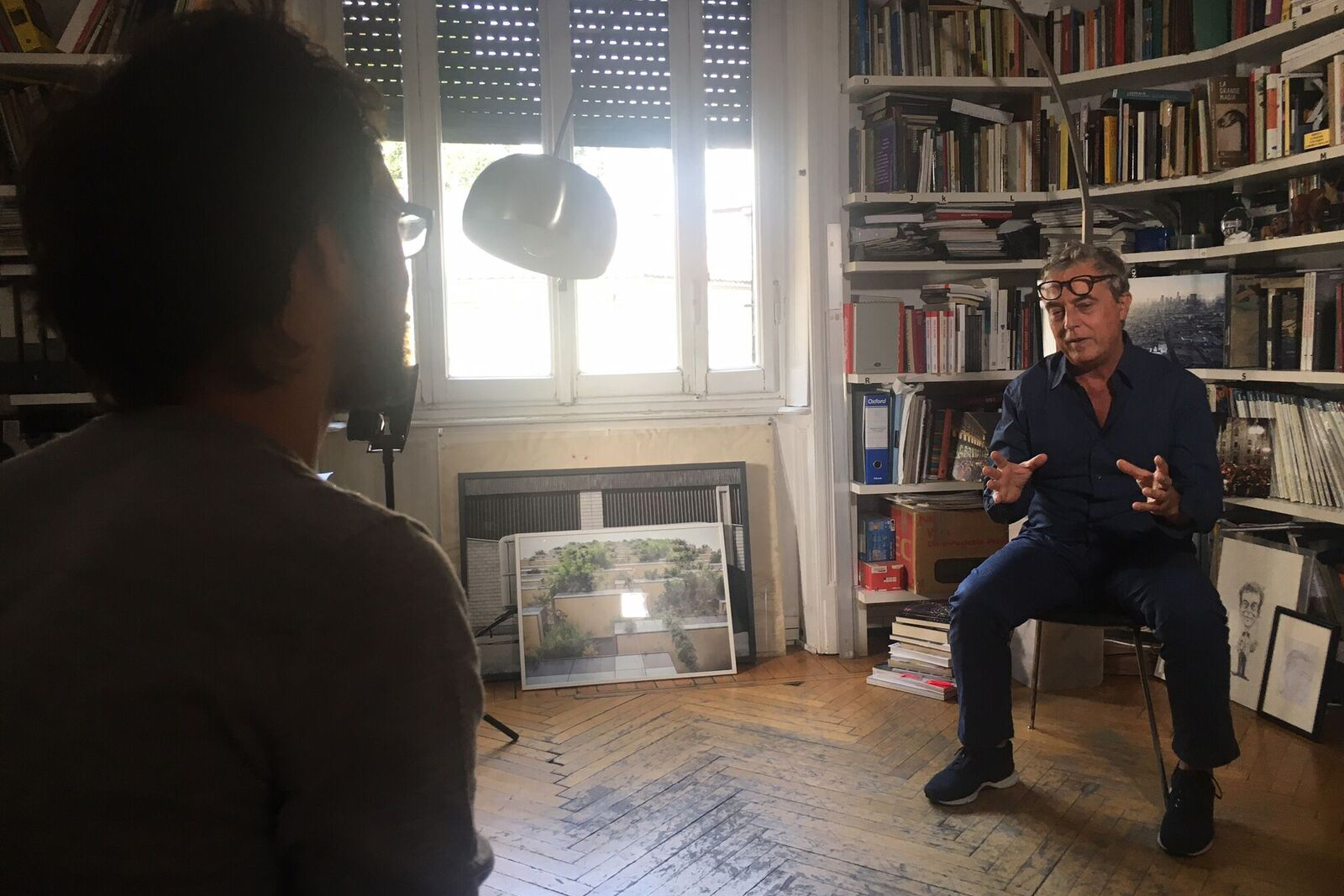 Gianpiero Venturini interviewing Stefano Boeri
'Each interview was quite surprising, but their answers highlighted a certain distance from what is actually happening today in relation to the new generations of architects.' - Gianpiero Venturini
What impression did the interviews leave you with?
'Mario Cucinella from Bologna, for example, has a really interesting and pragmatic vision on new technologies and their potential in relation to architecture. Next to that he has one of the most amazing offices I've ever seen! Kees Christiaanse (KCAP), on the other hand, has a great capacity to explain difficult concepts with simple words, which is something uncommon but really important in our field. Plus, he shared great anecdotes about the period he was working with Rem Koolhaas. And what was interesting with Stefano Boeri and Cino Zucchi, both located in Milan, is that they have a great cultural background. It was quite inspiring to listen to their stories, influences and encounters.
'Each interview was quite surprising, but their answers highlighted a certain distance from what is actually happening today in relation to the new generations of architects. The impression I had, most of all, is that they are not able to understand the issues that affect the new generation of designers and how they are actually looking for new ways to rethink the profession.'
You've made us really curious. Where can we read the interviews?
'We are planning to share a few excerpts during the event in Rome to use them as inspiration and provide another point of view to the involved experts during the festival. The final version of the interviews will be published on the website and social channels of Itinerant Office and New Generations, one every week, by the end of October.'
support
The New Generation Festival was
supported
this year via the Grant Programme of Internationalization.
Interview preperations at Kees Christiaanse (KCAP)
Picture above: Gianpiero Venturini by Sara Lopez Camus
website