A recap of the Russia, Turkey, Egypt and Morocco meet-ups
22 February 2018

The Fund organized a series of meet-ups centred around the current Open Calls Russia, Turkey, Egypt and Morocco. Four speakers from each of the four countries shared their insights relating to metropolitan issues. They gave examples of the ways in which local initiatives are approaching these issues from a cultural and design perspective. There were opportunities for the audience to ask questions and exchange knowledge with Fund staff, the speakers and cultural attachés.
We look back at the sessions here and provide a link to the
Frequently Asked Questions
about the
Open Calls
, which close on 7 March.
Russia
During the Russia meet-up, Vera Leonova, deputy dean at the Graduate School of Urbanism in Moscow, provided an overview of Russian urban development in the last decade. She sketched a picture of rapid urbanization in a country where three-quarters of the population live in urban areas. She showed how appearance and daily life is determined by the modernist approach of Soviet Russia and the subsequent euphoria of free-market principles. Vera demonstrated how these initiatives – originated for instance by residents, designers and cultural organizations – deal with these challenges. And how bottom-up practices compare with the top-down way of working. The questions from the audience made it clear that a collaboration with Russia demands good preparation for working in a complex context that requires the necessary flexibility.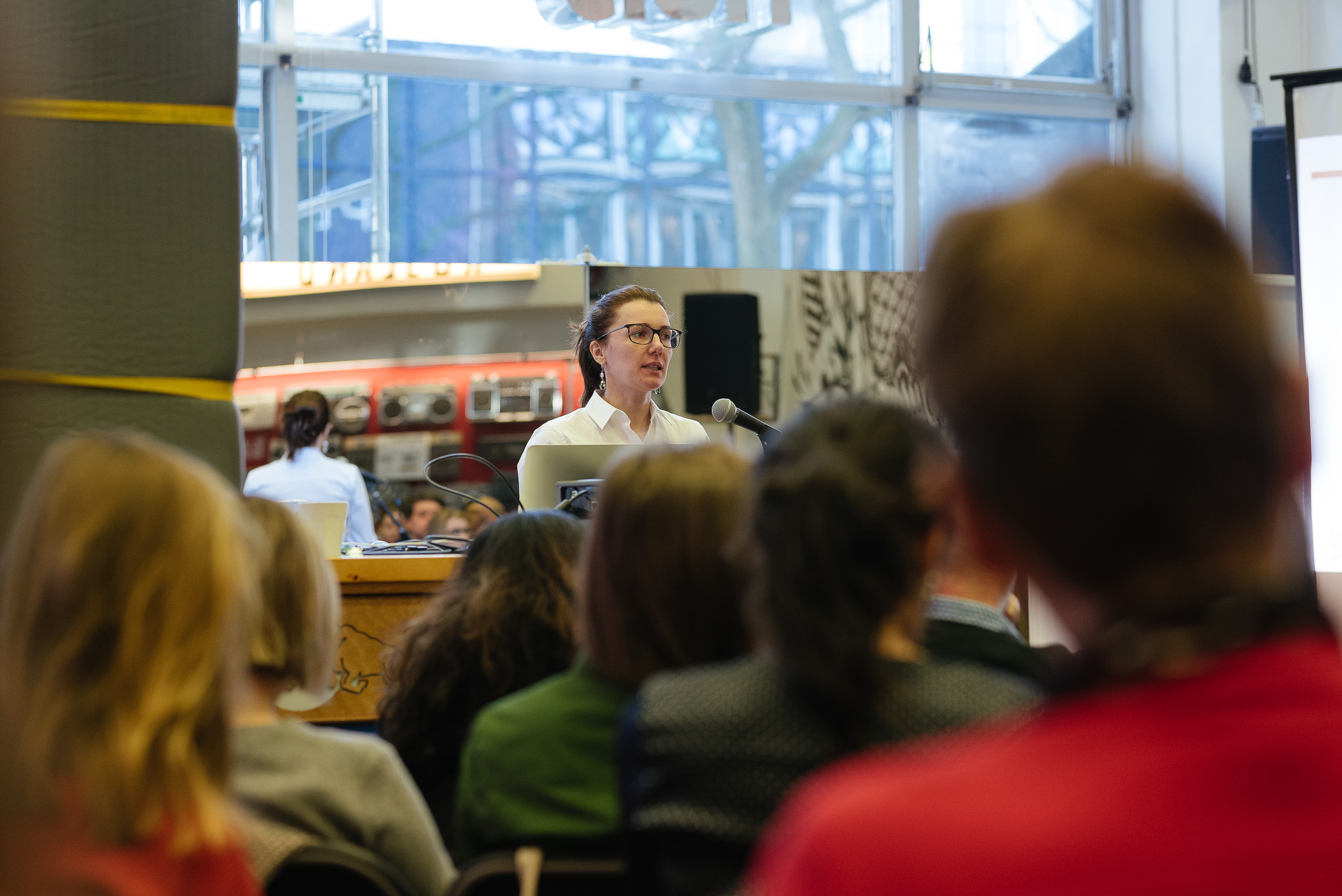 Meet-up Russia with Vera Leonova, Deputy Dean Vysokovsky Graduate School of Urbanism, Moscow. Photo: Khalid Amakran
Turkey
Serhan Ada, associate professor in Cultural Policy & Management at the Bilgi University Istanbul, began his lecture with a map of Turkey. The aim was to emphasize that, besides Istanbul, Turkey has other cities where interesting developments are taking place in the area of culture. In Istanbul, the creation of a local cultural policy began when the city wanted to stand as a candidate for European Capital of Culture 2010. Local cultural policy is still being developed. For instance, the city was recently selected to be UNESCO's City of Design and more and more bottom-up initiatives are being generated to involve citizens and other stakeholders in the development of the city. After Istanbul, Serhan Ada talked about the city of Izmir and how it has become an attractive city for designers, makers and cultural institutions. By combining significant local investments in culture with the developments for the city's major port, Izmir has managed to put culture on the map. The third example was the city of Mardin, where in recent years an increasing number of interdisciplinary projects have been initiated that focus on the contemporary significance of the city's material and immaterial heritage.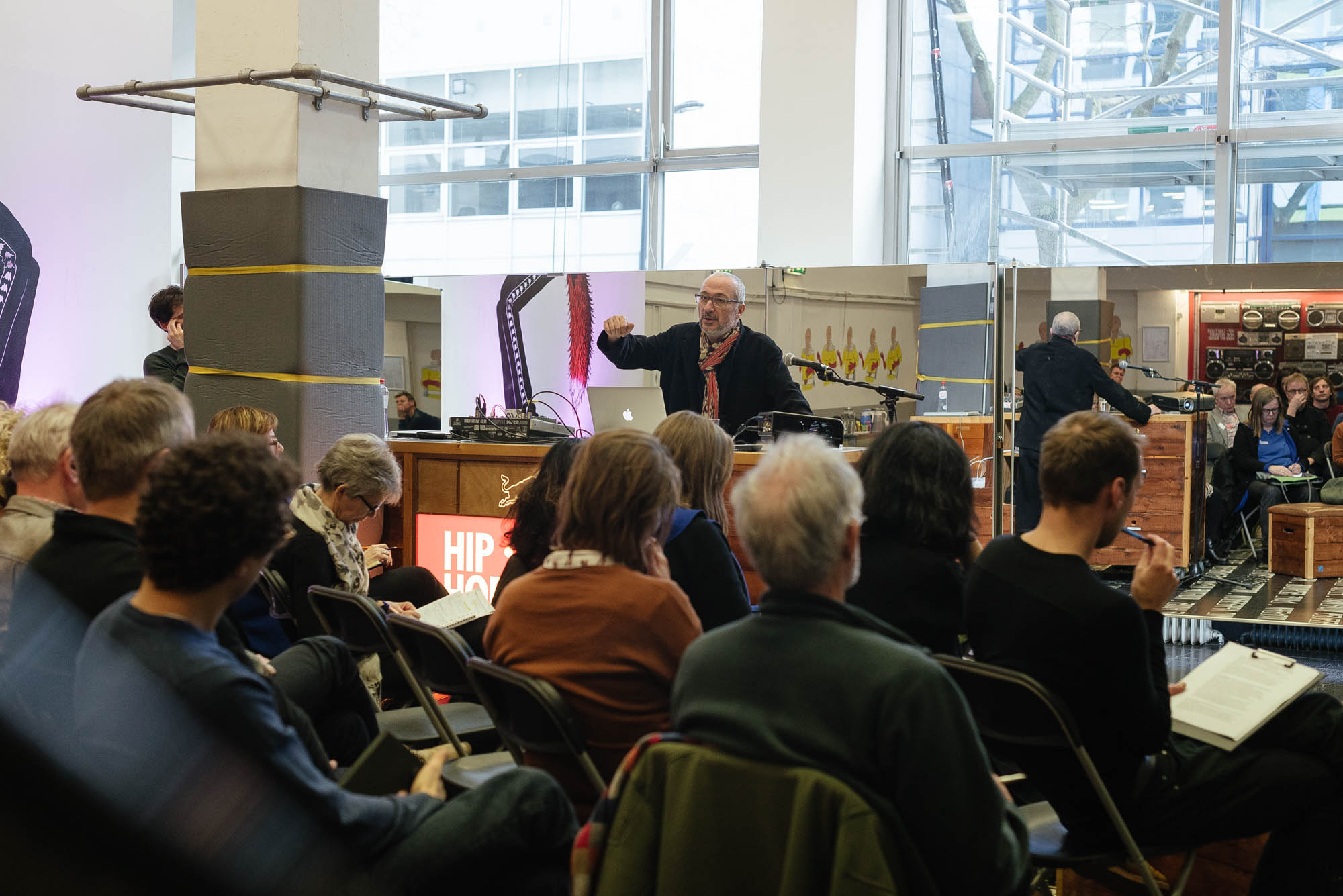 Meet-up Turkey with Serhan Ada, associate professor Bilgi University Istanbul, Cultural Policy & Management. Photo: Khalid Amakran
Egypt
May Al-Ibrashy, founder of the Built Environment Collective-Megawra, introduced the third session about Egypt. One of the topics in her lecture dealt with the various ways in which the inhabitants of Cairo, these days a militarized city, are trying to claim the city for themselves. Examples of graffiti, mapping projects and sports events demonstrated how these initiatives aim to appropriate the city. In Egypt, too, a turbulent mix of social, spatial and economic factors lies at the root of urban issues; housing, migration, brain drain and economic instability. May emphasized that in Egypt there is an immense potential of knowledge, vision and experience to draw on for a collaboration. Working together with Egyptian partners is very important for getting meaningful projects up and running. It does ask for an open attitude and not a mind or project that is set on 'helping'. Working in Egypt also means that you need to work with legal complexities, such as every-changing legislation and restrictive regulations for NGOs. Working out how the collaboration between Dutch and Egyptian partners is to be arranged, in terms of content and finances, is also essential.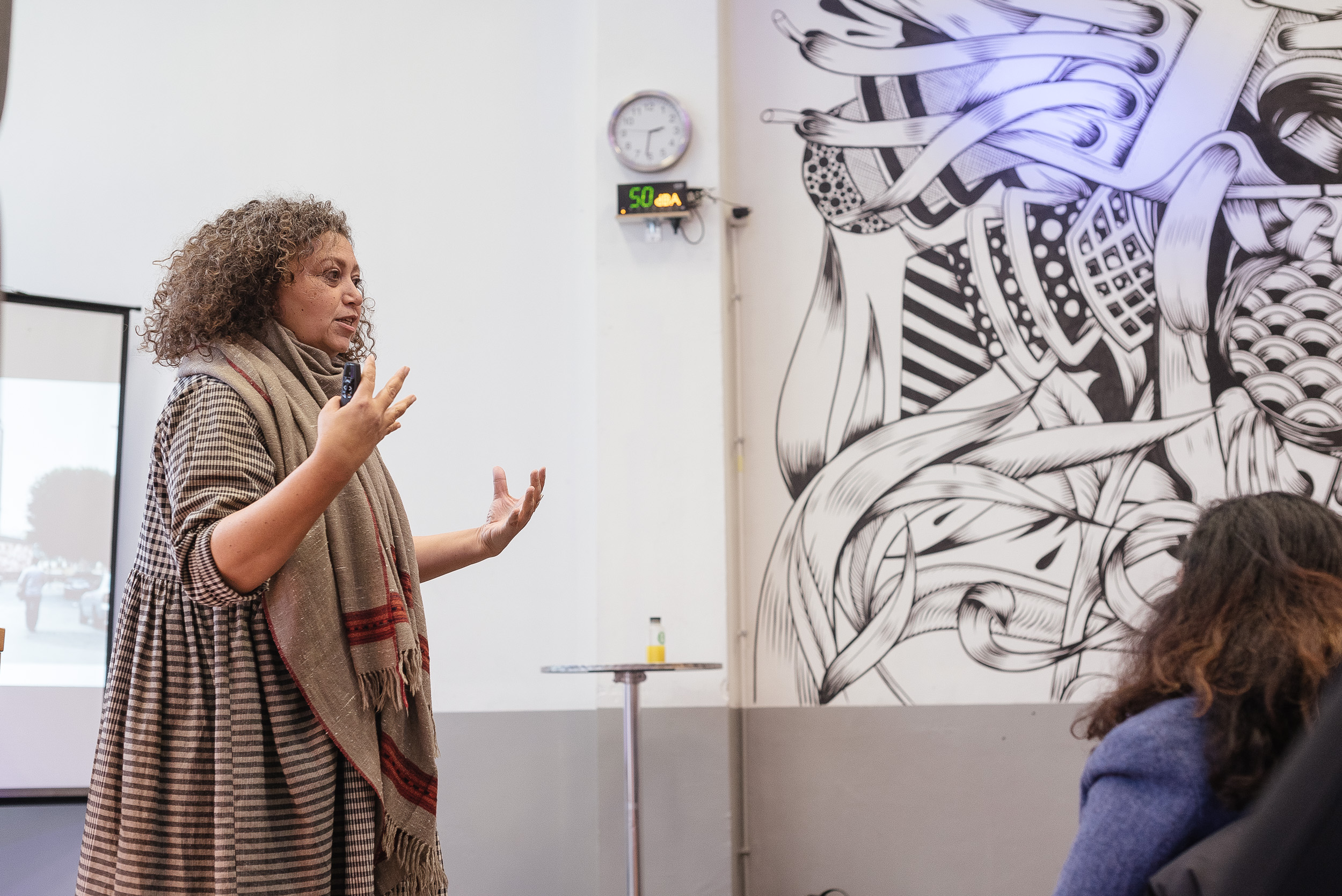 Meet-up Egypt with May Al-lbrashy, oprichter Build Environment Collective - Megawra, Caïro. Photo: Khalid Amakran
Morocco
Amina Mourid and Hicham Bouzid from Think Tanger provided a concise historical overview of Morocco's rich urban development: from long before Western intervention and the time of the various dynasties to the influence of the post-colonial era. They then zoomed in on current social and urban development in the North Moroccan port city of Tanger. Think Tanger is a platform that plays an active role in involving various stakeholders in thinking about new forms of urban development. They do this by means of artistic and cultural productions, sharing knowledge and generating ideas within various coalitions. After an introduction about the specific situation in Tanger, Bouzid and Mourid elaborated on current planning for the region around the city. In the coming years, three ville nouvelles are being realized, linked to the development of a number of free-trade zones. Bouzid and Mourid explained that it is difficult for citizens to get a picture of the various area developments. As an example, everyone in Tanger was surprised in the spring of 2017 when it was announced that a smart city is being realized on the east side of the city with investments from China. These developments often lack a social, sustainable and inclusive perspective and as a result, the local population feels only limited involvement in urban development. The platform aims to change this situation by involving the inhabitants, politicians and other stakeholders in its activities.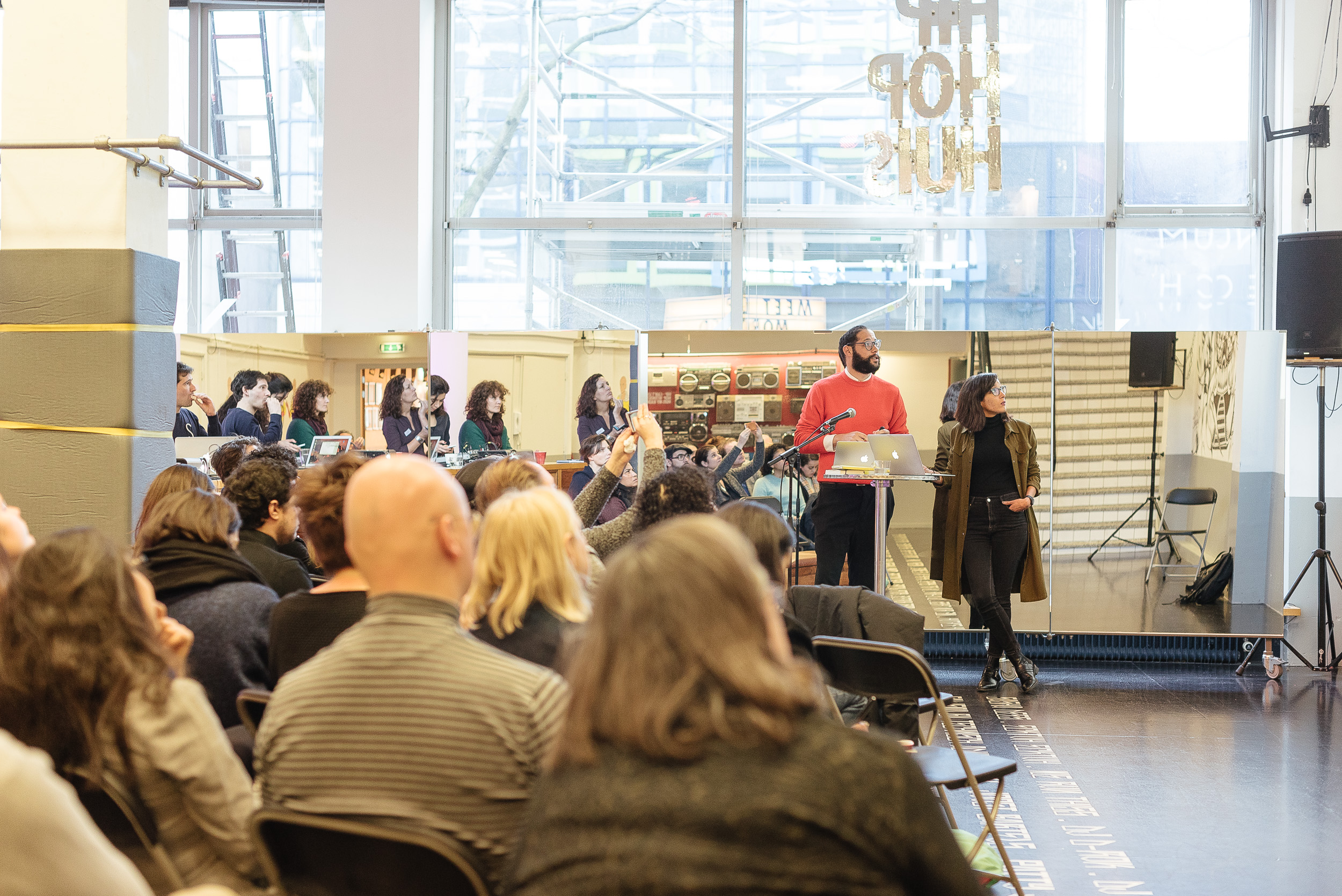 Meet-up Morocco with Amina Mourid en Hicham Bouzid van Think Tanger. Photo: Khalid Amakran
frequently asked questions
Is it your intention to submit a project plan for the Open Call Russia, Turkey, Egypt and/or Morocco? Many of the questions asked during the four meetings can be found here with the answers.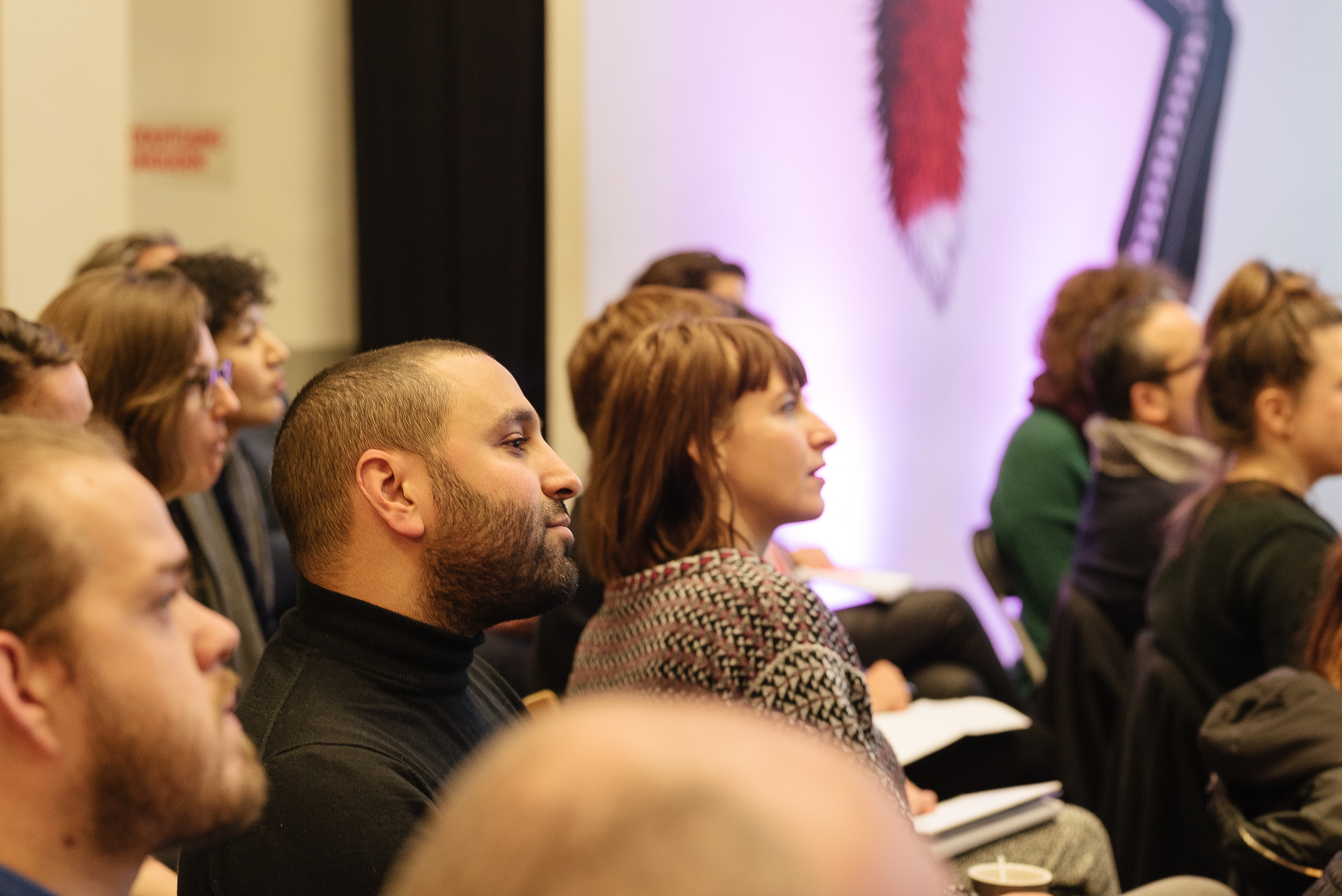 Photo: Khalid Amakran