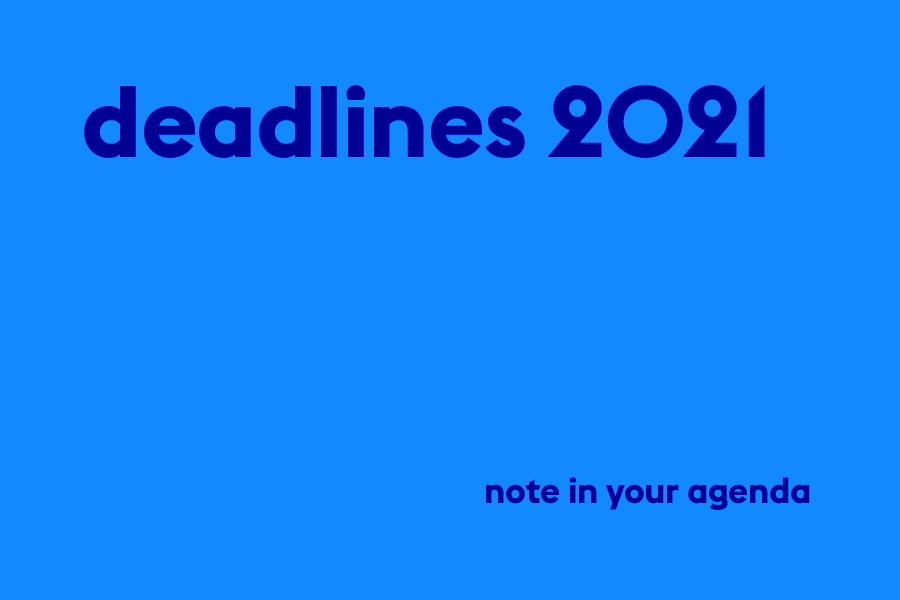 11 December 2020

The deadlines for Creative Industries Fund NL's grant programmes in 2021 have been set. In 2021 there are four application rounds for the Grant Programmes for Design, Architecture and Digital Culture. The Grant Programme Upstrem: Music x Design and the Grant Programme ImmerseInterct have two rounds each in 2021. There is one single round for the the Grant Programme Talent Development. View the closing dates and make a note of them in your agenda!
The 2021 deadlines for each grant programme:
Grant Programme for Design
:
13 January 2021
7 April 2021
11 August 2021
29 September 2021
Grant Programme for Architecture
:
27 January 2021
21 April 2021
12 August 2021
6 October 2021
Grant Programme for Digital Culture
:
20 January 2021
14 April 2021
18 August 2021
7 October 2021
Programme for Talent Development
:
10 February 2021
Upstream: Music x Design
31 March 2021
1 September 2021
Grant Programme Immerse\Interact
16 February 2021
31 August 2021
open calls
Besides the grant programmes, in 2021 the Fund will also be issuing various
Open Calls
. Keep an eye on our
newsletter
and follow our social media channels.
advice
Up to two weeks before the deadline you can present your draft application or project plan to the relevant member of staff for guidance. You can do this by e-mail or by phone. This option is not available when applying for the Programme for Talent Development.
online application environment
N.B. You apply for a grant via the
online application environment
. Apply for your log-in details in good time and familiarize yourself with the online application process.