16 projects selected in Design
11 November 2021

In the third Design round of 2021, 16 proposals have been selected. Coordinator Eva Roolker reflects on the round.
general impression
All the positively assessed applications received grants in this round. Relatively few applications were submitted; however, the diversity of proposals was high. Proposals were made for animation films, documentaries, publications, exhibitions, graphic novels, material research and a fashion collection, among others. Notable projects in this round include:
HENK
– Lisa Konno
After 'NOBU' and 'BABA', 'HENK' is the third and last part of a triptych of fashion portraits about fathers with a migration background. The main character is Henk Shakison, the Surinamese caretaker at the Rietveld Academy and father of three sons. With this documentary, fashion designer Lisa Konno and writer/director Sarah Blok want to address themes such as recognition, migration and cultural identity, and explore how fashion can play a connecting role here. There is collaboration for the documentary with Studio Ruba and the VPRO. The entire project consists of a fashion collection, a multidisciplinary documentary, a series of installations and a publication.
Wastebased Paint
– Studio Kirstie van Noort
Designer and researcher Kristie van Noort is starting an investigation into the possibilities of producing eco-friendly paint in an even friendlier way by replacing fossil-based raw materials with natural materials, including residual materials. In recent years, she has conducted research into the use of residual materials for the ceramic industry, which resulted in a large collection of raw materials. Taking this as a starting point, she would now like to continue testing and analyzing and to develop natural pigments for emulsion paints, to replace the usual synthetic pigments. She also wants to investigate how the consumer can be made aware of the importance of a more sustainable use of paint. Van Noort works together with the Dutch brand Fairf from ecological paint producer Baril Coatings.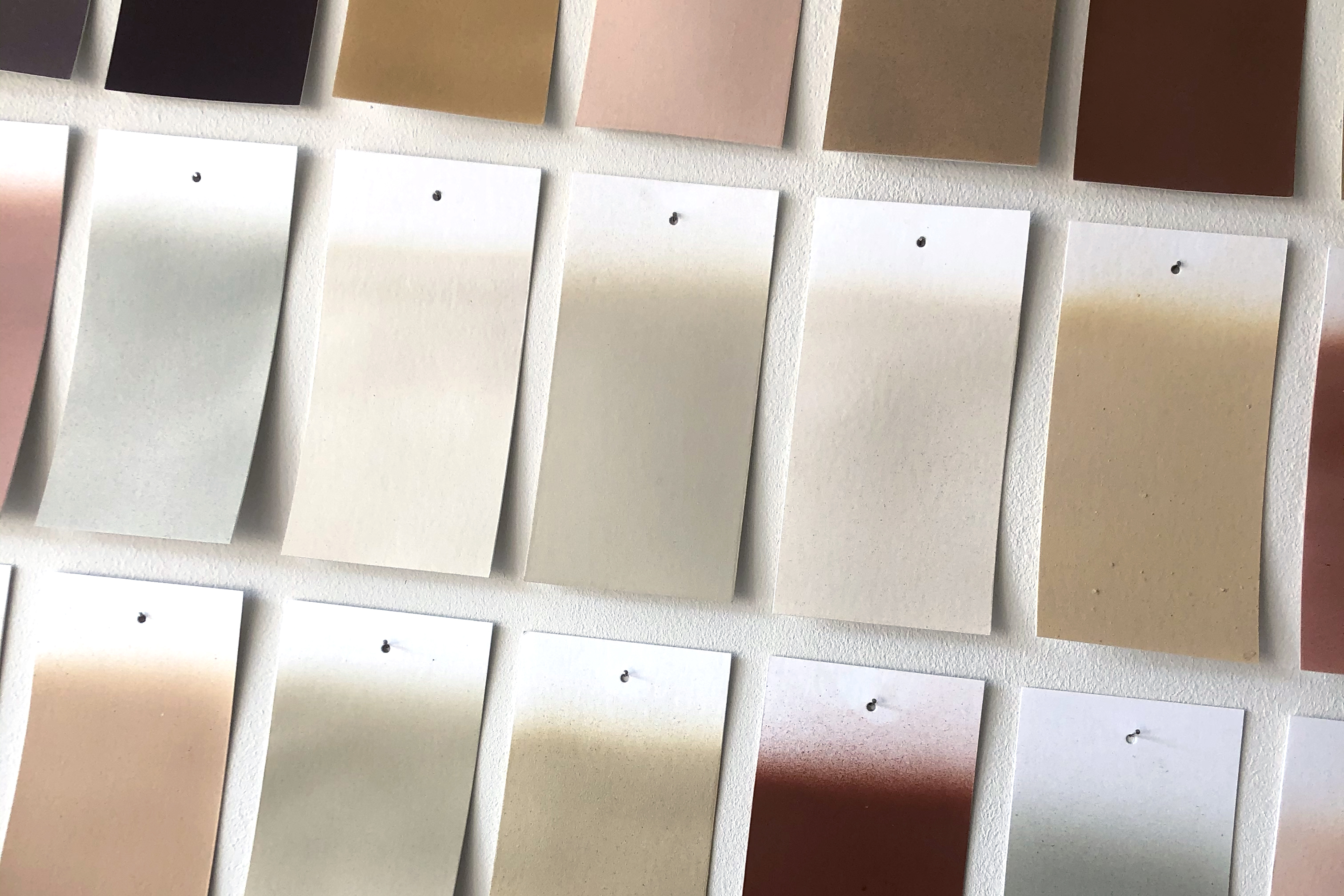 Wastebased Paint – Studio Kirstie van Noort
Milan Knizak Store for Art and Design – Kunstverein
'Milan Knížák Store for Art and Design' is a retrospective exhibition about the work of Czech multidisciplinary artist and Fluxus East director Milan Knížák. The exhibition explores Knížák's role as an artist through the lens of his furniture pieces. In addition to original pieces from Knížák's personal collection, which have never before been shown in the Netherlands, sketches and archive material will also be on display, placing the works in their original context. Designer Kaisa Sööt is responsible for the exhibition's scenography, in which she enters into a dialogue with Knížák and his practice. With this exhibition, Kunstverein aims to provide a contemporary interpretation of Knížák's attitude towards his practice and process. It also aims to give nuance to the Western European influence and stereotypical attitudes to art and design from Eastern Europe, and to set an example for sustainable exhibition design.

Publishing Diasporic Narratives – Publication Studio Rotterdam
With 'Publishing Diasporic Narratives', Yin Yin Wong wants to make a change in her practice as a designer and publisher, after having led Publication Studio Rotterdam for many years. Wong observes increasing attention being paid to diasporic narratives in art education in the form of temporary programmes, guest curators, summer exhibitions and minors. Her aim is to set up a publishing house where this theme is not an addition to an existing programme, but a platform in its own right that presents a new voice within the existing Dutch tradition of book design, including artist books. To investigate the scale and feasibility of the platform, she is starting a preliminary study that will include a literature review, an exploration of similar platforms and possible collaboration partners, and she will experiment with the form of the publishing house on both a graphical and substantive-operational level.

Zeeweg – Spotted Bird
The short animated film 'Zeeweg' tells how the arrival of the Afsluitdijk brought an end to fishing in the Zuiderzee. Based on the relationship between a fisherman and his son, it shows how life in the villages and towns around the Zuiderzee changed as a result. Juan de Graaf received a starting grant earlier for this project. This was used, amongst other things, to develop the synopsis into a complete scenario. In addition, research was carried out into the design and movement of the characters. In order to realize the animation film, the production of 'Zeeweg' has in the meantime been taken over by production company Spotted Bird. The film is primarily intended for the artistic festival circuit. Due to the historical value of the film, it will also be shown in museums.

Click here for all the projects selected in Design round 3 – 2021

numbers
Of the 38 subsidy applications taken into consideration, 16 are receiving grants. This brings the percentage of applications receiving grants to 43%. The closing date for the last round this year was 29 September. You can find the deadlines for next year here.


Photo above: Nanna de Jong - Ingrown