news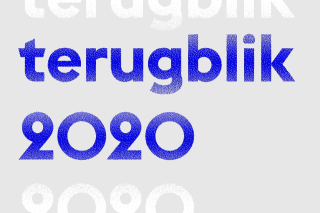 Annual report 2020: power of design in the picture
Annual report 2020: power of design in the picture
25 March 2021

Today the Creative Industries Fund NL publishes its public annual report 2020 in digital form. The year 2020 had only just begun when the COVID-19 crisis broke out, resulting in uncertainties for many in the sector. We look back on an eventful year in which the Fund awarded a total of € 23 million in subsidies to makers, designers and cultural institutions. We place the power of design in the picture in various ways, including with five video portraits.
Executive director Syb Groeneveld:
'The heavy blow from COVID-19 will reverberate for years to come. All the more remarkable is the fact that many applicants saw an opportunity to adjust their course despite the setbacks. Since March last year, colleagues and advisers have together, almost entirely digitally, processed and assessed the more than 2,000 applications with the utmost care. We feel a great responsibility to be able to do more during this crisis for all applicants from the design sector. We remain committed to that aim once again in 2021.'
design in the picture
In five video portraits, we present the design practice of platform The Hmm, fashion designer Karim Adduchi, Merel Pit, design agency Site Practice and designers Iris de Kievith and Annemarie Piscaer. Among other things, they show how design can be socially connective, they work together with the industry to bring about necessary systemic changes in construction, or take a critical and inclusive look at internet culture.
SEE THE DIGITAL ANNUAL REPORT 2020 HERE
support
In addition to the video portraits, the annual report includes animated infographics that provide insight into the distribution and results achieved from the budget available for 2020, which was supplemented by € .4 million from the COVID-19 support packages. With 2015 applications processed and 849 grants awarded, last year's percentage of applications receiving grants came to 42%. Of these, 123 projects received an allocation from the
extra COVID-19 funds
made available by the Ministry of Education, Culture and Science. In 2020, the Fund awarded a total of € 23 million in grants to makers, designers and cultural institutions.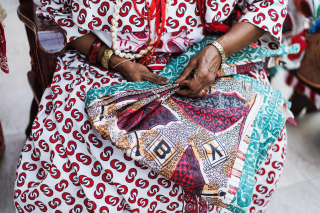 30 projects selected in Design round 1 – 2021
30 projects selected in Design round 1 – 2021
25 March 2021

In the first Design round of 2021, 30 proposals have been selected. All the positively assessed applications were awarded grants. Coordinator Eva Roolker reflects on the round.
general impression
With a new chair – product and spatial designer Miriam van der Lubbe – and a partly new
advisory committee
, 30 diverse projects have been selected in the first round of 2021. The selection includes several research projects, one of which focuses on the potential of three-dimensional weaving, various publications receiving support, an interactive installation that will collect handwriting on which a new typeface will be based, an animated film that draws attention to the theme of depression, several exhibitions and an object that can be climbed, intended for the public space. Fashion and textile design are well represented this round. The projects highlighted below give an idea of the breadth of the selection.
reflection and debate
One of the general objectives of the Fund, with which the
Design Grant Scheme
aligns, is supporting reflection and debate. The '
Atelier Feldwerk'
project by Jongeriuslab is a striking example of this theme. With a starting grant, Jongeriuslab is exploring the possibilities for greater room for reflection and deepening the practice of designers. Based on the research results, Jongeriuslab will look into the possibilities of a residency model that would provide guidance and networking opportunities. Valiz's project '
The Auto-Ethnographic Turn in Design
' also stands out in terms of reflection and debate. Observers Louise Schouwenberg and Michael Kaethler express criticism of design as a problem-solving medium. They argue that designers must take responsibility for what they do, which means they must be able to thoroughly relate to the world, and know their own world in order to relate it to larger-scale issues. In a publication released by Valiz, Schouwenberg and Kaethler provide both a theoretical and a practical basis for a new approach to design practice, one that encompasses a more personal and therefore more original connection with the world, and means that the designer works from their own personal knowledge. The publication includes a wide range of contributions by many designers.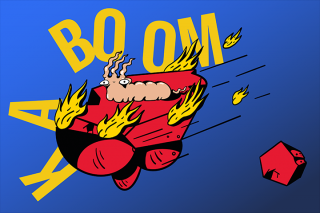 Online festivals in times of COVID-19
Online festivals in times of COVID-19
24 March 2021

Since March 2020, festivals have been faced with a difficult choice between postponing, modifying or cancelling their festival due to the COVID-19 pandemic. Some festivals organized an online alternative at the last minute and others were rescheduled for 2021. To give organizations the opportunity to submit applications for festivals taking place in the first half of 2021, the Creative Industries Fund NL established an additional application round in August 2020.
You will soon be able to take part in four online festivals supported by the
Grant Programme for Festivals
. We list them for you here:
Kaboom Animation Festival 2021
Big Bang is the theme of this year's Kaboom Animation Festival, which takes place online from 31 March to 5 April. Kaboom Animation Festival aims to position animation as a medium that plays an essential and interpretive role in the changing and growing media landscape. Enjoy at home, at work, or wherever and whenever it suits you, what top national and international animators have to offer, with 333 films from 53 countries. The programme features animations about dinosaurs, primitive humans and clumsy gods alongside films about social themes. In addition, on
29 and 30 March 2021
, there are the Kaboom Industry Days with discussions about the Dutch animation landscape.
kaboomfestival.nl
Imagine Film Festival 2021
Fans of horror, science fiction and fantasy can enjoy an online programme consisting of over 55 short films, talks, masterclasses and more during Imagine Film Festival from
7 to 17 April 202
1. At Imagine Film Festival, everything revolves around the imagination. Every year, they challenge the public to think about the future of humankind and society through imagination. The power of the fantastic film is utilized here, because it allows you to discover future worlds, to develop a different view of reality, to explore the unknown and to broaden your outlook as a result.
imaginefilmfestival.nl
Rewire 2021
From 6 to 9 May 2021, Rewire presents online a multitude of projects and formats that demonstrate the different ways in which artists have created and performed works under physical restrictions. Discover innovative music and sound art at this annual international festival and experience a broad programme with a focus on the artistic vanguard in contemporary electronic music, new jazz, experimental pop, sound art and modern composed music. The festival brings together artists and audiences to create and share unique audiovisual and interactive experiences, alongside a discursive programme of lectures, workshops and meditations that aims to critically engage with the festival theme of (Re)setting.
rewirefestival.nl

Illustration Biennal 2021
The Illustration Biennial celebrates the versatility of illustration every two years with presentations by illustrators, exhibitions and publications on contemporary visual culture. The festival is a meeting place for illustrators, professional colleagues, commissioning clients, publishers and other graphic art enthusiasts. It makes connections between content, illustrators and audience, and is unique in doing so. The Illustration Biennial 2021 is going ahead on Sunday, 30 May and opens at 11:30 via a live stream from the Netherlands Institute for Image and Sound in Hilversum. Join in and experience the versatility and power of illustration with interviews and presentations by Bodil Jane, Sarah Yu Zeebroek, Peter Van den Ende, Farida Sedoc, Geertje Aalders, Johan Kleinjan, Jeanne Detallante, Zaou Vaughan, and Leonie Bos.
illustratiebiennale.nl
new grant programme
The Fund is working on a new grant programme for festivals that takes into account the regionalization of festivals and the COVID-19 pandemic. Every application must meet the requirements and objectives of the new Festivals Grant Programme. More information on the new format of the Festivals grant programme will be announced later this year.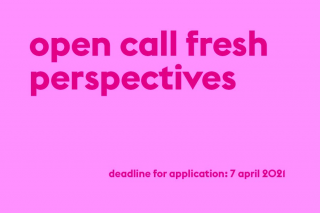 Open Call Fresh Perspectives #5
Open Call Fresh Perspectives #5
26 February 2021

The Fund invites mid-career makers and designers from the creative industries to submit a proposal, together with a collaboration partner, which focuses on tackling a current social issue. By means of the Open Call Fresh Perspectives #5, the Fund aims to encourage designers with a good concept to enter into a collaboration with a renowned company, organization or knowledge institution. Submission is possible until Wednesday 7 April 2021.
The aim of this open call is to bring together designers and parties with a solid social or knowledge position. The Fund is challenging these parties to utilize this collaboration to achieve innovative, surprising solutions for today's design challenges.
Depending on the task, the results of the collaboration may assume a diversity of forms: a product, intervention or service, for instance. It is possible to work together with international partners. However, the applicant must be based in the Netherlands and there must be a predominantly Dutch interest in the project.
Creative Industries Fund NL is making € 270,000 available for this Open Call. The maximum contribution per project is € 45,000. Please note that this amount is granted in three phases.
phasing
The open call has three phases:
Phase 1
: start-up phase – formalization of collaboration(s), funding, planning and research framework (3 to maximum 6 months). A maximum sum of € 10,000 per proposal is available for this phase.
Phase 2
: implementation phase – further development and implementation of the project (maximum 2 years). A maximum sum of € 30,000 per proposal is available for this phase.
Phase 3
: impact/presentation phase – possibility of additional funding to enhance the impact of the project outside the realm of the creative industries (maximum 6 months). A maximum sum of € 5,000 per proposal is available for this phase.
submission
The application for phase 1 can be submitted
until Wednesday 7 April 2021
at the latest.
Read more about the Open Call and procedure here
.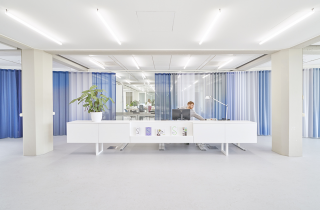 New committee members in 2021
New committee members in 2021
25 February 2021

To replace the advisers whose maximum term had expired, 20 new committee members were appointed last month in the areas of design, architecture and digital culture. In late October 2020, the Creative Industries Fund NL publicly circulated a vacancy for advisers holding a position of maker, architect, designer, researcher, critic or other expertise within the creative industries. The new advisers will reinforce the various advisory committees with their expertise for the next two years.
advisory committee
The members of the Creative Industries Fund NL's advisory committees are experts from the field. Each committee consists of a chair and a pool of advisers who work as makers, architects, designers, researchers or critics, or in another relevant discipline within the creative industries. They advise on the content-related and qualitative value of the submitted applications in the light of the Fund's grant schemes and objectives. This advice is offered to the Board, which then takes the decisions on whether to award a subsidy. New advisers are recruited each year.
selection
The independent external selection committee consisted of Arzu Ayikgezmez (chair), Ben Schouten and Valentijn Bijvanck. A record number of 174 candidates were presented to the selection committee. When composing the various advisory committees and filling the requested profiles, consideration was given to expertise, diversity, complementarity and specific specialisms within the committee.
diversity advisory committees
The advisory committees are an important link in the aim to achieve a more diverse and inclusive Fund. Not only do the committees evaluate the applications on the basis of the schemes and codes, they also represent the Fund to the outside world. Applicants must have confidence in committees and be able to identify with them to a certain extent. In the endeavour to broaden the scope of the Fund to include more diverse groups of applicants, it is therefore important that diversity is also encouraged in the committees. For this reason, the Fund, in parallel with its own search, entered into a partnership with Ocullus Consultancy. In close consultation with the relevant coordinators, Ocullus looked for candidates outside the direct sphere of the Fund. In addition to providing many insights, this has so far resulted in the nomination of at least four new advisers.
new advisers
As of 1 January 2021, the following advisers have been appointed to the various schemes:
Design
: Miriam van der Lubbe (chair), Serana Angelista, Wasco/Henk van der Spoel, Saskia de Bodt, Niek Hilkmann, Anouk van Klaveren, Giorgio Toppin, Rachid Naas, Frank Verkade, Aisha Madu and Chris Mouw
Architecture
: Joan Almekinders, Femke Bijlsma, Wouter Pocornie and Mathieu Schouten
Digital culture
: Isaura Sanwirjatmo, Ard Bonewald, Katayoun Arian
Talent development
: Paul Amoksi and Aiman Hassani
We thank all the outgoing chairs and committee members for their dedication and commitment during the past years. In addition, we would like to thank all the applicants for their interest and effort.
overview
An overview of all advisory committee members, the working method of (advisory) committees and ancillary positions is available
here
.