news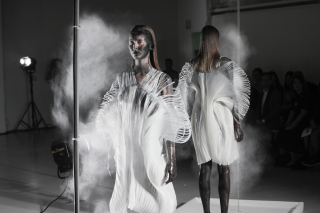 Looking back at the Design rounds: what gives a project added value?
Looking back at the Design rounds: what gives a project added value?
13 March 2019

What do the advisors pay attention to and what do they find important in a proposal? We are using this review of the latest Design rounds to highlight a number of aspects of project applications that the committee considers important in a project plan. What were the strengths of the projects that received grants in the latest Design rounds? And what can you learn from them if you want to write an application yourself?
Here are 8 examples with the findings of the committee.
what does the project mean for your practice?
Jef Montes applied for a material and technical study, as part of the development of his new
Marinero
fashion collection with innovative materials and applications. In the proposal he described very precisely what he was going to do, which partners and knowledge he would utilize, and what this step in the process would mean in concrete terms for the further development of the collection. This specific and well-thought-out design gave the Committee insight into the intended result. The grant gives Montes space to carry out a special research project, the results of which will enrich his collection. The committee expects that a grant for this part will allow Jef Montes to take a new step in his practice.
what special contribution do you make to your field of expertise?
The committee considers it a daring proposal by fashion collective
modecollectief Das Leben am Haverkamp
to investigate new definitions and the positioning of fashion practices, such as their own practice, which is not aimed at selling clothing. As an example, to gather knowledge the collective invites several experts to visit its studio. The results of these discussions are translated into a methodology for other fashion practices. The committee believes that the collective knows how to position their own practice well within the design field and that they reflect seriously on the meaning of fashion. The committee expects that their sharp analysis and research can contribute greatly to the further development of the collective's own practice and that of others.
what new step are you taking in your practice?
Scenographer and costume designer Joost van Wijmen wants to make his observations about body awareness visible with the project '
ENCOUNTER
'. This practice-oriented research project is about experiencing physical contact through performative work. For this, he uses elements from his practice as a costume designer and working method as a scenographer, such as visual language. Van Wijmen is trying to allow 'ENCOUNTER' to grow further and would like to use design research in other domains, such as the care sector, where the body is central. He is using the starting grant to analyze the project and share the results with partners and other stakeholders. In this proposal, the committee sees a special step from a designer who, from a very personal approach, is achieving a more broadly applicable method within a topical theme. The grant will help him to strengthen his position in relation to the partners from other domains and, in so doing, pave the way for other designers as well.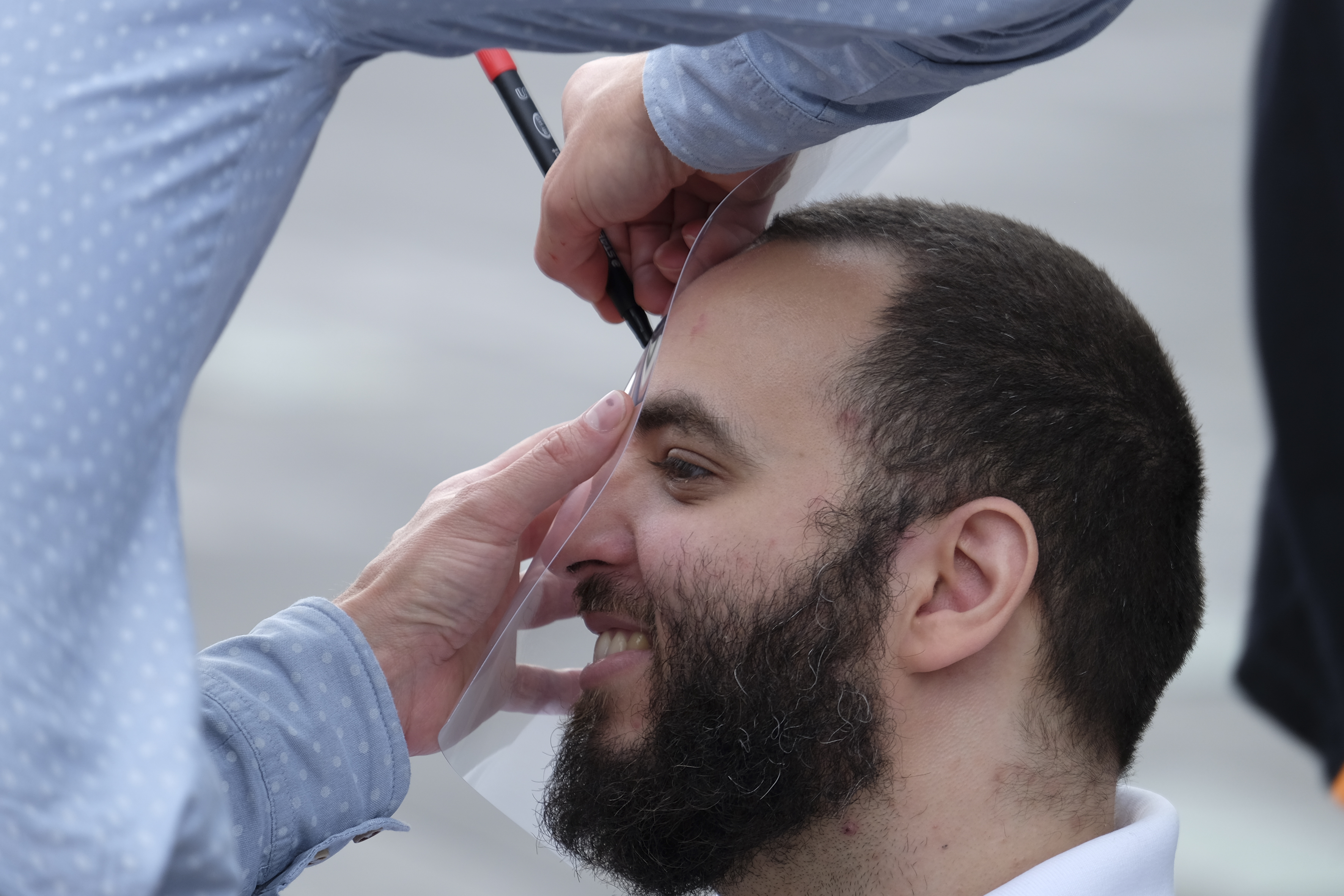 Joost van Wijmen, ENCOUNTER
what is your special position?
The committee describes the portfolio of social designer, communication designer and dentist Kuang-Yi Ku (Studio Ku) as special and idiosyncratic. It is also intrigued by the proposal for 'Millenium Ginseng Project'. Kuang-Yi Ku is developing a futuristic agricultural system to cultivate ginseng under extreme conditions. The project aims to protect endangered plant species and preserve traditional Asian medicine as heritage. The committee appreciates how Kuang-Yi Ku is developing new interdisciplinary research methods that link design and science. In this proposal, it saw Kuang-Yi Ku's various qualities come together.

what makes your project urgent?
Commonplace Studio is working with the Kunstgewerbemuseum in Dresden on a study of ways to utilize design for a new, more social role for museums and a new, relevant narrative about the history of applied art. For this purpose, they are designing new digital media that can be used flexibly and sensitively to tell a more topical and agenda-setting story about the museum's permanent collection. The committee sees finding new forms for telling stories about design and applied art as an urgent task. It expects the research to generate important information for this task.

for museums and institutions
The projects by institutions and museums that are receiving grants show how designers are deployed to add value to an exhibition where design plays a central role.

For the 'Family' exhibition at the Stedelijk Museum Schiedam, designer Manon van Hoeckel was asked to carry out research and to set up a project to bring various families in Schiedam in contact with each other. The research eventually led to the establishment of a hairdresser's in the museum, where visitors could get a free haircut and enter into conversation with other visitors. Hairdressers play an important social role in society; they provide a listening ear and give space for conversation and encounters with 'the other'. The committee sees the role of Manon van Hoeckel as a distinctive contribution to the public reach of the exhibition.

In the Amsterdam Museum's application for 'Fashion Statements', an exhibition with a peripheral programme on fashion, identity and statements from past and present, the committee appreciated the involvement of the curator and designers in the composition of the exhibition programme. Eight contemporary fashion designers were invited to respond to fashion statements from the past and show how these expressions play a role in their own design practice. The committee was positive about the way in which the designers draw on their own experiences to reflect on themes such as identity and diversity. On display in the Amsterdam Museum from 18 April.

In [email protected]'s research project 'Ghosts', the committee appreciated the focus on makers, craftsmen and the workplace. Fifty works created in the work centre over the past fifty years were selected by design historian and critic Glenn Adamson. This selection represents different aspects of and tensions between craftsmanship, technology, experiment, failure, innovation and design quality. The white reproductions of the works, which were created using new digital techniques, are a reflection on fifty years of making, experimenting and innovating with ceramics. In the committee's opinion, this set-up provides relevant new insights into technology and developments for the discipline. The result of the project can be seen in the Design Museum Den Bosch until 19 May.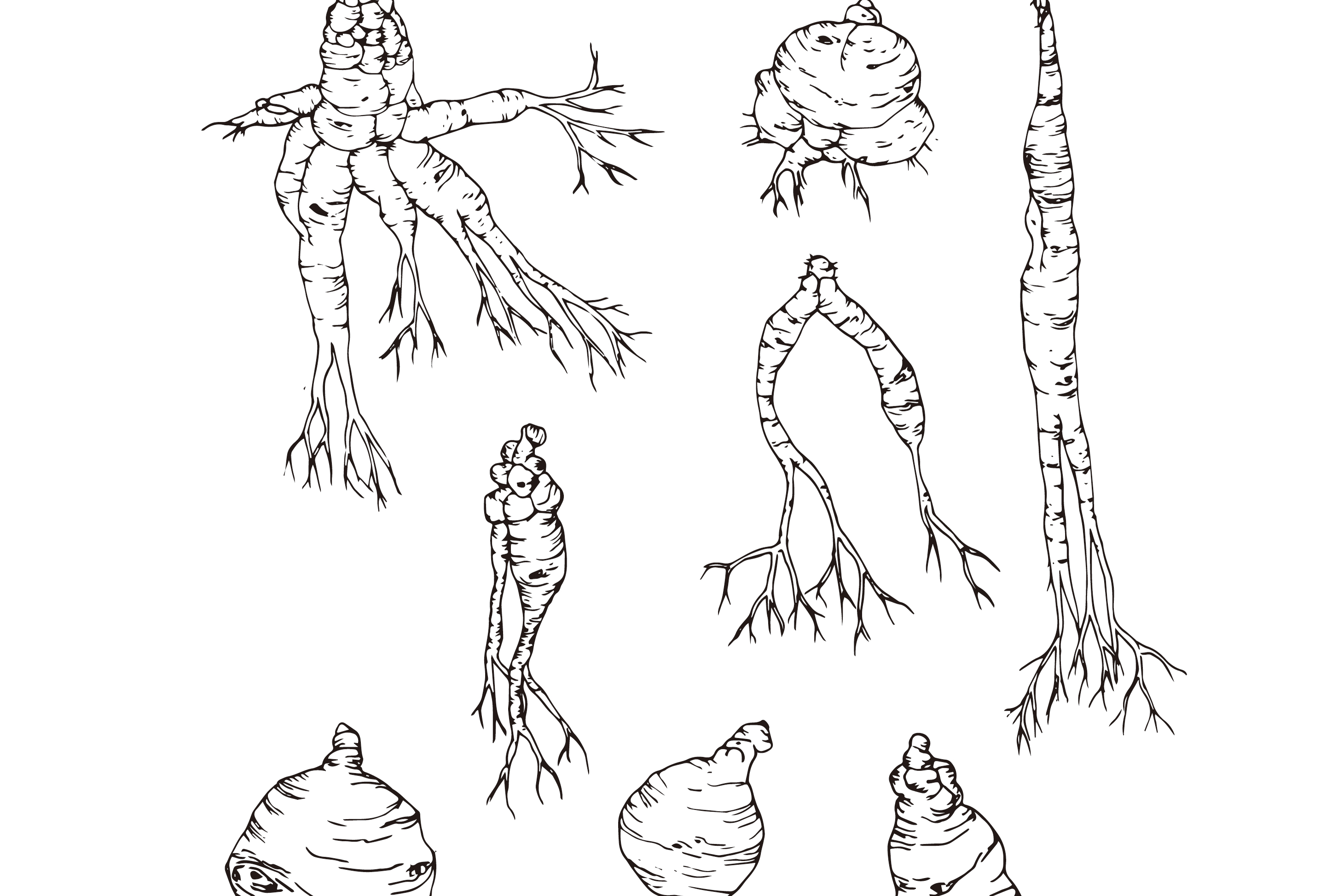 Kuang-Yi Ku (Studio Ku), Millenium Ginseng Project
deadlines 2019
The following are the closing dates for the Grant Programme for Design in 2019: 27 March, 5 June, 14 August and 16 October. The total budget available for 2019 is € 1,200,000.


Photo: Jef Montes, Marinero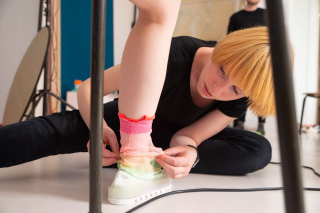 Interview Suzanne Oude Hengel | Innovation in textiles
Interview Suzanne Oude Hengel | Innovation in textiles
13 March 2019

Suzanne Oude Hengel studied Product Design at ArtEZ Arnhem. Through her Instagram account, she keeps over 5,000 followers informed about her shoe designs, which are disappointingly not for sale. By now, she is developing in several areas, working internationally with major brands such as Timberland and Rothy's, and is increasingly shaping her own practice.
Material research plays the leading role in Suzanne Oude Hengel's work. As a shoe and textile designer, she focuses on combining techniques (including knitting techniques), industrial production and digital design methods. 'The fact that I concentrate on shoes actually happened intuitively', explains Suzanne. 'I develop materials, which I was already doing during my studies. When the focus shifted more and more to textiles, I wanted to use them in a functional way. I focus on innovation and would like to change the applications in textiles. Shoes are very interesting due to the scale and because the design involves many restrictions. Not only does a shoe have to fit your foot well, it also has to offer support at the right points and be of high quality'.
knowledge
Suzanne does not see herself purely as a designer, but considers herself equally to be a technician. To develop her technical knowledge, she works a number of hours a week at the TextielLab in Tilburg. 'The TextielLab is a very valuable place for me, but also for many other designers. I started working there after an internship. I operate and repair the knitting machines, learn how to programme and am an ambassador for knitting for the visitors. In addition, there is room for personal experimentation and knowledge development.'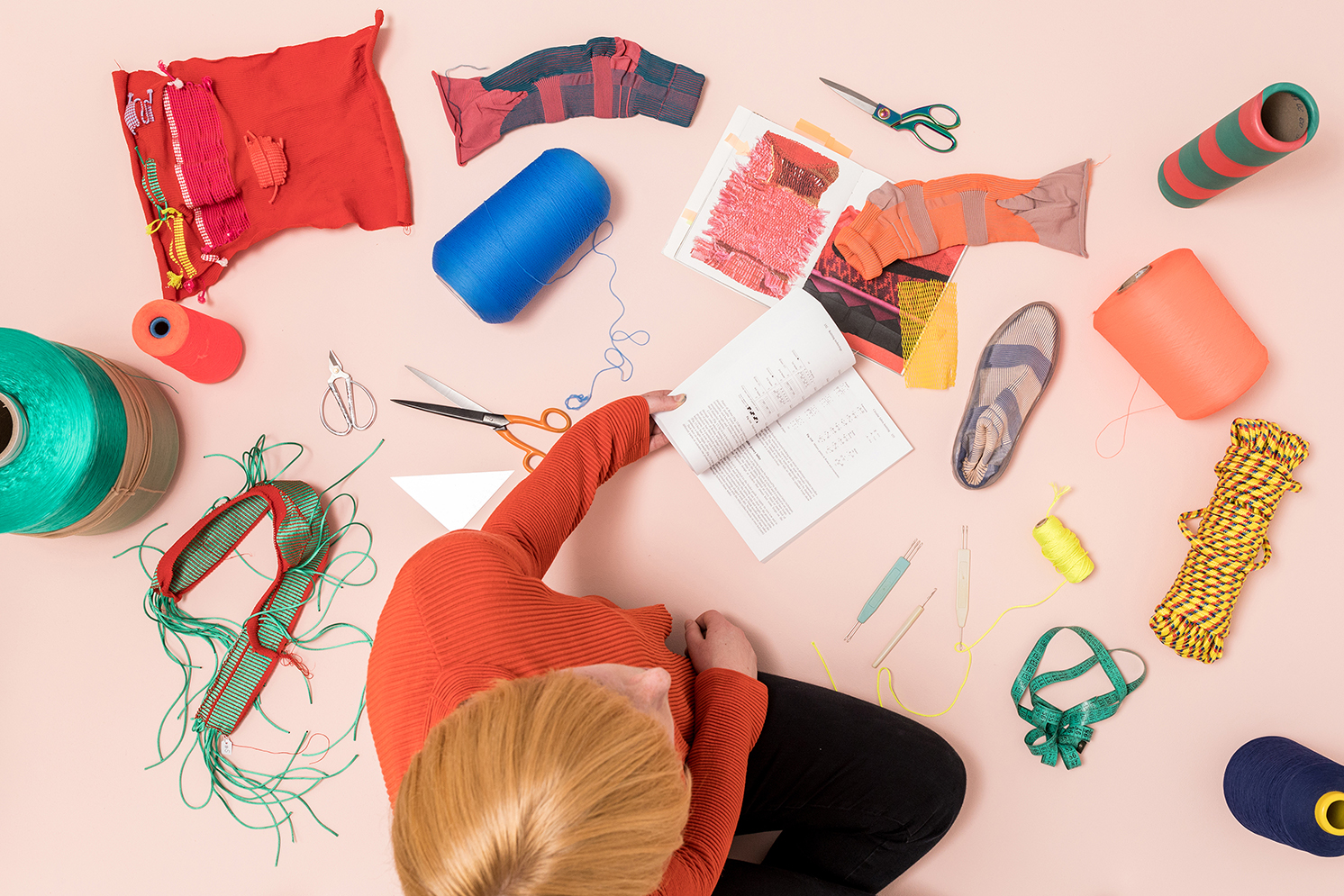 Photo: Masha Bakker
focused
In addition to my own research and the work at TextielLab, I often work on behalf of major brands. They ask me to develop new products or to set up research for them. I don't approach anyone, but through Instagram people have been able to find me in the last three years since I graduated.' During those three years, Suzanne has increasingly determined her own course and that sometimes takes courage. For instance, she has rejected a number of great offers from major brands. 'Of course, a job provides security and you feel honoured to be asked. But I find building my own business more attractive. I work on so many enjoyable projects and it's achieving success,' explains Suzanne.

advice
In order to invest as much time as possible in her research and to accelerate the development of her own practice, Suzanne applied for a talent development grant from the Creative Industries Fund NL. And to get some support in the collaboration projects with large companies, she became a member of the BNO. 'When you start working together with large, internationally operating companies, you suddenly have to deal with non-disclosure agreements and the tax systems of other countries. The working grant from the Fund enables me to invest in my own development and gives a boost to building up my company. The grant gives me space to work on my visibility and network. In terms of professional content, in the past year I have delved into the software of flat knitting machines and have carried out a great deal of material research. When I applied for the grant, I did ask others for feedback on the development plan that had to be written for it. You shouldn't be too cautious about doing that and it can be extremely useful. I thought it was important to stay close to myself and to write down what I really wanted. I know from others that they sometimes experience a threshold when applying for a grant like this. But there's no need for that whatsoever. A new opportunity always comes along.'

The next step in building her own practice is in sight. Suzanne is discussing merging her studio with someone else's and setting up her work in a larger way as a result. She wants to present herself even more as a hybrid designer and to develop herself in technical respect. The aim remains to highlight all the facets of textiles, both functional and technical.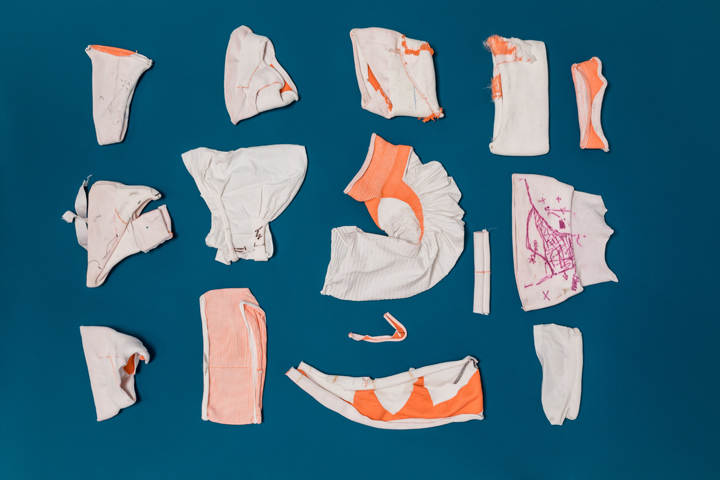 Photo: Masha Bakker
You can find out more about the Creative Industries Fund NL's Talent Development working grant here. Are you curious about everyone who received support in recent years via the Grant Programme for Talent Development? Platform Talent provides an overview of all the supported designers and makers.

This interview is the last in a series of three. Previously we interviewed Marjan van Aubel and Koos Breen (Dutch only).
Six showcases at South by Southwest 2019
Six showcases at South by Southwest 2019
13 March 2019

On Friday 8 March, the annual showcase festival South by Southwest (SXSW) started in Austin, Texas. Traditionally, the festival opens with the technology and film programme, after which the city is completely taken over by the music industry. Six makers from different disciplines of the creative industry received a voucher from the Creative Industries Fund NL to support their participation.
Due to the different registration dates for SXSW, the open call for vouchers was open from the spring of 2018. Confirmation of participation in one of the predefined official tracks was the most important condition to be eligible for support from the Fund.
The supported makers are:
• Killing Architects – Migration Trail, (Panel within interactive conference)
• Aiwen Yin – Reimagine Families, (Panel within interactive conference)
• Daniël Ernst – Diorama no. 4: Die Fernweh Oper (Virtual Cinema Expo)
• CIRCUS FAMILY – Installation (SXSW Art Program)
• Wendela Scheltema – Ahorse! (Virtual Cinema Expo)
• P'tites Madeleines Productions – INCITEMENT (Virtual Cinema Expo)
It's good to see that three of the six projects have a history with the Fund. Alison Killing received a contribution for her project 'Migration Watch' from the grant programme for Non-fiction Transmedia. Aiwen Yin's research was previously supported in the Digital Culture grant programme and Daniël Ernst's first version of 'Die Fernweh Oper' was developed in 2016 following a joint contribution from the Fund and the Dutch Foundation for Literature.
New in the SXSW programme this year was the Virtual Cinema Expo, which focuses entirely on VR and 360-degree film productions. With projects by Daniël Ernst, Wendela Scheltema and P'tites Madeleines Productions, the Netherlands was well represented in this section.
Circus Family tested a new work with the working title 'Lighthouse' in the public space.
Previous participation
at SXSW proved to be a perfect springboard for them for a series of exhibitions in the United States.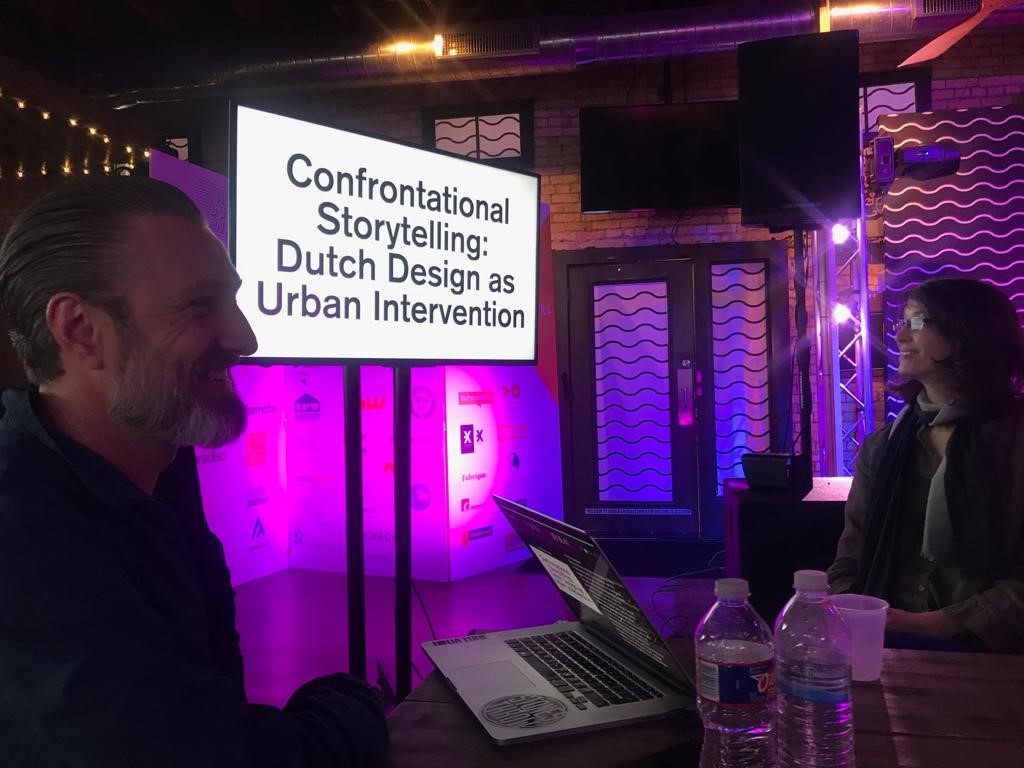 CIRCUS FAMILY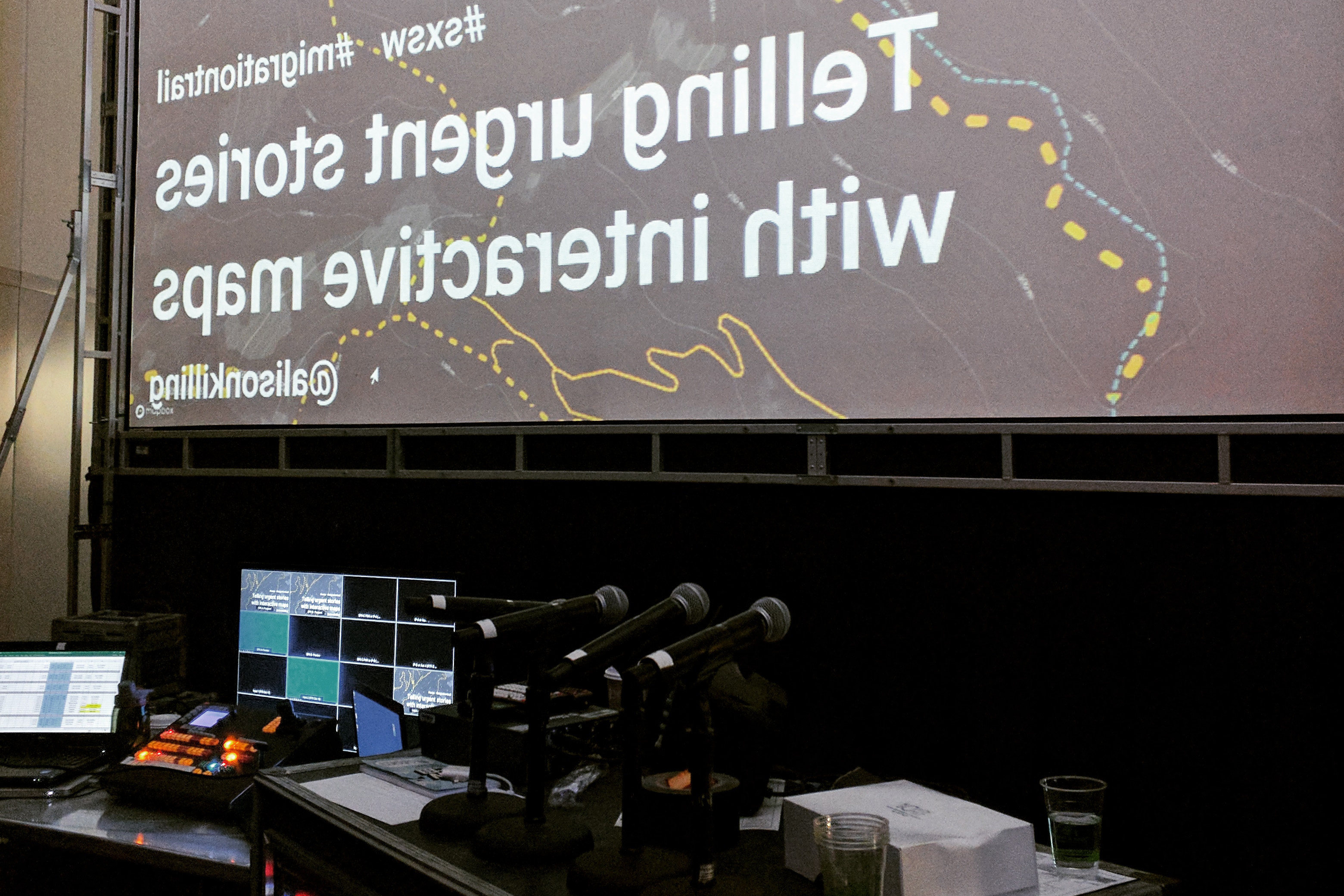 Photo above: Daniël Ernst – Diorama no. 4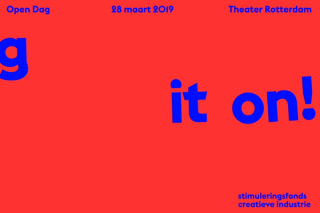 28 March: Bring it on! Creative Industries Fund NL Open Day
28 March: Bring it on! Creative Industries Fund NL Open Day
1 March 2019

After a successful first edition last year, the Creative Industries Fund NL is once again organizing Bring it on! on Thursday 28 March. On this open day we will bring the designing sector together, director Syb Groeneveld will talk about our new plans and we will discuss ambitions, design ideas and social impact.
Through public interviews with supported design talent, we demonstrate the power of design and the value of design research. Designers, makers, talents and institutions show what the subsidy they received has meant for them and together we discuss new developments. In a varied programme, the themes of professionalization, collaboration and talent development play a central role. During Bring it on! we will also launch a number of new open calls and grant programmes.
An important part of Bring it on! is the speed dating with staff of the Fund and a number of other organizations. Would you like to speed date? You can find more information at the end of the programme.
date
: Thursday 28 March 2019
time
: 14.00 - 17.00, followed by drinks
location
: Theater Rotterdam, Schouwburgplein 25, 3012 CL Rotterdam
registering
: You can sign up
via our registration form
.

programme14.30
Welcome by moderator Stephanie Afrifa
14.35
Interview with executive director Syb Groeneveld about the past year and plans for the coming period
14.45
Storytelling and
Immerse\Interact
: Joris van Ballegooijen (Fund) explains the possibilities
15.00
Sustainability in the fashion sector: a talk with three fashion platforms:
FASHIONCLASH
,
State of Fashion
and
M-ODE
, and a fashion collective
Das Leben am Haverkamp
.
15.20
Interior and interdisciplinarity: designer
Siba Sahabi
and advisor Aslı Çiçek reflect on the profession
15.30
Collaborating on care: a discussion about commissioning with designer
Manon van Hoeckel
and Gijsbert van Herk (Humanitas), led by Jetske van Oosten (Fund)
15.45
Break
16.00
Experimenting in workplaces: what are the benefits of collaborating with a company, lab or industrial partner?
16.10
Interview with design talents who received a talent development grant last year, including
Joana Chicau
(in English)
16.25
Remix and sampling as a method for new design: which ideas, styles and relationships arise when mainstream worlds and countercultures come together or collide?
Farida Sedoc
uses remix and sampling in her work. She talks about which recognition and ownership you can enforce with this working method.
16.45
Diversity and festivals: new festival initiatives shed light on their programming, for instance Brigitte van der Sande from
Other Futures 2020
and Shirin Mirachor of
Get Me
- for today's activist
17.00
Wrap-up with executive director Syb Groeneveld
17.05 Drinks, until 18.30 speed dating
An important part of Bring it on! is the speed dating with staff of the Fund and a number of other organizations. During a speed date, you can ask all your questions about subsidy possibilities, Fund policy and, of course, briefly test out your idea.
Would you like to know more about the possibilities of a grant programme? Are you interested in an open call? Perhaps you would like to know more about the options of an interest-free loan from Fonds Kwadraat, or do you have questions about your professional practice which the BNO can help you with?
Sign up
: use the registration form to let us know which question(s) you have. We will then organize a brief meeting with a Fund employee or an external expert. The speed dates are not meant to be used to present your portfolio or a concept application. Due to limited capacity, it is advisable to respond quickly.
Timetable for speed dating:
14.30 - 15.30
15.30 - 16.30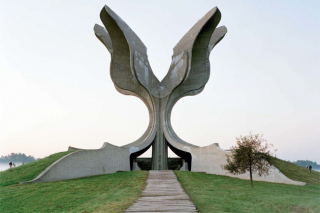 Talent Development Grant Programme conditions broadened for architects
Talent Development Grant Programme conditions broadened for architects
14 February 2019From now on, starting architects, urban designers, garden and landscape architects and interior architects may submit applications to the Talent Development Grant Programme up to four years after their registration in the Architects' Register.
To be eligible for the Talent Development grant, applicants must not have graduated more than four years ago. For architects and related disciplines, this condition proved to have a limiting effect. Since 31 December 2014, they are required to gain two years' professional experience before they can be registered in the Architects' Register and are allowed to use the protected title of architect, urban designer, garden and landscape architect or interior architect.
So from now on, The Fund will regard registration in the Architects' Register as the moment of graduation. Starting architects, urban designers, garden and landscape architects and interior architects may submit applications to the Talent Development Grant Programme up to four years after being included in the register.
By broadening the conditions of the Talent Development Scheme for architects and related disciplines, the Fund hopes to lower the threshold and receive more applications for the working grant from this group. The number of applications from architects lags behind those submitted by designers and makers working in design and digital culture. The broadening of the conditions also offers architects greater opportunity to formulate their own vision on spatial and social developments before submitting an application. Given the complexity of their field, this takes more time than in other fields.
The deadline for applying for
Talent Development grants
for 2020 is
6 March 2019
. Are you interested in knowing who has received support in recent years through the Talent Development Grant Programme?
Platform Talent
gives an overview of all the supported designers and makers.
Foto above: Arna Mačkić graduated in 2010 from the department of Architectural Design at the Gerrit Rietveld Academie and was supported for the Talent Development Grant Programme in 2014.