news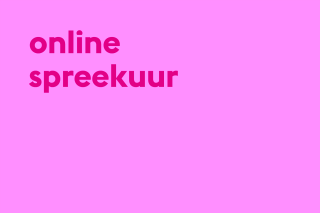 16 dec: Online consultation hour
16 dec: Online consultation hour
26 November 2021

Are you looking for funding for your project or practice? On 16 December 2021, we are organizing an online information session about contribution opportunities for makers and designers in the field of design, architecture and digital culture.
Do you have plans for research, an (online) exhibition or a collaboration that strengthens your practice? Grant officers Annique Deneer and Dewi Kruijk will provide information about the Fund's currently open grant schemes and answer questions. Register via the registration form and participate in the online interview in December. Do you already have a question? Leave this also in the form.
Date
: 16 December 2021
Time
: 2 p.m. - 3 p.m.
Sign up
:
via this link
more information
Find tips and frequently asked questions
here
.
Find out more about the closing dates in 2022
here
.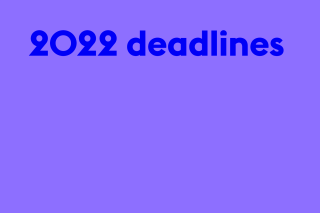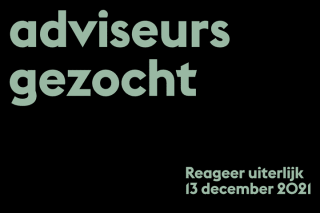 Vacancy advisory committee members
Vacancy advisory committee members
11 November 2021

The Creative Industries Fund NL is looking for new advisers for various advisory committees. Would you like to have a say in the distribution of grants to makers and institutions in the fields of design, architecture and digital culture? Are you knowledgeable about the design field and can you provide a good justification for your opinion? In that case, respond quickly in Dutch to one of the open positions! You can do that until 13 December 2021 at the latest.
what is your role as an adviser?
At the Fund, we work with independent advisory committees. As an adviser, you assess subsidy applications submitted to one of the Fund's grant schemes, on the basis of pre-set criteria. You do this together with other advisers.
An advisory committee is composed with care. As an adviser, we expect you to be up to date on current developments in the creative industries or at least one of the subfields within it. We also guide you through our policy and objectives. This will allow you to carry out your task as adviser in the best way.
There are more than 100 advisers involved with the Fund. You can be appointed as an adviser for a maximum of four years. As a result, new positions become available within the committees each year. To find out what the positions are, click on one of the committees below:
•
Design Committee
•
Architecture Committee
•
Digital Culture Committee
•
Talent Development Committee
•
Activities Programmes Committee
•
Internationalization Committee
•
Committee for Appeals
diversity as strength
We believe it is important to have room for different perspectives and diversity. A committee should be a good reflection of the field in its multiperspectivity. Applicants must be able to recognize themselves in all their diversity in a committee. That is why other competencies are important for the functioning of a committee, besides professional knowledge. For instance, experience or life experience with other cultures, education, entrepreneurship, international cooperation or other important developments outside the familiar professional field. From your own diverse background, can you contribute to a broad assessment with your knowledge and experience? Then we look forward to seeing your response.
what is the remuneration and time commitment?
Although as an adviser you receive compensation for the time investment, an appointment as adviser with the Fund is not a job. It's something you do as an extra task. How much time it will cost you differs per committee.
In the basic schemes for project grants (Architecture, Design and Digital Culture), between 40 and 70 applications are processed each round. This means that you need at least a few evenings or a weekend to read the applications. For the committee meetings, you should count on two full days being needed. Often the choice is also made to divide the files among different advisers. In that case, you read half the applications and attend only one of the meeting days. The basic schemes mentioned above have four rounds per year, in which you will probably participate in two or three. The talent development grant scheme has its own dynamics with one very large round in which portfolios are assessed, and a second round in which the applicants' development plans are discussed.
An adviser receives a fixed fee (fees for talent development, activities programmes and the committee for appeals differ) consisting of:
Attendance fee: € 55 per hour for the committee meetings.
Reading fee: € 16.50 per application
Travel costs: based on 2nd class NS train (from outside Rotterdam and including Intercity Direct surcharge).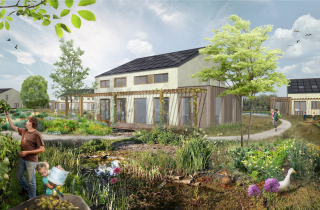 13 projects selected in Architecture
13 projects selected in Architecture
11 November 2021

In the third Architecture round of 2021, 13 proposals have been selected. All the positively assessed applications were awarded grants. Coordinator Dominique Geelen reflects on the round.
general impression
All the positively assessed applications received grants in this round. Subjects such as community/CPC (collective private commissioning), circularity and water/climate adaptation were strongly represented in this round. A striking aspect was the number of applications for film productions. Several projects use documentary as an end product or as a supporting medium.
The theme of diversity and inclusion is receiving more and more attention within the field of architecture. In this round, there were also some applications in which the theme is a subject of extensive study. These proposals focus on intersectionality, accessibility (physical and otherwise) for people with physical disabilities and involvement of broad communities, and urban space for 'non-humans'.
Notable projects in this round include:
12th edition Eo Wijers Competition
– Eo Wijers Foundation
The annual Eo Wijers competition is aimed at improving spatial quality at a supralocal scale level. The organization argues that spatial quality is under pressure due to conflicting claims on space. These include agriculture, housing, nature development and the energy transition. The competition brings together clients and multidisciplinary teams of designers and researchers to give areas or regions a creative impulse, such as the introduction of new perspectives or a tangible transformation. In this start phase, the Foundation wants to have in-depth research carried out at and by knowledge institutions, in order to achieve a sharper analysis of the issues.
Study into working methods WomenMakeTheCity
– Marthe Singelenberg Urban Anthropology
WomenMakeTheCity (WMTC) advises on the socio-physical living environment of the city from an intersectional, feminist perspective, and does this by giving marginalized groups a voice in decision-making. The organization was created in 2018 and contributed to the drafting of the Environmental Vision Amsterdam 2050 with a Women's Advisory Council. WMTC is currently involved in projects in Amsterdam Zuidoost and Nieuw-West. Marthe Singelenberg Urban Anthropology makes use of Toni Griffin's Just City Index, a methodology for developing a just city, translated to the Dutch context. In collaboration with architectural firm Studio L A, a design method for the public space is also being developed based on this methodology, so that in addition to advice, design proposals can also be put forward.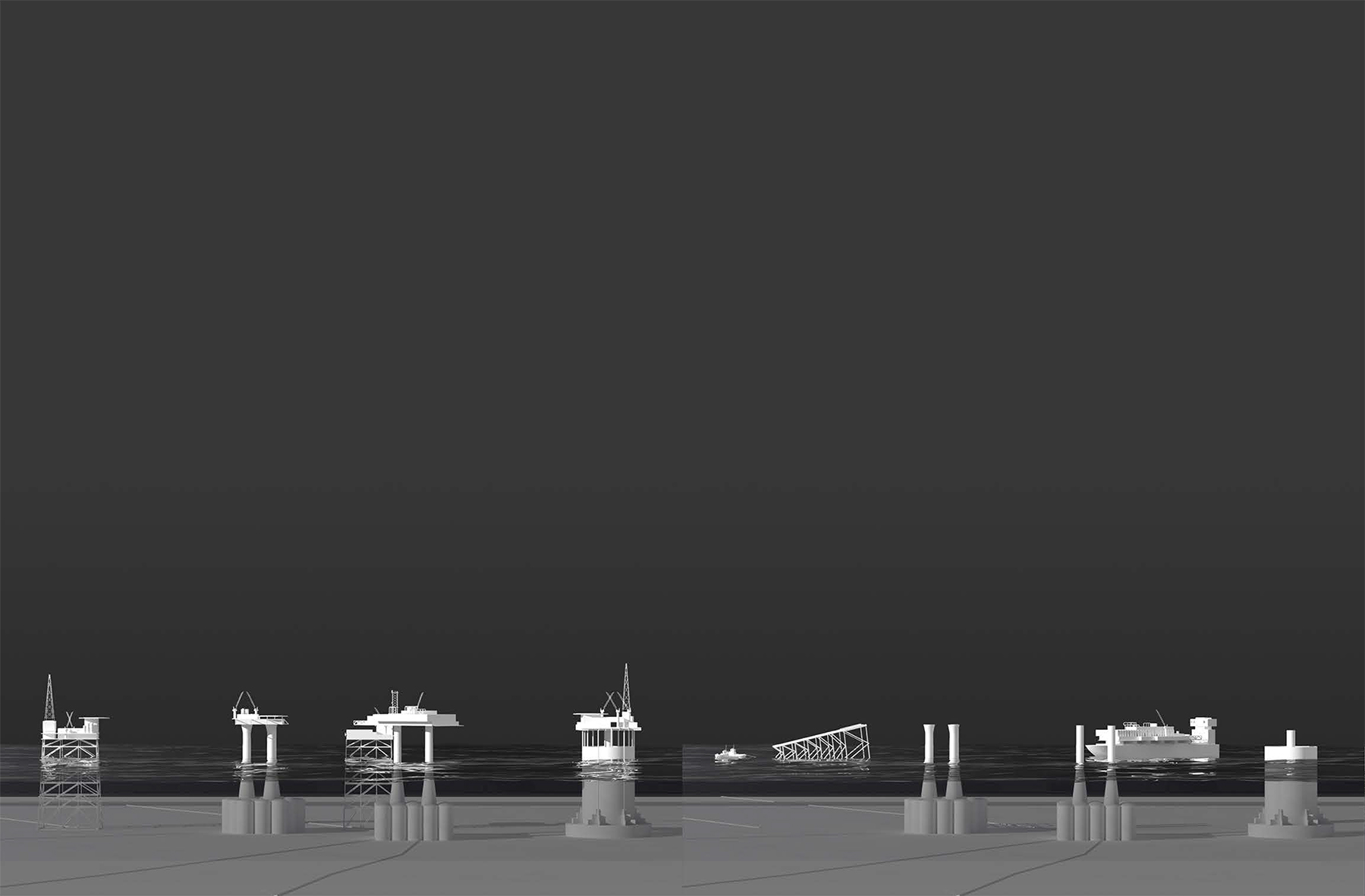 Fluid Territories: The North Sea and Beyond – Hamed Khosravi
Fluid Territories: The North Sea and Beyond – Hamed Khosravi
Hamed Khosravi wants to work towards a manuscript for a publication with 'Fluid Territories: The North Sea and Beyond'. Khosravi's research focuses on the North Sea, which he considers to be the most urbanized body of water in the world. The research project offers new interdisciplinary readings of the ways in which the relationship between the space, the territory and its form of life can be revisited: it separates architecture from land and reads it in the context of the free sea. The study considers the North Sea to be a contested area in which various forms of life have flourished. For centuries, the sea has been the playing field of appropriation and conflict, and Khosravi wants to investigate how architecture has responded to this. He also focuses on the future, for example on the impact of climate change on the various coastlines, or the expanding logistics infrastructure as a result of shifts in our economy. In this follow-up application, Khosravi is building on the research conducted in the start-up phase, academics will be invited to write essays for the sub-themes, and design proposals will be drawn up for each theme together with a group of researchers and architects, and with parties such as the Architectural Association School of Architecture (London), TU Delft (Delft) and H+N+S Landscape Architects.

Hein van Duppen – De Reizende Boom (The Travelling Tree)
Issues such as climate resilience, biodiversity and liveability demand that more green space is realized in the city. With the project 'The Travelling Tree', Hein van Duppen wants to bring residents and professionals together to think about the future of the city, by means of events around the tree. The project inspires and stimulates individuals to actively engage in greening their living environment. 'The Travelling Tree' visits various destinations and enters into a dialogue with the surroundings. People can share stories, photos and experiences of its stay with each other online. This will result in a travel report as a starting point for a public discussion (together with CAST) with/between residents and professionals. The tree is also part of an exhibition organized by Kunstloc. 'The Travelling Tree' is an instrument for involving residents in thinking about the design of our living environment. Its travel report provides insight into different interests and ideas, and into the significance of trees in the city. The project connects policymakers and designers of the city with its users. Together they can put the challenges facing cities on the agenda. Besides CAST and Kunstloc, the Municipality of Tilburg, Almere Centrum and Bright are involved as partners.

Click here for all the projects selected in Architecture round 3 – 2021.

numbers
Of the 33 subsidy applications taken into consideration, 13 are receiving grants. This brings the percentage of applications receiving grants to 39%. The closing date for the last round this year was 6 October 2021. You can find the deadlines for next year here.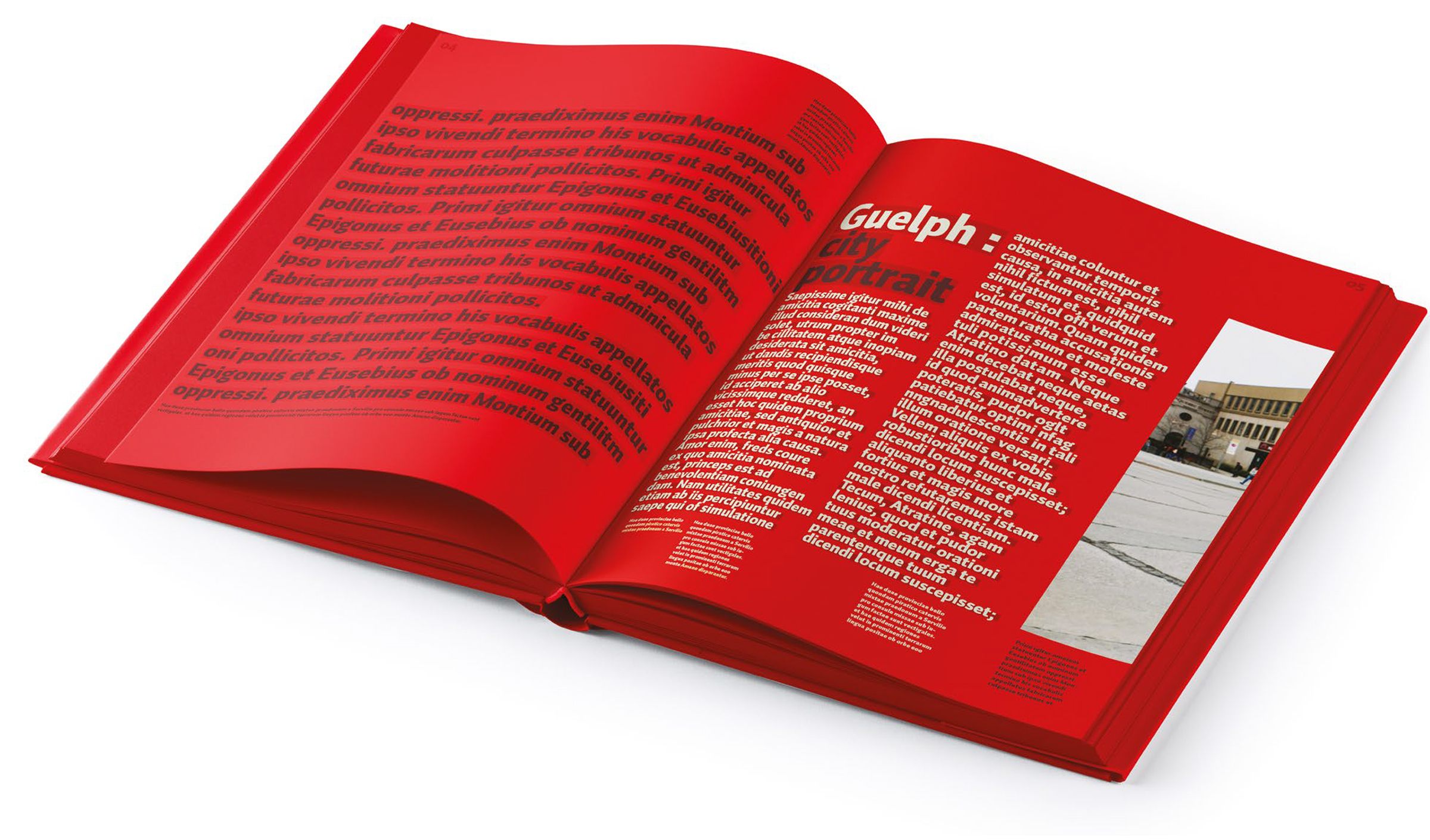 Challenging Neoliberal Urbanization Between Crisis (working title) Cohabitation Strategies
Photo above: De Woongaard I De idealen wijk, De Zaak Kodde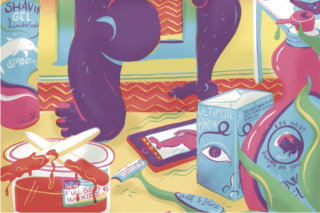 16 projects selected in Design
16 projects selected in Design
11 November 2021

In the third Design round of 2021, 16 proposals have been selected. Coordinator Eva Roolker reflects on the round.
general impression
All the positively assessed applications received grants in this round. Relatively few applications were submitted; however, the diversity of proposals was high. Proposals were made for animation films, documentaries, publications, exhibitions, graphic novels, material research and a fashion collection, among others. Notable projects in this round include:
HENK
– Lisa Konno
After 'NOBU' and 'BABA', 'HENK' is the third and last part of a triptych of fashion portraits about fathers with a migration background. The main character is Henk Shakison, the Surinamese caretaker at the Rietveld Academy and father of three sons. With this documentary, fashion designer Lisa Konno and writer/director Sarah Blok want to address themes such as recognition, migration and cultural identity, and explore how fashion can play a connecting role here. There is collaboration for the documentary with Studio Ruba and the VPRO. The entire project consists of a fashion collection, a multidisciplinary documentary, a series of installations and a publication.
Wastebased Paint
– Studio Kirstie van Noort
Designer and researcher Kristie van Noort is starting an investigation into the possibilities of producing eco-friendly paint in an even friendlier way by replacing fossil-based raw materials with natural materials, including residual materials. In recent years, she has conducted research into the use of residual materials for the ceramic industry, which resulted in a large collection of raw materials. Taking this as a starting point, she would now like to continue testing and analyzing and to develop natural pigments for emulsion paints, to replace the usual synthetic pigments. She also wants to investigate how the consumer can be made aware of the importance of a more sustainable use of paint. Van Noort works together with the Dutch brand Fairf from ecological paint producer Baril Coatings.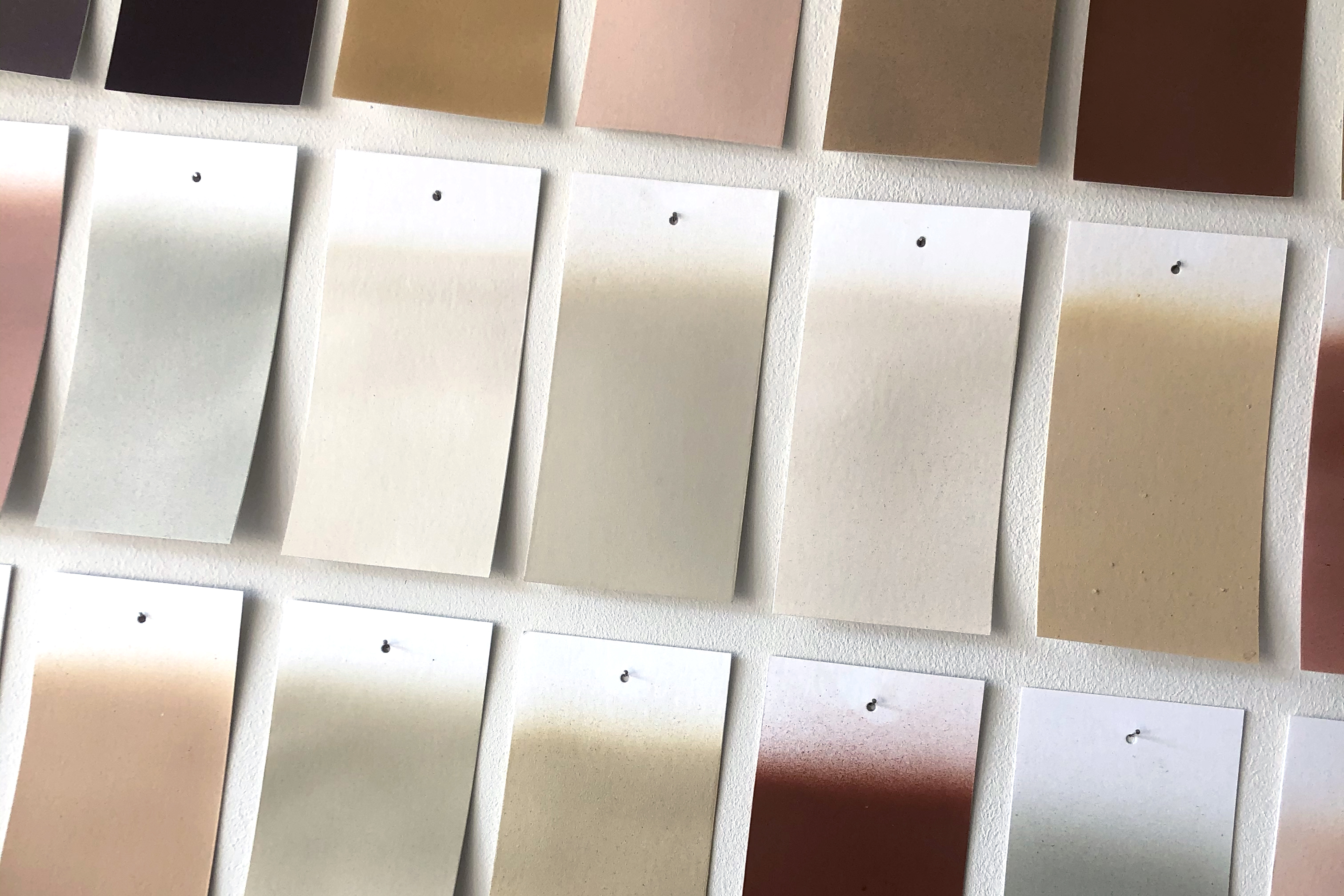 Wastebased Paint – Studio Kirstie van Noort
Milan Knizak Store for Art and Design – Kunstverein
'Milan Knížák Store for Art and Design' is a retrospective exhibition about the work of Czech multidisciplinary artist and Fluxus East director Milan Knížák. The exhibition explores Knížák's role as an artist through the lens of his furniture pieces. In addition to original pieces from Knížák's personal collection, which have never before been shown in the Netherlands, sketches and archive material will also be on display, placing the works in their original context. Designer Kaisa Sööt is responsible for the exhibition's scenography, in which she enters into a dialogue with Knížák and his practice. With this exhibition, Kunstverein aims to provide a contemporary interpretation of Knížák's attitude towards his practice and process. It also aims to give nuance to the Western European influence and stereotypical attitudes to art and design from Eastern Europe, and to set an example for sustainable exhibition design.

Publishing Diasporic Narratives – Publication Studio Rotterdam
With 'Publishing Diasporic Narratives', Yin Yin Wong wants to make a change in her practice as a designer and publisher, after having led Publication Studio Rotterdam for many years. Wong observes increasing attention being paid to diasporic narratives in art education in the form of temporary programmes, guest curators, summer exhibitions and minors. Her aim is to set up a publishing house where this theme is not an addition to an existing programme, but a platform in its own right that presents a new voice within the existing Dutch tradition of book design, including artist books. To investigate the scale and feasibility of the platform, she is starting a preliminary study that will include a literature review, an exploration of similar platforms and possible collaboration partners, and she will experiment with the form of the publishing house on both a graphical and substantive-operational level.

Zeeweg – Spotted Bird
The short animated film 'Zeeweg' tells how the arrival of the Afsluitdijk brought an end to fishing in the Zuiderzee. Based on the relationship between a fisherman and his son, it shows how life in the villages and towns around the Zuiderzee changed as a result. Juan de Graaf received a starting grant earlier for this project. This was used, amongst other things, to develop the synopsis into a complete scenario. In addition, research was carried out into the design and movement of the characters. In order to realize the animation film, the production of 'Zeeweg' has in the meantime been taken over by production company Spotted Bird. The film is primarily intended for the artistic festival circuit. Due to the historical value of the film, it will also be shown in museums.

Click here for all the projects selected in Design round 3 – 2021

numbers
Of the 38 subsidy applications taken into consideration, 16 are receiving grants. This brings the percentage of applications receiving grants to 43%. The closing date for the last round this year was 29 September. You can find the deadlines for next year here.


Photo above: Nanna de Jong - Ingrown