news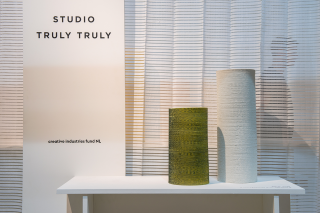 Salone del Mobile 2017 in retrospect
Salone del Mobile 2017 in retrospect
12 April 2017

For product and furniture designers the Salone del Mobile in Milan is the ideal place to present themselves on the international stage. This year's fair attracted more than 340,000 visitors, including many representatives of wholesale and retail, press, media and other professionals from the international design world. Everyone is on the lookout for the latest developments in the realms of furniture and product design and, as we're accustomed to now, the Dutch presence was remarkable in several respects. Two of the Fund's members of staff, Eva Roolker and Zineb Seghrouchni, share some of their impressions below. During their short trip they visited several memorable presentations.
Experiment, craftsmanship and the everyday
A variety of Dutch presentations could be visited in Palazzo Clerici. MacGuffin magazine launched its latest edition, which is devoted to 'The Sink' in its entirety: presented in an installation with the many components of a sink, it explored the sink's everyday use, significance and design from various perspectives. Visitors could listen to a range of perspectives via a podcast.
The colourful presentation by Envisions grabbed attention too. Finsa, a Spanish manufacturer of semi-finished products such as MDF, wood-fibre panels, melamine and veneer, offered this designers collective the opportunity to experiment with their materials. The multilayered final presentation – 1:1 experimental pieces, short videos of the production process and a VR production – gave a complete impression of the possibilities that the materials offer.
Het Nieuwe Instituut drew the attention of an international audience to the New Material Award. Studio Minale-Maeda showcased their latest work and Commonplace Studio, Sabine Marcelis, Teresa van Dongen shared a presentation space. Their work and practices are diverse, but in the presentation all three of them focused on everyday household products and provided them with a new context and perception.
Design Academy Eindhoven was present as well, on this occasion with a TV and media studio. In this real-time TV studio, reality, fiction and the digital and physical worlds were interlaced in combination with continuous performances.
In the nearby Palazzo Turati the whole selection consisted of presentations by Dutch designers and labels. A common thread was an emphasis on traditional craftsmanship.
Exceptional collaborations between designers and manufacturers
Organisation in Design staged an exceptional tour de force by occupying the spaces amidst the arches beneath the elevated rails of Milan's central station. The presentations by Maarten Baas in collaboration with Hans Lensvelt, Baars & Bloemhoff and the British designer Lee Broom were tackled on a grandiose scale. In these normally disused spaces, Ventura Centrale offered a wonderful complement to the ample selection elsewhere in Milan. A special aspect of these presentations was the successful collaboration between designer and manufacturer.
Furniture manufacturer Hans Lensvelt and Maarten Baas presented the 101 Stoel there, a design by Baas which can be manufactured in large quantities, even though each chair is different. The variety in form, format of the back and the various colours ensure that each chair is unique. Baars & Bloemhoff entered into collaborations with designers for the second time. Six designers were given the opportunity to experiment with their existing materials and products, which resulted in a breathtaking presentation.
Fresh and established talent
Gallery owner Rossana Orlandi has for many years been inviting Thomas Eyck to show the exceptional results that spring from his commissions in her gallery at Via Matteo Bandello. This year Eyck presented Alegría van der Zande and Studio Brynjar & Veronika, with works that put nature in the spotlight. Every year Orlandi's gallery attracts a convivial hustle and bustle of international press and well-heeled visitors who are interested in the latest work of the exhibitors. Orlandi and her team selected fresh as well as established Dutch talent, this year including work by Floris Wubben, Siba Sahabi, Karel van Laere and Piet Hein Eek.
In the same street, just a stone's throw from Rossana Orlandi, Guus Kusters and Maarten Kolk strove to attract just a limited public with a somewhat deviant approach. They rented a Milanese apartment and invited a select company of guests, so they could take the time and space to show their work and enter into conversation with their visitors.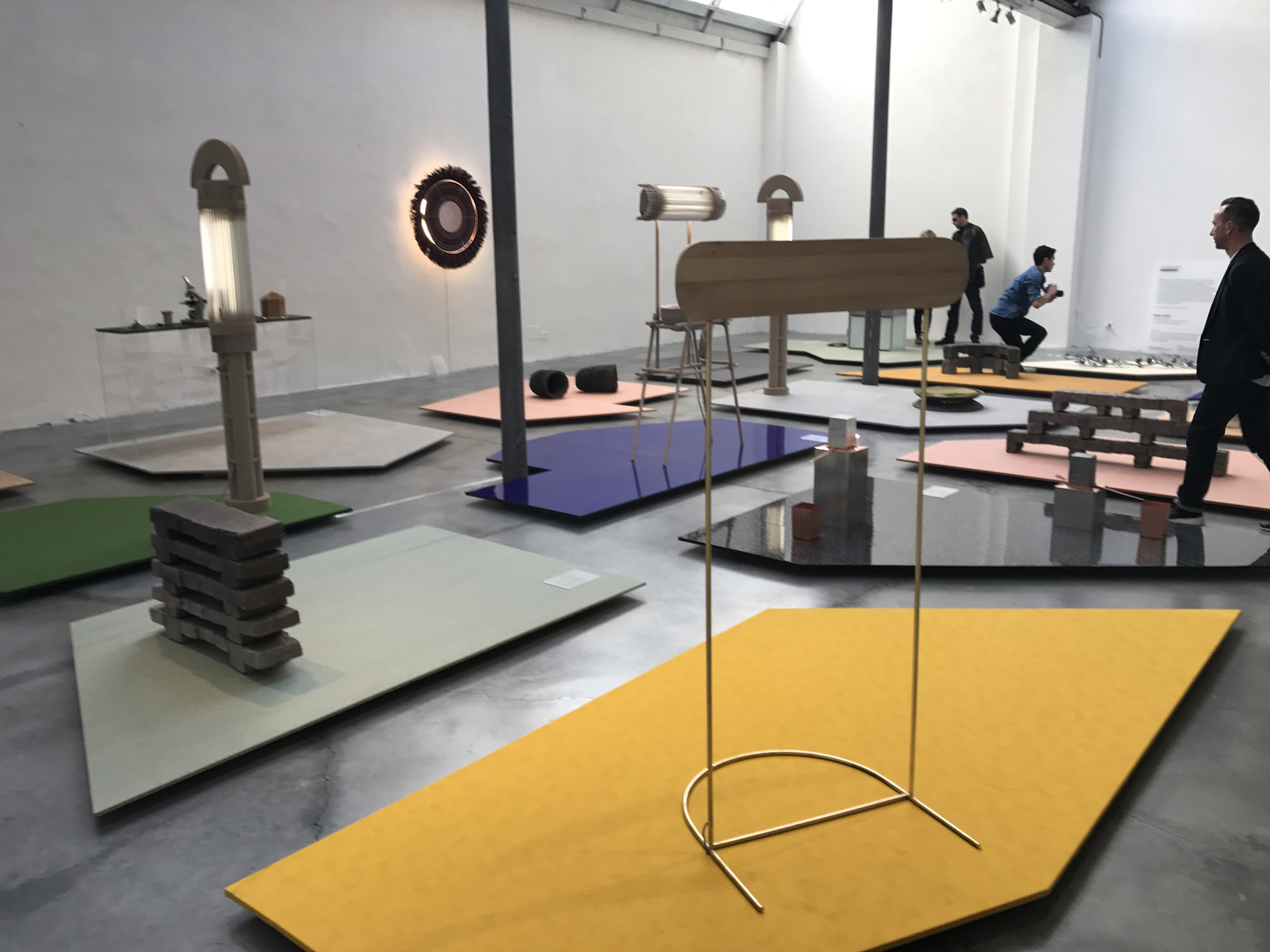 Presentation Dutch Invertuals in Isola
The collective behind Dutch Invertuals was in attendance once again. In Isola we spoke to the designers about their teamwork methodology and the exceptional collaborations that they foster.

Following a successful presentation during the Design Week in Eindhoven in 2016, the Dutch-Italian architect duo behind Studio Ossidiana (Alessandra Covini and Tomas Dirrix) brought their Petrified Carpets to the attention of an international public at one of the 5VIE locations.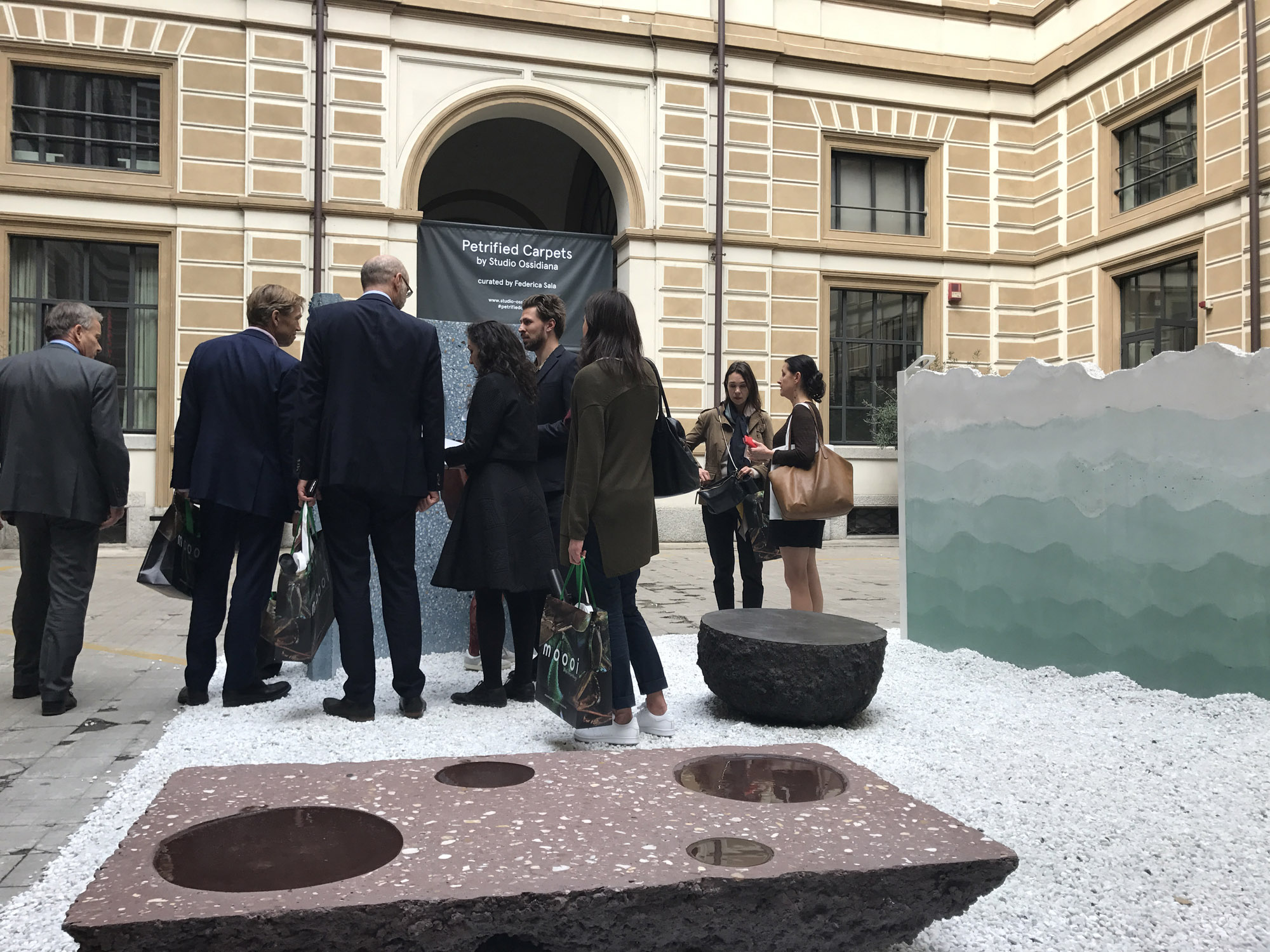 Studio Ossidiana (Alessandra Covini and Tomas Dirrix) showed their Petrified Carpets
International allure
The massive international public means that the Milan design week is the ideal place to establish contact with the industry, press and colleagues with ease. Each district or location has a distinctive character that presents specific opportunities. The Dutch designers make well-founded choices and take strategic advantage of the opportunities for the international development of their practices. The presentations showcase the diversity of Dutch design and its superb quality.

In late 2016 the Fund selected 12 design studios for support via an Open Call. This contribution enables them to present their work in Milan in an exemplary manner. And with success! The Foundation presentation by Formafantasma won the Milan Design Award 2017 for Press Choice as well as an award for Best Technology.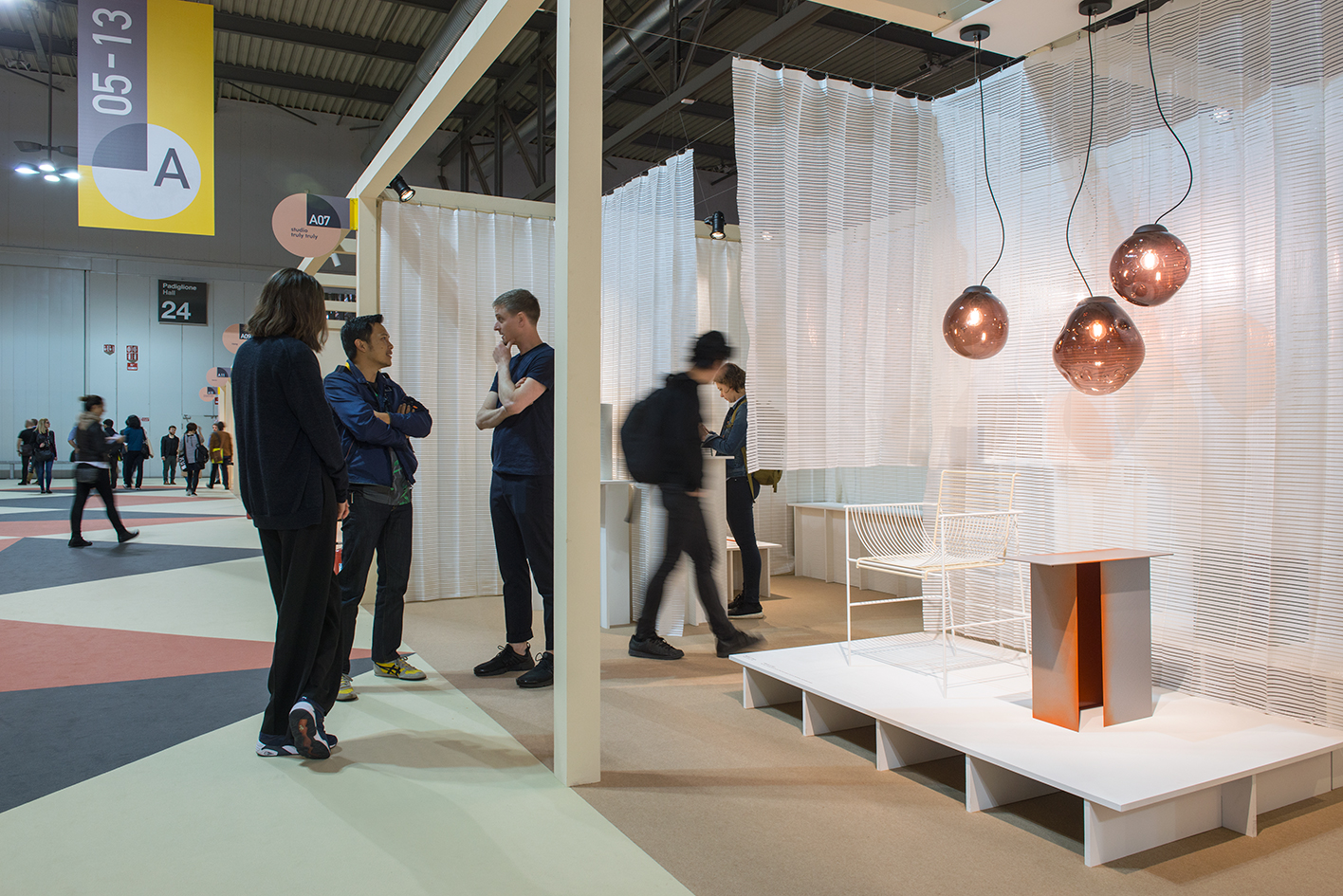 Stands at the SaloneSatellite. Image: Ilco Kemmere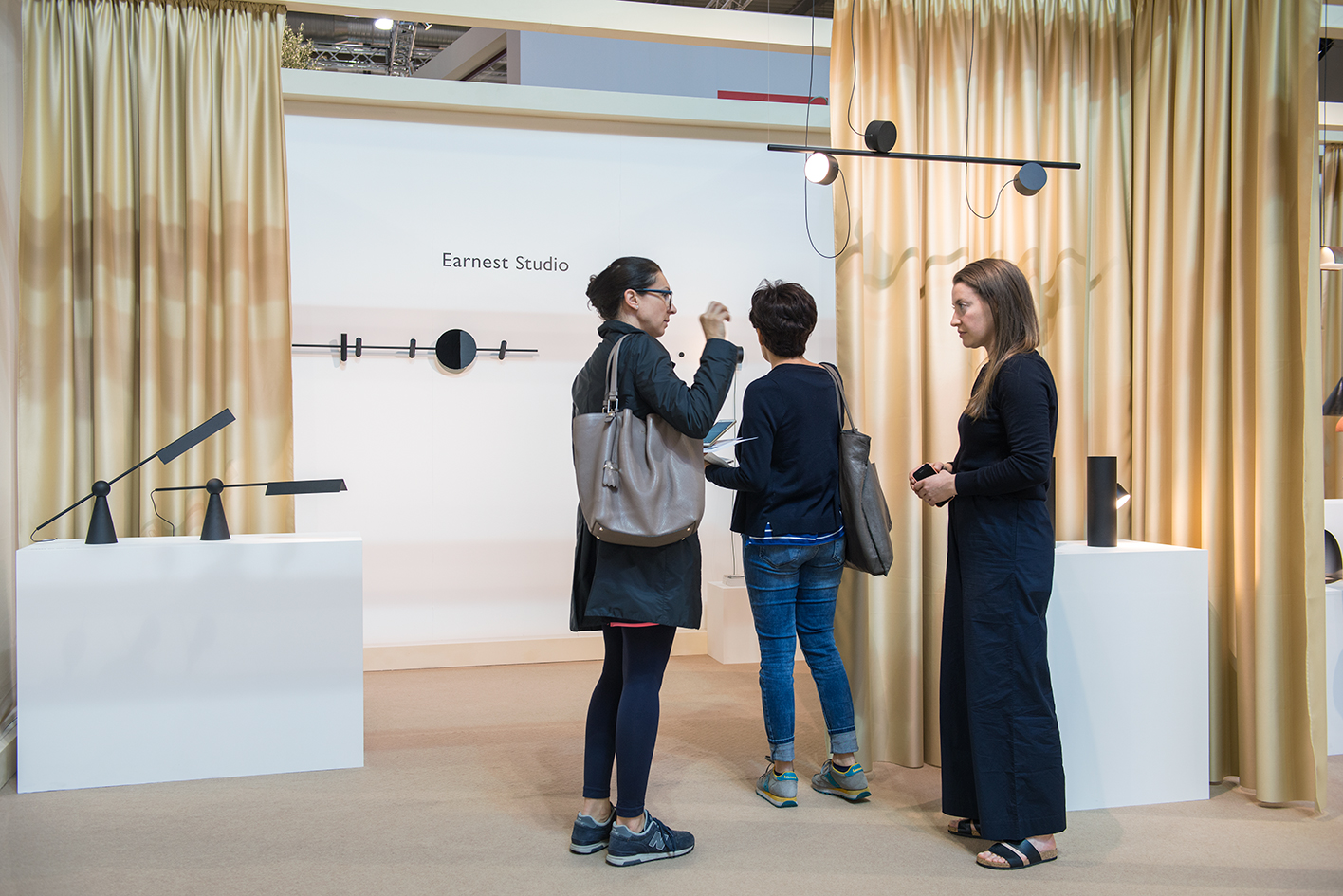 Presentation by Earnest Studio. Image: Ilco Kemmere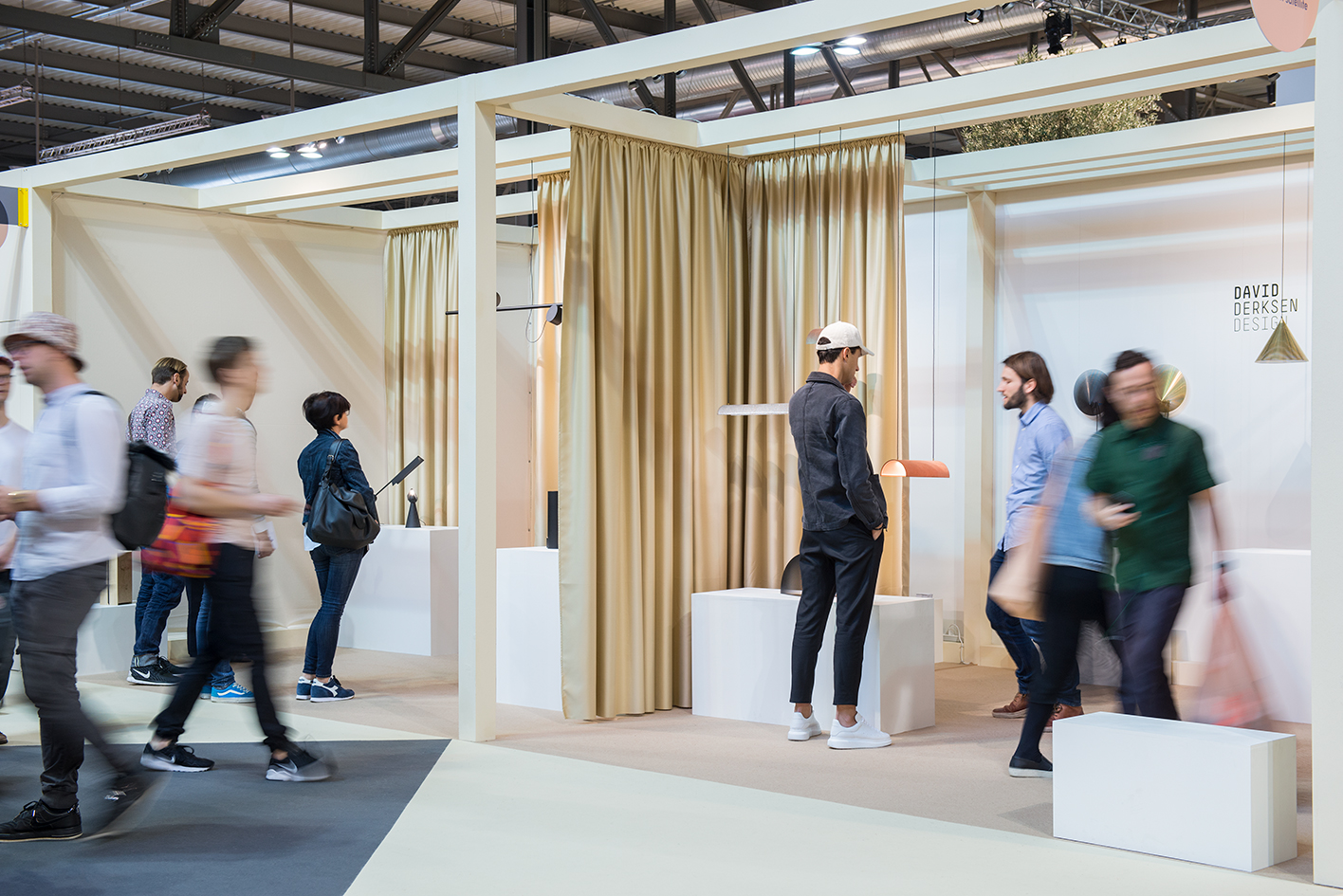 Bezoekers at the stand of David Derksen Design. Image: Ilco Kemmere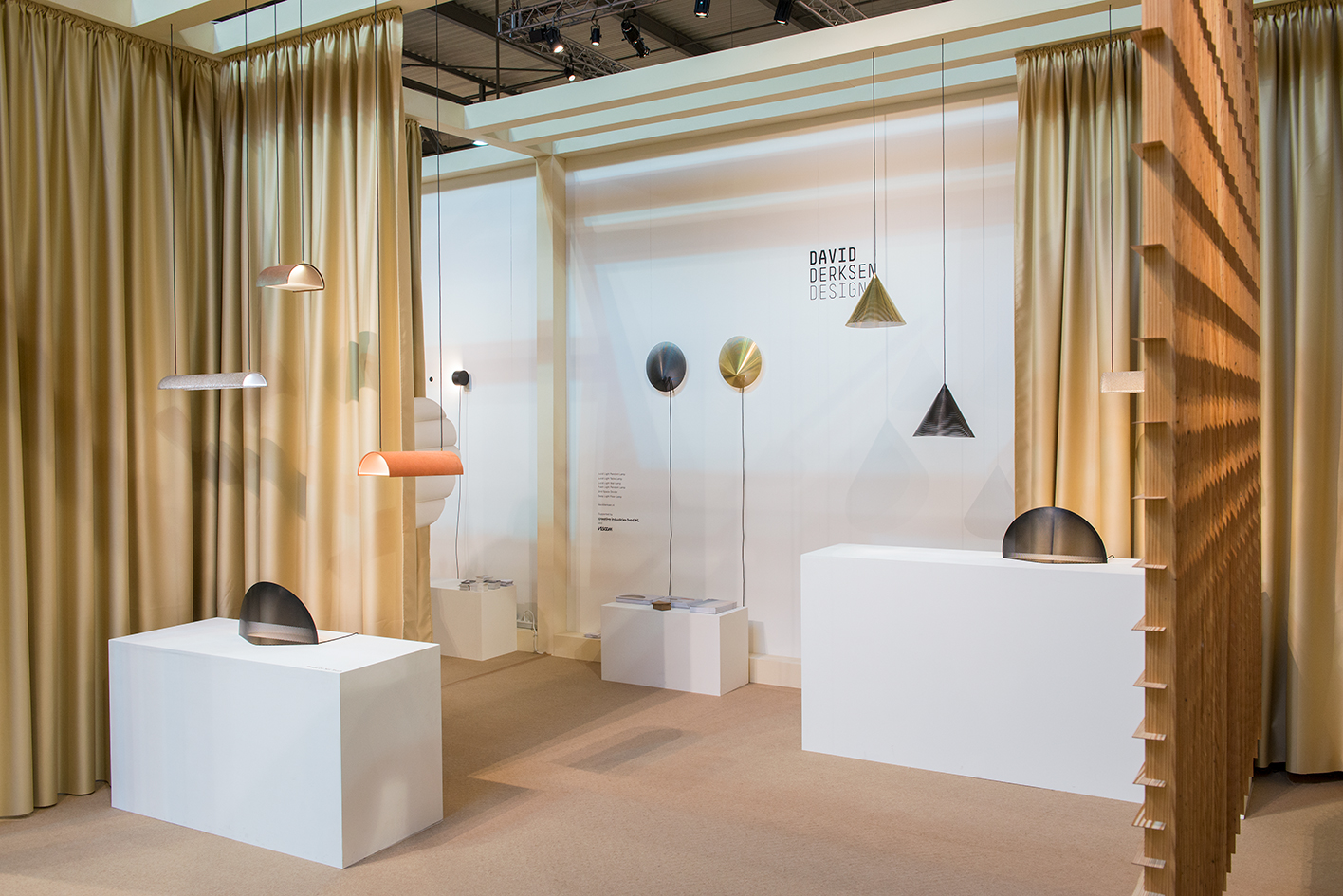 Image: Ilco Kemmere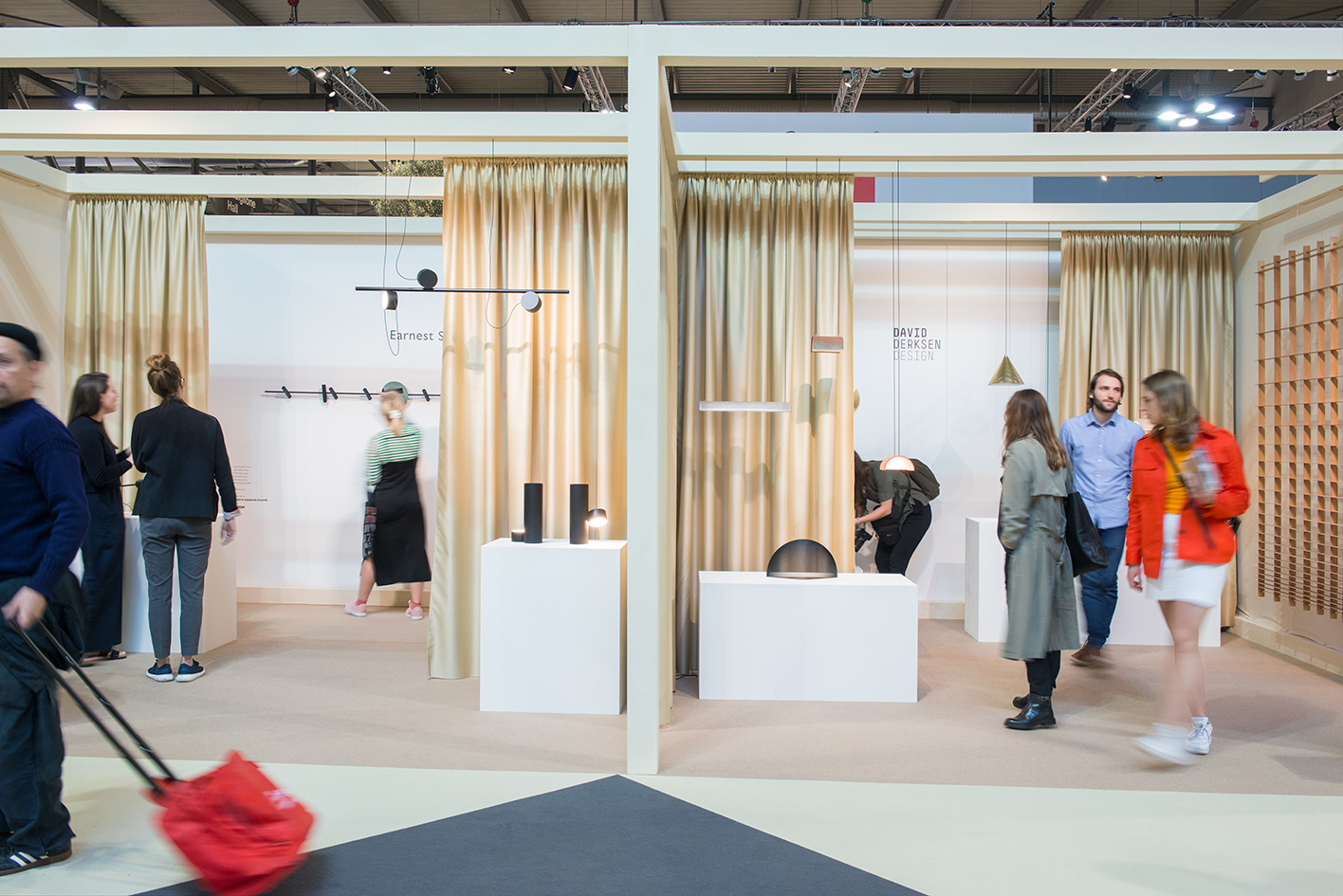 Image: Ilco Kemmere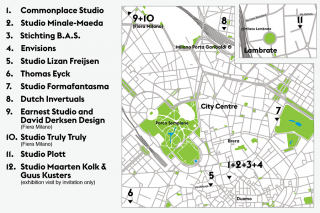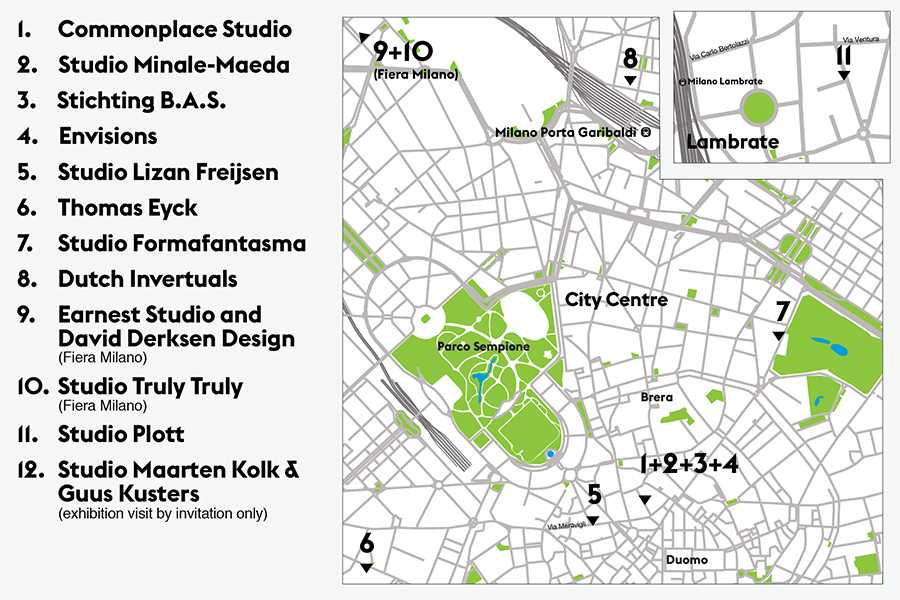 23 March 2017

Salone del Mobile 2017, one of the largest, all-encompassing international fairs for furniture and product design, is being held in April. The Fund is supporting the presentation of 12 projects at the event. Who is where at the Salone del Mobile? This special google map below shows where these 12 designers and collectives are presenting their work in Milan.
In late 2016 the Fund selected
12 design studios
for their presentations at the Salone del Mobile 2017 via an open call. This selection consists of designers and collectives who are investigating new materials and techniques, are primarily concerned with creative design processes, are venturing into exceptional forms of collaboration, and are preparing distinctive presentational forms. The presentations offer a survey of the diversity of artistic quality in the work of emerging as well as established Dutch design studios and their unique approaches to presentation or collaboration. The Fund's support enables the design studios to give their presence in Milan an added value by means of excellent or exemplary execution. The Open Call contributes to the realization of three key objectives of the Fund's Internationalization Programme:
• enhancing the profile of the Dutch design sector;
• establishing and reinforcing long-term collaborative relationships;
• expanding the international sphere of activity of the Dutch design sector
The presentations
The selected presentations are being held at venues such as Palazzo Clerici, Spazio Rossana Orlandi and Ventura Lambrate, where many Dutch presentations are staged every year. The selection also includes presentations that are taking place at SaloneSatellite, specially intended for up-and-coming talent, and a number of projects can be found at new venues, such as Spazio O' in the Isola Design District. This special
google map
shows where these 12 designers and collectives are presenting their work in Milan.
Festive opening at Palazzo Clerici
Make sure you come along to the celebratory opening reception in Palazzo Clerici on 4 April, which is being organized by the Fund in conjunction with the Consulate General of the Netherlands, Commonplace Studio, Design Academy Eindhoven, Envisions, Het Nieuwe Instituut, MacGuffin magazine, Studio Minale-Maeda, Studio Sabine Marcelis and Teresa van Dongen. More info
here
.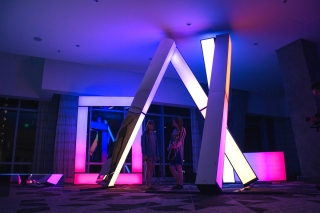 Dutch designers at SXSW - column #3 by Syb Groeneveld
Dutch designers at SXSW - column #3 by Syb Groeneveld
20 March 2017On my last SXSW evening I visited Chad Lawson's piano concert in the small auditorium at St David's Church. It formed the conclusion of an enervating five-day visit to the ultimate interactive/film/music festival in Austin. As Lawson, sitting at his grand piano, explained to the audience how he had inventively adapted Chopin to make it intriguing for the Spotify and YouTube generation, my thoughts wandered off to some of the Dutch designers active at SXSW who, by means of small interventions in their own professional practice, have managed to reach new target groups with their work.
Nick Verstand, for example, who now combines his original fascination with music with digital technology and science. Last year's presentation of his
Anima installation at SXSW
, supported by Creative Industries Fund NL, was a rip-roaring success. Nick subsequently received commissions from Reykjavik, Beijing, Toronto and elsewhere, and was also invited to present a new installation within the SXSW Art programme in 2017. This year it was POV (Point of View), a speculatively sensory, audiovisual spectacle of 15 minutes that transported its many visitors from agitation to calm, and vice versa.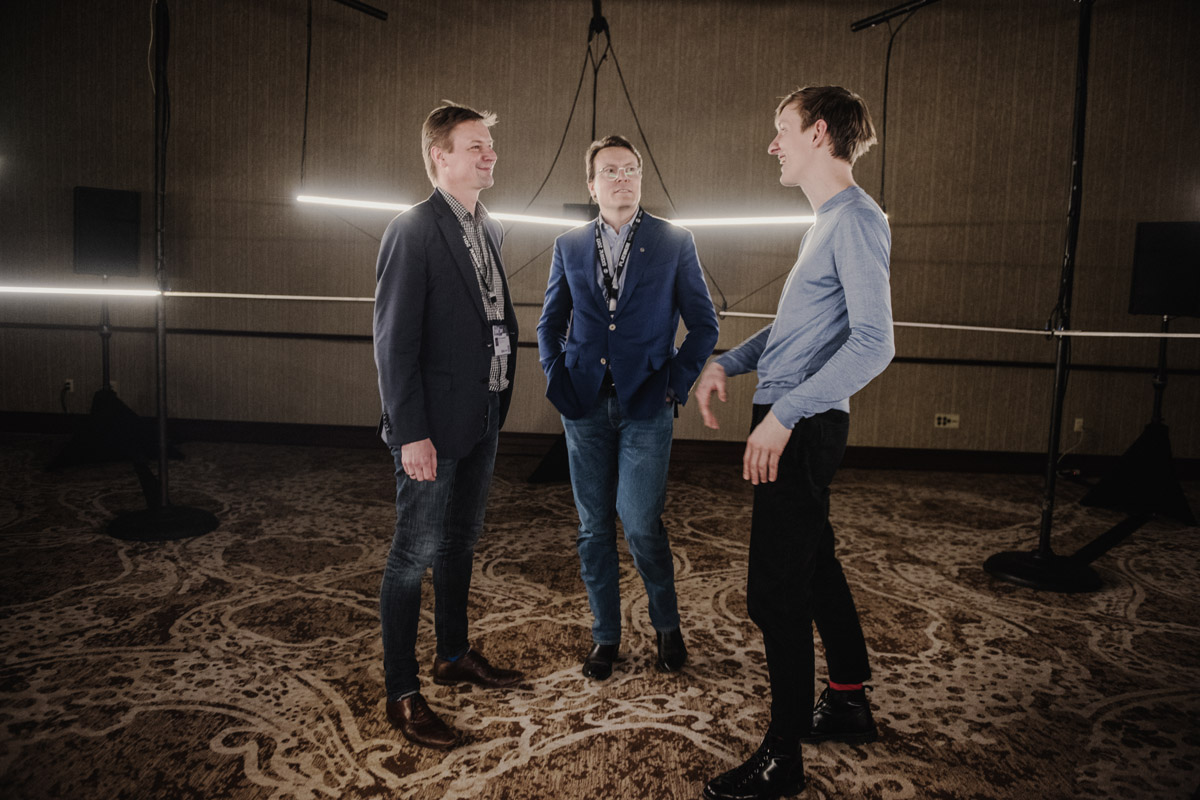 ZKH Prins Constantijn, Syb Groeneveld and Nick Verstand at POV. Photo: Nick Helderman
Or fashion designer Pauline van Dongen. For her, innovation within fashion can't go fast enough, so for inspiration and new techniques she prefers to look to other sectors. In 2014 Pauline reached the finale of the SXSW Accelerator programme for a dress interwoven with solar collectors . It was the launch-pad for many international collaborations and lines of research. in the New Dutch Wave at this year's SXSW, as a fashion-tech designer Pauline presented her ISSHO denim jacket prototype, in which sensors provide new forms of interaction between clothing and wearer. Van Dongen expects that this jacket will go into production within two years.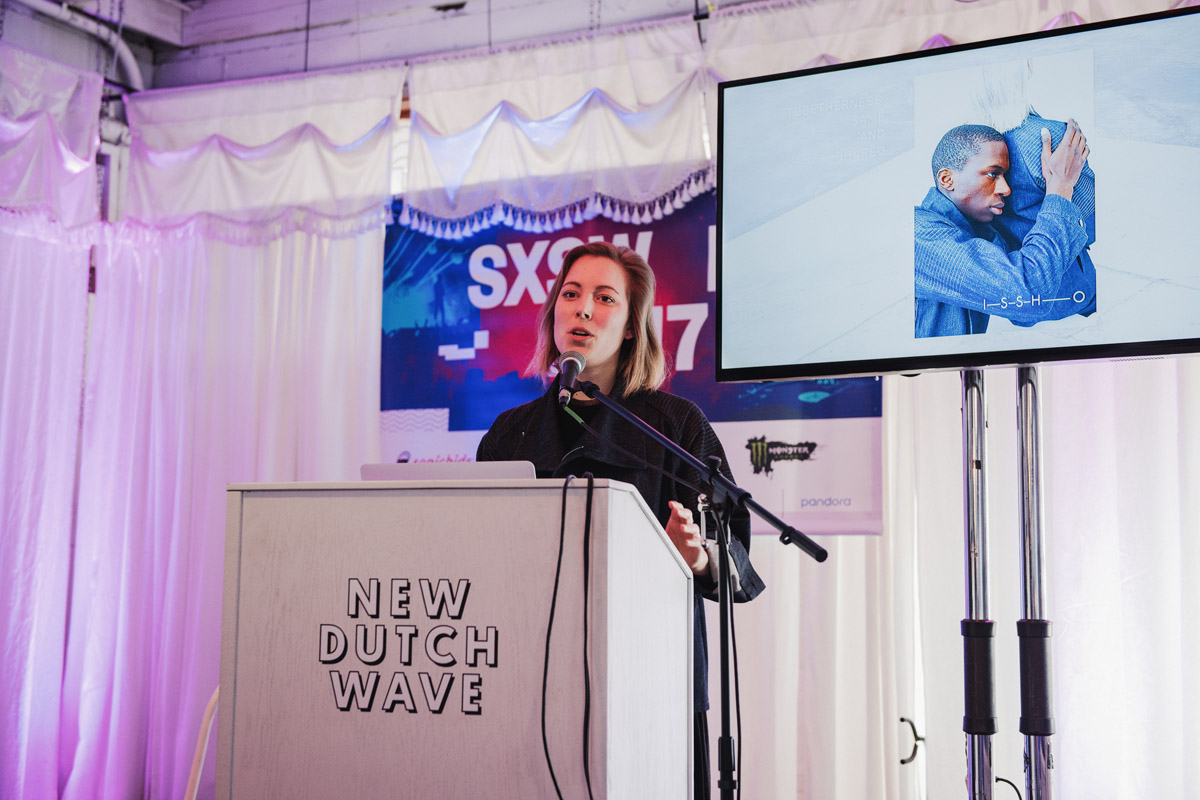 Presentation Pauline van Dongen in New Dutch Wave. Photo: Nick Helderman
Circus Family, too, which started out making snowboard videos, is now a studio that merges design with the latest technological capabilities. Having been invited to create an interactive LED installation for NYCxDESIGN in 2016, this year the Consulate-General of the Netherlands in New York asked Wout Westen and his cohort to present something at SXSW. This resulted in an immersive, sensor-based installation, in which the public triggers the intensity of the colours and audio. For Circus Family tthis TRIPH project is a test case to investigate how this storytelling technique might also be employed in other formats.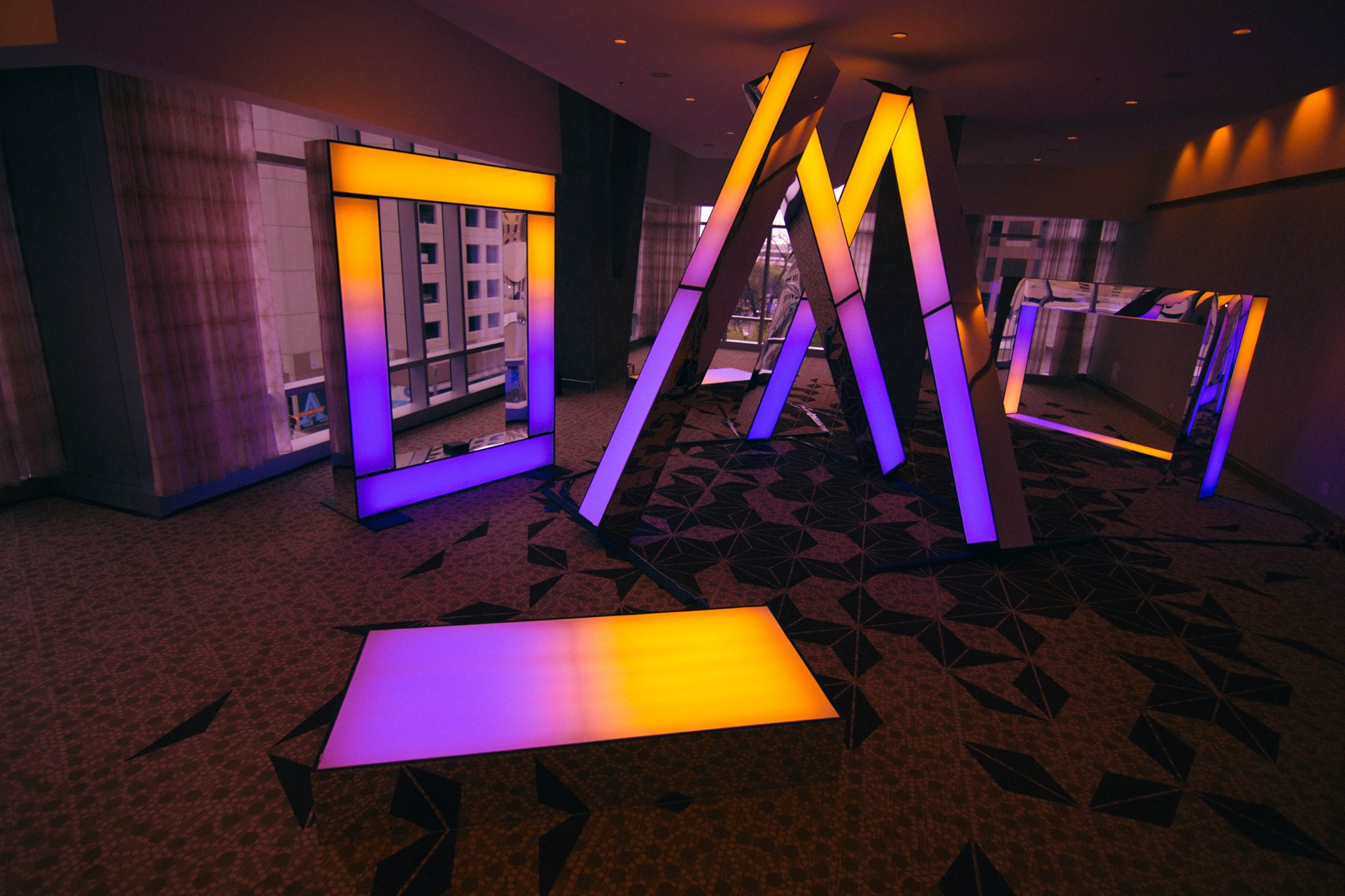 Circus Family
There was, of course, a great deal more to be seen at SXSW. Yet these three examples illustrate how Dutch designers are becoming smarter about how they present themselves at SXSW and are achieving ever more impressive results. Bring it on!

Syb Groeneveld
Executive Director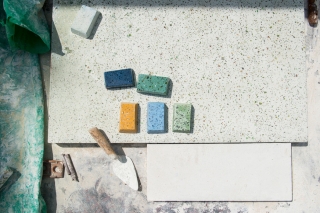 Furniture from empty bottles | Trending Terrazzo
Furniture from empty bottles | Trending Terrazzo
28 February 2017

An azure sea, white-as-snow beaches, age-old villages and spice plantations were all good reason for Elisabeth and Hubert van Doorne to fall in love with Zanzibar many years ago. But they also noticed the rougher edges: there is lots of waste lying around on the island and it often originates from the tourist industry. They initiated Bottle-Up in order to do something about this. This foundation gives a new lease of life to the empty bottles that are abandoned in the natural surroundings. They joined forces with four Dutch designers and four local craftspeople to start producing souvenirs from glass – to be sold to those very same tourists. The profits were used to fund the development of the 'bottle brick': a durable building block made of nothing but glass and cement.
The initial results stirred the enthusiasm of Creative Industries Fund NL to support the development of another new product: Trending Terrazzo is a mix of cement and rough glass fragments which can be used to cast furniture. The designers used objects that they found at the local scrap-metal market as moulds. For example, the leg of a terrace table was cast in a ring of corrugated iron and an old wok served as a mould for a handy beach table. All the materials come from the island itself and are able to withstand the salty trade winds and the glaring sun, making the products ideal as furniture for the many hotels along the coast. 'When we started, the waste didn't seem to worry the locals,' says Elisabeth van Doorne. 'But now we've shown that it can be a source of income. This year's challenge is to cooperate on devising a production process for the Trending Terrazzo prototypes.'
Text: Willemijn de Jonge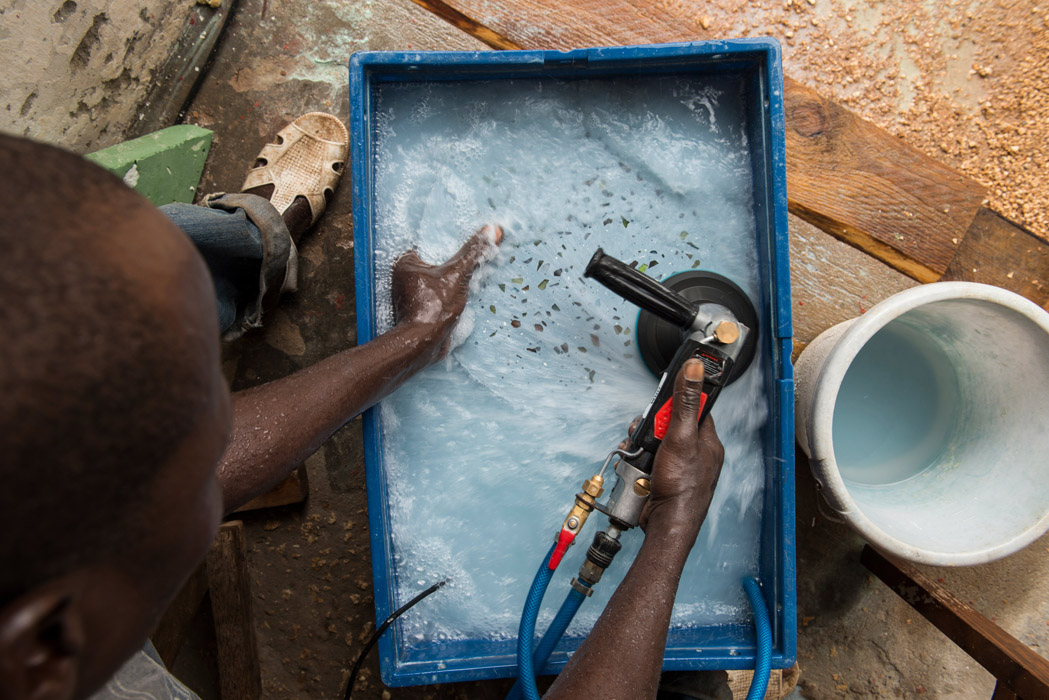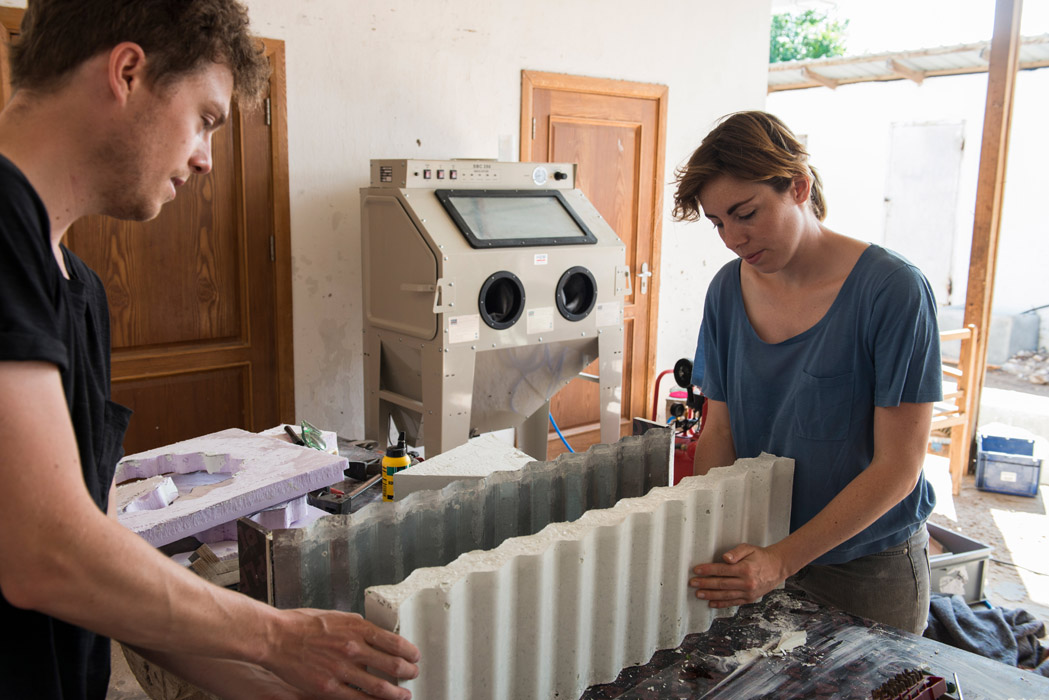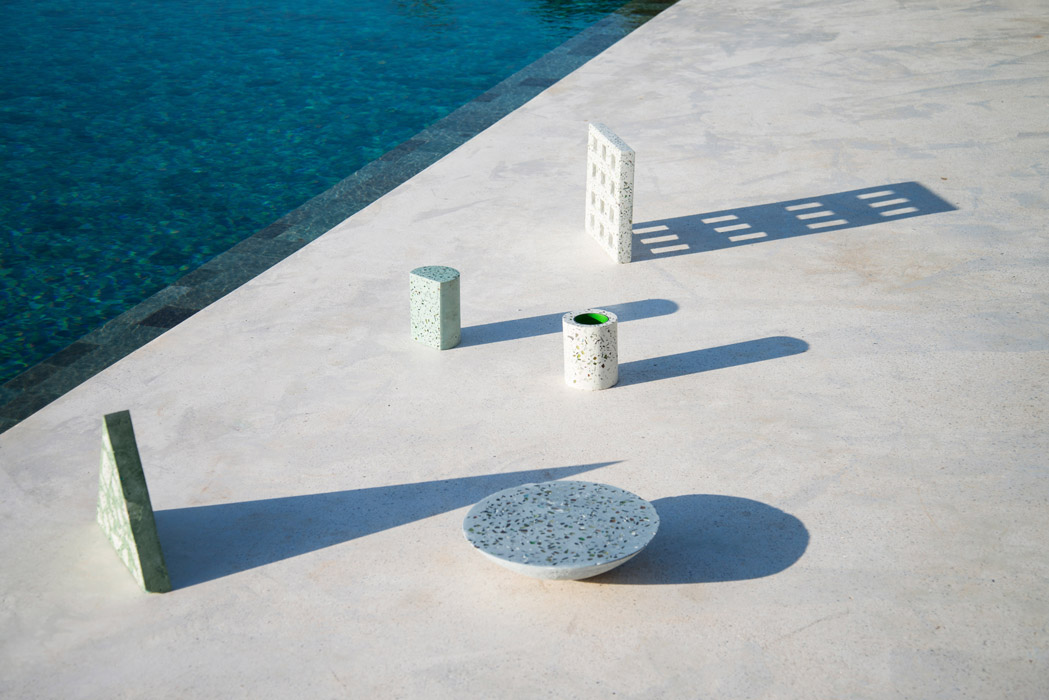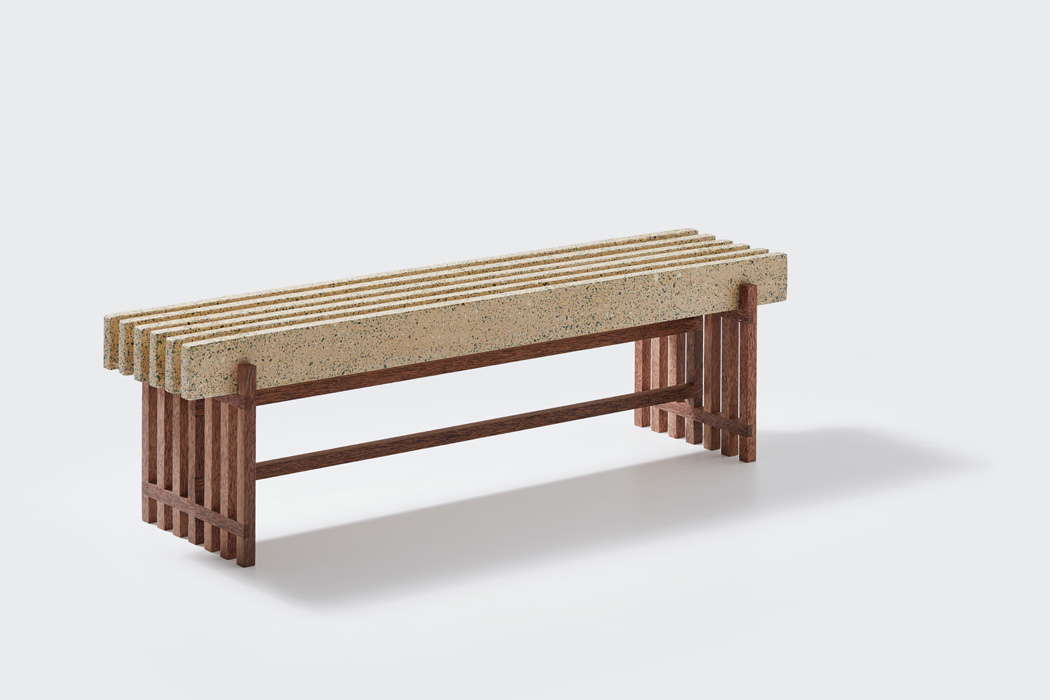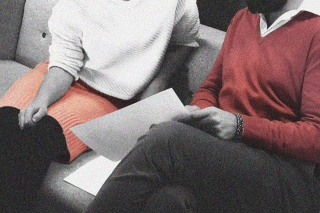 Grant programmes 2017: procedural changes
Grant programmes 2017: procedural changes
21 February 2017

Implementing grant programmes is the primary function of the Creative Industries Fund NL. The grant possibilities for 2017-2020 went into effect on 1 January 2017, and the goals and evaluation criteria of the various programmes have been refined. Applicants need to be aware of a few changes in the Fund's procedures.
Greater responsibility for applicants
The total number of applications is expected to increase in 2017. At the same time, the available budget for grants has decreased. Going forward, the Creative Industries Fund NL will only accept detailed proposals for consideration, with the goal of supporting excellence in all disciplines. Applicants therefore have a greater responsibility to draft high-quality applications with a clear project plan, organisational details, communication plan and budget. In addition, all applicants must commit to generating the maximum support for their activities, both in terms of finances and content.
Equal treatment
The Creative Industries Fund NL expects that it will have to make stricter choices, especially if budgets are limited. The fund aims to offer new applicants the same opportunities as prior applicants.
Submissions
The Creative Industries Fund NL wants to prevent projects from being divided into sub-projects for the sake of funding. It is therefore not possible to submit sub-projects to different grant programmes.
Feedback
It is no longer possible to get feedback on a proposal after the submission deadline. However, you can still discuss the proposal with the funding agency during the concept phase. If you wish to do so, please contact the one of the Fund's employees no later than two weeks before the submission deadline. You can find the contact details of the secretaries and deputy secretaries in the
contact section
on the individual subsidy pages.
For more information, read
Grant programmes in 2017: What's changed?
(in Dutch).