news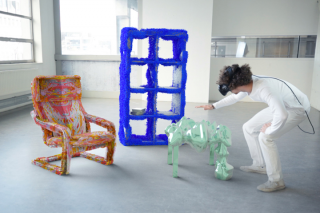 39 Talent Development grants awarded
39 Talent Development grants awarded
10 September 2019

Recently, 39 designers from across the entire breadth of the creative industry were selected for one year's support from the Talent Development Grant Programme. They each receive a subsidy of € 25,000 and the chance to further develop their artistic practice on the basis of a self-initiated plan. In addition, this grant offers room to pay attention to professional development, entrepreneurship and the presentation of work. The grant can only be applied for once a year. The next closing date is the end of February 2020.
expansion of application possibilities
For some years now, the Fund has noted that the number of applications from architecture and related disciplines is lagging behind. As a result, the Fund has made an extra effort in the past year to reach this target group. The application possibilities have also been expanded for architects. From now on, they can submit an application up to four years after registration in the Architects' Register. This extra attention seems to have borne fruit already. In the coming year, three architects, three landscape architects and one interior architect will receive a grant. A doubling of numbers compared to previous years. In addition, the Fund has started a special procedure with scouts. This is in order to reach promising makers who have not come to their professional practice through the regular routes, which means that they do not meet the diploma requirement that is normally a condition for receiving a talent development grant.
Alvin Arthur Consultancy
impression committee
Based on 185 portfolios and motivation letters, 52 candidates were invited to submit a development plan. In addition, eight promising makers were selected during the scout nights to draw up a development plan. The advisory committee, consisting of Angelique Spaninks (chair), Joost Emmerik, Tim Terpstra, Floor van Ast, Toon Koehorst, Tanja Koning, Arna Mackic, Branko Popovic, Gerben Willers and Lotte van Laatum, has issued a positive recommendadtion on 39 applications based on the 60 development plans. In its evaluation, the committee paid particular attention to the development potential of the applicant. Similarly to last year, it was impressed by the quality and imagination of the designers. In the plans of the makers put forward via the scouts, the strong personal motivation and social relevance of the proposed projects stood out. Across the board, the committee notes that more and more designers are relating to social challenges.

selection
The advisory committee has opted for applicants who have shown that they are ambitious, and at the same time have a realistic picture of what they can achieve in a year. The committee also appreciates applicants who are looking outside their own network for new collaborations and opportunities. The people selected have written convincing development plans, with stimulating research questions, promising collaborations and consideration for reflection and further professionalization. The committee expects the selected makers to continue to work on their artistic and professional development in their own unique way in the coming year.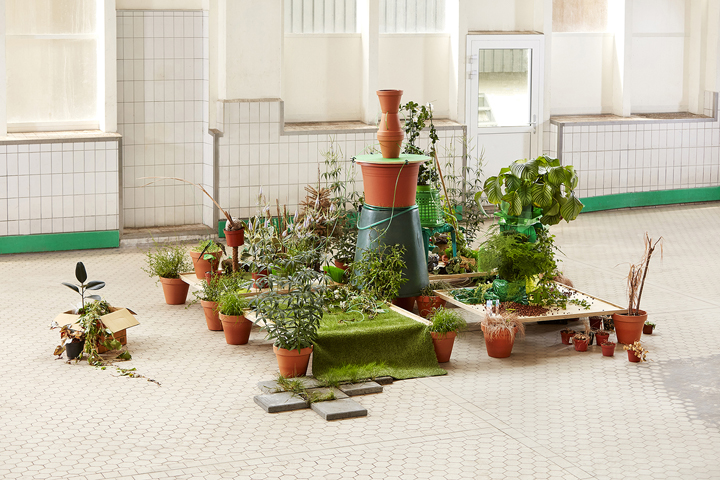 Studio Minji Choi
image above: Post Neon, Jim Brady en Vito Boeckx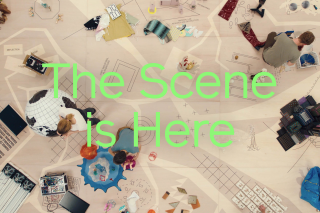 Creative Industries Fund NL presents new talent in The Scene is Here
Creative Industries Fund NL presents new talent in The Scene is Here
10 September 2019

Every year, emerging design talents active in the fields of design, architecture and digital culture are given the opportunity to develop optimally in artistic and professional terms, thanks to a grant from the Creative Industries Fund NL. The 2019 crop of talents has now been documented and visualized by Studio Moniker in one-minute film portraits. The portraits can be seen from 19 to 27 October during Dutch Design Week in the exhibition The Scene is Here. During the week there will also be performances or workshops by talents who present themselves to the public on the spot in an unexpected way. The programme was put together by MU curator Tom Loois.
The Scene is Here provides a look at the design practice of 28 up-and-coming design talents. What are their motives, their doubts and ambitions, and what values do they put first in their work? Angelique Spaninks, chair of the Talent Development Grant Programme advisory committee: 'What's striking about today's talented generation of designers is the combination of guts and modesty. They want to tackle the roots of failing systems everywhere - social, political, economic, cultural - sometimes in a serving role, but always self-confident. Of course, they won't be able to solve the world's problems, but they'll restore connections and contribute to the turning tide by working closely together, with each other, but especially with scientists, specialists and others in the industry who really want to do things differently.'
For instance, fashion designer Anouk Beckers responds to fast fashion in her work and focuses with a collective collection on the social aspect of fashion, rather than on fashion as a commercial product. Anouk Beckers: 'While studying TxT and fashion at the Gerrit Rietveld Academie, I already felt uncomfortable with the idea of linking myself to fashion as a commercial system. That's why I started investigating an alternative working practice, in search of a way that allows me to say with pride that I make fashion.' Beckers has developed an open-source modular clothing system and gives workshops in which she invites different makers, experienced or not, to make part of a garment. The workshop can also be followed during The Scene is Here.
The Scene is Here presents
Anouk Beckers
(vormgeving),
Arif Kornweitz
(interdisciplinair),
Arvid & Marie
(vormgeving),
Bastiaan de Nennie
(digitale cultuur),
Bernhard Lenger
(vormgeving), Daria Kiseleva (vormgeving),
Darien Brito
(digitale cultuur),
Gino Anthonisse
(vormgeving),
Irene Stracuzzi
(vormgeving),
Job van den Berg
(vormgeving),
Johanna
(vormgeving),
Jungmyung Lee
(vormgeving), Knetterijs (vormgeving),
Koen Steger
(interdisciplinair),
Kostas Lampridis
(vormgeving),
Lena Knappers
(architectuur),
Lucas Munoz Munoz
(interdisciplinair),
Manetta Berends
(digitale cultuur),
Mirte van Duppen
(digitale cultuur),
Ninamounah
(vormgeving),
Pim van Baarsen
(vormgeving),
Philip Vermeulen
(interdisciplinair),
Teis De Greve
(digitale cultuur),
Théophile Blandet
(vormgeving),
Tomas Dirrix
(architectuur),
Vera de Pont
(vormgeving),
Waèl el Allouche
(interdisciplinair),
Wesley de Boer
(interdisciplinair)
practical informationTitle:
The Scene is Here. Presentation of talent by the Creative Industries Fund NL
Date:
19 to 27 October 2019
Time:
daily 11.00-18.00
Performances and workshops:
daily, programme follows
Location:
MU, Torenallee 40-06 (Strijp-S) 5617 BD Eindhoven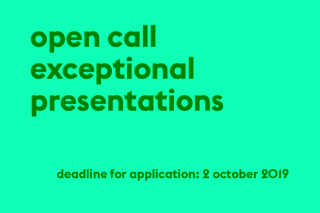 Open Call Exceptional Presentations
Open Call Exceptional Presentations
15 August 2019

The Creative Industries Fund NL calls on presentation institutions, exhibition spaces, museums or new initiatives to come up with a proposal to develop a distinctive presentation that will show the qualities and meaning of contemporary architecture, design and digital culture to the public. The aim of the Fund is to enable a number of distinctive, bold or ambitious public presentations to be made each year.
By means of this open call, the Fund is creating an opening for surprising proposals within the creative industry that stimulate innovative presentations for a new or specific audience. Presentation spaces are invited to develop innovative presentations and exhibitions in which form, content and the intended audience reach are in line with each other. The applicant is asked to enter into a special collaboration with designers, makers, curators or other professional parties who are committed to design and audience reach.
Presentation institutions, exhibition spaces, museums or new initiatives can apply for the development of a non-standard, one-off, temporary presentation or exhibition and complementary activities. The proposal focuses on a presentation that can be physically visited in the Netherlands.
The subsidy should be used for research, experimentation and the development of form and content, and is explicitly aimed at renewing and strengthening the presentation of design and at reaching new or specific target groups. If the applicant receives a grant, they will be expected to work on making the knowledge acquired available to a professional audience.
For example, the subsidy can be used for:
Making it possible to deepen and reflect on a subject, theme or topicality within or related to the creative industry and to making it accessible;

Formulating a suitable presentation strategy for a new or specific target group;

Developing new innovative exhibition concepts that have never been seen before in the Netherlands; and

Involving designers in the composition and realization of form and content to define the presentation as a design task.

budget
The open call has a budget of € 315,000 available. The requested realization grant is a minimum of € 50,000 and a maximum of € 150,000. It is also possible to submit a proposal for further exploration and research in preparation for an exceptional presentation or a proof of concept, up to a maximum amount of €10,000.
submission
Presentation institutions may submit a proposal
until 2 October 2019
via the
online application environment
of the Creative Industries Fund NL.
Read more information about the open call
here
.
The Creative Industries Fund NL will organize this open call three times. The first closing date is
Wednesday 2 October 2019
. The second open call will be in March 2020 and the third in August 2020. A budget of € 315,000 is available for each open call round.
The grants are provided from the additional funds that Minister Van Engelshoven of the Ministry of Education, Culture and Science has made available to the Fund for Talent Development & Innovation.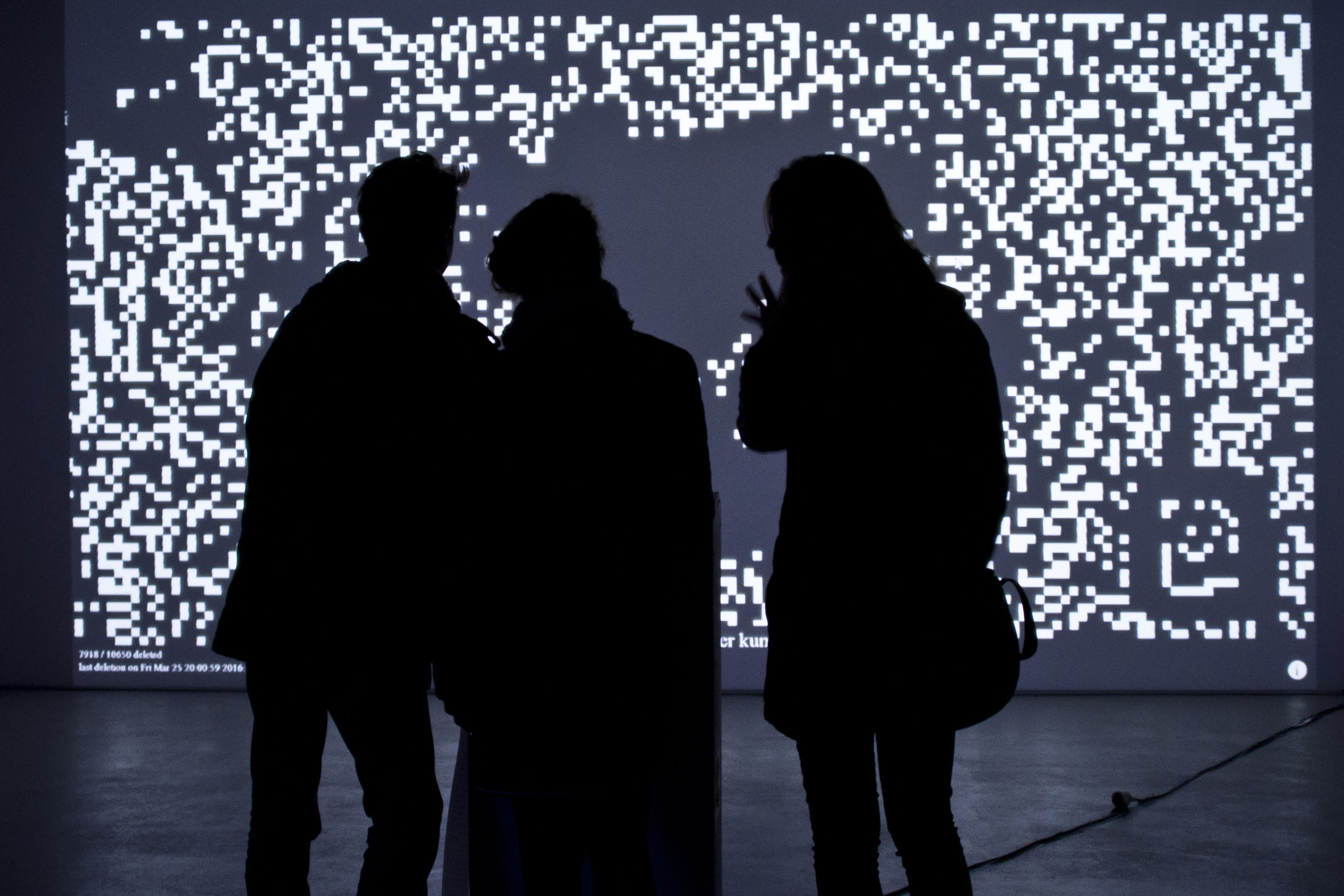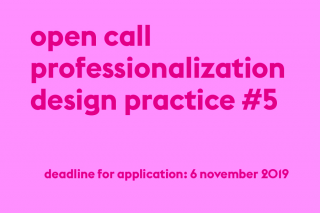 Open Call Professionalization Design Practice #5
Open Call Professionalization Design Practice #5
14 August 2019

The Creative Industries Fund NL gives an impulse to the deepening of the practice and professionalization of designers and design studios within the field of design. Designers and studios have until 6 November 2019 to submit proposals for the development of a distinctive strategy to achieve a future-proof practice.
Developing a long-term vision and strategy is important for your design practice. In a professional practice, you need to plan time for both your artistic development and your development as an entrepreneur. How do you find the right balance between the two? What is your vision of the future and what strategy can you use to achieve this?
The Fund is working on a future-proof design field by stimulating connections between culture, entrepreneurship and society. By facilitating exemplary research in the areas of reflection and deepening of the practice, the Fund aims to strengthen the design field. A design practice responds to current events in the design field and in society and benefits from an up-to-date development strategy.
Submit a proposal for an investigation into a suitable strategy for the development and deepening of your design practice. Identify the expertise needed to give specific form to the strategy and to implement it. Consider in the proposal the reflection on the development of your own practice in relation to the position in the field.
submissionWednesday 6 November 2019
is the closing date for submitting the proposal via the Creative Industries Fund NL's
online application environment
. Select the round 'Open Call' and then the round 'Professionalization Design Practice #5'.
Read more about this open call here
.
This open call is being issued for the fifth time and will be repeated in 2020.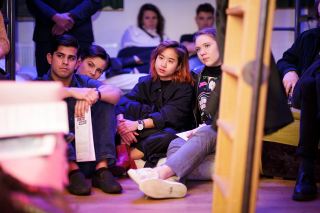 Grants Awarded Internationalization 2019
Grants Awarded Internationalization 2019
14 August 2019

A travelling exhibition starting in Singapore, a practice-based textile study in France, an architecture biennale in South Korea and an event in England. Just a small selection of the projects supported in the last two rounds of the Internationalization Grant Programme. The programme is multi-disciplinary and its field of activity crosses several borders. How do the supported projects distinguish themselves? We take a brief look back at the last two rounds.
positioning Dutch design
In early 2018, Prospektor, in collaboration with artist Anais Lopez, launched the cross-media project '
The Migrant
', consisting of an online documentary series, a radio documentary, a three-part serial in newspaper Trouw, a photo book, a live storytelling session and an exhibition. Now they are bringing this particular method of storytelling back to the countries where the story takes place: Singapore, Indonesia, Myanmar and England. This project focuses on the activities in Singapore and Guernsey (England). Prospektor is organizing an exhibition here in collaboration with Kummer and Herrman, a live storytelling session and a workshop for local makers, in which they share new forms of storytelling based on The Migrant. In Singapore, they are working together with Objectifs, a centre for film and photography in Southeast Asia. In England, the partner is the Guernsey Photography Festival, which has invited Anais Lopez, the winner of their annual Photography Award, to show the project in the next edition. At both locations and events, not only will the work be presented, but a dialogue on the theme and exchange of expertise will also be stimulated. Both exhibitions will take place in the summer of 2020. Knowledge and experiences will be shared in the Netherlands during the 'Narrative Journalism Conference' with a closing public evening in Pakhuis de Zwijger in the autumn of 2020.
research
In addition to exhibitions, projects focusing on research are common. At the invitation of Lafayette Anticipations, Hella Jongerius and her design studio Jongeriuslab (Paris) are transforming the Anticipations spaces into an experimental workspace from June to September 2019. In the project 'Weavers Werkstatt', Jongeriuslab is collaborating with design students and textile designers on a practice-based textile research project. Within the project,
Weavers Werkstatt
encourages knowledge transfer between novice and more experienced textile designers and the development of expertise to provide innovation and solutions for the challenges facing the textile industry. The Anticipations programme facilitates the development of new work by international makers of contemporary art, design and fashion. This workspace, where designers from different countries and with different levels of experience carry out hands-on weaving research and experiments in an open setting, is freely accessible to the public. They allow the public to discover relevant aspects of the textile production process, with the aim of bringing about awareness and appreciation for textiles.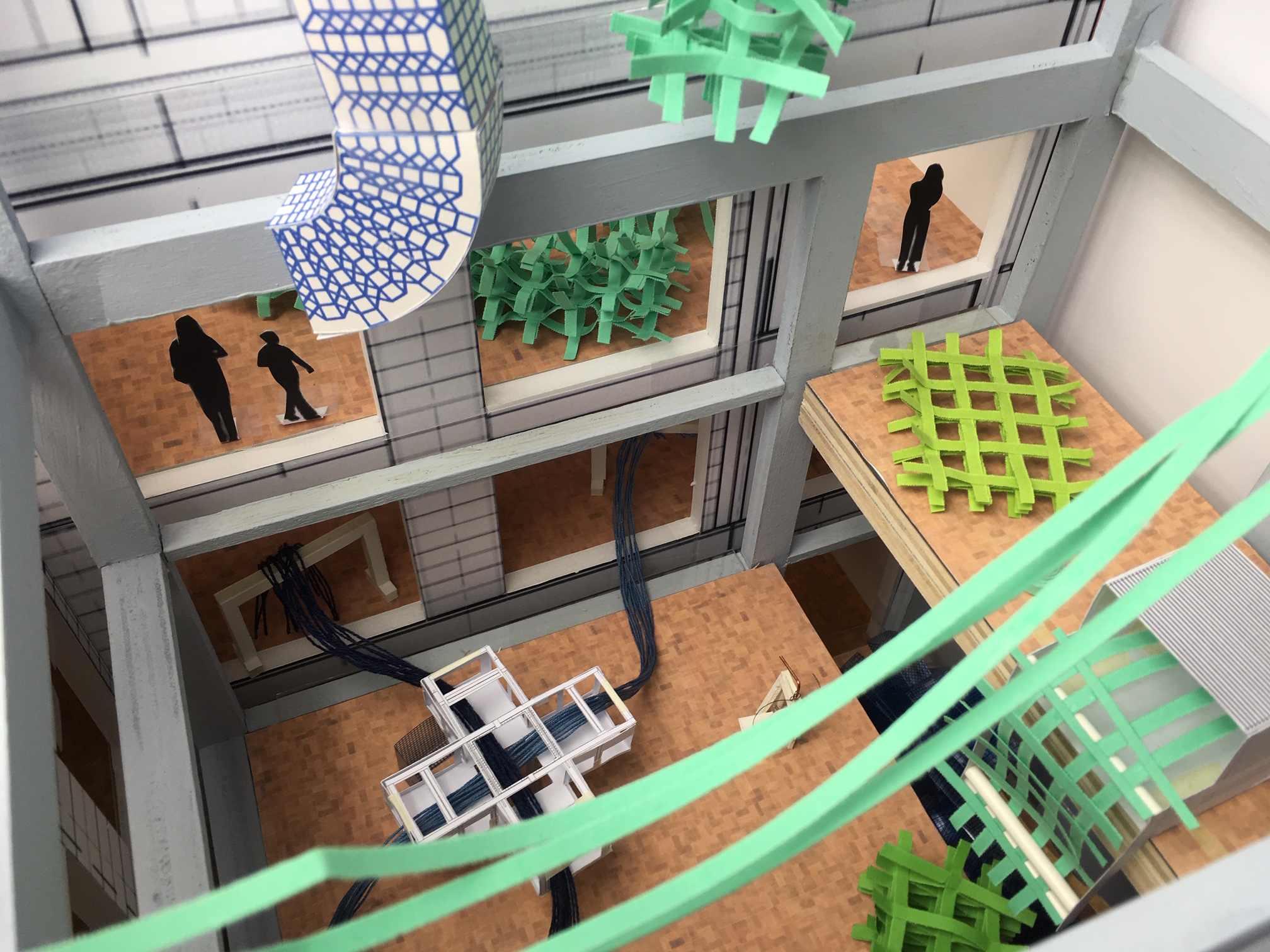 Weavers Werkstatt - textile research by Hella Jongerius
events
Creating new work or presenting existing work, and undertaking activities that lead to the building of long-term relationships, are often part of participating in international events. The 'Thematic Exhibition' of the Seoul Biennale of Architecture and Urbanism 2019 (SBAU) is based on the theme 'the collective city'. The exhibition examines how a collective approach can challenge the development of our cities and, as a result, resist dominant systems within the public space. As part of a diverse group of international makers and designers in the field of architecture, three Dutch participants were invited to take part. STEALTH.Unlimited presents a study on the role of the architect in consultation techniques, together with a study of other community-based initiatives. Bas Princen presents photographs of the Haeisna Temple Library in South Korea, a continuation of his work, where in the presentation the photographs are an intrinsic part of the space. Anne Holtrop presents a large piece of sand-cast aluminium, to explore the complex relationship between the oil industry and the increasing presence of aluminium structures in the urban landscape of oil cities such as Manama, Bahrain. This presentation is from a previous collaboration with architect Noura Al Sayeh and artist Armin Linke. The exhibition at SBAU opens on 5 September and runs until 10 November 2019.

knowledge exchange
'Extra Extra Night London' is a cross-disciplinary live event in collaboration with David Roberts Art Foundation (DRAF) London. During the event, at Somerset House in London, both existing and new commissioned productions will be presented. In a programme of presentations, conversations, performances and film screenings, the sensual city comes to life. Audience and makers are brought together to meet, reflect and explore the soft city. By bringing the liberating Dutch view of eroticism to the metropolis, an interaction arises where different perspectives meet and challenge each other. In this exchange of knowledge, participants and visitors learn from the experience of intimacy in the metropolis, and link this new experience of the urban future to the Extra Extra programme. In addition to DRAF and Somerset House, Extra Extra is working together in the area of communication with Stack Magazines and Balamii Radio to bring the programme to a wider audience.

overview
A total of 74 applications have been processed, of which 27 applications have been honoured. Of these, 18 are project applications and 9 concern starting grants. The approved applications are in different disciplines: 13 within Architecture, 7 within Design and 7 projects within Digital Culture.

submitting draft proposal
Looking back at the previous two rounds, it is noticeable that the quality of the applications is reasonably good, but could always be improved, by providing a clearer description of elements such as the collaboration, development in terms of content and a well-thought-out follow-up stage for the project. is advisable to submit a draft application to the Fund for feedback no later than two weeks before the closure date, and preferably earlier.

deadline new round
The next closing date for the Internationalization grant programme is 9 October 2019.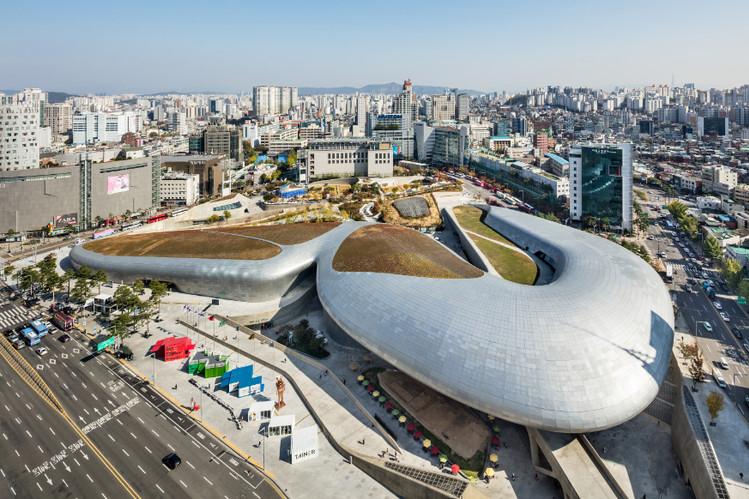 Seoul Biennale Thematic Exhibition 2019