grants issued
Grant Programme for Talent Development
Fransje Gimbrere
Grant Programme for Talent Development
Fransje Gimbrere
2020

Designer and art director Fransje Gimbrere obtained her bachelor's degree in Design from the Design Academy Eindhoven in 2017. In her practice, she tries to create amazement and stimulate the senses by manipulating material. In the coming year, she wants to highlight the importance of sensory design and show how you can respond to this as a designer. In her development plan, she pays attention to both broadening her knowledge and skills as well as deepening the design methodology and improving the positioning of her practice. She describes three phases for this purpose: 1. Theoretical research, where she examines scientific studies and visions concerning the relationship between design, the human psyche and emotion. 2. Experimental material research to find out what stimulates and invites touch. 3. The translation to possible applications and implementations. She is seeking help from marketing professionals and experts in making a book. The results will be presented in the form of a tactile manifesto and an exhibition.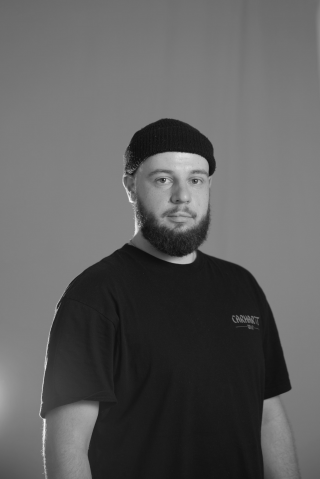 Grant Programme for Talent Development
Funs Janssen
Grant Programme for Talent Development
Funs Janssen
2020

Funs Janssen obtained his bachelor's degree in Design from the Willem de Kooning Academy in 2017. In his practice, he combines being an illustrator with the craftsmanship of stained glass. As an image-maker, he is concerned with metropolitanism and youth culture. In the coming year, he wants to research the history of visual culture, constantly questioning his position as maker and looking critically at contemporary visual culture. By means of a multidisciplinary research project in both theoretical and technical areas, he will search for an answer to the question: 'How can I apply the cinematographic aspect of my work more through the medium of stained glass in order to create iconic images?' He is following various workshops in the print techniques riso and screen-printing and the craft of stained glass. He is also bringing in the expertise of The Black Archives and sociologist Teana Boston-Mammah. Ultimately, he wants to develop a number of spatial works that contain a cinematographic aesthetic and invite dialogue. These works will be presented at galleries and art institutions.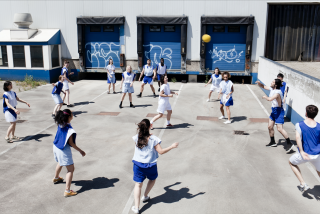 Grant Programme for Talent Development
Gabriel Fontana
Grant Programme for Talent Development
Gabriel Fontana
2020

Designer and researcher Gabriel Fontana obtained his master's degree in Social Design from the Design Academy Eindhoven in 2018. In his design practice, he investigates how our bodies express, internalize and reproduce social norms. Fontana additionally proposes ways of unlearning this through interventions in the public space and activities in the fields of sport and education. His development plan focuses on two projects, with which he wants to lay a strong foundation in kinaesthetic learning and to specialize in the field of queer pedagogy. With the project 'Voice and (Hear)Archies', he is developing a series of new sport games in which voices, sounds and new ways of listening are used to bring about a change in the way power is exercised during sports. The project 'Safe(r) Landscapes' consists of a 'queering manual', a publication in which he proposes measures that schools can take to create a more inclusive environment. Fontana wants to broaden his view of the work field by working together with various professionals, including a gender geographer, secondary-school teacher and graphic designer. He also plans to give workshops at schools and institutions in the Netherlands and France. His work will be presented at Onomatopee in Eindhoven and at the international design biennale in Saint-Éttienne, among others.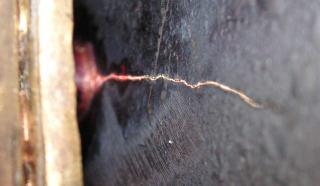 Grant Programme for Talent Development
Asefeh Tayebani
Grant Programme for Talent Development
Asefeh Tayebani
2020

Asefeh Tayebani obtained her bachelor's degree in Product Design from the Gerrit Rietveld Academie in 2018. In her practice, she deals with subjects that are full of misconceptions and stigmas. In the coming year, Tayebani will focus on two projects. The first is the continuation of the project 'But you don't look autistic', a research project with which she collects and presents information about autism in women and non-binary people, with the aim of starting a dialogue about the subject. For this purpose, the applicant is developing an online platform, together with graphic designer Fallon Does. The second project is a material research into the concept of 'wounds', under the name 'Leaving Traces'. She also wants to learn different techniques to restore and repair materials such as textiles and metal. Ultimately, she wants to present the material research by means of an exhibition and a publication. Mediamatic is being considered as the location for the launch of the online platform.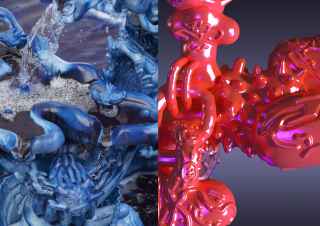 Grant Programme for Talent Development
Audrey Large
Grant Programme for Talent Development
Audrey Large
2020

Designer Audrey Large graduated in 2019 from the master's programme in Social Design at the Design Academy in Eindhoven. Her practice is at the intersection between new technology as an autonomous (design) method and (product) design as a form of creative expression. She is interested in the associations between the two domains and their implications for today's society. Questioning materials requires redefinition of the tools with which they are formed. This also raises questions about the status of the designer and their role in navigating through 2D images, 3D files, moving images and objects, according to Large.
In the coming year, Large wants to further deepen her reflections on the status of 'the image-as-object' and consolidate her professional design practice by strengthening her cultural entrepreneurship. The first half of her development year is dedicated to a solo show with her 'MetaObjects' at Nilufar Gallery in Italy. With the visual material she produces during the creation of the MetaObjects, she wants to develop a fictional narrative around the objects after the show, and take the next step in the translation of material into different formats, ranging from still to moving images and everything in between. She is going to experiment with CGI manipulation and various digital production techniques. During her development year, Large is collaborating with various parties and receiving advice from designer and software developer Femke Snelting, among others.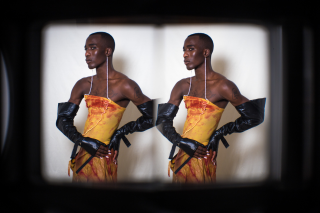 Grant Programme for Talent Development
Bodil Ouedraogo
Grant Programme for Talent Development
Bodil Ouedraogo
2020

Bodil Ouedraogo graduated from the fashion department at the Gerrit Rietveld Academie in 2019. Her practice consists of designing wearable clothing as well as producing installations and videos, with a focus on expressing her own bicultural identity. Her development plan focuses on the development of two new 'chapters' that together as presentations tell a story about radiating pride through the phenomenon of 'dressing up'. The first project is a performative show about the traditional 'grand boubou', a three-piece suit worn in West Africa. Ouedraogo wants to project video material onto the large amount of fabric in this garment. To do this, she will collaborate with dancer and choreographer Christiaan Yav and director Florian Johan. The second project concerns an investigation into the expression of pride through wealth in the West African art of 'dressing up'. To carry out this research, Ouedraogo will travel to Mali and Nigeria and collaborate with JeanPaul Paula and Stephan Tayo. Through photography and print, Ouedraogo establishes a link between the expression of wealth in jewellery and accessories, in the fashions of West Africa and Western Europe. Possible locations for the presentations of both projects include Amsterdam Fashion Week and Foam.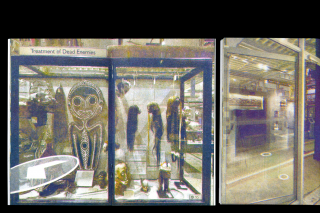 Grant Programme for Talent Development
Cleo Tsw
Grant Programme for Talent Development
Cleo Tsw
2020

Graphic designer Cleo Tsw graduated from the bachelor's program Graphic Design at the Rietveld Academy in Amsterdam. During her graduation she set up the research and publishing imprint 'Off Course', which investigates language and visual literacy from a decolonial perspective. Next year, Tsw will focus on developing and producing the first online and printed edition of Off Course and strengthening its educational practice. Produced in both physical and digital domains, this edition contains a series of articles that distinguish themselves through their visual form—such as through typographic essays, visual essays, comics, lexicons and poetic prose. Tsw intends to collaborate widely in the content, production, and distribution of this publication.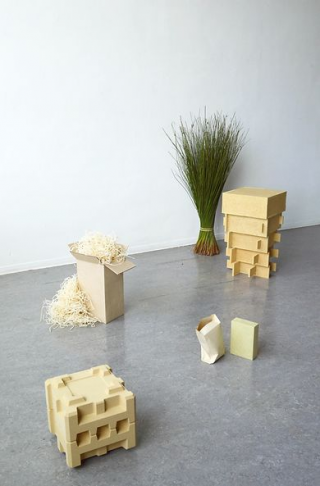 Grant Programme for Talent Development
Don Kwaning
Grant Programme for Talent Development
Don Kwaning
2020

Don Kwaning completed the bachelor's programme Man and Well-Being at the Design Academy Eindhoven in 2018. In his practice, he is involved in both artistic and industrial material development as well as the design of end products. In his graduation project 'Medulla', he developed circular materials from the soft rush (Juncus effusus), a common weed in the Netherlands. In the coming year, he will continue this project and he wants to develop further into a craftsman in materials development. He will investigate which soft rush materials are most suitable for further development for the commercial market, whether the plant can be grown as a wet crop, to combat subsidence, and whether the materials made from these plants can provide a revenue model for farmers. He is being helped in this by the Green Chemistry Campus. In addition, he will start two new projects in which, based on his artistic interests, he will carry out material experiments with flexible aluminium and compromised wood. For this purpose, he will collaborate and receive advice from basket weaver Esmé Hofman, product designer Bertjan Pot, and various 3D designers. By making his material experiments more personal, Kwaning aims to strengthen his identity as a designer and better position his practice within the design sector. The results of his projects will be presented at the Milan Design Week and the Dutch Design Week.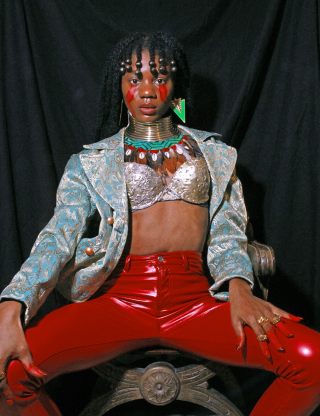 Grant Programme for Talent Development
Fana Richters
Grant Programme for Talent Development
Fana Richters
2020

Fashion designer and interdisciplinary artist Fana Richters was selected during the Scout Night Amsterdam. In the coming year, she wants to further develop her artistic, technical and presentation skills. She is doing this by means of the project 'The Walking Exhibition', in which she builds a bridge between the artistic world and the fashion industry. Surrounded by experts and advisers in various fields, including fashion and textiles, she will develop a series of suits. A central role is played by her own photography handwriting, which is characterized by collage techniques. The suit is being made under the supervision of Marlon Lima, who will oversee the embroidery process and can advise on various possibilities. In addition, Richters is calling on the expertise of Geobella Fini, who will help to develop digital sketches and conceptual fashion. According to Richters, sustainability is an indispensable element and she certainly wants to demonstrate this in the design by using the natural plant hemp, among other things. The final product will be presented during a fashion show where Richters aims to become acquainted with a commercial manner of presentation.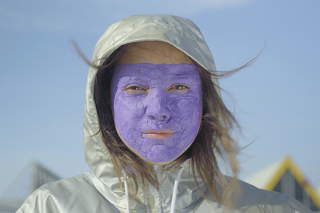 Grant Programme for Talent Development
Frances Rompas
Grant Programme for Talent Development
Frances Rompas
2020

Filmmaker and biologist Frances Rompas was selected during the Scout Night in Utrecht. In her practice, she focuses on telling fictional, satirical and autobiographical stories in the form of immersive film and video installations. According to Rompas, transgenerationally conferred expectations and ideas about the country of origin are mainly based on emotions and memories. The image of the fatherland, or as Rompas prefers to put it, the motherland, can be romanticized as a result. With an interactive video installation, Rompas takes the viewer into a personal process in which she investigates what ethnicity means and how it can be deconstructed. In the coming year, she will experiment with miniatures, décor, shot design and object theatre. Part of the installation is an image that Rompas wants to create concerning a traditional ritual and costume. For this purpose, the filmmaker will seek a collaboration with costume designer Floor Nagler. By following different writing courses, Rompas wants to learn scriptwriting and methods for placing biographical material in a socio-political context. The presentation options are still open and depend on Rompas's research into spatial installations in relation to the public. To get a better grip on this aspect, Rompas is going to follow a course at the Instituto Europeo di Design.