grants issued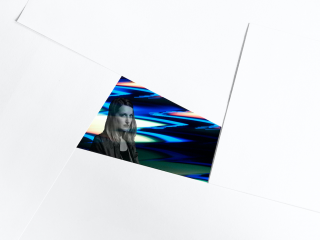 Anne Ligtenberg, 2020

€9.950
With the '#YOUTOO?' project, designers Anne Ligtenberg and Mats Horbach are working with Blauwe Maan and experience experts to find ways of reaching the silent victims of sexual abuse living in unsafe home environments. Where, when and how can they be helped to escape their isolation? In the first phase, co-creative sessions are used to identify the best moments to approach this target group as well as interventions to ensure that people feel heard and know where they can get help and support.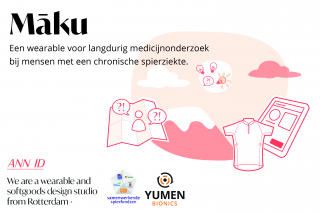 Māku - wearable for long-term medicine research
Māku - wearable for long-term medicine research
Ann.ID, 2020

€10.000
Design studio Ann.ID aims to put patients with a chronic disease centre stage during long-term medicine research. Together with YumenBionics and Samenwerkende Spierfondsen (collaborating organisations for people with a muscle disease), Ann.Id combines fashion and smart health in a wearable that not only collects data for scientific research but also provides the patient with valuable information. Care and research can be performed remotely. In phase 1 the design studio will look at how the wearable can match the patient's identity, and ideas about how data can be made more relevant will be translated into an initial prototype.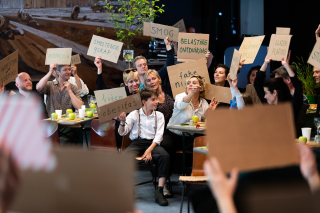 Rehearse The Revolution #economy
Rehearse The Revolution #economy
SPACE, 2020

€10.000
According to SPACE we urgently need a new economic narrative. With the 'Rehearsing The Revolution #economy' project, SPACE investigates the idea of the 'deep economy', a concept whereby ecology and economy are fully interlinked. Together with Herenboeren Nederland, a 'biotope' that already works in accordance with the cooperative principles of the 'deep economy', SPACE will develop alternative future scenarios for an inclusive economy. The result is a practical 'Deep Economy Toolkit', including an online knowledge platform and live games, allowing participants to experience complex future scenarios in a theatrical and interactive way.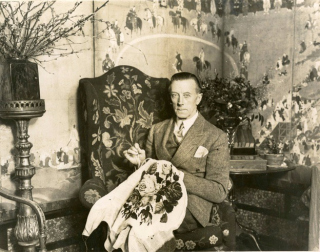 Feministische Handwerk Partij, 2020

€5.552
'De Naaikrans' (The Sewing Circle) consists of a series of five meetings during which young women as well as supportive men are introduced to the practical skills of handicrafts and repairs. At the same time, the meetings offer an opportunity to discuss feminism. For this project the Feministische Handwerk Partij (Feminist Craft Party) has entered a partnership with Atria, knowledge institute for emancipation and women's history. Together they link up the artisan and artistic aspects of art and crafts with the underexposed history of women and current social issues such as gender equality and the lack of appreciation for care work. In parallel with the public activities, there is also a research project that examines the significance of the banner to represent craft techniques in women's struggle for emancipation, and a new banner will be designed.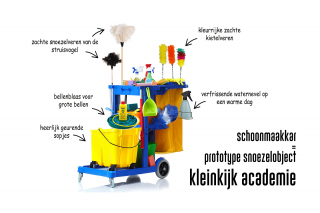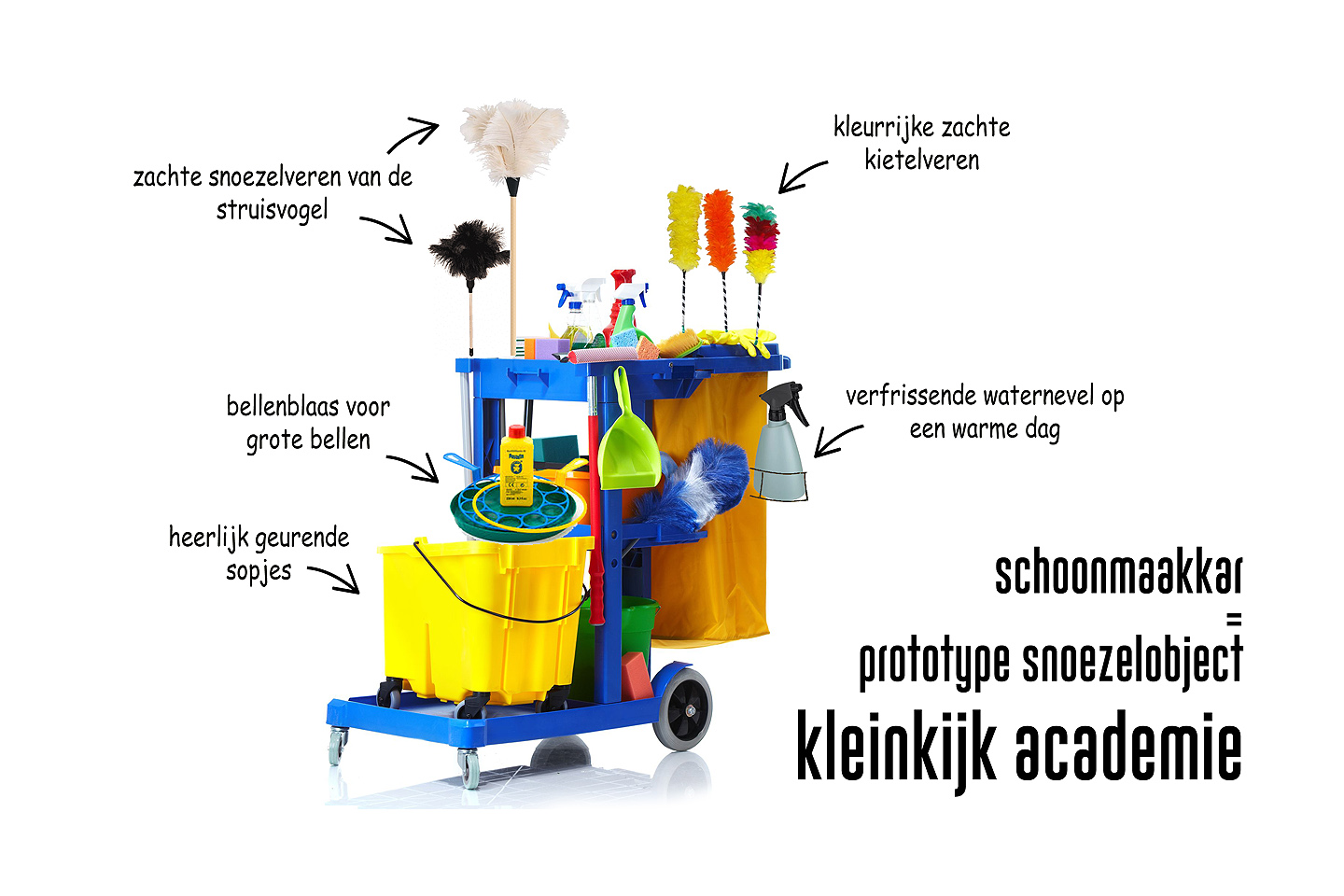 Sjaak Langenberg en Rosé de Beer, 2020

€10.000
Social designers Sjaak Langenberg and Rosé de Beer work for the 'De kleinkijk academie' project in collaboration with disability organisation Severinus. For this project the partners will develop a new learning programme for the existing disability care course offered by Severinus. The majority of Severinus's clients have a severe mental disability which often results in sensory overload, hyperactivity and/or aggressive behaviour requiring a high level of support. This, together with the high workload of carers, means that it is difficult to involve this group in cultural participation activities. As a potential solution, the designers intend to develop interventions that can be used to transform everyday moments within the care process into shared cultural activities. Various experts in the areas of social design and art and performance as well as behavioural experts and client representatives will contribute to the development of master classes for care workers, which will form the foundation of the learning programme.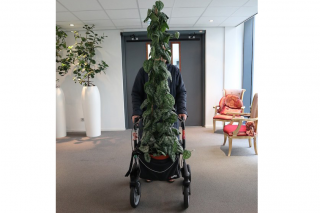 Joost van Wijmen, 2020

€10.000
Stichting Encounter, in partnership with residential care facility Vitalis, will arrange meetings between elderly people and their environment, consisting of care home residents, volunteers and care professionals. The meetings will revolve around the theme of the changing body. It is Van Wijmen's intention to both increase the elderly's social network and their autonomy by bridging the gap between the different generations and to position the elderly as experts in the area of change. Interactive assignments will be used during these meetings. The results of the assignments and talks will be shown in exhibitions at the care centres involved. The applicant will also organise reflection meetings.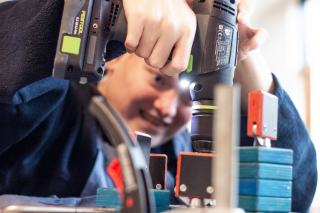 Integrative Hout Werk Plaats
Integrative Hout Werk Plaats
Robin Weidner, 2020

€10.000
Robin Weidner, together with care organisation Reinearde, will work on the 'Integrative Hout Werk Plaats' (Integrated Wood Workshop) project. Weidner wants to involve the residents of the institution in the creative process and will carry out a design study. Lots of residents find it difficult to use tools and this can lead to unsafe situations. By designing special tools, the residents can be introduced to woodworking skills in workshops. The workshops are part of the institute's leisure programme and people from outside the facility can also take part. This enables the residents to interact with others who live in the local area. With these workshops Weidner also hopes to create an earnings model based on the sale of products. The product sales will also enable Reinaerde to become more financially independent.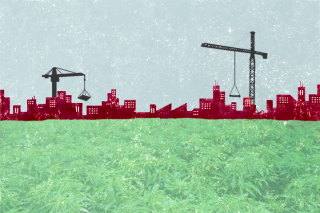 Hennephuizen – a resolution
Hennephuizen – a resolution
Site Practice en Dun Argo Hemp Group, Summum Engineering, 2020

€10.000
Architectural and design office Site Practice, in partnership with Dun Argo Hemp Group, will carry out research into the application of hemplime in house building. The applicants say that this material is rarely used while it is environmentally friendly and energy efficient. Hemp grows fast and can absorb more CO2 than other crops and trees. This makes it highly suitable for issues regarding climate adaptive building design. For this project the partners want to test the suitability of this material through a design study. The study will include questions on the (social) surroundings, architectonic quality and aesthetic development in order to find high quality and innovative housing solutions. Summum Engineering contributes to this project by offering technical support and will test any constructions.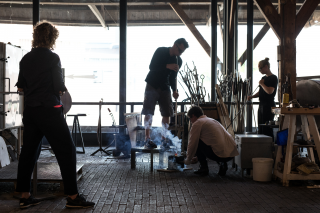 Open Call Contemporary use of crafts #2: The WildGlas Factory
Open Call Contemporary use of crafts #2: The WildGlas Factory
Atelier NL, 2020

€25.796
Atelier NL's proposal for 'The WildGlas Factory' concerns an elaboration of an existing collaboration with master glass blower Gert Bullée and the Nationaal Glasmuseum Leerdam. They are examining how local and 'wild' sand can be used to produce glass, whereas standardised glass production only uses processed sand. The research is aimed at qualities, properties and possible applications. At the same time, the usual production process can be made more sustainable by working with local raw materials and natural fluxes, and by using lower melting temperatures. This does require very strong craftsmanship skills.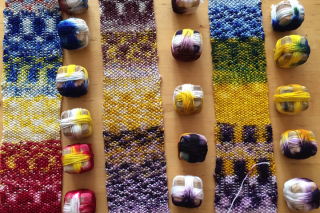 Open Call Contemporary use of crafts #2: Magliatheek
Open Call Contemporary use of crafts #2: Magliatheek
Survival of the Fashionest, 2020

€21.000
Survival of the Fashionest and De Amsterdamse Steek are compiling a catalogue or an archive that demonstrates the possibilities of handknitting techniques compared to machine knitting. In this way they aim to provide other designers with an overview of the various possibilities and to create a reference guide for future generations of hand knitters. The goal is to create an ever-evolving collection that can serve as a design tool for designers and can catalyse collaborations with hand knitters; as a source of inspiration for knitters to encourage them to further develop their skills; and as a (research) source for documentation and education which can be passed on to future generations in order to preserve this handicraft. The project consists of two parts: first, to set up the 'basic collection', and second, to manage the catalogue by adding contemporary applications.