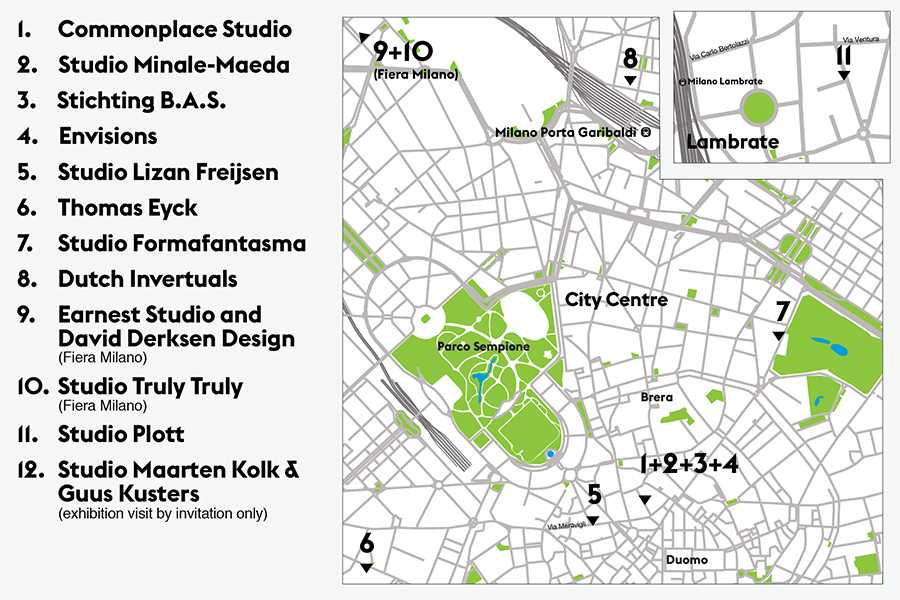 23 March 2017

Salone del Mobile 2017, one of the largest, all-encompassing international fairs for furniture and product design, is being held in April. The Fund is supporting the presentation of 12 projects at the event. Who is where at the Salone del Mobile? This special google map below shows where these 12 designers and collectives are presenting their work in Milan.
In late 2016 the Fund selected
12 design studios
for their presentations at the Salone del Mobile 2017 via an open call. This selection consists of designers and collectives who are investigating new materials and techniques, are primarily concerned with creative design processes, are venturing into exceptional forms of collaboration, and are preparing distinctive presentational forms. The presentations offer a survey of the diversity of artistic quality in the work of emerging as well as established Dutch design studios and their unique approaches to presentation or collaboration. The Fund's support enables the design studios to give their presence in Milan an added value by means of excellent or exemplary execution. The Open Call contributes to the realization of three key objectives of the Fund's Internationalization Programme:
• enhancing the profile of the Dutch design sector;
• establishing and reinforcing long-term collaborative relationships;
• expanding the international sphere of activity of the Dutch design sector
The presentations
The selected presentations are being held at venues such as Palazzo Clerici, Spazio Rossana Orlandi and Ventura Lambrate, where many Dutch presentations are staged every year. The selection also includes presentations that are taking place at SaloneSatellite, specially intended for up-and-coming talent, and a number of projects can be found at new venues, such as Spazio O' in the Isola Design District. This special
google map
shows where these 12 designers and collectives are presenting their work in Milan.
Festive opening at Palazzo Clerici
Make sure you come along to the celebratory opening reception in Palazzo Clerici on 4 April, which is being organized by the Fund in conjunction with the Consulate General of the Netherlands, Commonplace Studio, Design Academy Eindhoven, Envisions, Het Nieuwe Instituut, MacGuffin magazine, Studio Minale-Maeda, Studio Sabine Marcelis and Teresa van Dongen. More info
here
.