Looking back at Gamescom 2016
8 September 2016

For the third year in a row, Creative Industries Fund NL supported the Holland Pavilion at Gamescom – the largest game fair for consumers and professionals in Europe. The Netherlands retains its international reputation as an 'indie land'. The Fund issued an Open Call to select nine young game producers. They presented their games in the fair's business section together with some larger Dutch game studios and publishers.
Text: Joris van Ballegooijen, Grant Officer for E-culture. Images: Tamara Robeer
It was immediately evident that the mix of indies and larger studios in the pavilion works well – there was plenty to play. That made the pavilion lively and made it stand out from the other national pavilions. It seems as if there is no competition between the parties who are active in the global games market. According to Pim Bouman of Gamious – a more established studio from Haarlem – participating in a fair like Gamescom is an essential part of fledgling games developers growing to maturity. Creating a game is one thing, but going on to successfully launch it in the somewhat overcrowded market is something completely different. The contact with other developers, media and international distributors is a reality check and for some studios it's a wake-up call.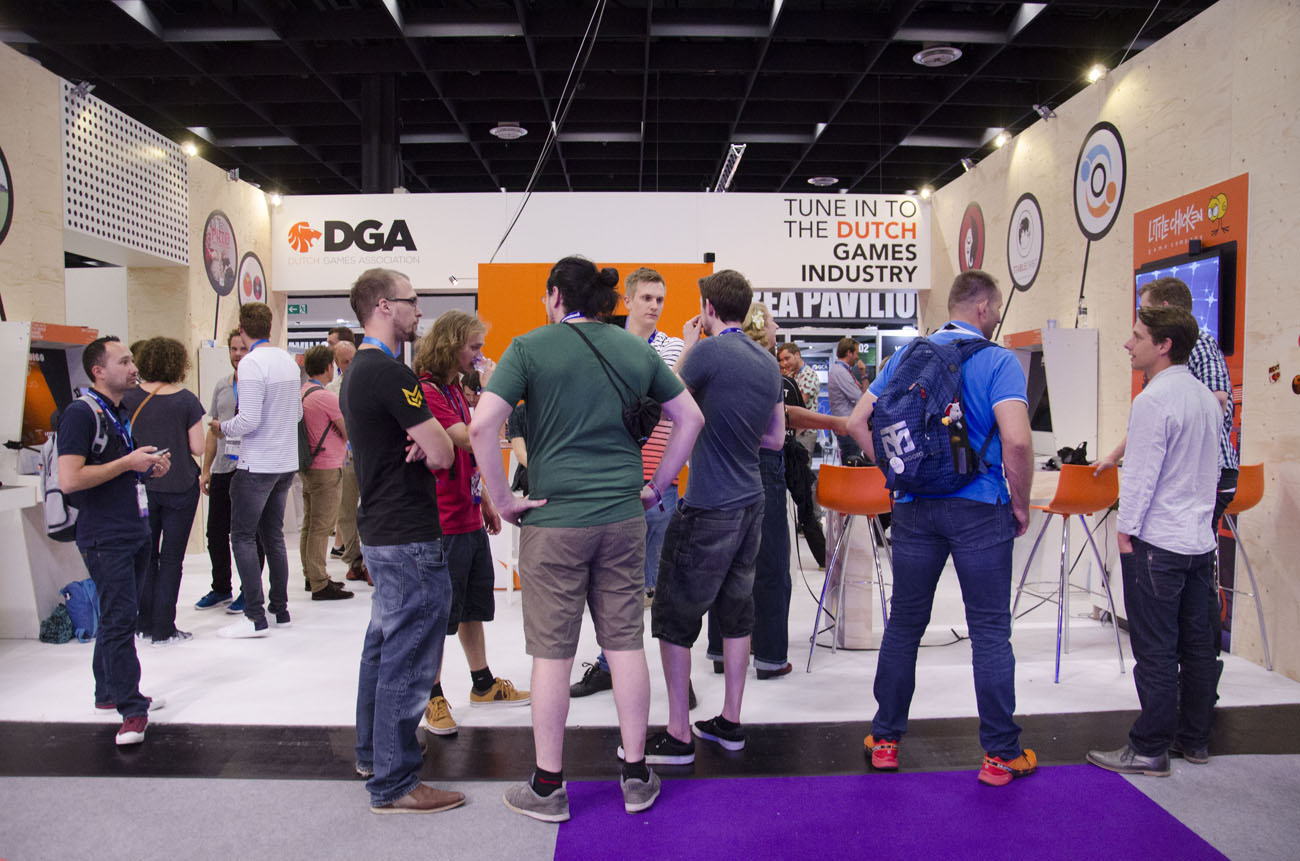 Producing games is business and that's something else you have to learn as a start-up studio, for which the studios receive coaching. All the participants took part in a pitch training prior to Gamescom and in the pavilion the media in attendance are welcomed and guided around the various arcade-like displays. During Gamescom, the Dutch Games Association (DGA) and Dutch Game Garden organized activities such as a networking morning with Dutch, Flemish and Finnish parties as well.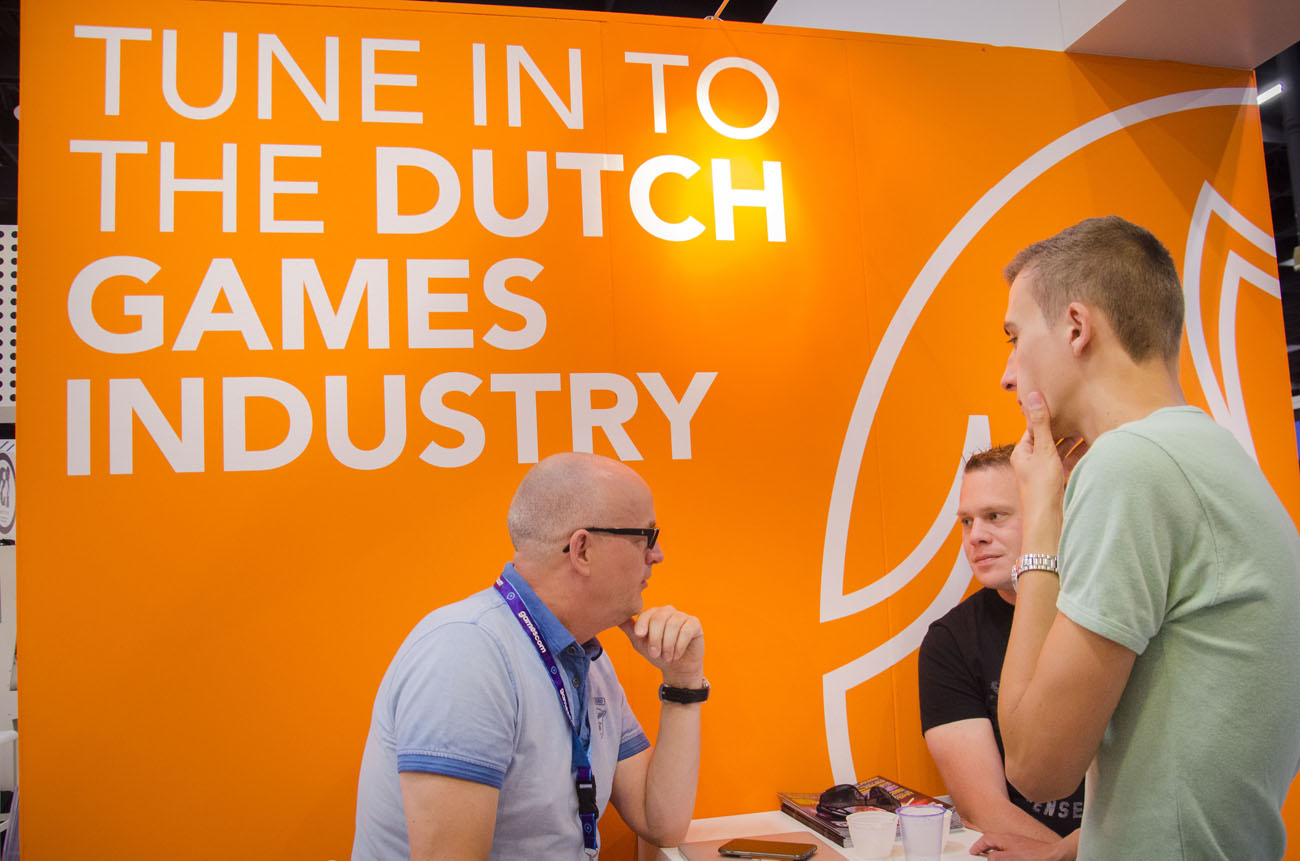 Without exception the developers were enthusiastic, even though it remains to be seen what the fair will eventually generate in terms of business. Jim Offerman of the space station simulation game Stable Orbit can self-assuredly report that for him – besides a great deal of media attention – Gamescom has resulted in a new developers kit for the oculus and a sponsorship deal with the OSVR platform. Ard Jacobs of Pillo Games underscores how difficult it is to express the results in turnover, given that most of the games are not on the market yet. The same applies for the consumer version of his alternative controller, which involves the player interacting with the game via a cushion. He can nevertheless state that at Gamescom he was able to make concrete agreements with 15 parties who want to make their games available via the new platform. Moreover, for next year Pillo Games is already assured of a place in the spotlight, thanks to an order of 12 controllers for one of the booths.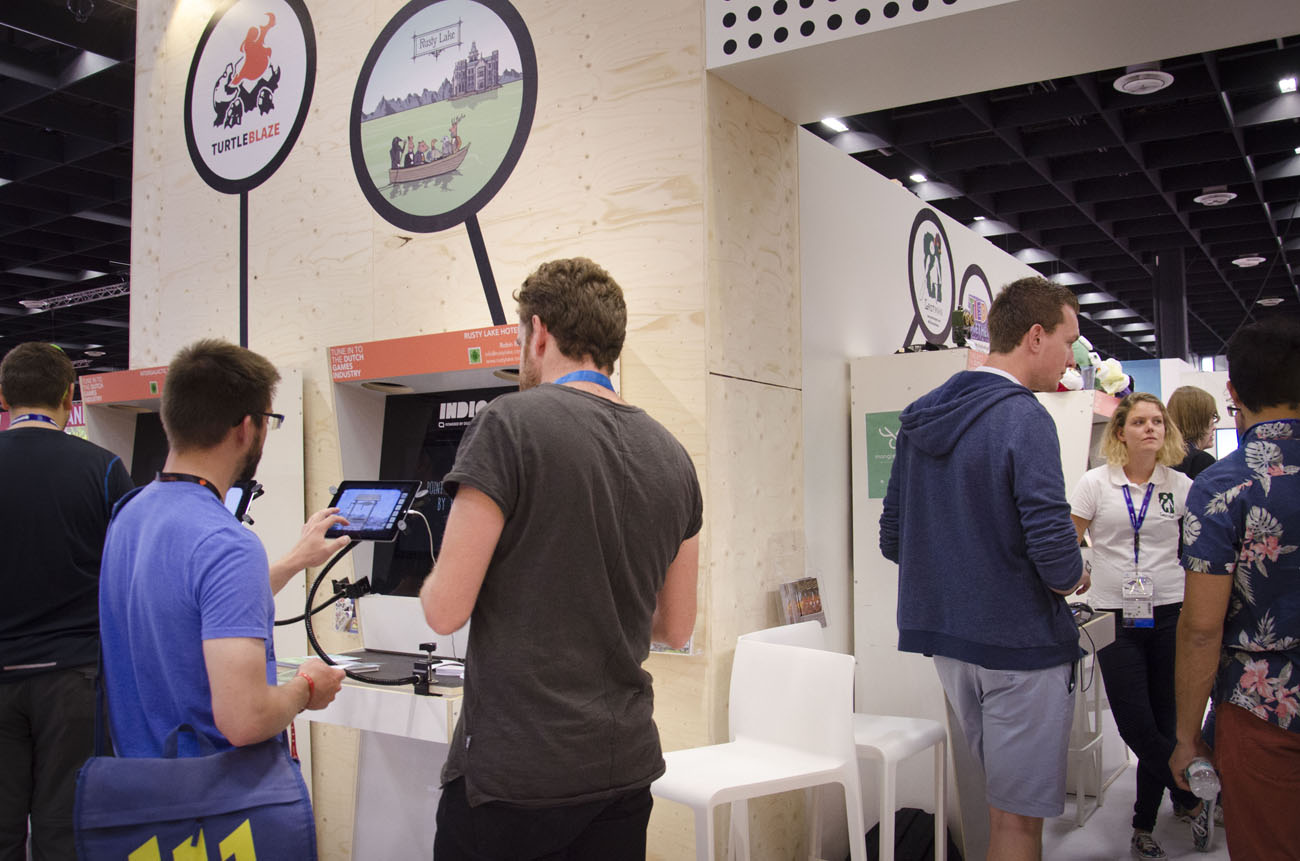 Indigo stand for Rusty Lake Hotel game. Developer en game designer Maarten Looise talking with a visitor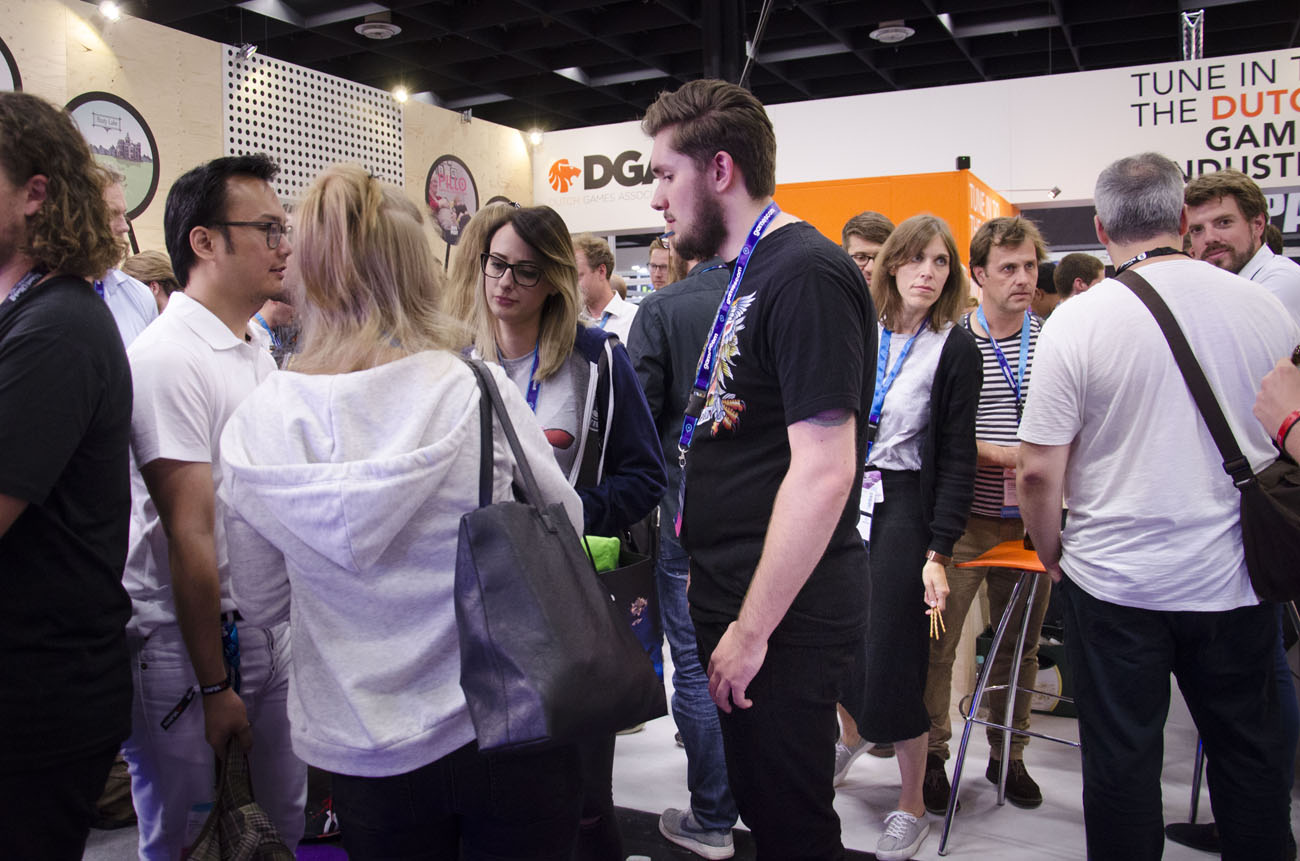 Dutch Drinks @ Gamescom Holland Pavilion, a networking reception at 18 September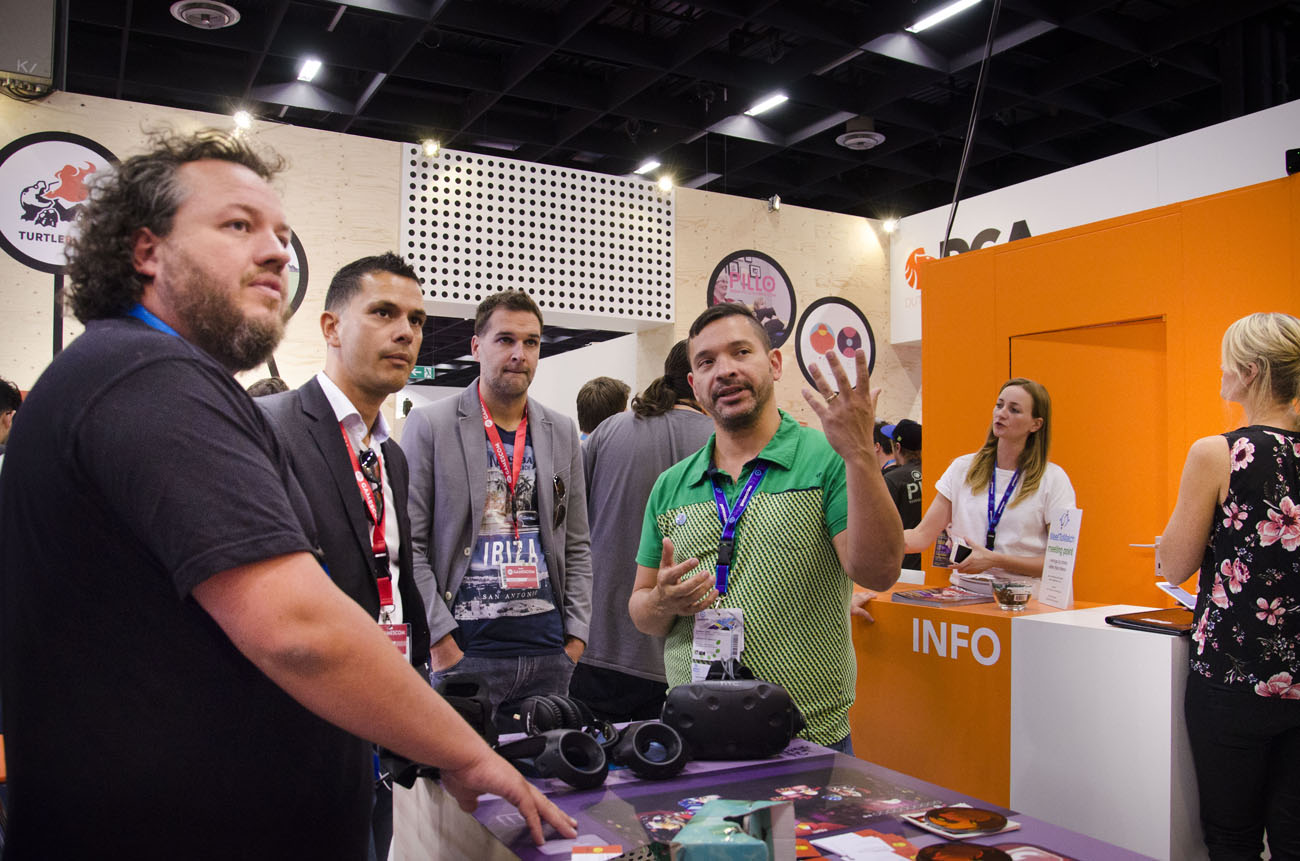 Next to the supported indie developers other parties like Little Chicken also presented their game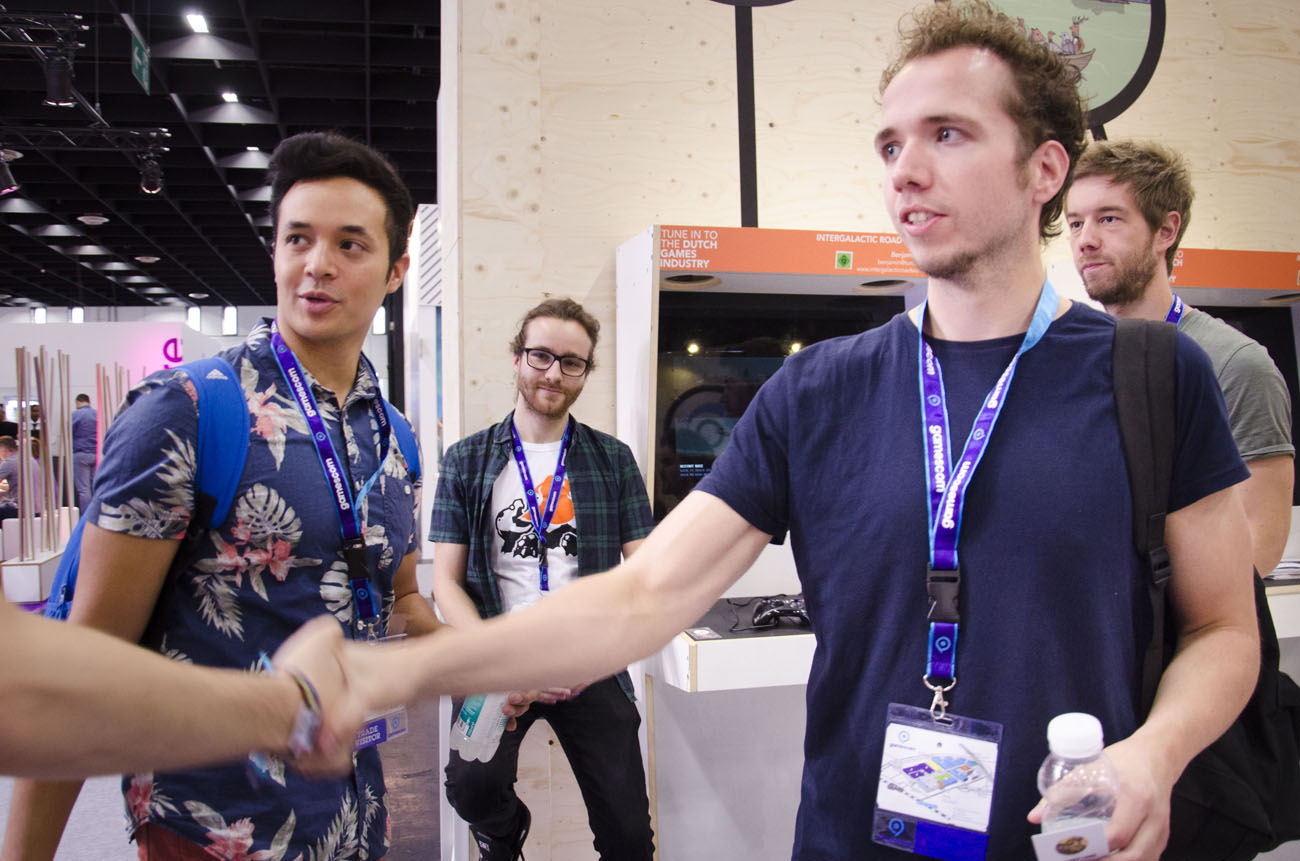 Meeting point at the Holland Pavilion