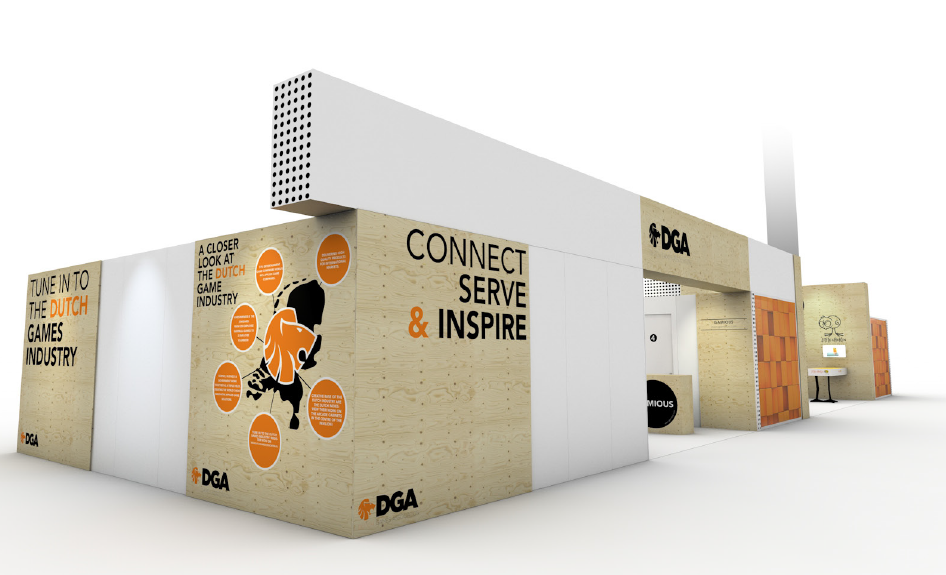 11 August 2016

The Dutch Games Association (DGA), the sector organization for the Dutch games industry, presents its 7th Holland Pavilion at Gamescom 2016. The Holland Pavilion offers an international stage to 15 Dutch gamecompanies, of which 9 young developers have been supported by the Creative Industries Fund NL. Gamescom is one of the largest game fairs in the world and the biggest and most important European event for the international interactive entertainment industry.
In collaboration with the Creative Industries Fund NL, DGA called for Dutch game companies to send in proposals for participation in the Holland Pavilion at Gamescom 2016. From the applicants, 9 innovative projects by young developers have been selected by external advisors of the fund. They now have the opportunity to present their games to the 345,000 visitors of Europe's biggest game fair:
• Tivaru -
KABOUNCE
• Codalyn -
Stable Orbit
• Studio Maarten Looise -
Rusty Lake Hotel
• Grotman -
Tribal & Error
• Illusive Games -
Circles
• Napalmtree Studios -
Tied Together
• TurtleBlaze -
Intergalactic Road Warriors
•
Pillo Games
• Arcane Circus -
Crap! I'm Broke: Out of Pocket
Six established Dutch game companies stand at the basis of the Holland Pavilion in 2016. With their innovative quality, diversity and creativity the participants of the Holland Pavilion represent a cross-section of the Dutch games industry in the B2B area of Gamescom:
Iceberg Interactive - Independent publisher. Presents Stars in Shadow, Empathy and Dawn of Andromeda.

Soedesco - Multi-platform publisher known from the Adam's Venture franchise will present new games for PS4, Xbox One and PC.

Little Chicken - Developer of (serious) games, known from the recent campaign 'Go back to the dinosaurs with Freek Vonk' with Albert Heijn. Presents Yoshinami, Go Back to the Dinosaurs (VR), Oberon's Court, Fire Flush and Rekt.

Coolgames - HTML 5 game company, known from titles such as Tetris Twist. Presents Tetris Twist, new levels of Jewel Academy, Rally Racer and many others.

Gamious - Developer, known from titles such as Turmoil. Presents Turmoil, Team Racing League, Turnbased Templars and Words in Progress.

IQU - A digital agency dedicated to games. Presents the services they provide in the field of player acquisition through their performance, dialog and branding media strategies.

The Holland Pavilion can be visited from August 17th until August 19th in the B2B area of Gamescom, Hal 3.2, booth D-018, C-019.
Partners of the Holland Pavilion 2016: Stimuleringsfonds Creatieve Industrie, Dutch Games Association, Dutch Game Garden, Creative Europe, Regio Utrecht, NBSO Frankfurt