news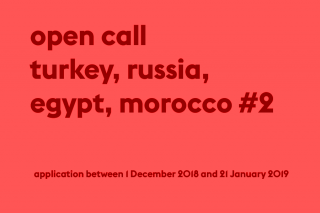 Open Call Turkey, Russia, Egypt, Morocco #2
Open Call Turkey, Russia, Egypt, Morocco #2
19 September 2018

Creative Industries Fund NL is calling on designers, makers, curators and cultural organizations in the Netherlands to submit a plan for a project that deploys design for sustainable and inclusive societies. The open call invites cultural parties to join forces with a local partner to turn their minds to a topical issue, observation or development in Turkey, Russia, Egypt or Morocco. The project should entail an egalitarian collaboration between the parties.
The rapid growth of cities is a topic that is relevant in the four countries that the open call is focusing on, resulting in new relationships between street culture, identity and public space, as well as between the city and the countryside. The appropriation of the city by various parties – grassroots and top-down, public and private, established and emerging – takes a diversity of forms, in the physical as well as the virtual domain. Designers are being asked to put topical themes that relate to the city, its surroundings and users on the agenda, to question them or propose solutions. This calls for cross-disciplinary and context-sensitive collaborations at the interface of culture, new media, technology, craft, society and the new economy.
collaboration
The project team (of Dutch and local partners) adopts a standpoint concerning sustainable and inclusive societies within the theme that the project focuses on. The plan provides insight into how and why various stakeholders will be involved with the project. Projects can take a diversity of forms, from artistic, speculative or design-based research to the implementation of a pilot, intervention or campaign. The perspective of Turkish, Russian, Egyptian or Moroccan parties is crucial and should be embedded in the project.
focus
This is a follow-up to the
first series of Open Calls
focused on these four countries that the Fund issued previously. As a result of findings concerning the first series of open calls, the Fund is more emphatically seeking for projects that relate to disciplines in the fields of design and digital culture, as well as every possible crossover.
submissions
Projects can be submitted from
1 December 2018 to 21 January 2019
via Creative Industries Fund NL's
online application environment
. Find more information about the Open Call
here
.
questions?
For questions about the open call and the procedure, please telephone +31(0)10 436 16 00 or send an e-mail to Yasmin Kursun via
[email protected]
or Zineb Seghrouchni via
[email protected]
.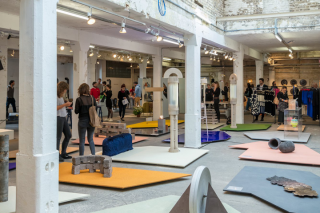 26 Dutch designers show work at London Design Fair 2018
26 Dutch designers show work at London Design Fair 2018
6 September 2018

The London Design Fair is being staged from 20 to 23 September. The Fund has joined forces with the Netherlands Enterprise Agency (RVO) to realize the Dutch Stuff pavilion, where 26 Dutch design studios, collectives and individual designers are showcasing their work.
After a successful debut in 2017,
Dutch Stuff
is being staged at the Old Truman Brewery for the second time. The pavilion's initiator and curator, Jimmy MacDonald, explains his fascination with Dutch designers as follows:
'The Netherlands has always been our go-to country for experimental design, which is central to the curation of this second edition of Dutch Stuff. As many of the designers have been sourced over the last 10 months, we are excited to see where these experiments have led and how they may have manifested in new products and collections by September.'
highly promising design talent
In 2018 the 26 participants will have more space to present their work, allowing visitors more opportunity to enter into conversation with the designers, to peruse the work, and become acquainted with the underlying concepts. Dutch Stuff is intentionally conceived as an eclectic, multidisciplinary presentation that represents the breadth of the design discipline in the Netherlands. The pavilion is showing furniture design, lighting design, textiles, ceramics and free design, such as objects and installations. The selection is a mix of highly promising design talent and more established names who are experimenting with methodologies, materials and means of collaboration in their work.
The participants include alumni of the Grant Programme for Talent Development, such as
Alissa+Nienke
and
Boris de Beijer
, as well as designers who have previously enjoyed the Fund's support to take part in the Salone del Mobile in Milan, such as
Earnest Studio
and
VANTOT
.
panel discussion
The Fund is joining forces with London Design Fair and the Embassy of the Netherlands to organize a panel discussion moderated by designer Ineke Hans and design critic Max Fraser in the Dutch Stuff pavilion from 10:30 to 12:30 on 20 September. Together with some of the participating design studios, the moderators will discuss the artistic and professional opportunities and challenges for Dutch designers in the British market.
participants
VANTOT
lennartlauren
Studio Simone Post
Systemises
Studio Plott
Studio Johan Viladrich
Martijn Rigters
Nina van Bart
Studio Laurids Gallee
Boris de Beijer
Fabian Briels & Hans van Sinderen
REM atelier
Maria Tyakina Studio
Studio Ro-Smit
Atelier van Middendorp
Bart Joachim
Creative Chef
Earnest Studio
Alissa+Nienke
forever studio
Studio Jeroen Wand
Christian Hammer Juhl
OS & OOS
Made by Rens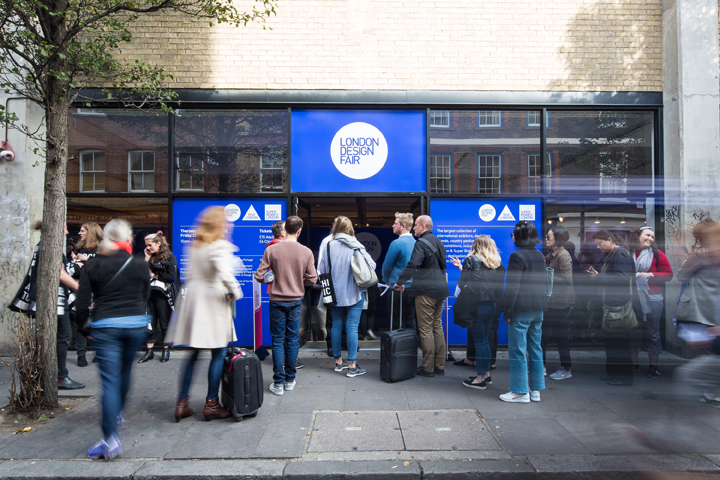 internationalization
The Fund is supporting the pavilion with a contribution from the supplementary resources of the Internationalization programme. The Fund's contribution means that up-and-coming Dutch designers can expand their field of activity and position themselves more effectively within the international design sphere.

Photo above: London Design Fair, Dutch Stuff 2017. Photographer: Sophie Mutevelian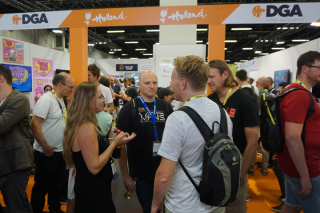 Dutch games developers at Gamescom 2018
Dutch games developers at Gamescom 2018
6 September 2018

In late August, approximately 370,000 visitors from 114 countries visited Gamescom in Cologne, the most important European fair for consumers and professionals in the games industry. This is the place to network and build structural relationships in national and international circles for games companies and individual developers. Creative Industries Fund NL backed the Dutch Games Association (DGA) in its organization of the Holland Pavilion for the fourth time.
The increase in the number of participating countries and professional visitors underscores Gamescom's international character and the importance of Europe's most trend-setting business platform in the realm of games. Alongside Austria and the United Kingdom, the Netherlands ranks among the three most rapidly expanding countries in the fair's business section.
networking: B2B
Five game developers presented their work in the Holland Pavilion within the fair's B2B section with the Fund's support. The combination of indie developers and presentations by a number of larger Dutch games studios bore fruit once again. The indie developers note that the pavilion served as an important meeting place for budding professionals and was a valuable complement to planned meetings with publishers, game developers, media and investors. For example, Luuk Waarbroek of games studio Napalm Tree spoke with potential leads, while indie developer Erik Habets of Fromto made highly promising steps towards finding a publisher. Meetings with international contacts are simpler to plan here, and deals are struck wherever possible. That makes this event the ideal networking opportunity within the European and global games industry.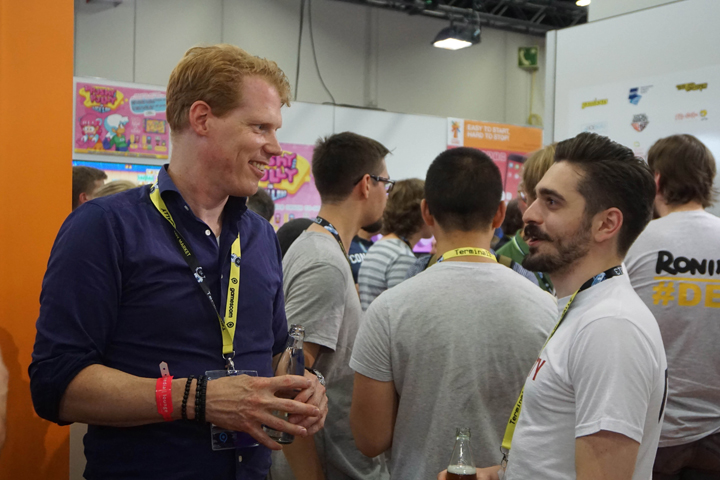 public: B2C
The Fund also supported two Dutch game developers – KeoKen and Ronimo Games – to present themselves at the Indie Arena within the B2C section. The massive turnout gave the studios the opportunity to promote their games to a wide-ranging public in a short time. Both stands were really busy and drew plenty of attention from visitors. Joost van Dongen of Ronimo Games: 'The personal contact with consumers at Gamescom gives a great deal of satisfaction and is really useful for finding new customers.'

Show Your Courage
Creating games is one thing, but bringing them to the market successfully is something else. At Gamescom there are all kinds of key industry figures in attendance who can help games companies in this regard, as young developers often lack experience in pitching and networking. This prompted the Dutch Games Association (DGA) and Dutch Game Garden to organize Show Your Courage. A selection of veterans from the games industry were interviewed about a diversity of topics within the sector, which gave others the opportunity to enter into discussion with peers and learn from their expertise. This whole programme has been recorded in high-quality video and is easy to find on the DGA website.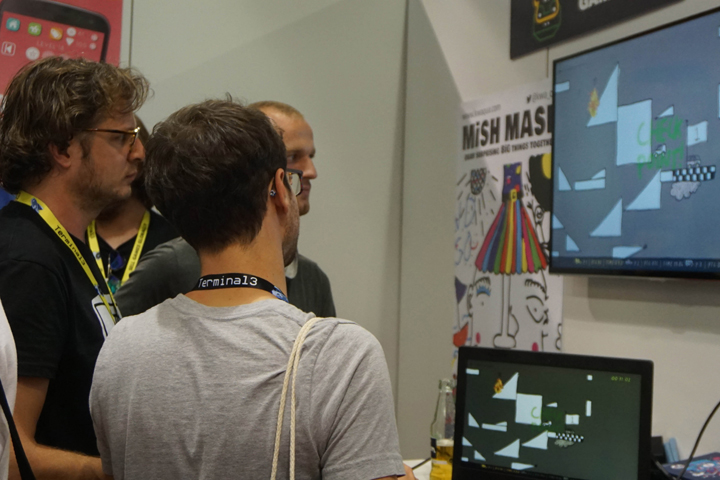 Visitors play the game Mish Mash developed by Doron Hirsch, where players of the game are drawing parts of the game step by step.
Photos: Dutch Games Association (DGA)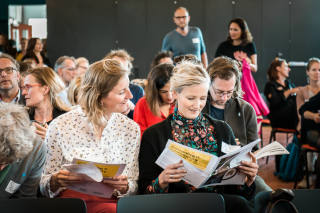 22 Oct: Designing a Community of Care | From creative research to practice
22 Oct: Designing a Community of Care | From creative research to practice
22 August 2018

During the Dutch Design Week 2018, Creative Industries Fund NL and Waag are organizing the 'Designing a Community of Care: From creative research to practice' network meeting, in association with the Aedes-Actiz Knowledge Centre for Housing, Care and Welfare and the Who Cares team. You are warmly invited to join us.
In the Netherlands we are reinventing care. An ageing population, decentralization and technological advances are making new demands on the provision of care in our communities. Creative Industries Fund NL and Waag believe in the power of design's contribution to this process of transition within care in the community.
what can you expect?
an inspiring keynote lecture by Prof. Paul Chamberlain, design director Lab4Living Sheffield Hallam University, and Dr. Claire Craig, health director Lab4Living Sheffield Hallam University, both founders of the conference and the journal Design4Health;

networking with other interested partnersincluding care professionals and designers;

a guided tour of the 'Chronic Health' exhibition at the Embassy of Health about the role of designers within healthcare.

Do want to join us in building a community of practice?
Join us on Monday 22 October for Designing a Community of Care at the Embassy of Health in the Innovation Powerhouse at Strijp-T, Eindhoven.
The programme is currently under development and will soon be added to this page. Keep an eye on the Fund's various channels of communication.
Designing a Community of Care
The reason for this meeting is the Open Call: Designing a Community of Care, which was issued by the Fund in the spring of 2018. Thirteen projects have been initiated, in which designers are tackling changes to care in the community in conjunction with municipal services, care providers and housing corporations. You can find further information via
this link (Dutch only)
.
keynote speakers
Prof. Paul Chamberlain, Design Director of Lab4Living at Sheffield Hallam University

Dr Claire Craig, Health Director of Lab4Living at Sheffield Hallam University

Good design can mean a lot for society, but how can design practices and processes help to tackle the challenges we are facing in the 21st century? Paul Chamberlain argues that design is as much about the definition of the question as it is about providing an answer, and that interdisciplinary collaboration is the starting point for new creative possibilities. In Claire Craig's former role as an occupational therapist she gained experience in the advancement of the wellbeing of the elderly, and she believes that design plays a pivotal role in this field.
'Chronic Health' exhibition
The Embassy of Health is an initiative of Waag, VanBerlo, Philips, Máxima Medical Centre, U Create and the Dutch Design Foundation. The 'Chronic Health' exhibition reveals how we are jointly shaping care. We show how care products or services are not autonomous, but interact within a complex care environment. The exhibition immerses visitors in an interactive environment and allows them to experience the current and prospective role of design for (health)care: now, as well as in the immediate and more distant future.
practical informationdate:
Monday, 22 October 2018
time:
13:00 – 17:00
venue:
Innovation Powerhouse (Strijp-T), Zwaanstraat 31a, 5651CA, Eindhoven
registration
Participation in the meeting is free of charge. Please register by sending an e-mail to
[email protected]
, mentioning 'Designing a Community of Care' in the subject line. Please provide your name, position and organization in the email itself. Enrolment will be on a first-come, first-served basis.
updates
Would you like to keep up-to-date with developments in relation to 'Designing a Community of Care' and other healthcare-related news from the Fund? Sign up for the Care newsletter by sending an e-mail to
[email protected]
, mentioning 'Registration for Care newsletter' in the subject line.
Photo above: Sander van Wettum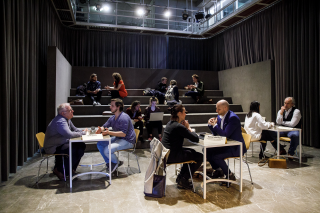 6 Sept: Grant Programme for Internationalization Advice
6 Sept: Grant Programme for Internationalization Advice
8 August 2018

Do you want to submit an application for the third round of the Grant Programme for Internationalization and do you have a specific plan that you wish to present to the Fund's staff? If so, then register now for the Grant Programme for Internationalization Consultation Session that Creative Industries Fund NL is organizing at Het Nieuwe Instituut.
The Internationalization team will be ready to offer advice and help you to improve the application. With this grant programme the Fund supports projects that substantively contribute to nurturing, publicizing and reinforcing the international position of today's creative industries.
date
: Thursday, 6 September
time
: between 16:00 and 19:00 (each consultation lasts a maximum of 20 minutes)
venue
: Het Nieuwe Instituut, Rotterdam
registration
Register by 2 September at the latest via
[email protected]
, mentioning 'Grant Programme for Internationalization Consultation Session' in the subject line. In the message provide your name, organization and the country (or countries) where you intend to implement the project, as well as the discipline(s) involved.
Photo above: Aad Hoogendoorn