news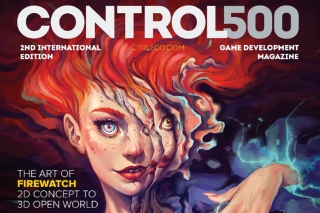 8 September 2016

By issuing the Open Call: Participation in Gamescom Cologne 2016, Creative Industries Fund NL was supporting nine indie studios which presented their work in the Holland Pavilion during the Gamescom games fair. The game development magazine Control brought out a special Gamescom edition to accompany this presentation.
The editors of
Control
magazine, an on- and offline publication for game developers, interviewed the indie developers about their latest games. The magazine also provides insight into the legacy of the Game Fund and offers an overview of how developers can submit applications via Creative Industries Fund NL from 1 January 2017.
You can read the online version of the magazine here: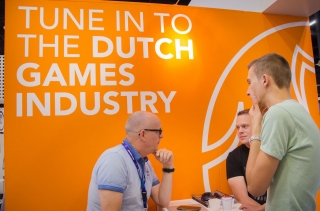 Ten tips for a scorcher of a pitch
Ten tips for a scorcher of a pitch
8 September 2016

From 17 to 22 August, nine Dutch indie game developers presented their newest games at the Holland Pavilion during Gamescom in Cologne. Gamescom is Europe's biggest gaming fair, an event that attracts 400,000 visitors and participants from all over the world. Creative Industries Fund NL joined forces with the Dutch Games Association, Dutch Game Garden and Control Magazine to offer these nine teams a platform at Europe's most important games fair.
The teams received pitch training prior to Gamescom. They worked on a scorcher of a pitch together with experts from the games industry. These training sessions were organized by Dutch Game Garden. Jan-Pieter van Seventer, Vlad Micu, Gillian de Nooijer and Martine Spaans offered several tips and tricks during the first training session:
Plan about 2/3 of your meetings in advance, at least 3 per day.

Think up a good introductory sentence and talk to familiar people.

Make a portrait gallery with mug shots of the most important journalists, publishers and other relevant people. Memorize their faces, so that you can approach important people with ease. You'll come across the most important people at the most unexpected moments.

Make sure your pitch is lively and that you can convey the experience in one go. Be clear about what your genre is. Have your statistics and figures readily available and understand what they mean. Avoid a standard little talk.

Be prepared and have your game trailer ready to play on as many different devices as possible, so that you can give a pitch at any given moment. Pitch everywhere: in the queue at the cafeteria, at the Holland Pavilion or in the hotel lobby. That's they way to test your preparation, your pitch and your adaptability.

Help your fellow exhibitors to expand their networks by introducing them to the party you've just been talking with.

Perfect media mailing: brief, clear-cut and simple, and include a trailer. Understand their specific target group. July is the month to contact the media, because only a few of the major publishers are active.

Sometimes people are looking for your expertise rather than the product.

Maintain your Twitter contacts and remain active on Twitter – during and after Gamescom.

After Gamescom devote time and attention to a good follow-up: thank the people you've talked to and keep on mailing them.

Image: Tamara Robeer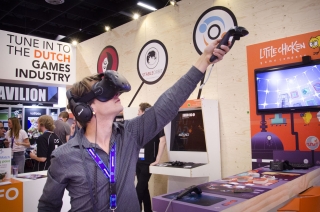 Looking back at Gamescom 2016
Looking back at Gamescom 2016
8 September 2016

For the third year in a row, Creative Industries Fund NL supported the Holland Pavilion at Gamescom – the largest game fair for consumers and professionals in Europe. The Netherlands retains its international reputation as an 'indie land'. The Fund issued an Open Call to select nine young game producers. They presented their games in the fair's business section together with some larger Dutch game studios and publishers.
Text: Joris van Ballegooijen, Grant Officer for E-culture. Images: Tamara Robeer
It was immediately evident that the mix of indies and larger studios in the pavilion works well – there was plenty to play. That made the pavilion lively and made it stand out from the other national pavilions. It seems as if there is no competition between the parties who are active in the global games market. According to Pim Bouman of Gamious – a more established studio from Haarlem – participating in a fair like Gamescom is an essential part of fledgling games developers growing to maturity. Creating a game is one thing, but going on to successfully launch it in the somewhat overcrowded market is something completely different. The contact with other developers, media and international distributors is a reality check and for some studios it's a wake-up call.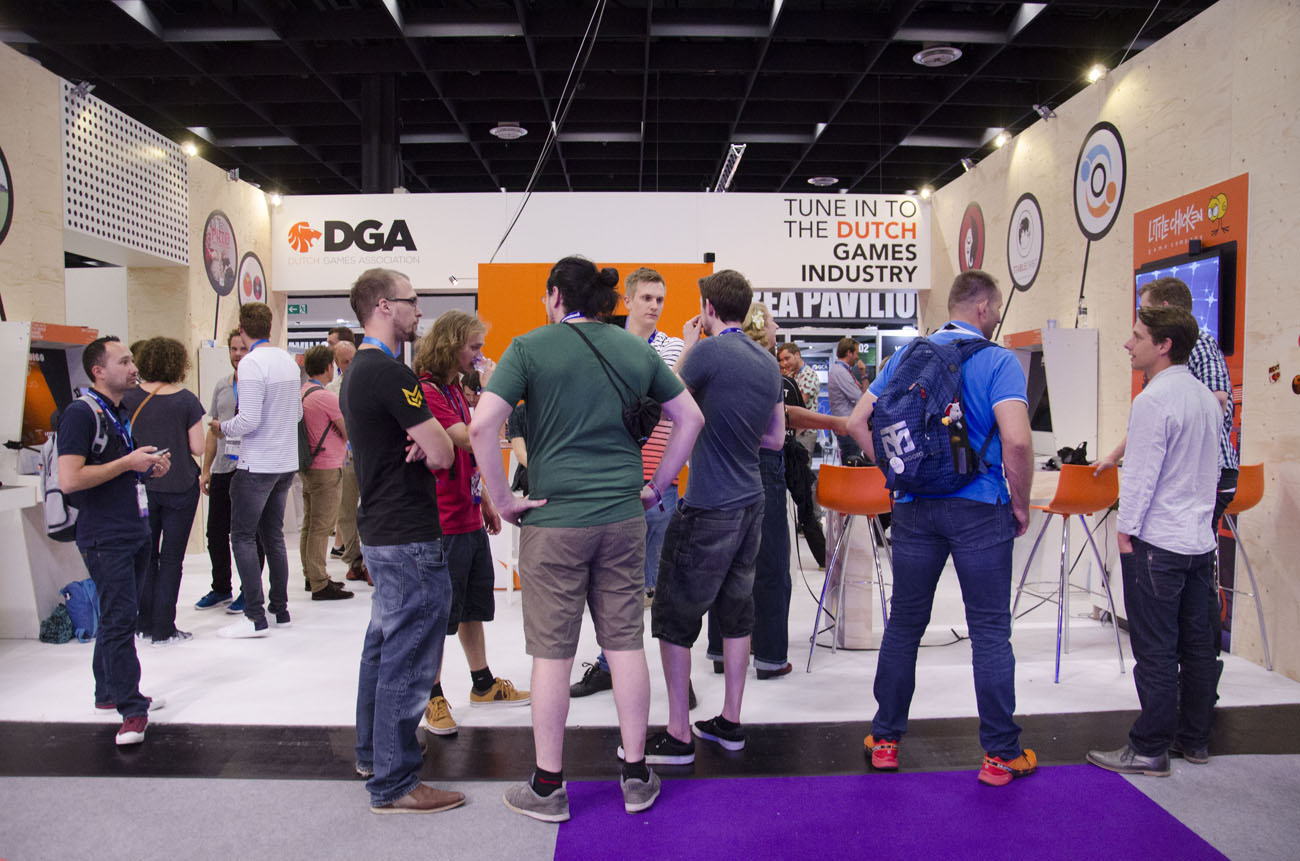 Producing games is business and that's something else you have to learn as a start-up studio, for which the studios receive coaching. All the participants took part in a pitch training prior to Gamescom and in the pavilion the media in attendance are welcomed and guided around the various arcade-like displays. During Gamescom, the Dutch Games Association (DGA) and Dutch Game Garden organized activities such as a networking morning with Dutch, Flemish and Finnish parties as well.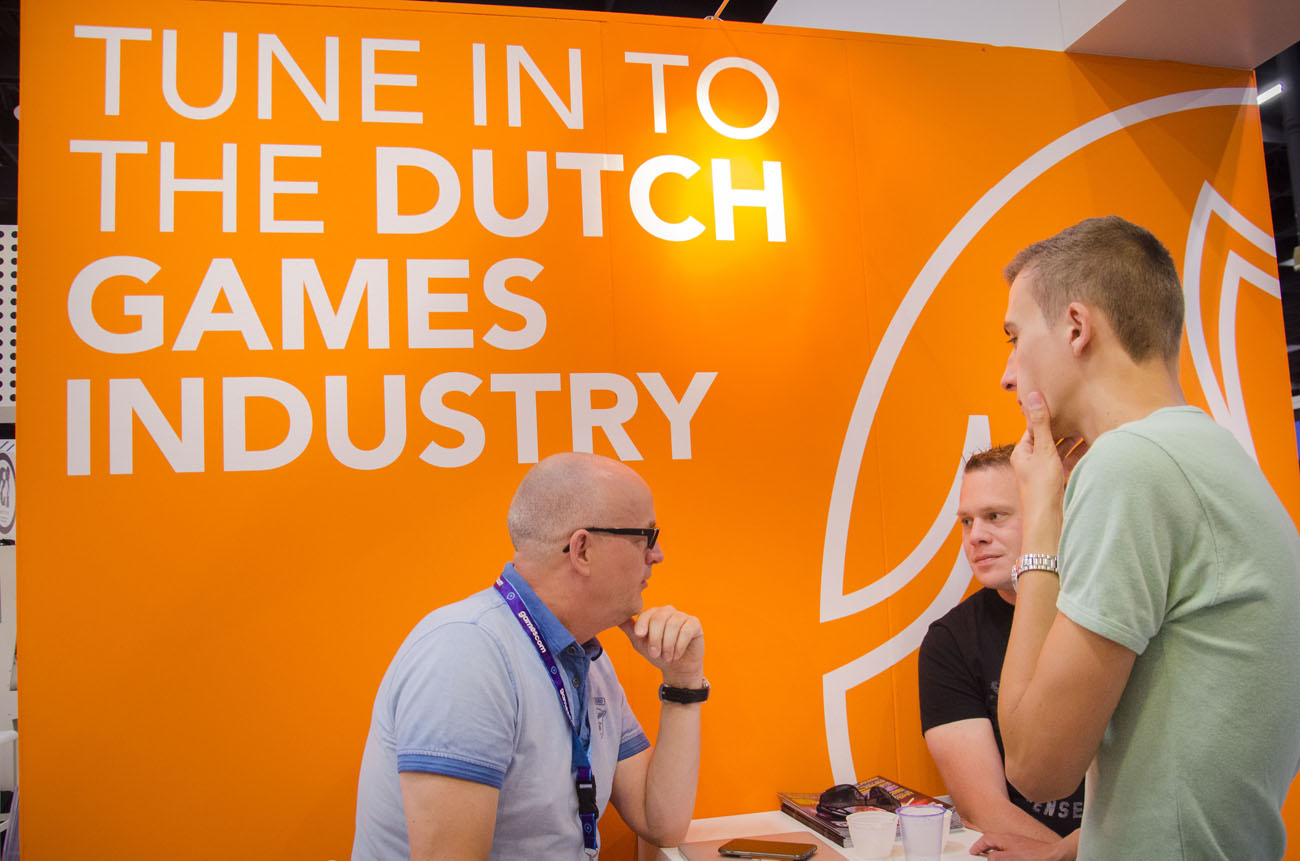 Without exception the developers were enthusiastic, even though it remains to be seen what the fair will eventually generate in terms of business. Jim Offerman of the space station simulation game Stable Orbit can self-assuredly report that for him – besides a great deal of media attention – Gamescom has resulted in a new developers kit for the oculus and a sponsorship deal with the OSVR platform. Ard Jacobs of Pillo Games underscores how difficult it is to express the results in turnover, given that most of the games are not on the market yet. The same applies for the consumer version of his alternative controller, which involves the player interacting with the game via a cushion. He can nevertheless state that at Gamescom he was able to make concrete agreements with 15 parties who want to make their games available via the new platform. Moreover, for next year Pillo Games is already assured of a place in the spotlight, thanks to an order of 12 controllers for one of the booths.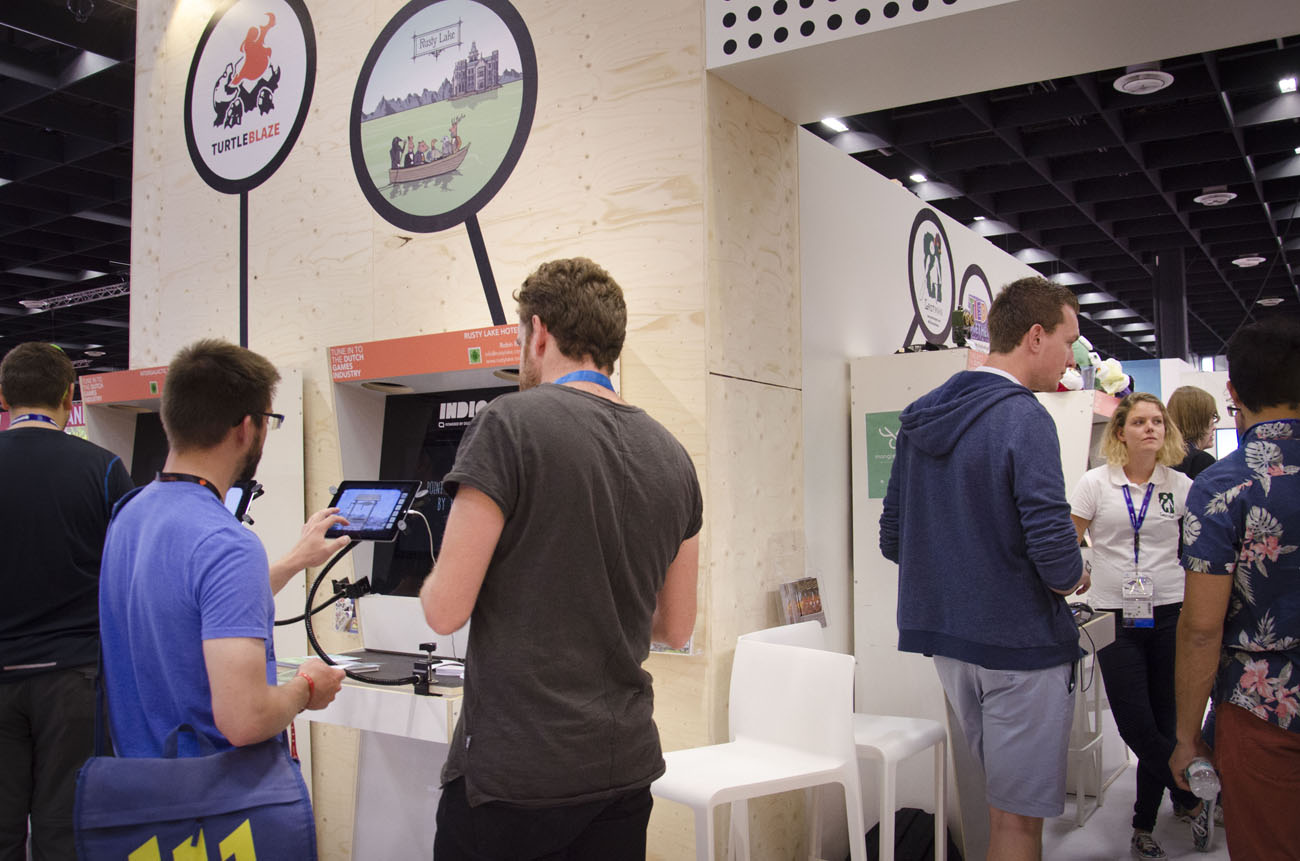 Indigo stand for Rusty Lake Hotel game. Developer en game designer Maarten Looise talking with a visitor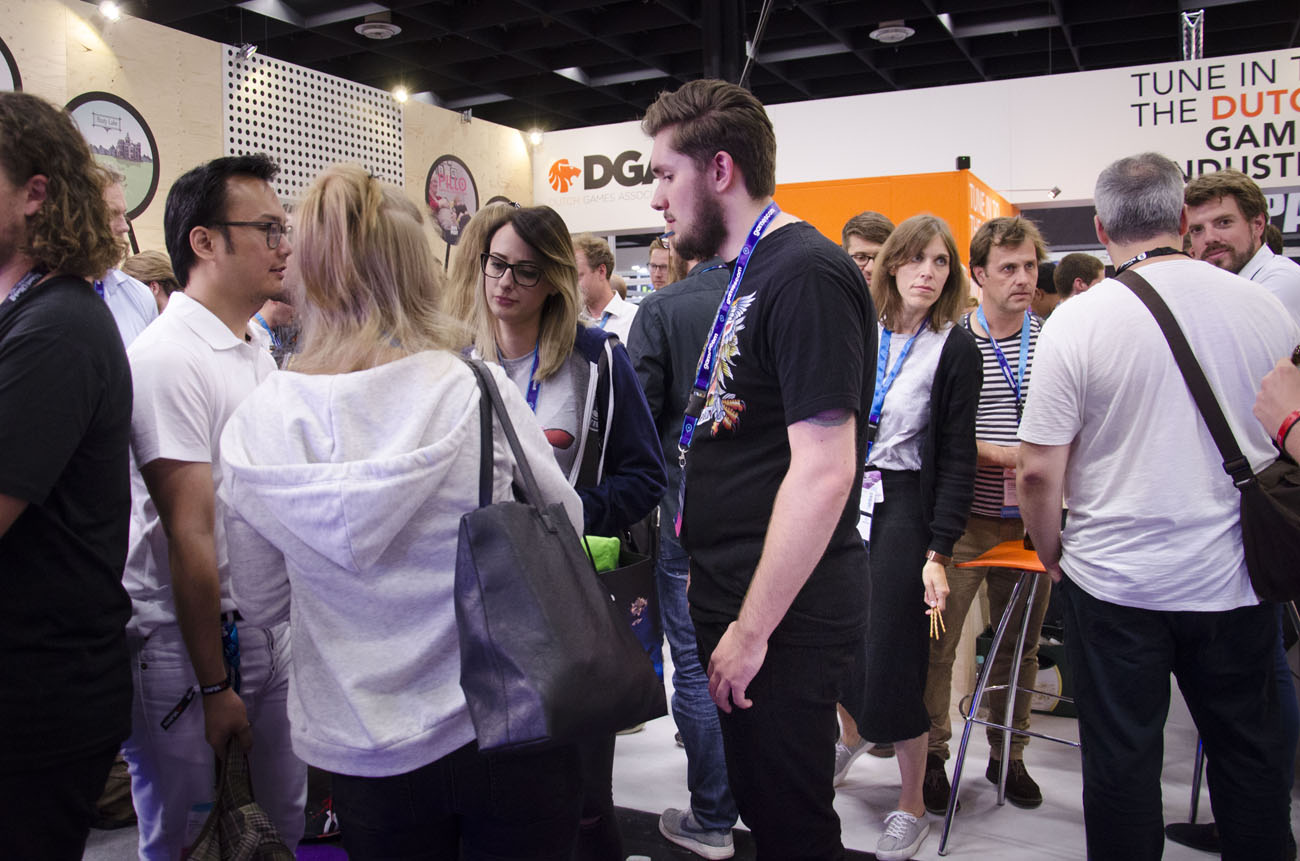 Dutch Drinks @ Gamescom Holland Pavilion, a networking reception at 18 September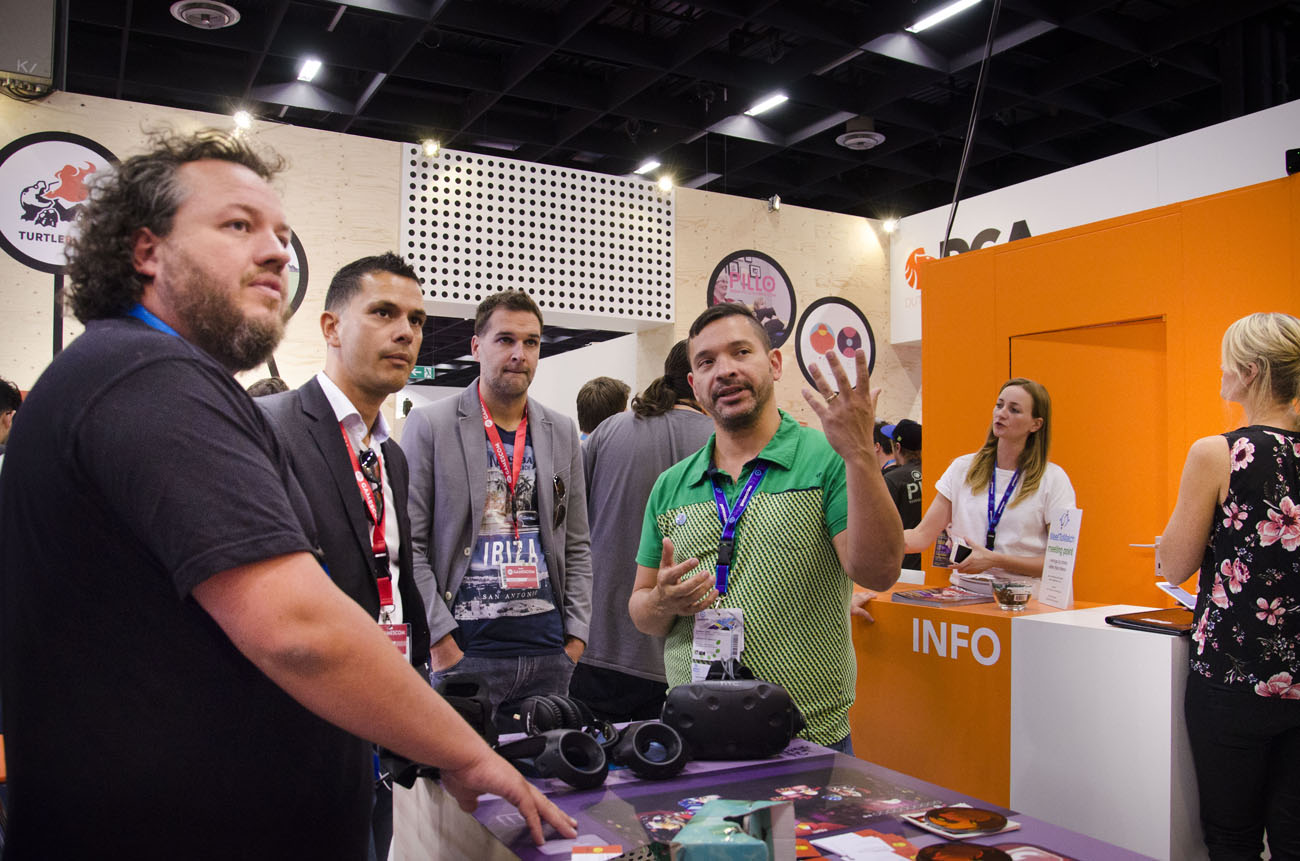 Next to the supported indie developers other parties like Little Chicken also presented their game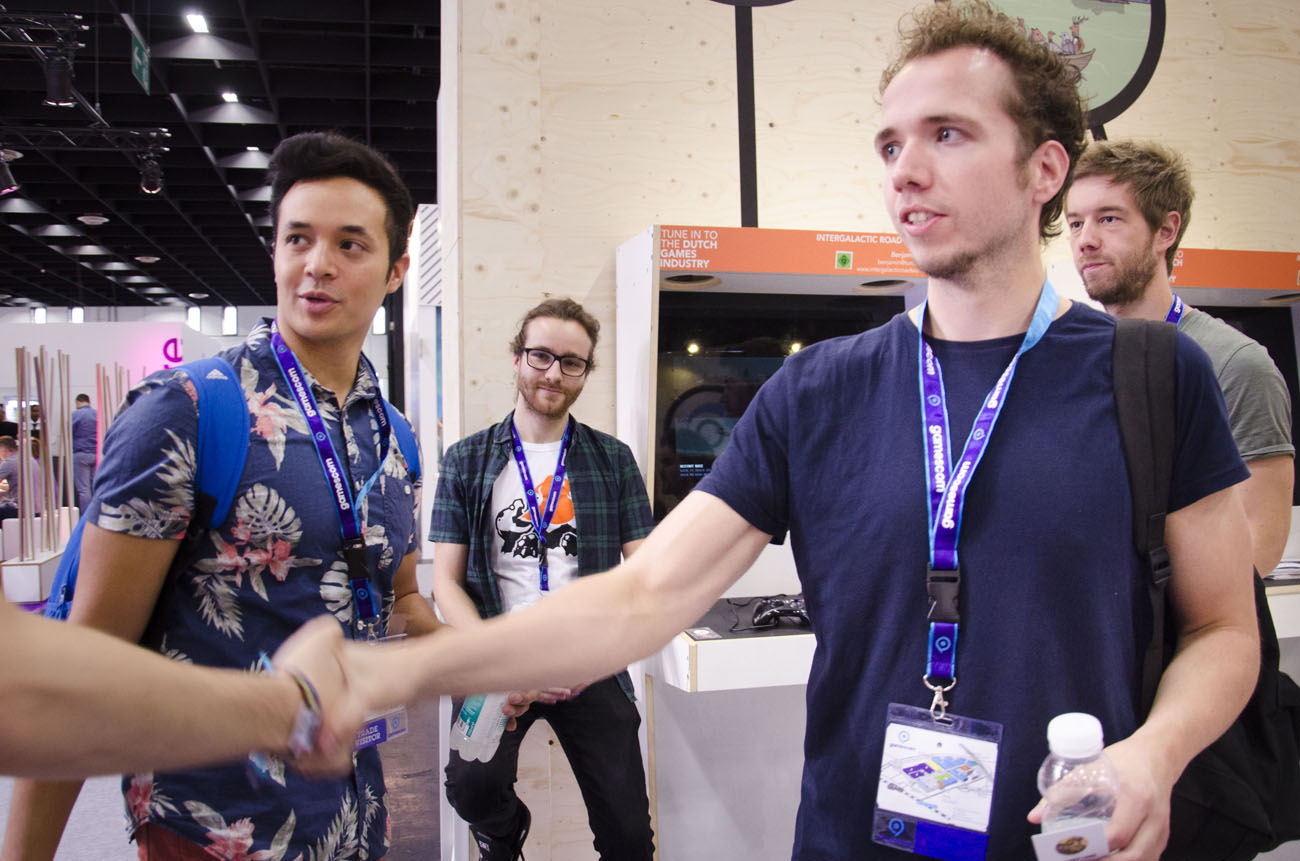 Meeting point at the Holland Pavilion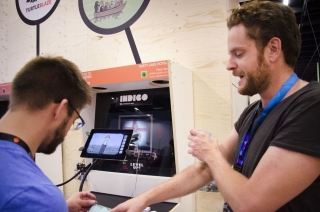 Grants for Games from 2017
Grants for Games from 2017
8 September 2016

People working in the games industry can apply for grants through the Game Fund, via the Grant Programmes for E-culture or Talent Development, or via the Internationalization Programme.
From 1 January 2017
From 1 January 2017, the Game Fund will be integrated into the new Grant Programme for Digital Culture (formerly known as the Grant Programme for E-culture), which will widen the scope of games and projects that are eligible for financial support. Within the Grant Programme for Digital Culture the focus is research, experimentation and reflection. The change will further integrate the games industry within the creative industries. This creates new opportunities, not only for game developers, but for researchers and people from other creative disciplines, who are interested in incorporating games in their work as well.
Creative Industries Fund NL will be present at the Control Conference on 28 September 2016 to explain the forthcoming changes.
More information:
Game Fund
,
Grant Programme for E-culture
,
Grant Programme for Talent Development
and
Grant Programme for Internationalization
.
Image: Tamara Robeer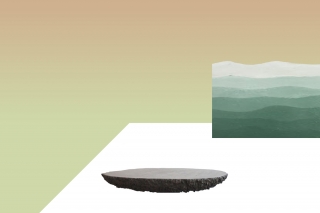 Selection Open Call Working period Jan van Eyck Academy
Selection Open Call Working period Jan van Eyck Academy
30 August 2016

In June, Creative Industries Fund NL and the Jan van Eyck Academie invited designers and creatives to apply for a residency at the Jan van Eyck Academy and to submit proposals for the development of a new, investigative work.
The open call produced 78 proposals in all, which were submitted to a selection committee consisting of Chairwoman Saskia van Stein, Director of Bureau Europa, and advisors Huib Haye van der Werf, Head of Artistic Programmes for the Jan van Eyck Academy, and graphic designer Michaël Snitker.
In its final decision the Committee selected the following proposals:
Henrik van Leeuwen – Research Werner Mantz Lab

Alessandra Covini – Landscape of Furniture

Annee Grøte Viken – Table Tableaux or the Act of Letting a Person into Your Home

Anna Reutinger – How U survive This Life Everyday, Resourcefully

When assessing the proposals the advisors focused particularly on the substantive plan, the participation of one or more of the Van Eyck Academy's Labs, the designer's expertise and the correlation between these elements.
The Committee noted that there were many submissions from graphic designers and fewer from architects or product designers. The proposals focused both on extending the technical scope and on experiment and exploration of the boundaries of the medium itself. Several of the proposals interwove a variety of disciplines, an aspect that the Committee commended. In addition it responded positively to the deployment of the different lab functions and the research-based working method of the various designers. However, the Committee also noted that a number of makers failed to present a clear concept of how the labs were to be used for their project, with the result that the working period lacked relevance or was too summarily described.