news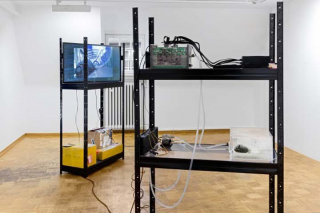 Thirteen projects from Digital Culture programme's third round receive support
Thirteen projects from Digital Culture programme's third round receive support
16 November 2017As with the previous evaluation rounds, the advisory committee of the Grant Programme for Digital Culture had to prioritize the approved projects: the pressure on the budget remains great. The third application round in 2017 yielded more than 40 applications. In general, the 13 projects that were awarded a grant stand out for their markedly experimental and investigative character. In this article we highlight a few projects within this round that are to receive a grant.
start-up grants
This year's high number of applications for a start-up grant is remarkable. In this round no fewer than 17 were presented to the committee. A start-up grant is often perceived as accessible, because there is no requirement for co-funding and it is useful to test out or elaborate an idea comprehensively prior to setting up a large-scale project. The maximum grant for these applications is €7,500 and they usually lead to a follow-up application within the Digital Culture programme. The challenge when making an application for a start-up grant is to describe the activities for the initial investigative phase properly, and at the same time outline the ultimate goal on the horizon.
The committee awarded six start-up grants in this round, including Snapscan by JODI and 3D-printing Silk by Theti Studio:
Snapscan
In the light of snapshot photography, the Belgian-Dutch artist duo JODI is introducing the 'Snapscan' concept, a type of 3D scan that uses an iPad and a 3D scanner to offer everybody the possibility of scanning their surroundings on the spur of the moment. JODI has been awarded a start-up grant for the Snapscan website, where the 3D-scan models are documented and can be combined with the aid of tags. With the start-up grant the duo has the opportunity, among other things, to establish a collaboration with an external 3D programmer.
Further information (in Dutch)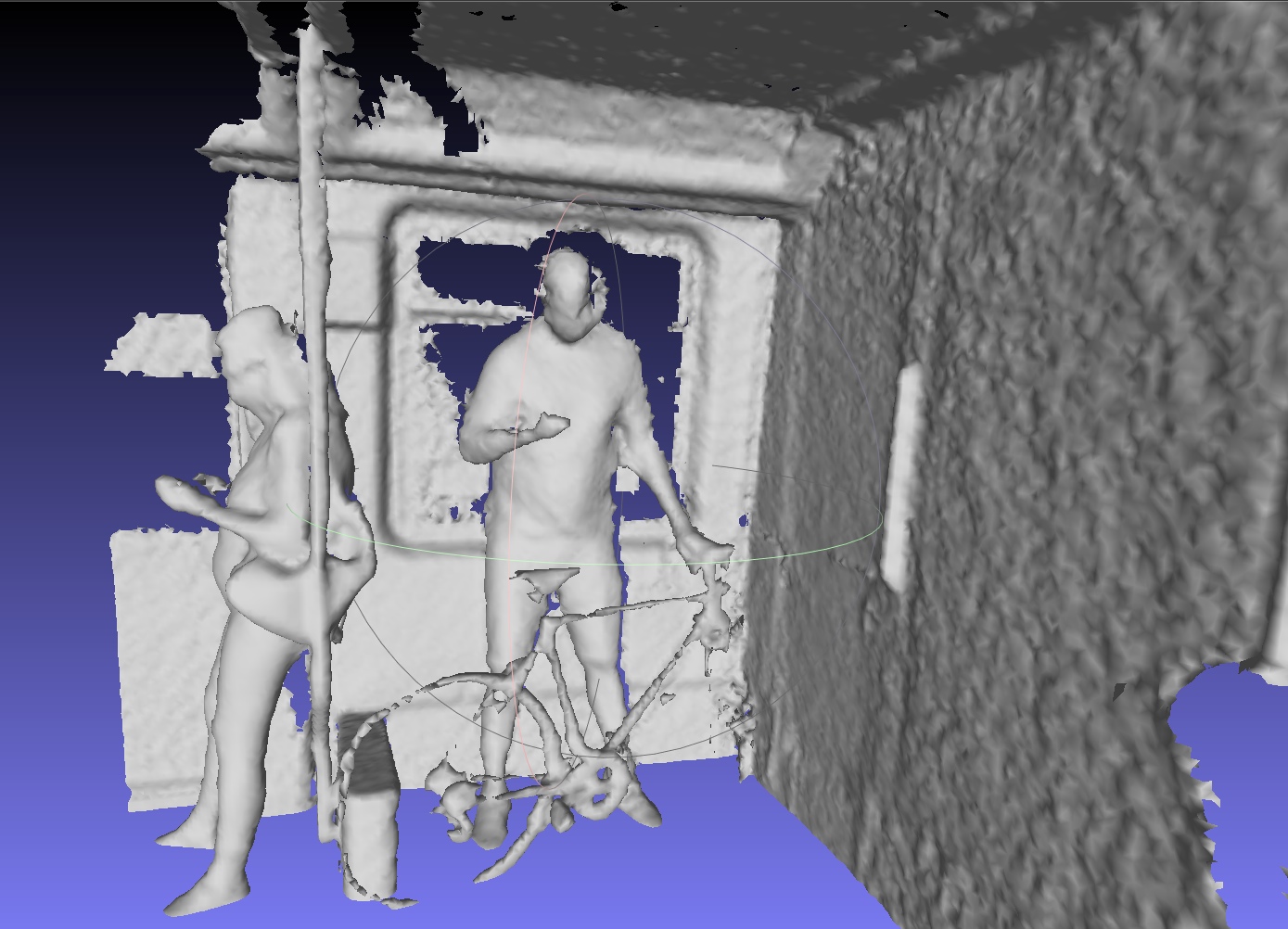 Snapscan - SCA by JODI
3D-printing Silk
In association with designer Olivier van Herpt, Theti Studio is working on the prototype of a 3D printer that manufactures textile directly from the silkworm cocoon, in a chosen form and without waste. With the start-up grant Theti Studio will investigate the existing technology in greater depth, test it for safety, develop the prototype, and present the results to the public and investors. Further information (in Dutch)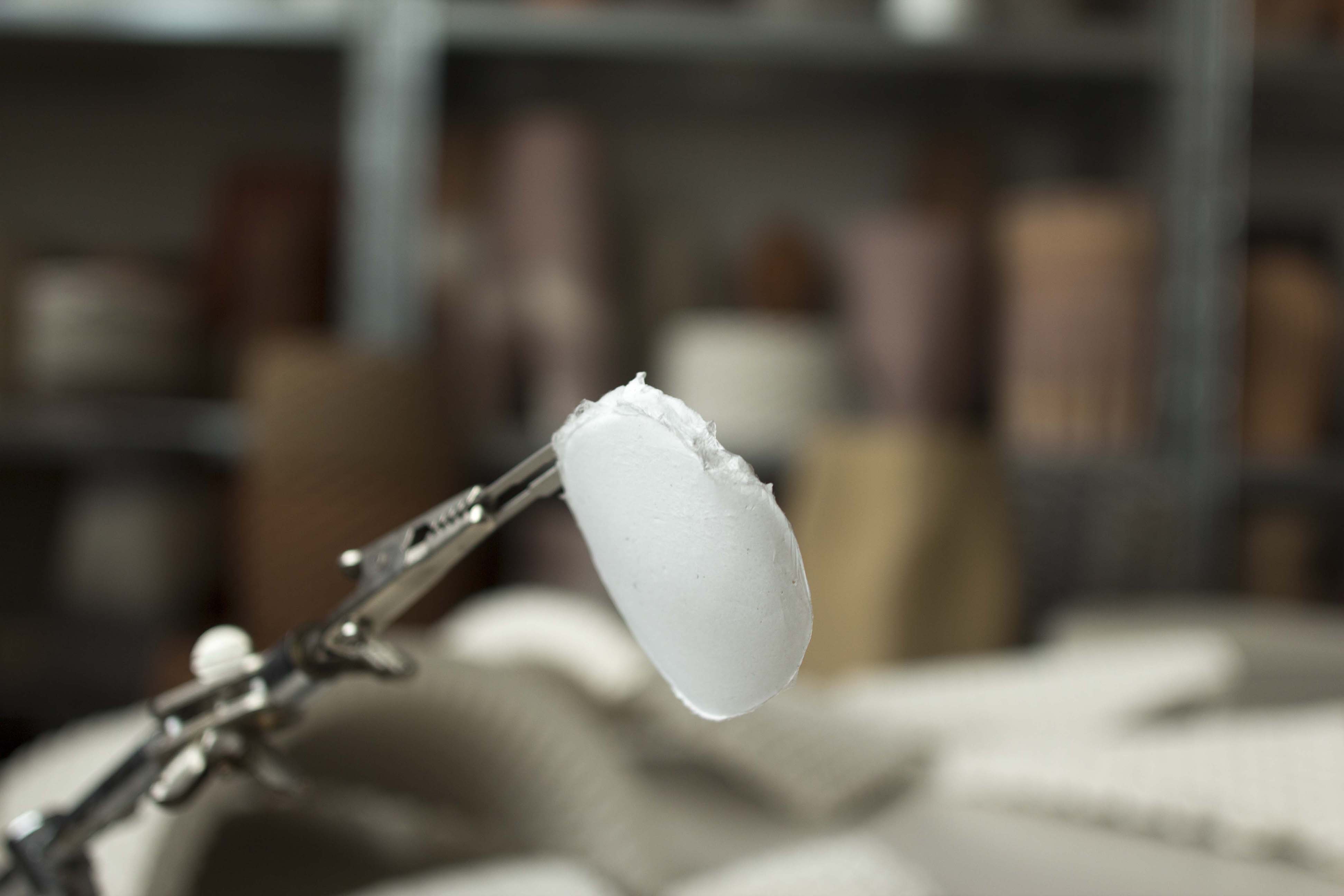 3D Printing Silk by Theti Studio
Project grants
The remaining seven awards within this round were project grants. Within the Grant Programme for Digital Culture, applications can be submitted for research, experimentation, development, production of new media, interaction design and game play, as well as the presentation of such projects. Activities and publications that focus on the analysis of and reflection upon digital culture are also eligible for support, as are projects aimed at (international) knowledge exchange and projects that stimulate public interest in the field.
Felipe Ignacio Noriega's CodeKlavier project and 'The Dutch Savannah' exhibition concept by Stichting De Domijnen were among the projects that received a grant from this application round:

CodeKlavier
Felipe Ignacio Noriega has been awarded a project grant for the realization of CodeKlavier, a project for which he previously received a start-up grant. The CodeKlavier is an operational programming language linked to a keyboard interface, which enables the pianist to code in real time while playing. This results in a music performance combined with live coding. The applicant aims to turn the paradigm of art being created with technology on its head, thus encouraging a more intuitive, artistic manner of coding. Further information (in Dutch)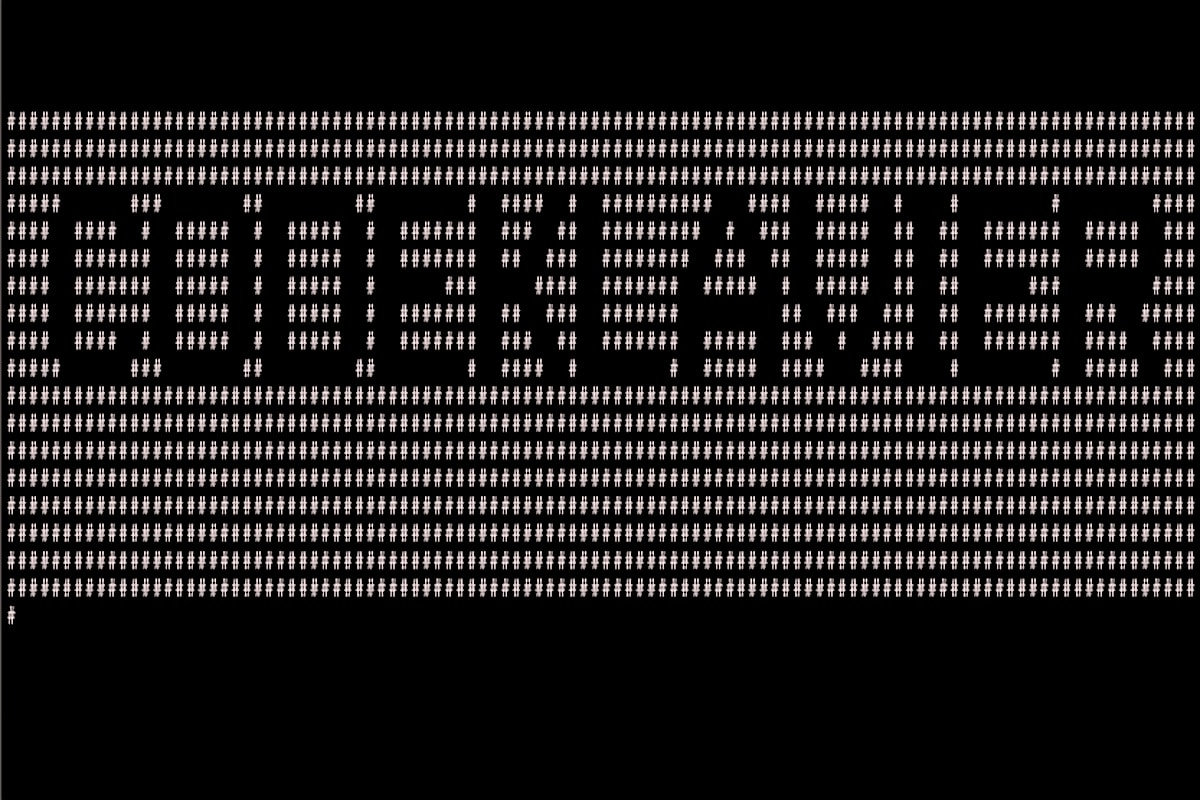 CodeKlavier by Robot Theater Electronics
The Dutch Savannah
Stichting De Domijnen culture foundation is receiving a grant for 'The Dutch Savannah' transdisciplinary project. An exhibition with work by Sara van der Heide, Femke Herregraven, Ger Dekkers and diverse international makers aims to raise public awareness of the consequences of our daily data use. Water is used as a connecting element between the virtual and physical worlds, thereby symbolizing today's broader ecological problems and sustainability issues. Further information (in Dutch)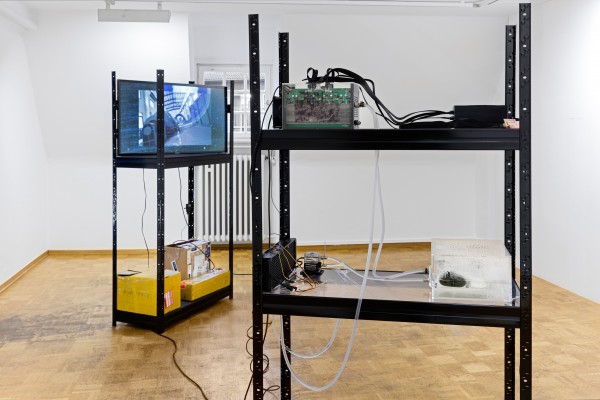 The Dutch Savannah by Stichting de Domijnen
Thirteen grants awarded
The advisory committee was able to support 13 projects from this round, with which the available budget of €200,000 was used to the full. View the complete overview of grants awarded and descriptions of these supported projects (in Dutch).

2018 deadlines
Four rounds are planned in 2018, with the first deadline falling on 31 January 2018. Read more about how to apply to the Grant Programme for Digital Culture.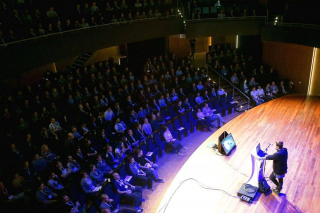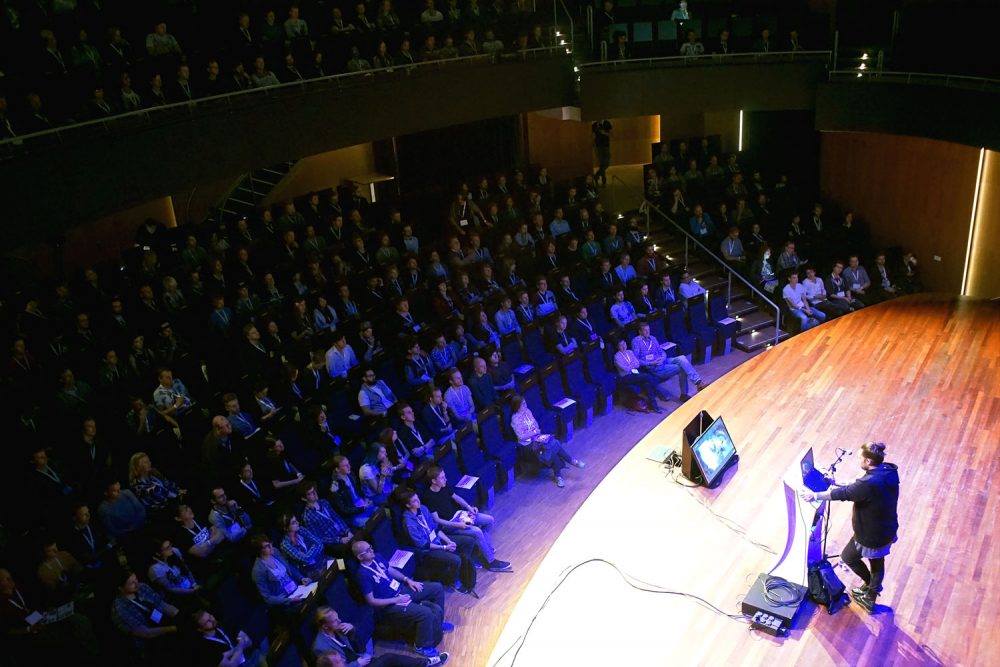 14 November 2017

Creative Industries Fund NL will be present at Control Conference 2017 in Tivoli Vredenburg, Utrecht, on Wednesday, 29 November. During this conference for game developers, which is organized by Control magazine, three designers supported by the fund in 2016 and 2017 will give a presentation: Roel Ezendam, Charlotte Madelon and Matthijs van de Laar.
Roel Ezendam
Roel Ezendam is a co-founder of RageSquid, a recently established game studio where he works as a coder and designer. During his
session
at Control Conference, Roel will be demonstrating the three design methods that RageSquid has used to create, shape and evolve the design of Descenders. Last year the team received two grants from the Game Fund for this game: one for a preparatory study and one for the further elaboration of the resulting concepts.
Charlotte Madelon
Charlotte Madelon is a game developer and artist. She is currently working on the White Lily project, a mobile entertainment game that uses the anatomy of a flower to examine the consequences of youth traumas. In 2016 Charlotte received a grant from the Game Fund for this project. During the
session
Charlotte will talk about the design process and the game's creation in greater depth.
You can read Willemijn de Jonge's article 'Spelen met nature & nurture' – 'Playing with nature & nurture' – about the White Lily project by clicking
here
(Dutch only).
Matthijs van de Laar
Matthijs van de Laar is Creative Director at Twirlbound, a studio he runs together with Marc Peyré. They are currently working on Pine, a game in the action-adventure genre that was supported by the Fund in 2016. During his
session
Matthijs will talk about how Twirlbound raised more than €120,000 via Kickstarter.
The Game Fund has been integrated into the Grant Programme for Digital Culture since 1 January 2017.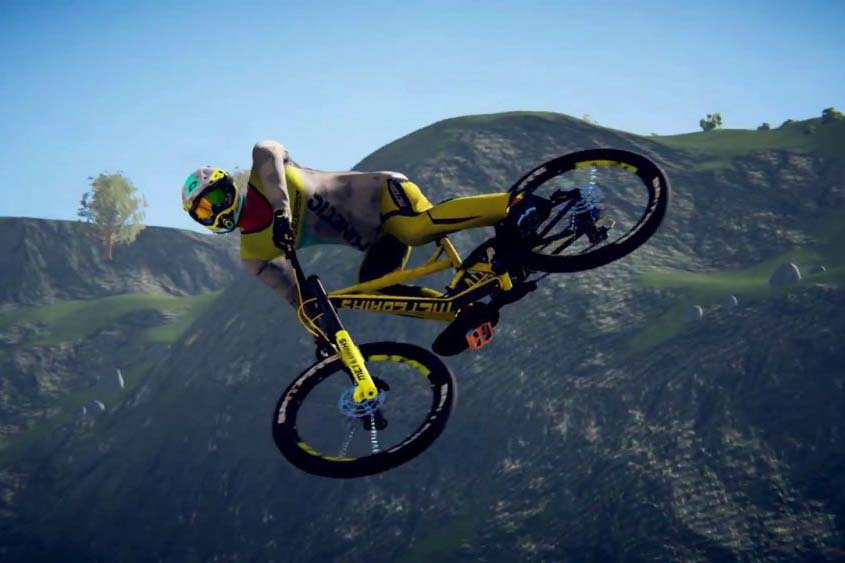 Still from 'Descenders' by RageSquid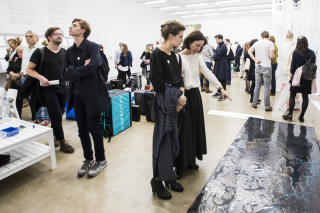 In retrospect: In No Particular Order 2017
In retrospect: In No Particular Order 2017
30 October 2017

During Dutch Design Week 2017 (21 until 29 October), Stimuleringsfonds Creatieve Industrie presented for the fourth time an exhibition about Talent Development. In the Van Abbemuseum's Studio the fund received over 5,000 designprofessionals and other interested parties, reflecting on the design practices of designers, architects and artists who received the Talent Development grant last year.
Under the title 'In No Particular Order', nine installations made a collective portrait that offers reflection in practical, poetic and critical ways on the multiform contemporary working practices of a young generation of designers. For this edition the fund invited one of the participants of the Talent Development Programme as curator: Jules van den Langenberg. In studio exchanges and various meetings, he and the 32 designers and makers who received a Talent Development grant reflect on the themes: Attitude, Inspiration, Habitat, Representation, Money, Fortune, Language, Discourse and Market.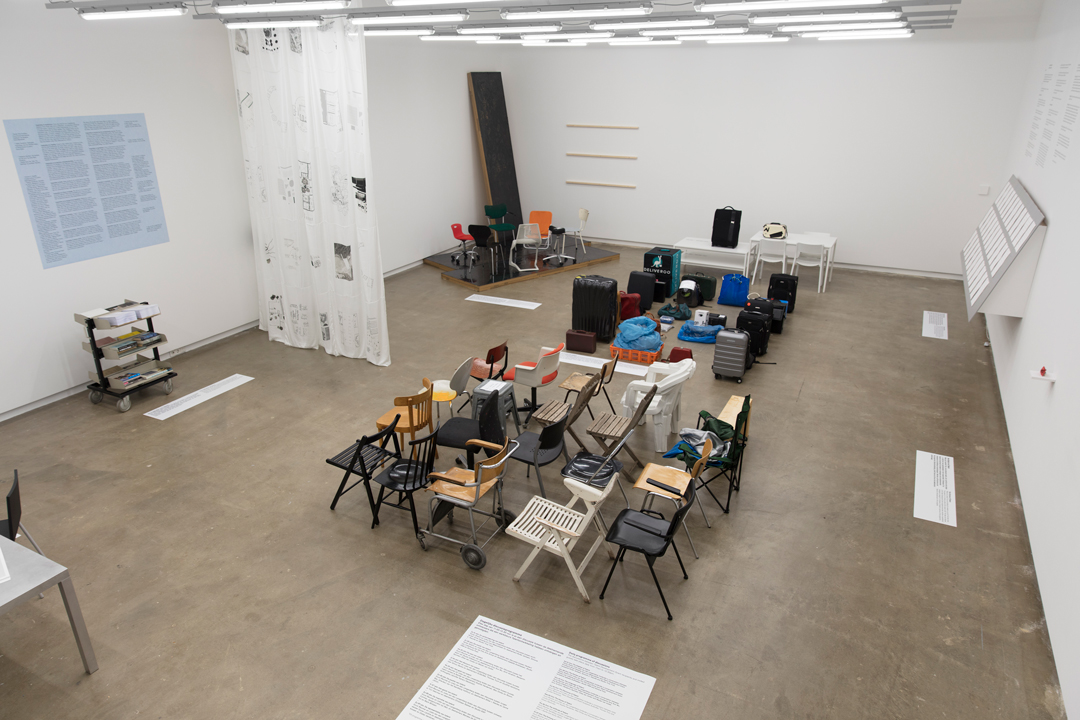 Photo: Lonneke van der Palen
All of the 32 participating designers provided input with conceptual as well as physical contributions such as sketches, prototypes and sources of inspiration. Van den Langenberg then invited nine progressive thinkers and makers from the creative industry to produce an installation based on these collections.

Jules van den Langenberg: 'Instead of showing completed projects or finished products by designers, in the cellar of the Van Abbe Museum we are showing another side of design practice. The exhibition explores the milieu of professional, personal and socio-cultural factors that young creative professionals experience today.'

participant designers and makers
Alissa + Nienke (Alissa van Asseldonk en Nienke Bongers), Amy Suo Wu, Isabelle Andriessen, Paula Arntzen, Atelier Frank Verkade, Marjan van Aubel, Christiaan Bakker, Mariska de Groot, Max Dovey, Ting Gong, Sophie Hardeman, Chrissie Houtkooper, Ruiter Janssen, Elisa van Joolen, Jules van den Langenberg, Yaolan Luo, Mark Minkjan, Simone C. Niquille, Kirstie van Noort, Simone Post, Roomforthoughts (Jennifer Kanary Nikolov(a)), Benjamin Sporken, Amir Avraham, Studio Iwan Pol, Studio RAP (Wessel van Beerendonk, Léon Spikker en Lucas ter Hall), Studio Truly Truly (Joel Booy en Kate Booy), PWR Studio, SulSolSal (Johannes Bernard en Guido Giglio), Thomas Trum, Janna Ullrich, Dieter Vandoren en Giuditta Vendrame.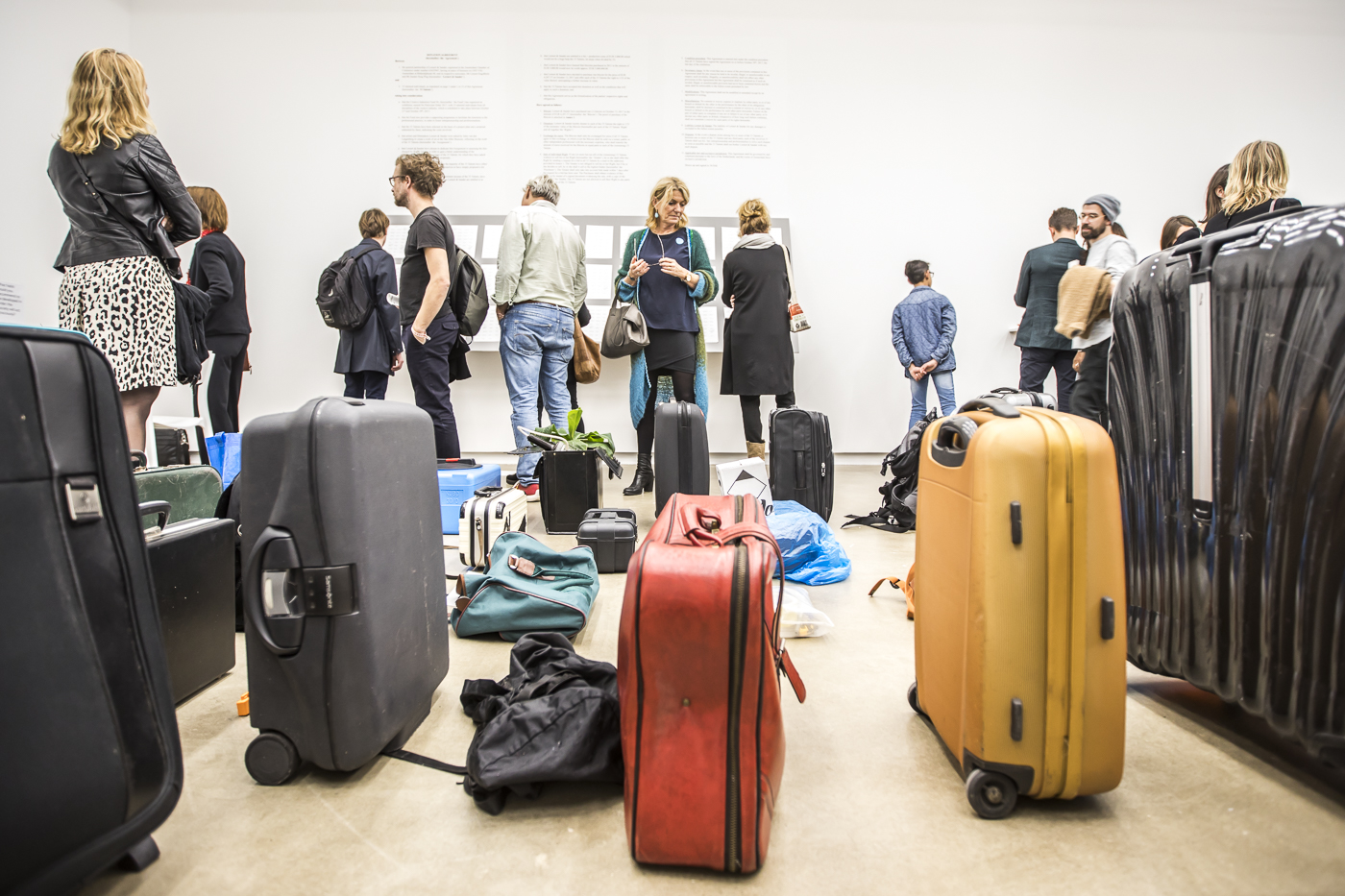 Photo: Hanneke Wetzer
The presentation shows by an anthropological approach beautifully what creative talents have in common and in which their individual choices differ from each other." - Joanna van der Zanden, independent curator and cultural advisor


living archive
The result of the joint work process, In No Particular Order 2017, showed what artistic and professional growth means, as experienced by the 32 designers and makers who received the Talent Development grant last year. As a 'living archive', the exhibition grew during the week: Studio Li Edelkoort - specialized in trend forecasting - studied in the Van Abbemuseum the portfolio's of 32 designers, analyzed their visual language and developed a moodboard for the future. Designer Jurgen Bey, director of the Sandberg Institute, organized discussions during the Dutch Design Week with the participants about the role of the designer. And all participants signed a contract for the collective Bitcoin pension fund created by artists Lernert & Sander on the occasion of the event, with the purpose of making a discussion about real fees for designers.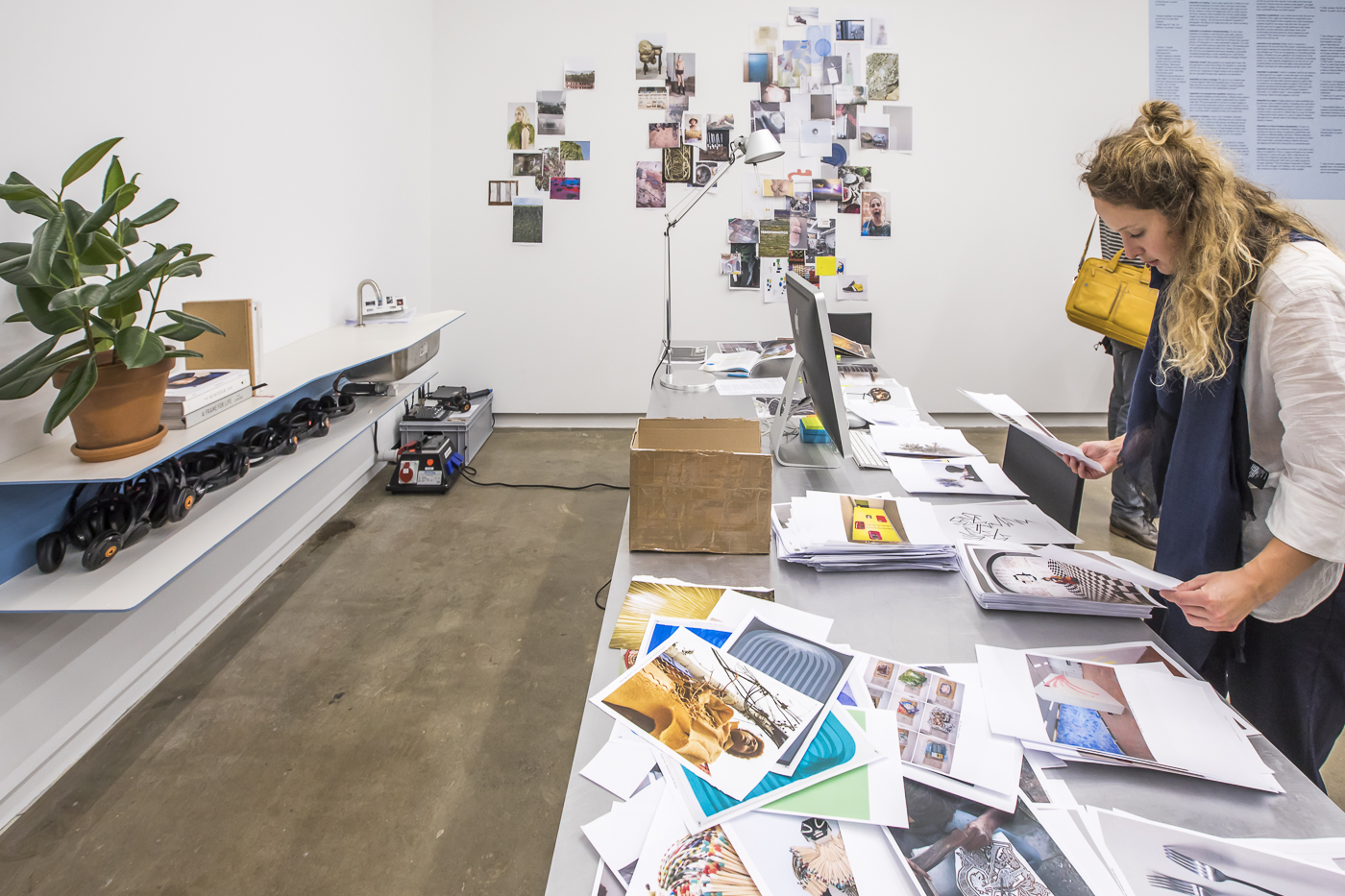 Photo: Hanneke Wetzer
'In No Particular Order turns upside-down the popular notion of talent as an innate, unevenly divided capacity. Instead, it foregrounds the way that talent is fostered and fomented through structural and social conditions, as well as revealing the financial mechanisms that determine the way in which what we call "talent" is supported on its path to fruition.' - Tamar Shafrir, design researcher at Het Nieuwe Instituut
in conversation with
The fund received more than 5,000 professionals from the design field in the Studio of the Van Abbemuseum, including designers, policy makers, (international) museum curators, design journalists, teachers and programmers. A total of 230 students from various academies in the Netherlands were given a tour. Each morning a discussion took place between participants, experts and other invited guests on the themes of the exhibition. (
Check out the programme here
)
in the media
Glamcult wrote an
article
about In No Particular Order and interviewed participants
Amy Suo Wu
and
Ting Gong
about their work practice. Frameweb spoke to Simone Post, Marjan van Aubel, Studio Truly Truly and Paula Arntzen from the Talent Development program, in the context of the exhibition.
Read the article here
. VPRO made
an item
at the DDW in which former member of the Advisory Committee Afaina de Jong meets with participants Janna Ullrich and Ruiter Janssen.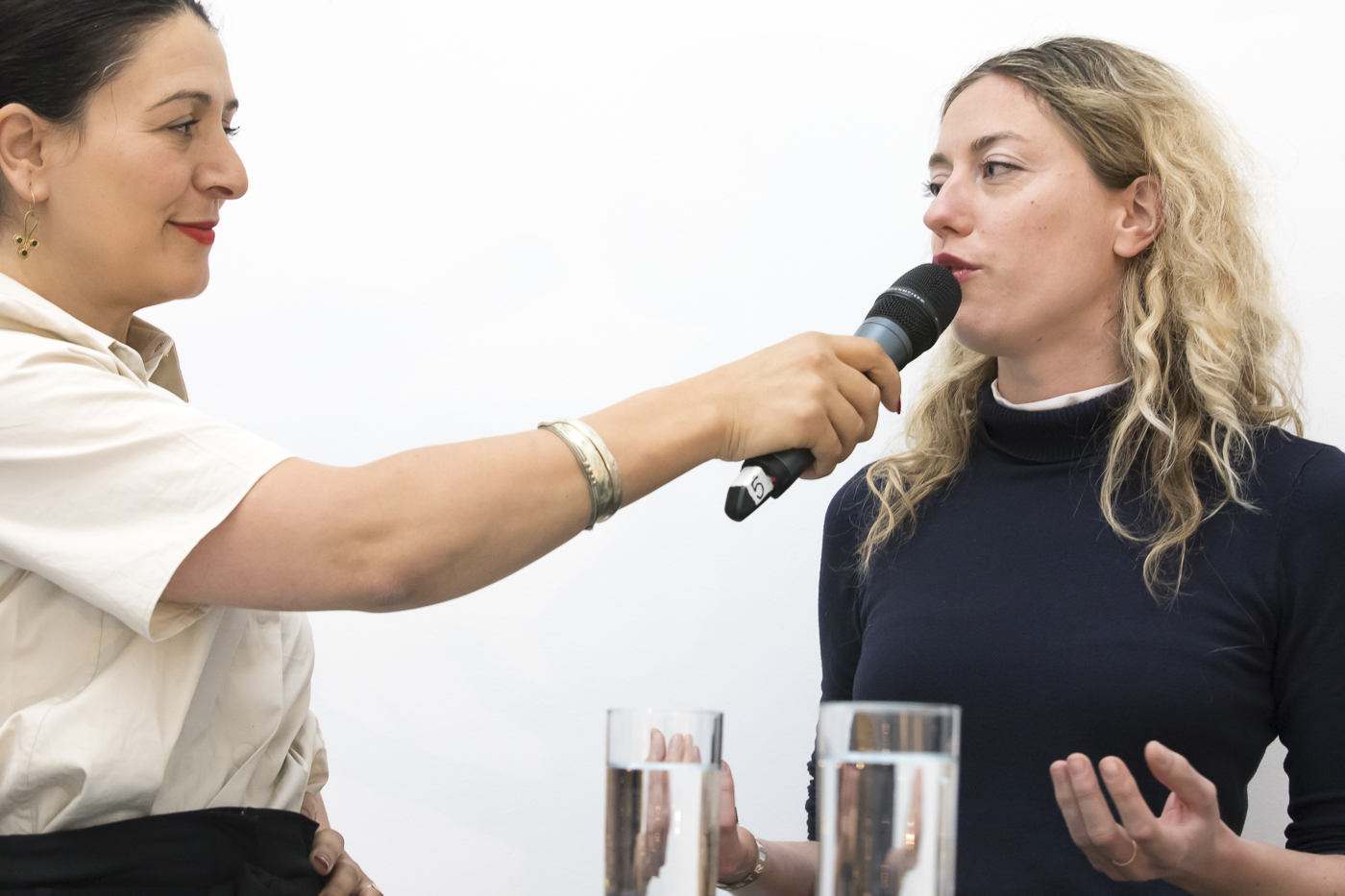 Photo: Hanneke Wetzer
Nine installations
In the following nine installations In No Particular Order presented a collective statement about contemporary design practice of a young generation of designers:
The Language of Talent
What is the socio-cultural context of the work produced by today's talent? The Talent Development Grant recipients have all uploaded their existing portfolios of work to a private online forum developed by Marsdiep. For the duration of the exhibition, the material will be studied and integrated into a visual moodboard by an onsite trend forecasting team from Studio Edelkoort, generating a future-driven vision of the designers' work.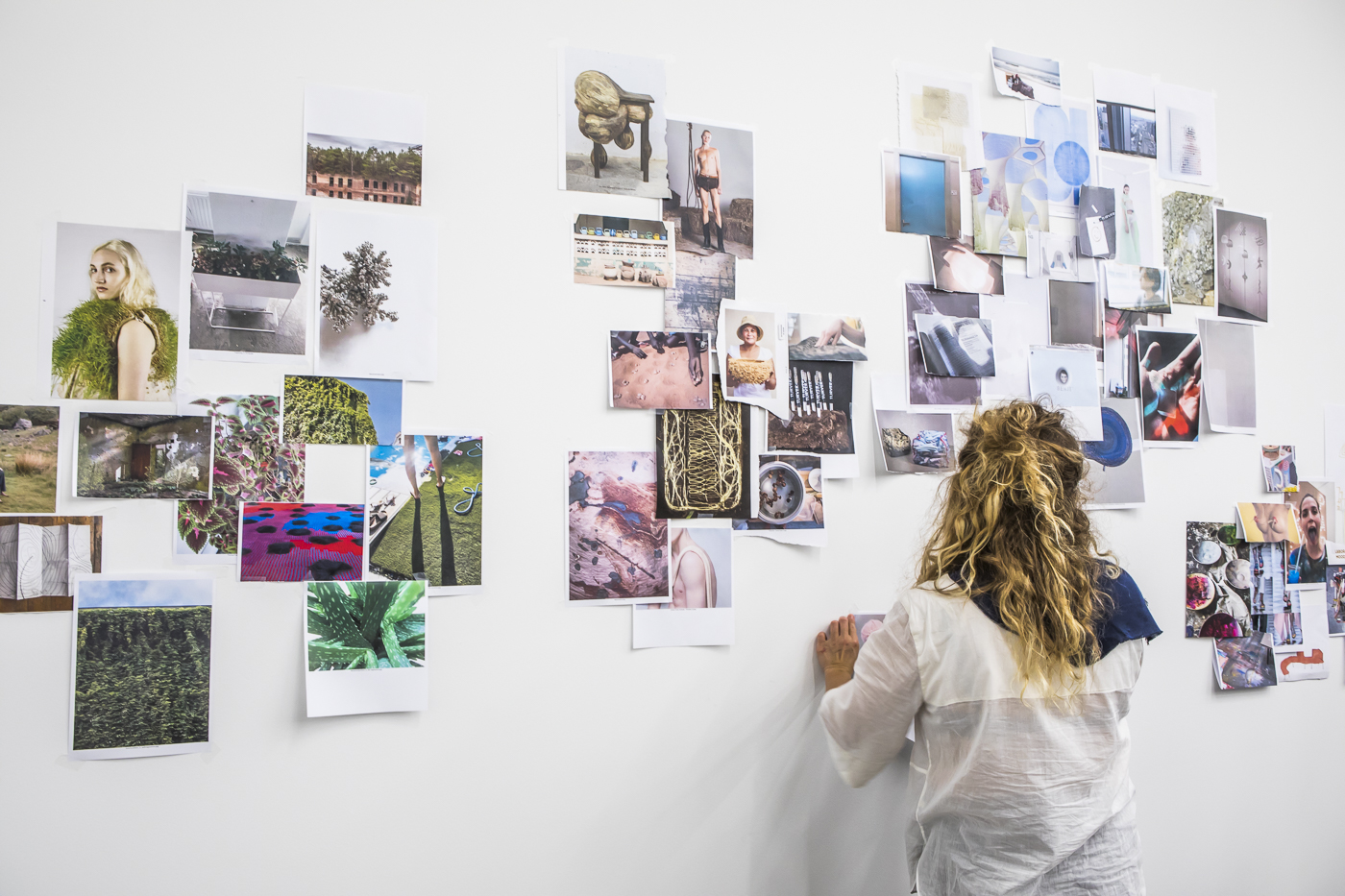 Photo: Hanneke Wetzer
The Inspiration of Talent
How does talent motivate itself? Based on books, quotes and extracts that influenced each of the Talent Development Grant recipients' practice, an analysis of the nature of inspiration has been penned by design curator Brendan Cormier. Titled 'A Text on Inspiration Inspired by 32 Texts', the essay deliberately misappropriates random fragments from each text. Do take a copy to fan your thoughts at home.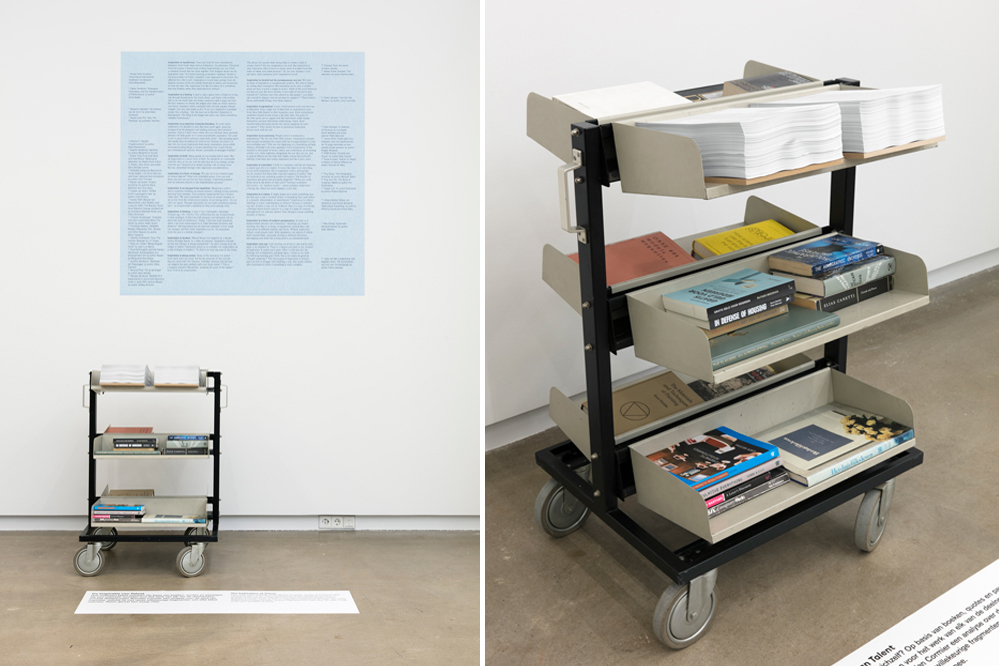 Photo: Lonneke van der Palen
The Representation of Talent
Can you tell if someone is talented by what they wear? Clothes communicate all manner of social and cultural codes. Each of the Talent Development Grant recipients contributed an item of clothing to be appropriated by fashion designer Duran Lantink. Using his anthropological approach to fashion, Lantink has produced three collective portraits of how today's talent represents itself.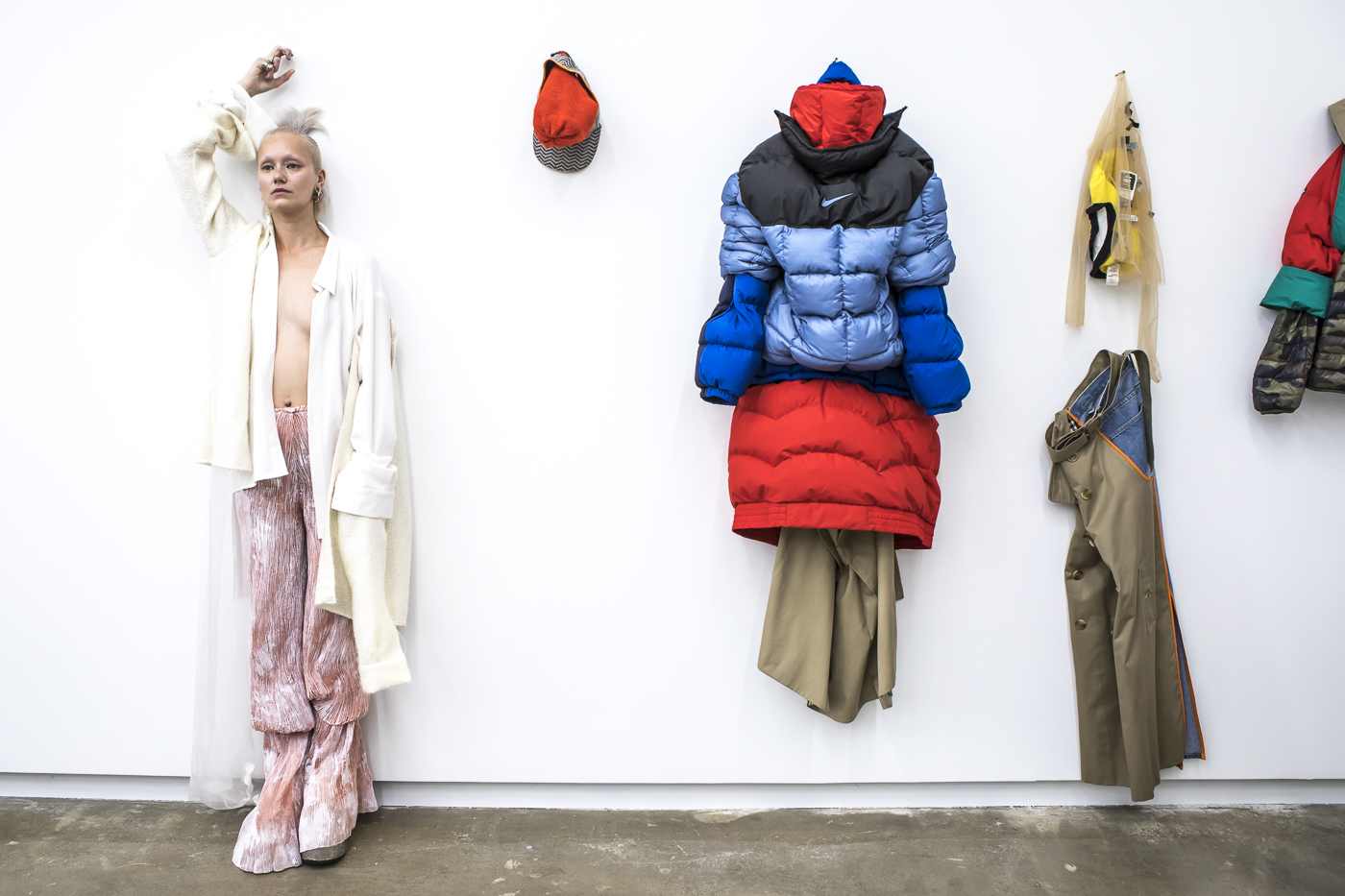 Photo: Hanneke Wetzer
The Fortune of Talent
Where am I going? If you are looking for answers, you won't find them here. The answer is in a fortune cookie at the museum café. The ideas and desires of the Talent Development Grant recipients have been rewritten as aspirational messages by designer Yuri Veerman. Himself an alumnus of the programme, Veerman interviewed each of the recipients.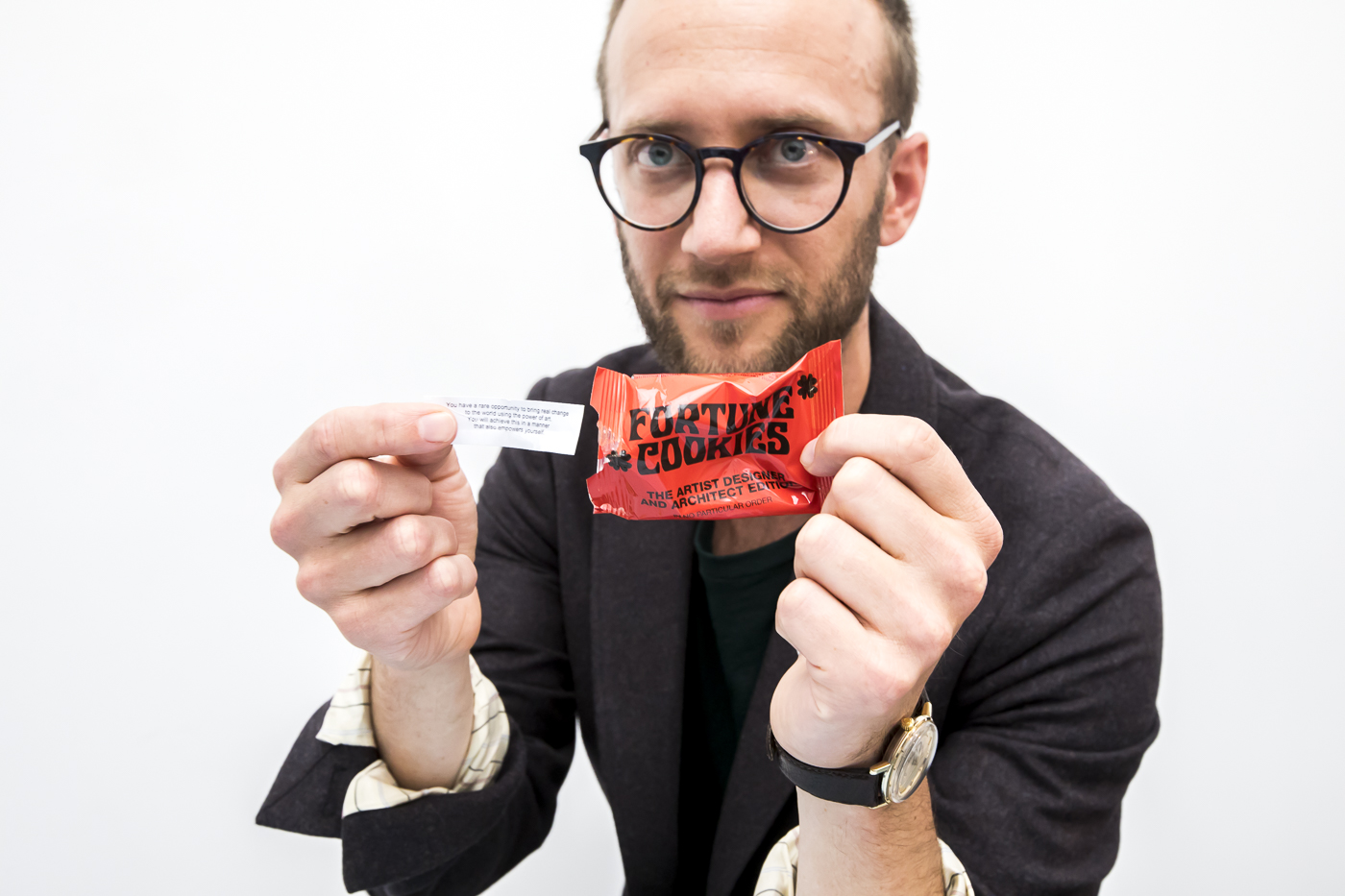 Photo: Hanneke Wetzer
The Money of Talent
Does talent translate into wealth and economic security? Creativity is predicted to take on renewed value in the era of machine learning, even if currently many of the Talent Development Grant recipients are still navigating precarious financial conditions. Opening a discussion on new futures and currencies, a collective Bitcoin retirement fund for the recipients has been drawn up by a lawyer on behalf of artists Lernert&Sander.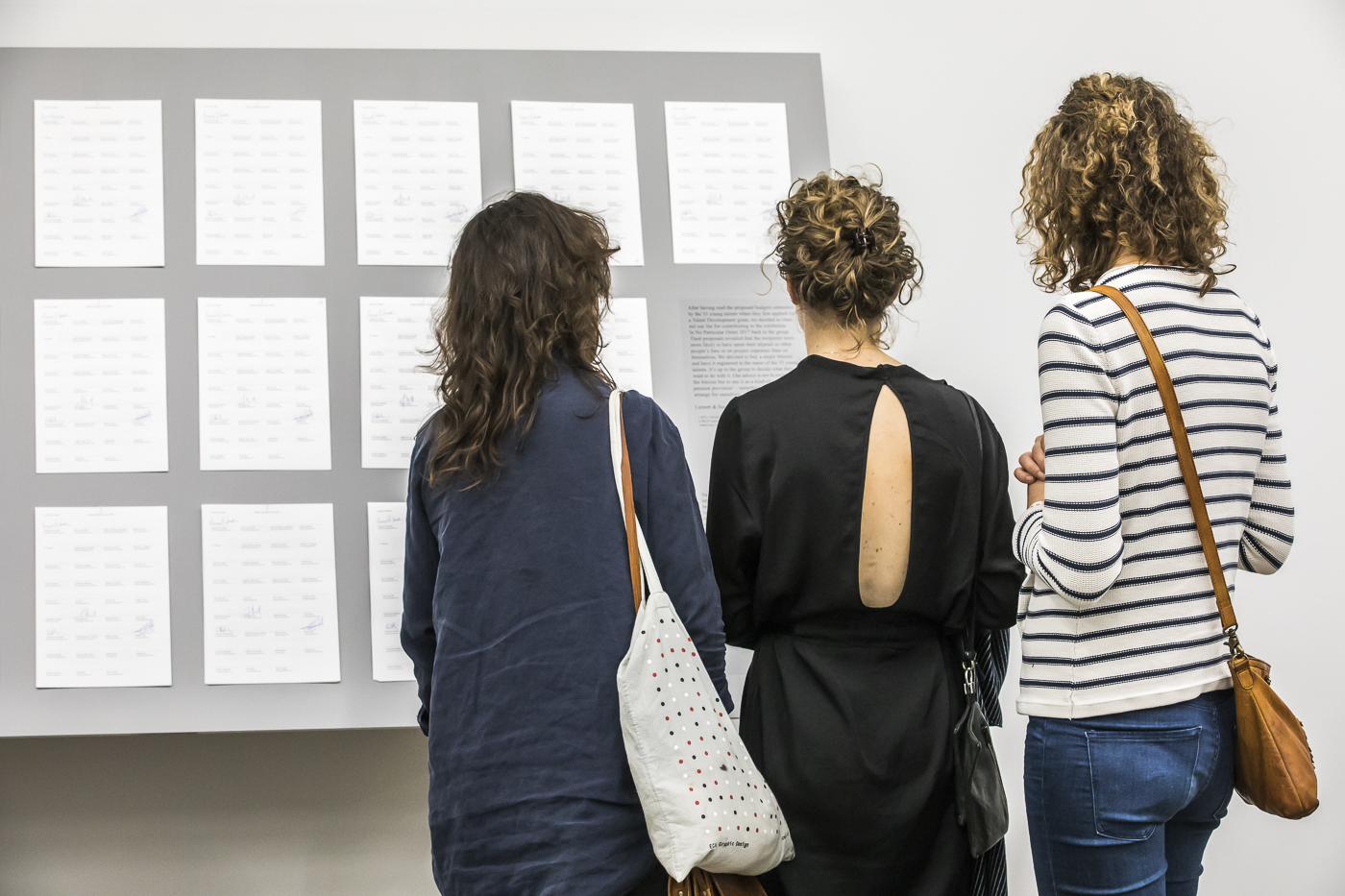 Photo: Hanneke Wetzer
The Attitude of Talent
Does talent have a specific role and responsibility to society? Proposing a scenario in which the Talent Development Grant recipients would have to start a new society, each was asked to pack a single suitcase of things to bring. Director of the Sandberg Instituut, designer Jurgen Bey will be onsite every day to open a few of the suitcases and build a visual dictionary.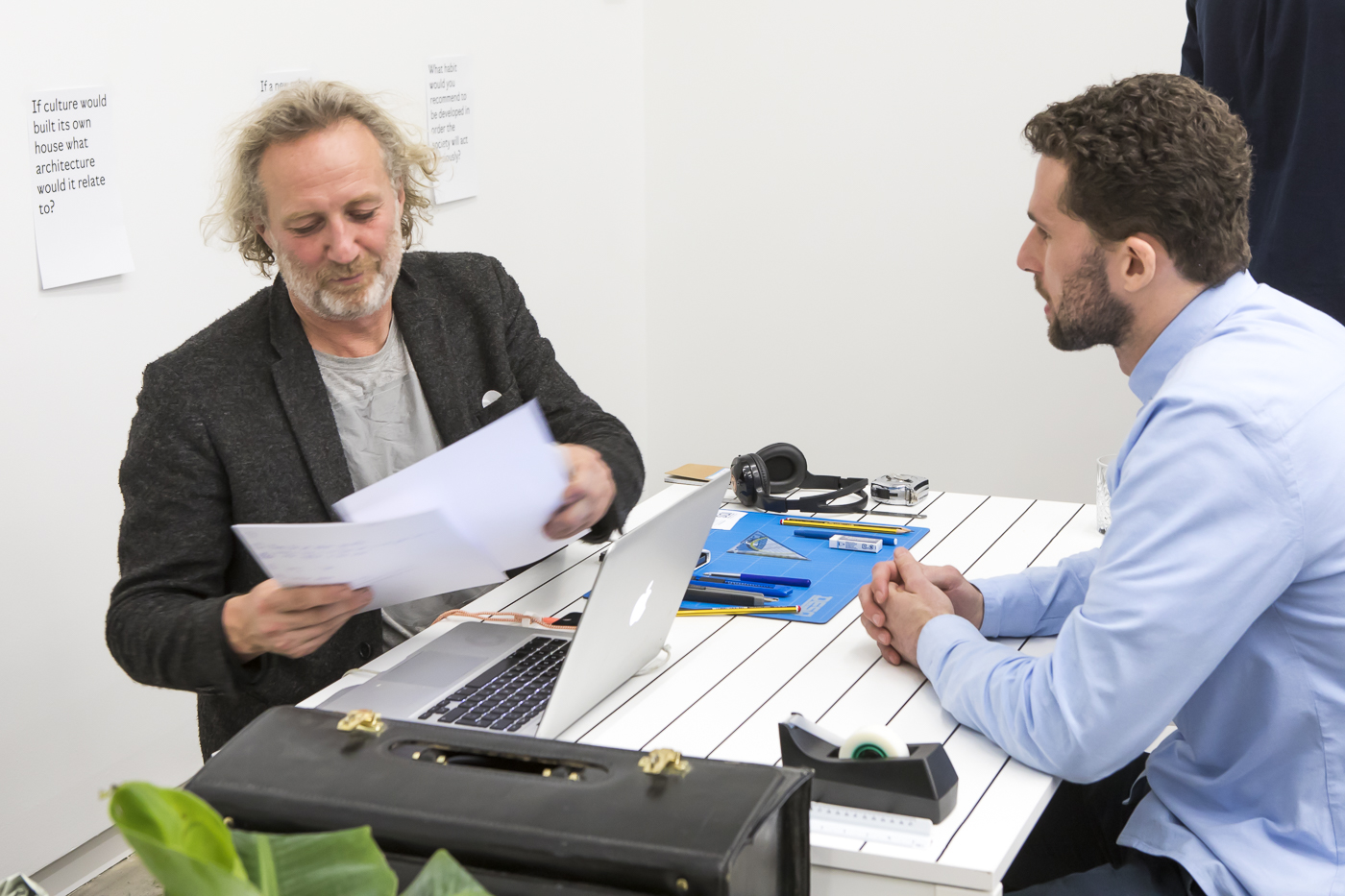 Photo: Hanneke Wetzer
The Habitat of Talent
Does talent expand and contract according to the space it works in? The Talent Development Grant recipients were asked to submit descriptions and floor plans of their ideal workspace. Previous recipient of the grant, architect Anne Dessing, in collaboration with Loui Meeuwissen, displays an analysis of these contributions on a curtain. Recalling a construction drawing, the curtain's folds connect drawings to form new hybrid spaces.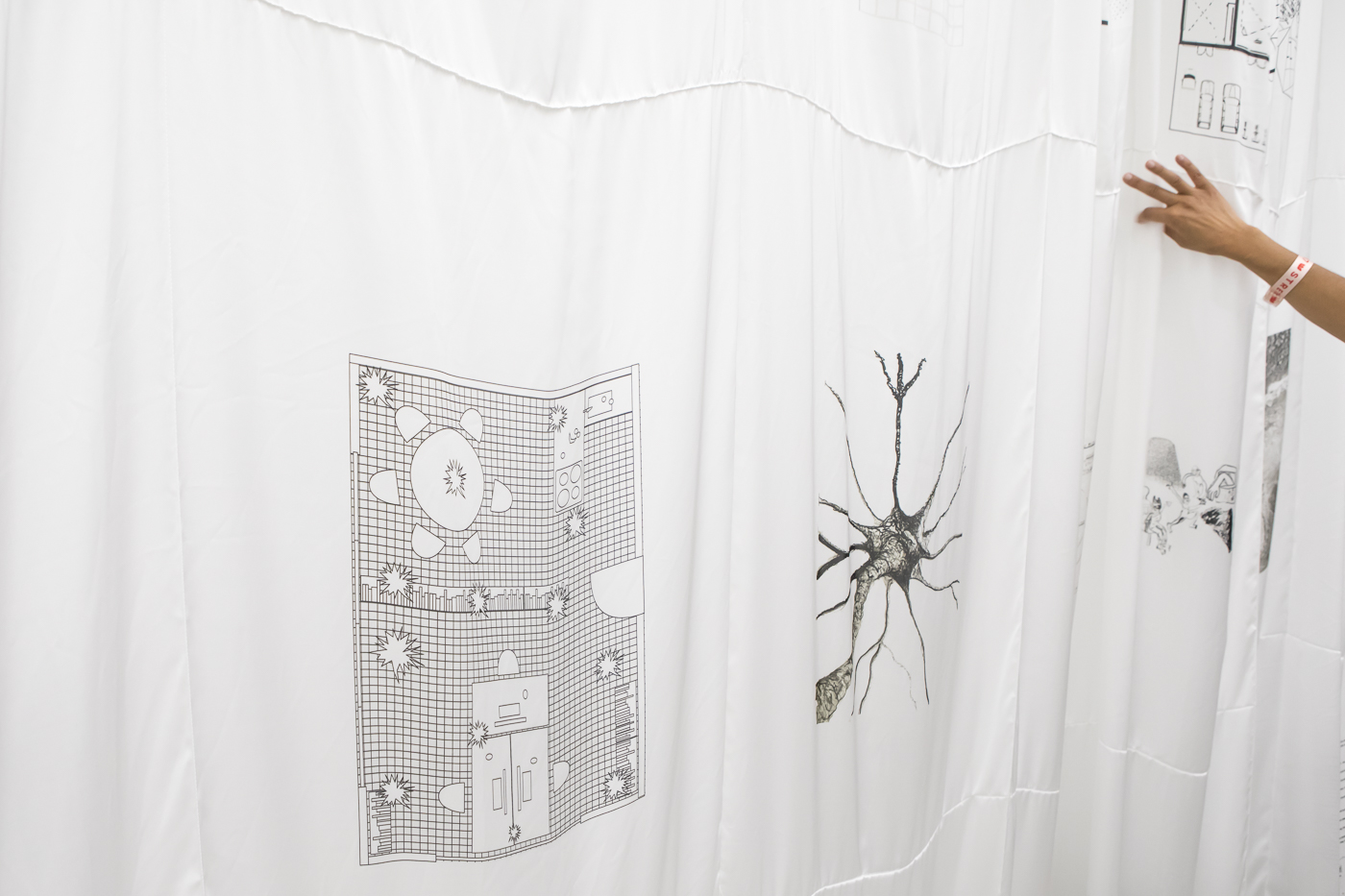 Photo: Hanneke Wetzer
The Market of Talent
Can we quantify talent? The likely commercial success of each of the Talent Development Grant recipients has been assessed on the objective criteria of practicality for client, accessibility, size of market, medium, and artist profile. Prototypes from each recipient are arranged based on the ranking assigned by Herbert van Litsenburg of The Fine Art Group, an art investment consultancy.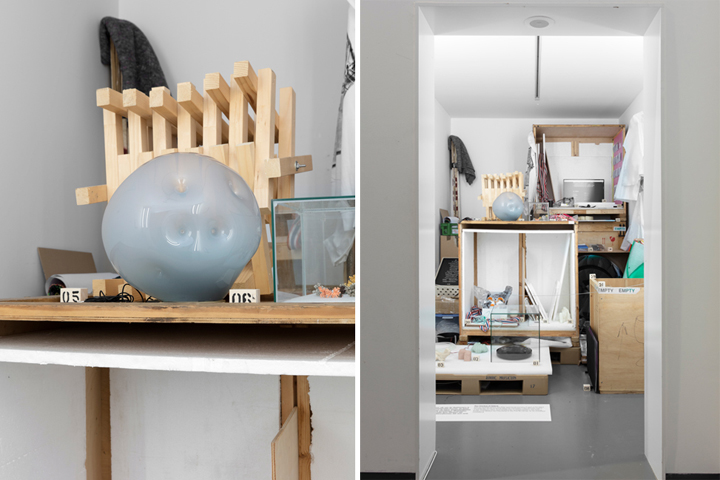 Photo: Lonneke van der Palen
The Discourse of Talent
How does talent reflect on its work and context? Design researcher and artistic director of Het Nieuwe Instituut, Tamar Shafrir and Guus Beumer, moderate daily discussions that take place on chairs from the Talent Development Grant recipients' studios. Artist Simon Becks has developed a scratch-sensitive floor to record the evolution of the site of discussion over the course of the exhibition. At the end of each daily conversation, participants will construct an installation of the chairs that will be recorded by photographer Lonneke van der Palen. Daily a discussion program took place from 11.00-12.30.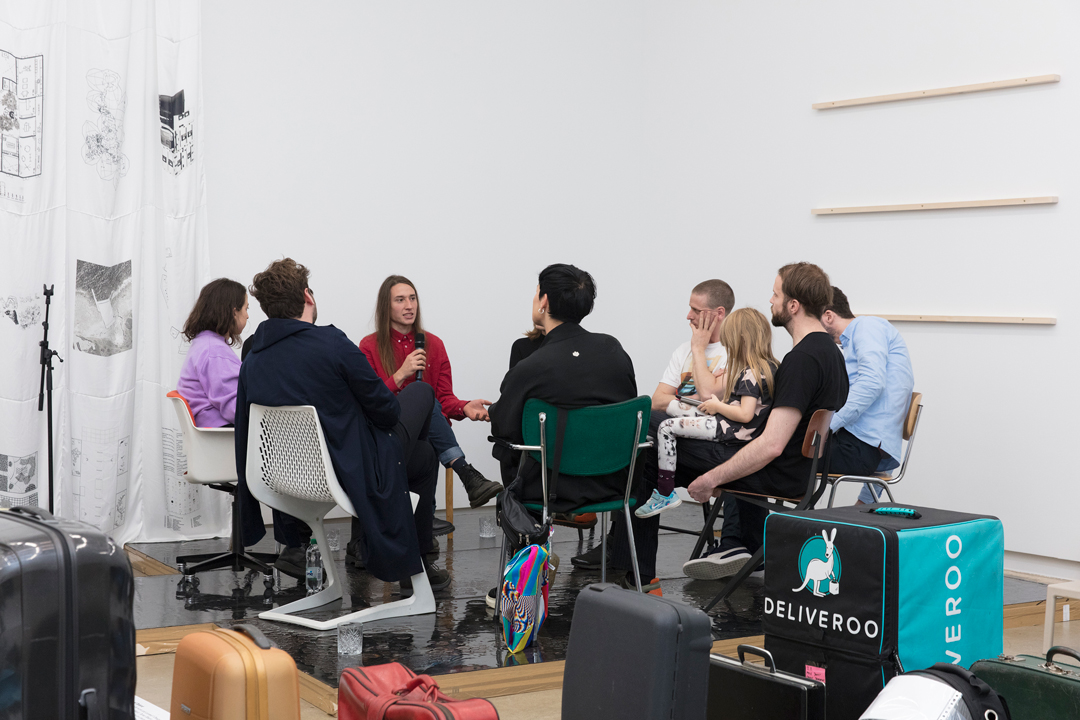 Photo: Lonneke van der Palen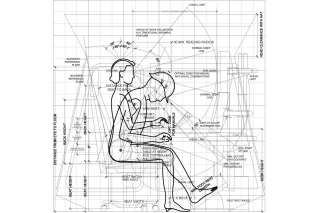 26 Oct: Machines of Freedom | an event on the Venice Architecture Biennale
26 Oct: Machines of Freedom | an event on the Venice Architecture Biennale
21 October 2017

What will the future of labor look like? How will disruptive changes in labor ethos and conditions influence spatial configurations, living conditions, and notions of the human body? How can new forms of creativity and responsibility within the architectural field respond to emerging technologies of automation? Floris Alkemade, Lara Schrijver and Marina Otero Verzier will start a conversation around the theme WORK, BODY, LEISURE and the ambitions for the 2018 Dutch Pavilion, commissioned by Het Nieuwe Instituut at the 16th Venice Biennale for Architecture, that will be held 24 May to 25 November 2018.
The event marks the start of a conversation on the theme
WORK, BODY, LEISURE
and the overall theme of the Biennale
FREESPACE
, that addresses the relation between architecture and society. Stretching out before, during and beyond the Biennale the conversations mark a committed collaboration between Het Nieuwe Instituut and the Creative Industries Fund NL to endorse Dutch designers and researchers in the field of architecture to an international audience. It serves to launch the first of three Open Calls, jointly organized by Het Nieuwe Instituut and the Creative Industries Fund NL, in order to select projects for the extended public program of the Dutch Pavilion in 2018.
program outline:
10.30h: Doors open

11.00h: Welcome by Syb Groeneveld, Director Creative Industries Fund NL, and Guus Beumer, Director Het Nieuwe Instituut.

Marina Otero Verzier, Head of Research at Het Nieuwe Instituut and Curator of the Dutch Pavilion 2018, reflects on WORK, BODY, LEISURE, the theme for the 2018 Dutch Pavilion and its response to the theme for this year's Venice Biennale FREESPACE.

Keynote speaker Floris Alkemade on how urban policies could respond to or anticipate labor conditions triggered by technological developments.

Keynote speaker Lara Schrijver on Constant's New Babylon and utopian architectural imaginaries.

Conversation about the theme of the Venice Biennale for Architecture and the Dutch Pavilion in 2018 between Marina Otero Verzier, Floris Alkemade and Lara Schrijver.

Further information and Q&A on the Open Calls by Het Nieuwe Instituut and Creative Industries Fund NL for participation at the Venice Biennale for Architecture in 2018.

date & location
Thursday 26 October 2017, 11.00 – 13.00 (doors open 10.30)
Embassy of Urban Transformation, during Dutch Design Week 2017
Temporary Art Centre (TAC), Eindhoven
Talk is in English
register
It is not possible anymore to register.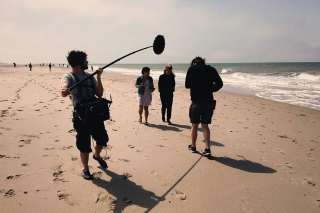 Grants for Non-fiction Transmedia's second round
Grants for Non-fiction Transmedia's second round
18 October 2017

This year's Grant Programme for Non-fiction Transmedia, which Creative Industries Fund NL organizes in conjunction with the Netherlands Film Fund, has been completed. Here we present the projects that were selected to receive support from this second round. This overview demonstrates how the Grant Programme for Non-fiction Transmedia's aims and objectives are being embodied via diverse angles of approach.
budget is far from sufficient
Lighthouse Reports is receiving a production grant for the special journalistic project Track & Trace van de Nederlandse Wapenhandel (Track & Trace of the Dutch Arms Trade), which involves collaborating with Bellingcat. The Stichting Tangerine Tree foundation is receiving a production grant for its Dit geloof ik (This is what I believe) project, in which children talk about their faith. The €250,000 budget that the committee had at its disposal was far from sufficient for the evident quality of the 36 proposals submitted. In 2018 there are two application rounds, with deadlines on 13 March and 14 August.
Non-fiction Transmedia continue to evolve
The advisory committee noted that after its first four years the grant programme is still in the throes of development. Whereas three years ago there was an emphasis on the wholly autonomous development of an online environment in which the narrative was cast, the committee notes that projects are now increasingly being devised along the lines of a campaign. Social media are increasingly regarded as the main platform. For many applicants the fragmented presentation of content no longer seems to be a problem.
great diversity
The committee is positive about the diversity of the projects and applicants. Makers who for whatever reasons have often had to sidestep the traditional media can now distinguish themselves with more radical project forms within this scheme. The project #VerlorenJongensZullenWinnen (#LostYoungstersWillWin) by Studio Isaura San provides a great example of this. The same applies for the animated VR production Half a Life by Ado Ato Pictures, which ties in with the eponymous documentary and will be developed further during the IDFA DocLab Academy.
The other projects being supported with a development grant are: Dus wat gaan wij doen? (So what are we going to do?) by Ties Joosten, a campaign that offers an action plan to mitigate climate change at an individual level; Nieuwe Penoze (New Underworld) by Vice Benelux TV; and Binaire Verhalen: Feit is Fictie (Binary Tales: Fact is Fiction) by Juul van der Laan, about a traditional Nigerian philosopher who interprets the world on the basis of a 'computer system' that has been used to store wisdom since as far back as 500 BC.
overview
Seven of the 36 proposals submitted for this recent application round of the Grant Programme for Non-fiction Transmedia are to receive a grant. Five parties are receiving a development grant of up to €25,000.
2018 deadlines
2018 deadlines: 13 March & 14 August